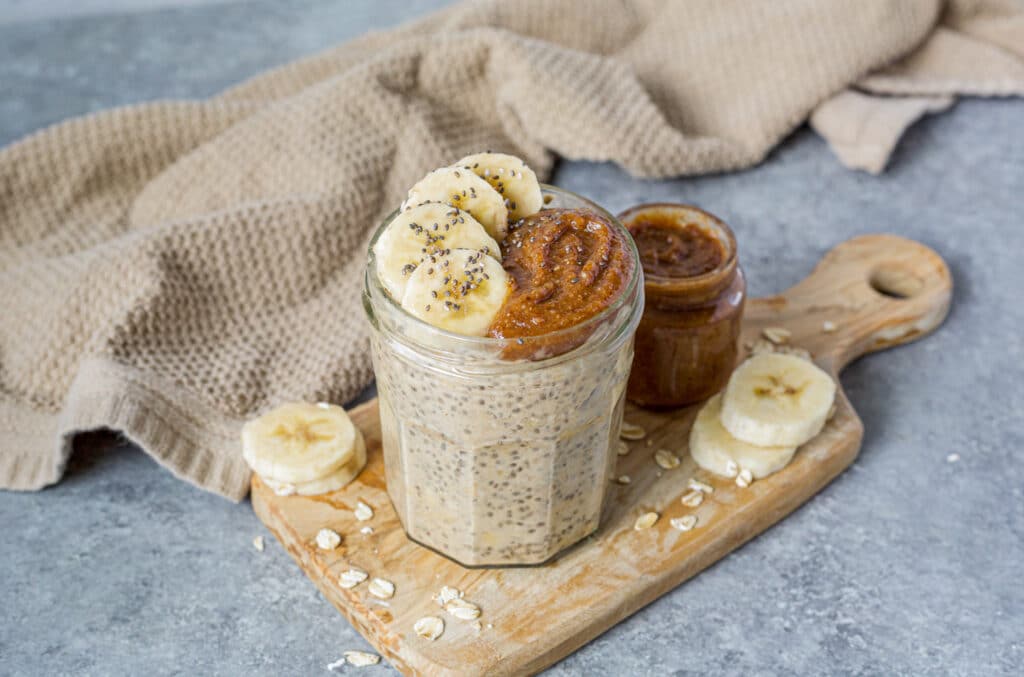 Stress Relief Salted Caramel Overnight Oats
Stress Relief Salted Caramel Overnight Oats are the perfect way to start your day. They're easy to make + prep for a busy week, they taste amazing and they offer amazing health benefits like fiber, protein and healthy fats. I love making a few batches on Sunday and eating for breakfast throughout the week. Top with fresh fruit, granola or my healthy salted caramel topping for some extra tasty goodness.
How does this recipe help relieve stress?
I call these "Stress Relief Salted Caramel Overnight Oats" because they taste the perfect amount of salty and sweet with a thick hearty texture. They also include an adaptogenic superfood powder that helps the body resist stress. These Stress Relief Salted Caramel Overnight Oats are also made the day before enjoying. This way you don't have to stress over what you'll eat for breakfast each day.
As an IIN holistic health coach, throughout the years i've learned a thing or two about the power of healthy food and wellness. A few years ago I began exploring the way certain foods made my body feel. Throughout my research and experience I found most whole foods are what make me feel best- physically and mentally!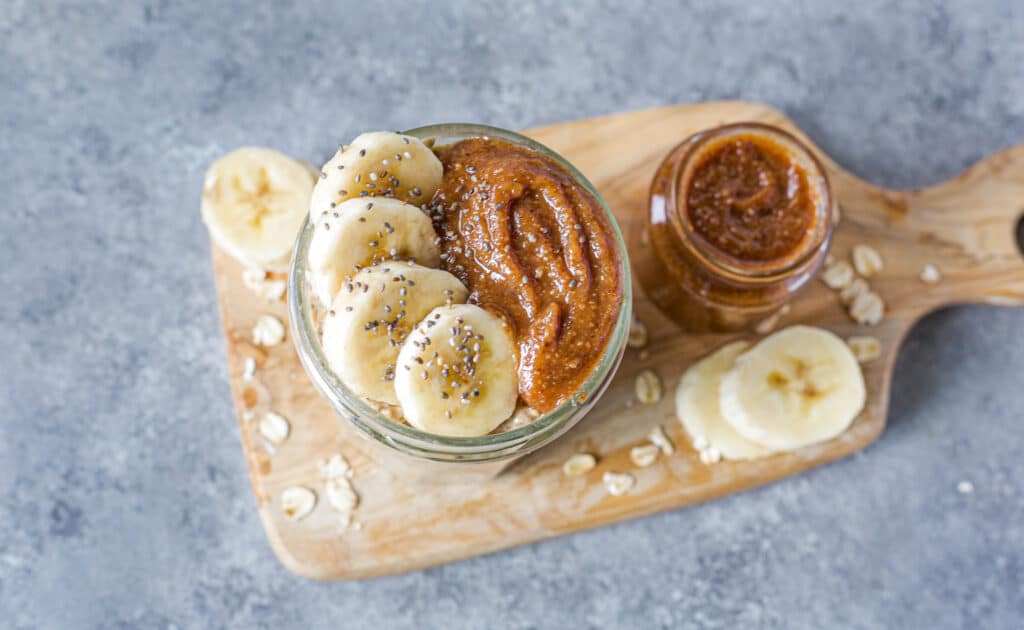 Eat WELL to feel GOOD
Believe it or not, food can effect the way you feel. Not just physically, but mentally as well. For example, I found the more caffeine and sugar I consume the more anxious I become, resulting in physical stress and panic attacks. Long and behold I wasn't alone. There have been numerous studies that show the bodies inflammatory response to certain foods like sugar. Especially highly processed products and refined sugars which can cause side effects like anxiety, brain fog, fatigue, digestive issues + more. So, it's important to pay attention to what you put into your body not just for your physical health, but for your mental health as well.
After discovering how great whole foods made me feel, I started researching other natural foods and herbs that could potentially help with stress management. That's when I came across adaptogens! Wellandgood.com does a beautiful job explaining adaptogens in the "Everything you need to know about Adaptogens" post. I linked this post HERE. Read along to get a better understanding why adaptogens are so amazing!
The secret ingredient in this recipe contains a superfood + adaptogen blend. This superfood + adaptogen blend can help your body combat any stress it may be experiencing. Thus, bringing balance physically and mentally.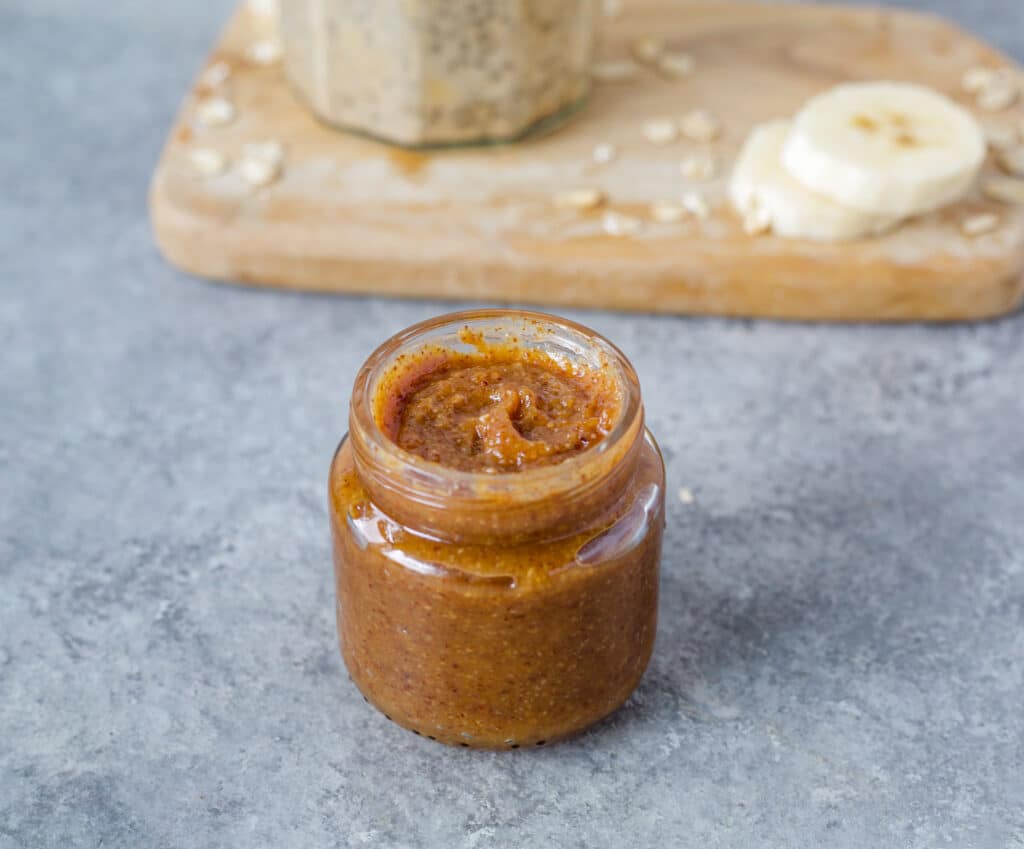 Why you'll love this recipe?
These oats are SO easy to make. You just combine all the ingredients in one jar, shake and store. THAT'S IT! It takes less than 5 minutes to prep and then you leave in your refrigerator to congeal for 8-12 hours. Enjoy the next day topped with your favorite extras. I personally love topping mine with sautéed bananas for a rich, banana foster type of flavor. Fresh mixed berries is also a great topping as well if you're going for a boost in Vitamin C.
Plus, the healthy salted caramel topping completes the overall texture of this recipe. This dreamy salted caramel toppings is smooth, sweet and salty. The perfect way to enjoy these oats!
This recipe is so easy to food prep and enjoy throughout the week. Just prep on Sunday and you'll have breakfast for the week. Honestly, you could also eat these overnight oats for dessert as well. The thick creamy texture tastes so decadent paired with the nutty, sweet + salty flavors. It's the ~best sweet tooth~ healthy breakfast!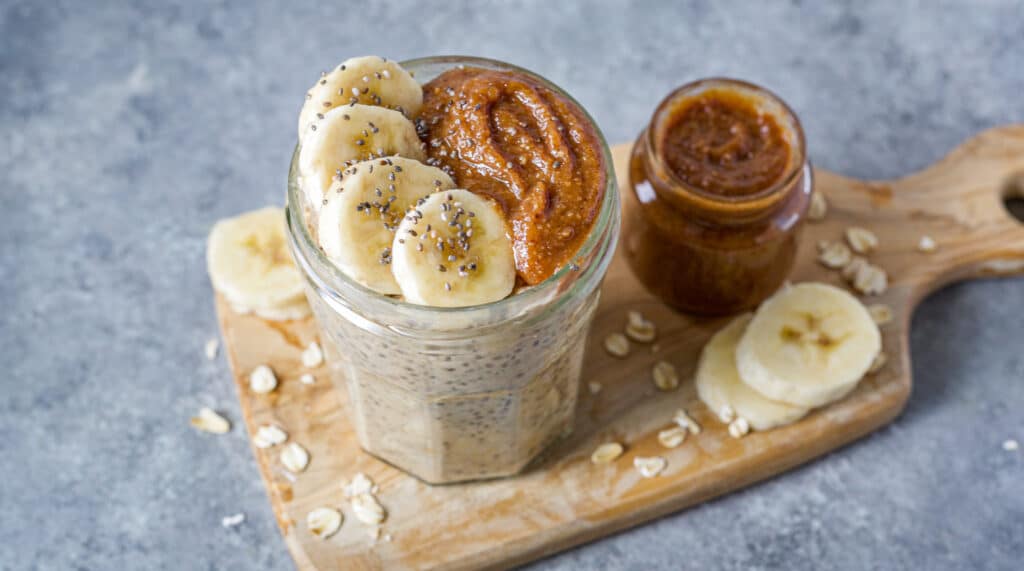 Ingredients you'll need:
Gluten free rolled oats
Chia seeds
Navitas Organics Superfood + Adaptogen Blend
Ground cinnamon
Pure maple syrup
Cashew milk (or almond milk)
sea salt
For the salted caramel topping:
coconut oil
creamy almond butter
maple syrup
vanilla extract
sea salt
What can you top this recipe with?
Fresh berries
Apple slices
Sautéed bananas
Almond butter
Cashew butter
Peanut Butter  
Granola (This is my fav)
Hemp seeds
Bee Pollen
Coconut
These are not your average overnight oats. Not only do they taste amazing in flavor and texture, but they're INCREDIBLE for your health. The secret ingredient in this recipe gives it a nutty caramel flavor while also providing the body with amazing nutrients.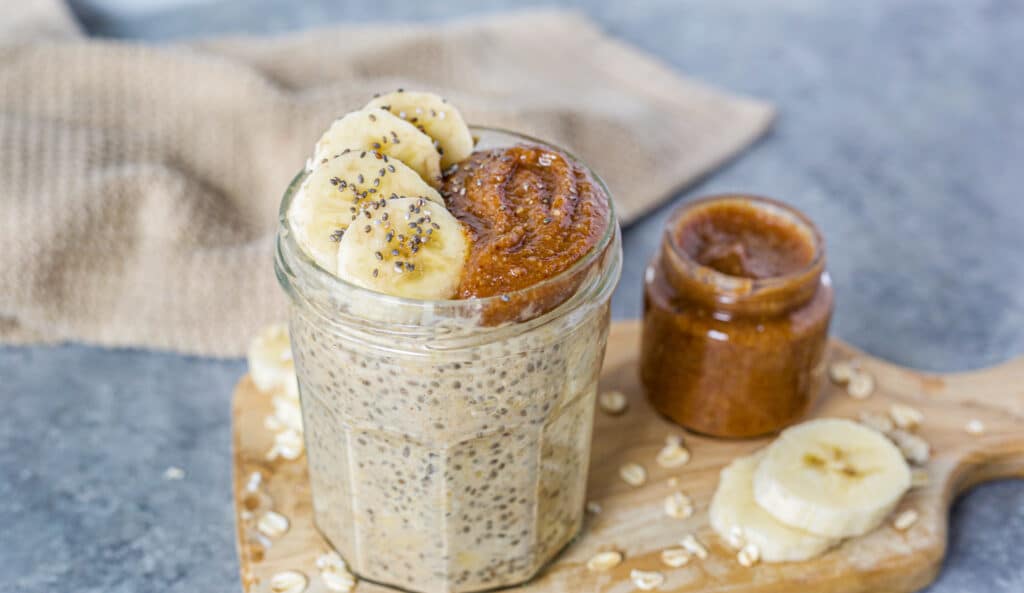 How to make?
Step one- carefully measure out your ingredients in order from the top of the ingredient list to the bottom. Add each ingredient to a small mason jar. Close the lid tightly and shake up until well combined. Place in your refrigerator for 8-12 hours and enjoy with your favorite toppings.
*If you like more of thick oatmeal, then this is the perfect recipe for you. However, if you like things to be a little thinner, simply add some additional nut milk or even a tablespoon of water. Mix it up and enjoy.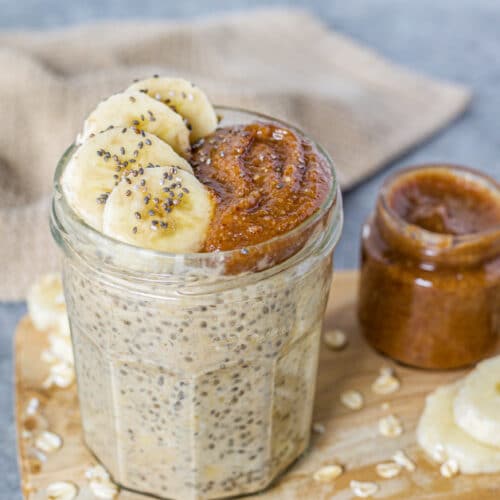 Stress Relief Salted Caramel Overnight Oats
Stress Relief Salted Caramel Overnight Oats are a great way to start your day! Full of nutritious superfood ingredients and hearty oats you'll finish breakfast feeling satisfied. Vegan, Gluten Free and Refined Sugar free. The perfect combination of sweet, salty and nutty flavors.
Equipment
mason jar

Stove top

small sauce pan
Ingredients
1/3

cup

gluten free rolled oats

1

tablespoon

chia seeds

1

teaspoon

navitas organics superfood + adaptogen powder

1/8

teaspoon

ground cinnamon

1

tablespoon

maple syrup

1/2

cup

cashew milk

1/4

teaspoon

sea salt
healthy salted caramel topping
1

teaspoon

coconut oil

1/4

cup

creamy almond butter

2-3

tablespoons

pure maple syrup

1

teaspoon

pure vanilla extract

1/2

teaspoon

sea salt
Instructions
Add all of your ingredients in order from ingredient list, into a small mason jar. Screw lid back on top of jar tightly, and shake up for 10 seconds. Store in refrigerator for 8-12 hours and enjoy.

For the healthy salted caramel topping: Begin by heating a small sauce pan on stove top on low heat. At coconut oil. Once coconut oil has melted add almond butter and maple syrup. Stir constantly until well combined. About 2 minutes. Add in your vanilla extract and continue to cook on low heat for 2 more minutes. Remove from heat and serve immediately. Optional: sprinkle a dash of sea salt on top.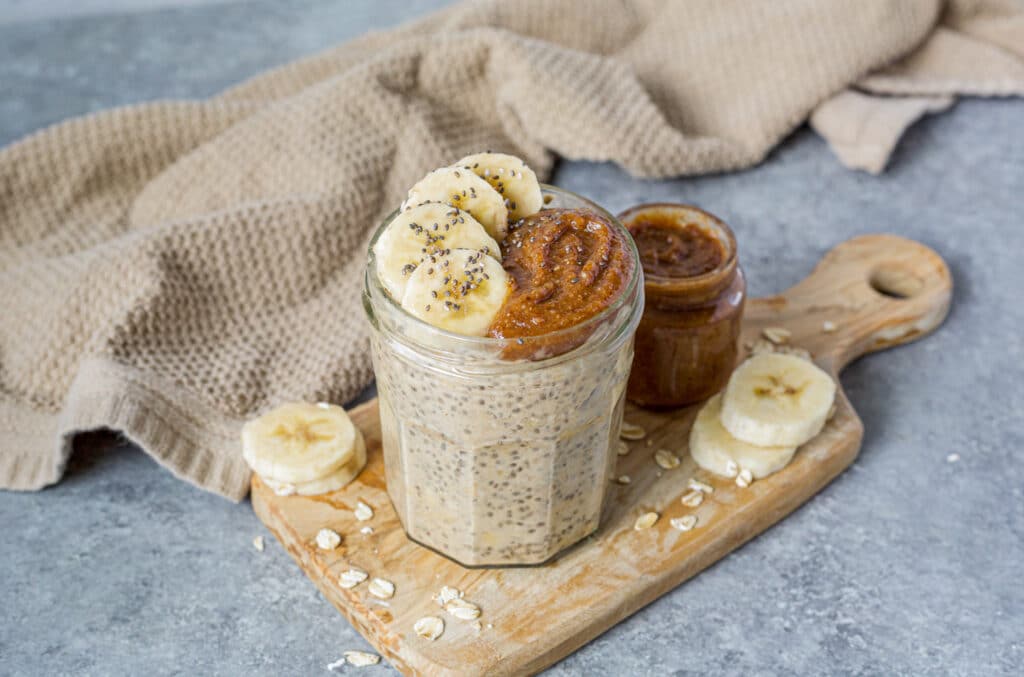 Did you make this stress-free recipe?
Please follow me on Instagram, tag me @staysweetwellness and #staysweetwellness.
I can't wait to feature you on my page!
Until next time,
stay sweet.
-Ashley