Vegan + Gluten Free Mexican Casserole
THIS meal. This meal right here is one of my favorite dinner recipes OF ALL TIME. I know, it seems like I say that about a lot of the meals I make, (what can i say? I love food!) but seriously, if I had to pick one meal to eat the rest of my life, this would be it. Any dish Mexican inspired is basically my favorite. I can say with certainty that I will eat anything topped with fresh cilantro and lime juice. Add some spice + zest and you have me for life.
Easy to prep and eat now or save for later…
This Mexican casserole is also easy to prep and freeze for another time. I actually created this dish a while back and made it again a month before giving birth to Keegan. I froze it to have during my postpartum journey and I am so glad I did! All you have to do is prep the meal in an aluminum safe bake dish, cover with foil and bake within 3 months. When I prepped it, all we had to do was pop it in the oven for 30-35 minutes and that's it! It's vegan, gluten free, full of protein, fiber, healthy grains and fats. I'm telling you, this is one HELL of a meal. It's bursting with flavor and will definitely have you coming back for seconds. For ingredient substitutes or add in refer to notes.
Ingredients you'll need:
quinoa
tortillas
olive oil
peppers
onion
salsa
cumin
chili powder
garlic salt
corn
black beans
Optional ingredients:
shredded cheese
shredded chicken
jalapeno slices
avocado
cilantro
lime
plain greek yogurt
How to make?
To make this recipe first you want to cook your quinoa per instructions on quinoa packaging. While quinoa is cooking, preheat your oven and sauté your veggies. Once your quinoa and veggies are done cooking combine in a large bowl with all of your filling. This includes salsa, black beans, corn, spices (optional chicken) etc. Spray or wipe down your baking dish with olive oil and cut your tortillas into 3-4 strips. Carefully line the bottom of your baking dish with tortilla strips and then layer with your quinoa filling, repeating this step, once more. Place in oven to bake for 30ish minutes and then broil for a couple minutes more so the top is nice and brown. Remove from oven and let cool for 5 minutes and serve with a spatula. Top with lime, avocado, salsa, cilantro and plain greek yogurt.
Why you'll LOVE this dish… ahem HEALTH BENEFITS DUH
Apart from the MANY amazing flavor combos here this recipe is SO good for you. Thanks to the beans and quinoa its packed with a ton of fiber and protein. Protein keeps you feeling full, helps repairs muscle tissue and provides you with energy. I know with this being a vegan dish, many always ask if it contains enough protein. My answer? HELL YES!
This casserole is also full of colorful veggies which means a ton of vitamins A, B6, C, fiber, antioxidants, magnesium + more. You'll finish your plate and head back for seconds, trust me. I also love adding a little dollop of plain greek yogurt on top which adds more protein, probiotics and calcium. But you do you!
Now let's talk FLAVAH
MMMMMM the flavors in this recipe are ridiculous. Ridiculous as in absolutely delicious! Thanks to all of the spices, peppers + onions the flavors in this casserole are going to make you wish you made this recipe years ago. Thanks to the cumin, chili powder and garlic, each bite is full of amazing savory, salty, zesty flavor! The sautéed veggies help too. I love squirting some fresh lime juice on top for that little punch of tartness and WOW guys… just wow. This IS my favorite dinner recipe.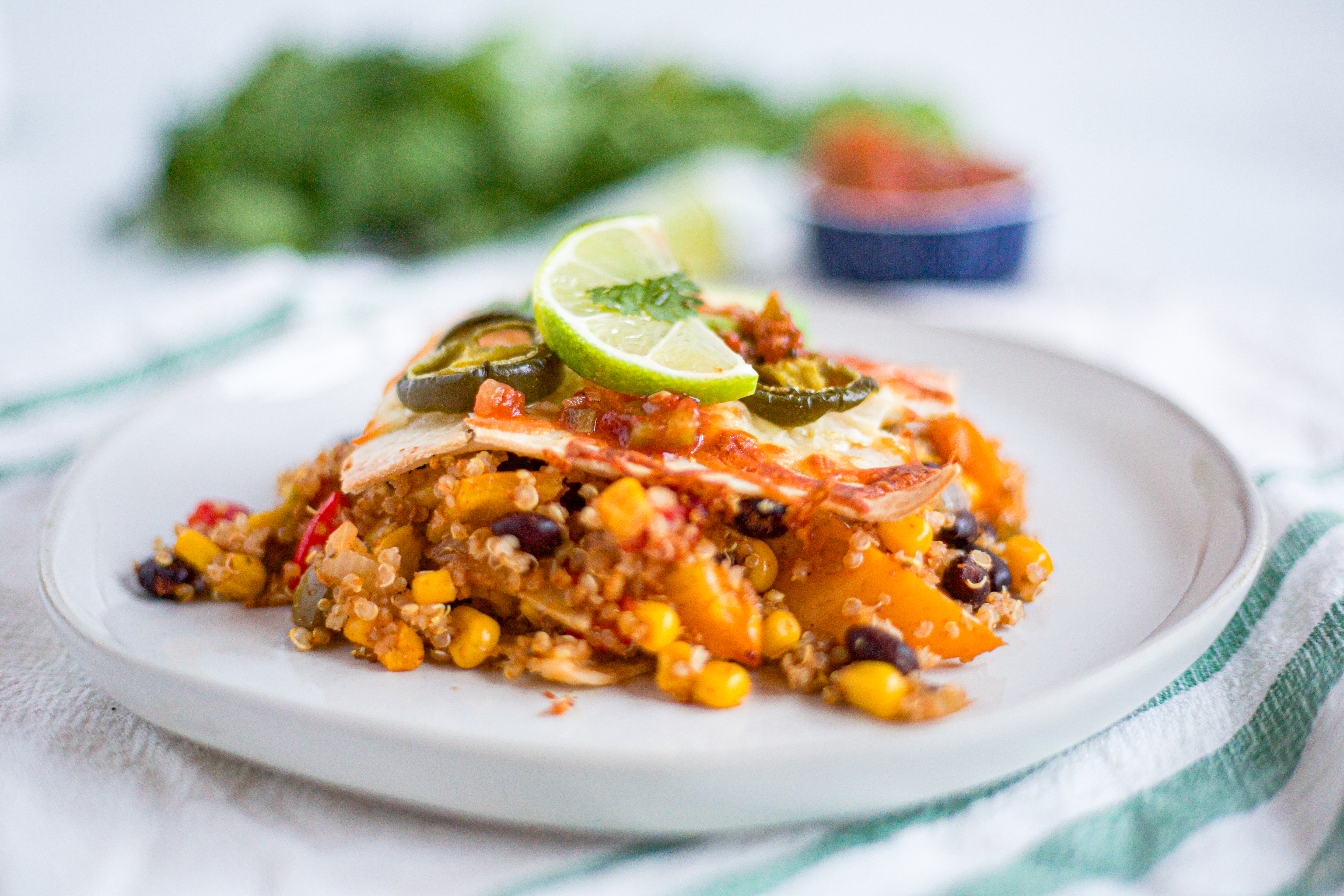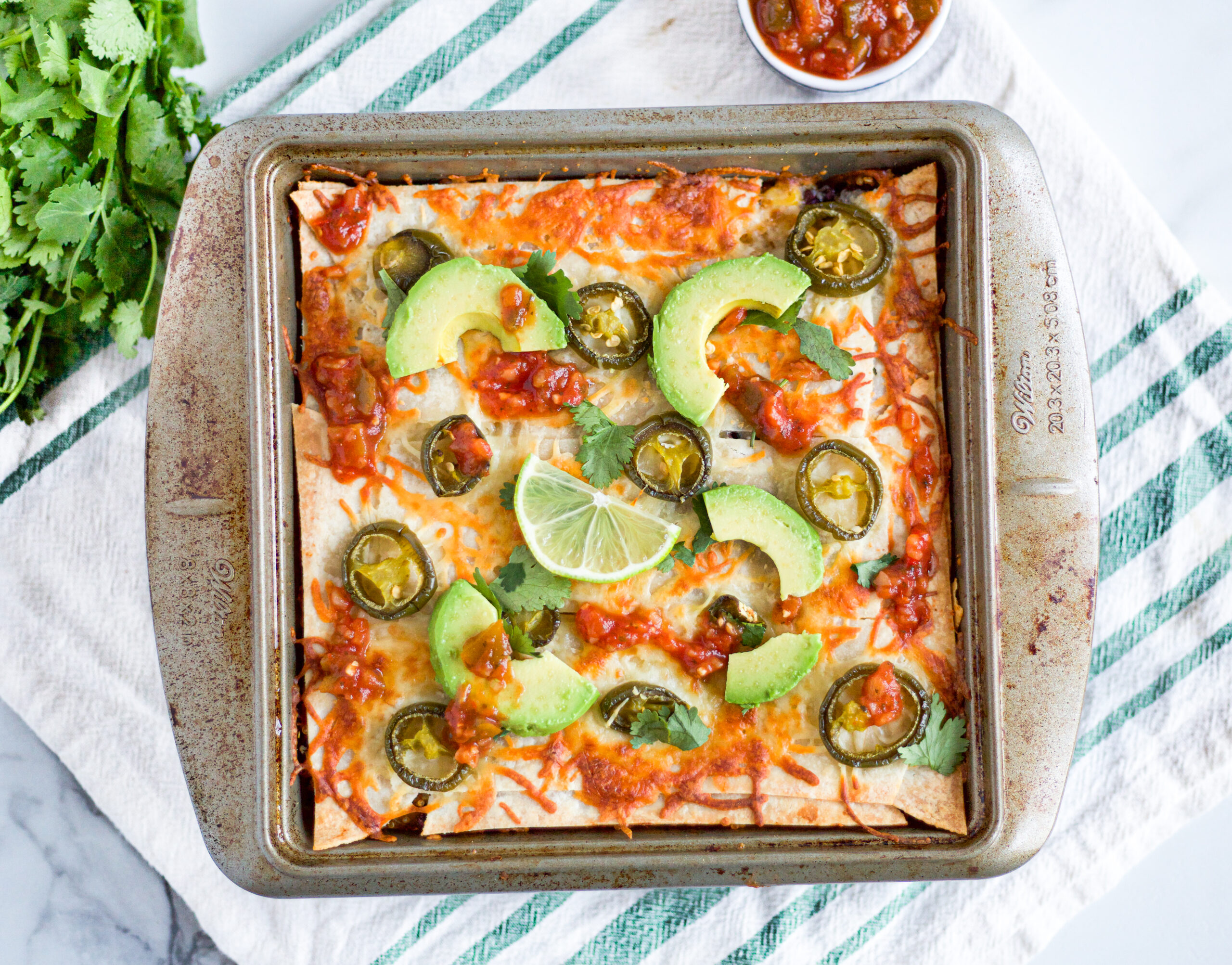 Vegan + Gluten Free Mexican Casserole
This Vegan + Gluten Free Mexican Casserole is full of zesty flavor and packed with incredible nutrients. Ready in less than an hour and easy to prep and save for later.
Equipment
Mixing Bowl

rubber spatula

Stove top

Skillet

8×8 baking dish

oven
Ingredients
1/2

cup

uncooked quinoa

1

packet

Siete almond flour tortillas

flour + corn work as well

2

tablespoons

olive oil

2

whole

peppers, diced

1/2

sweet onion, diced

1/3

cup

salsa

1

teaspoon

cumin

1

teaspoon

chili powder

1

teaspoon

garlic salt

1

can

organic corn

1

can

black beans
optional toppings
1/3

cup

shredded cheese

I use grass fed white cheddar

10

slices

pickled jalapeno

1

ripe avocado

sliced

1

bunch

fresh cilantro

1/2

lime

sliced

1

tablespoon

plain greek yogurt
Instructions
Cook quinoa per instructions on bag/box. While quinoa is cooking, dice peppers + onion. On stove top, heat a large skillet with olive oil, add peppers + onion and sauté until tender. Set aside.

Preheat oven to 350 degrees Fahrenheit. Spray an 8×8 square pan with olive oil. Take out your tortillas and cut into 3-4 strips. Once you've cut your strips, line the bottom of your pan with tortilla strips until you can no longer see the bottom. View picture for reference.

Once quinoa is cooked transfer to a large mixing bowl along with sautéed veggies. In the large mixing bowl, add in all the spices, corn and beans. Mix together until well combined. Carefully begin spooning the quinoa and veggies mixture into the 8×8 pan lined with tortillas strips. DO NOT add all at once.

Spoon about half of the mixture out and then top with another layer of tortillas strips. Repeat this step once more ending with one more layer of tortillas strip on the top of the dish. (You should have 3 layers of tortilla strips total- including the top). View picture(s) for reference. 

Once you've finished layering your casserole, top with optional shredded cheese and jalapeños. Place in oven to bake for 30 minutes. Then, broil for the last 3-5 minutes to brown the top layer. Enjoy with fresh toppings like fresh cilantro, lime and avocado.
Notes
You can use traditional corn or flour tortillas in this recipe- no problem.
Not vegan? Feel free to add 1-2 cups of shredded chicken to this dish in addition to another 1/3 cup of shredded cheddar cheese. Simply add chicken + 1/3 cup of cheese during step 3 and follow the remainder of directions. Sprinkle the (optional) second 1/3 cup of cheese on top of the casserole before baking.
Planning on freezing? Prepare dish according to directions. Make sure to use an aluminum pan (like this one) and cover with foil to prevent from drying out or becoming freezer burnt. Freeze up to 3 months. When ready to eat, take out of freezer and let thaw for 15-20 minutes while preheating oven to 350 degrees F. Bake for 30-35 minutes, broil for the last 3-5 minutes if you prefer top to be a bit crispy.
Did you make this recipe?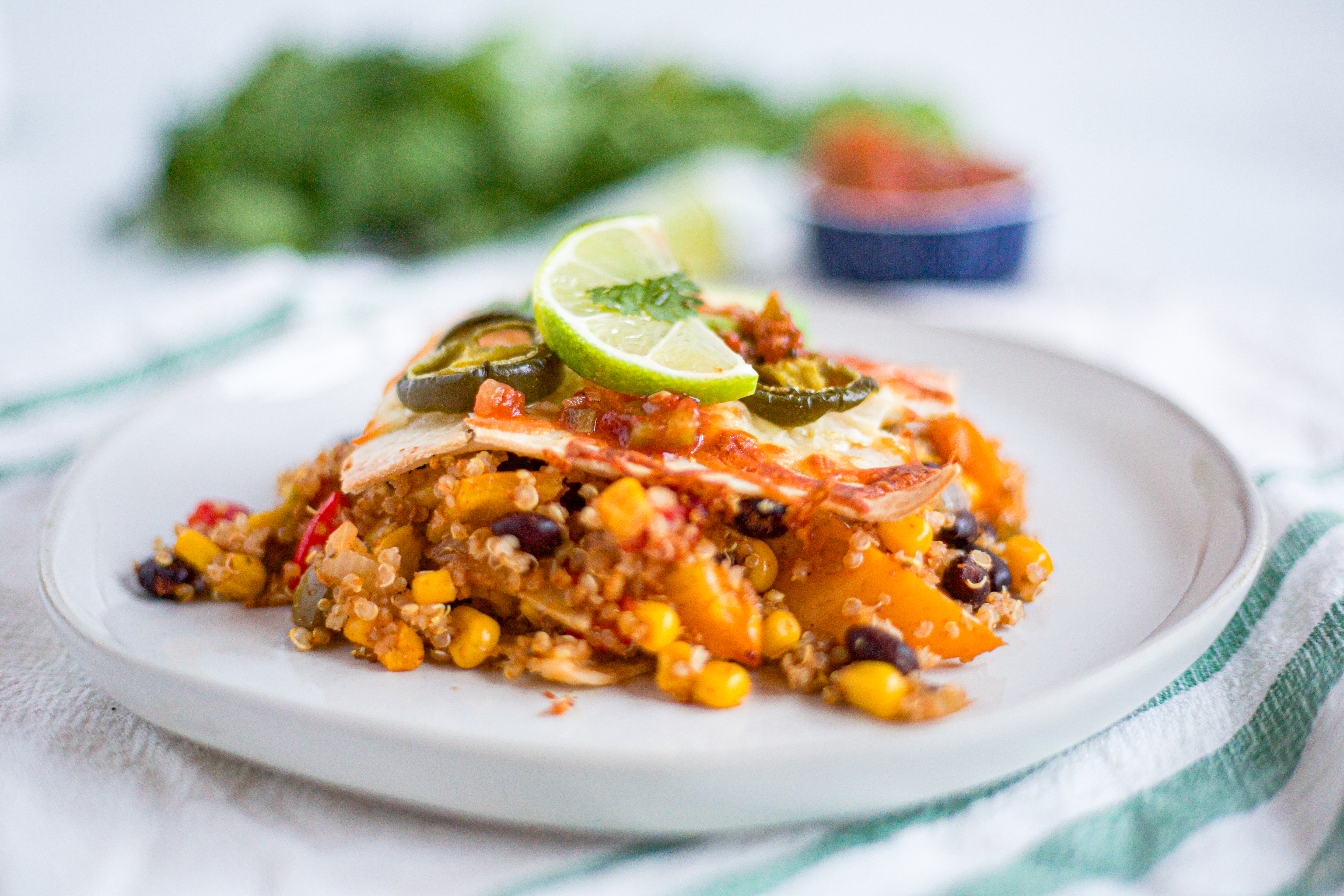 Please tag @staysweetwellness, follow me on Instagram and #staysweetwellness
Connecting with you guys over fun,
wholesome recipes is the reason i do this. I hope you enjoy!
Until next time,
Stay sweet.
-Ashley