The Best Healthy Smash Cake For Your Little One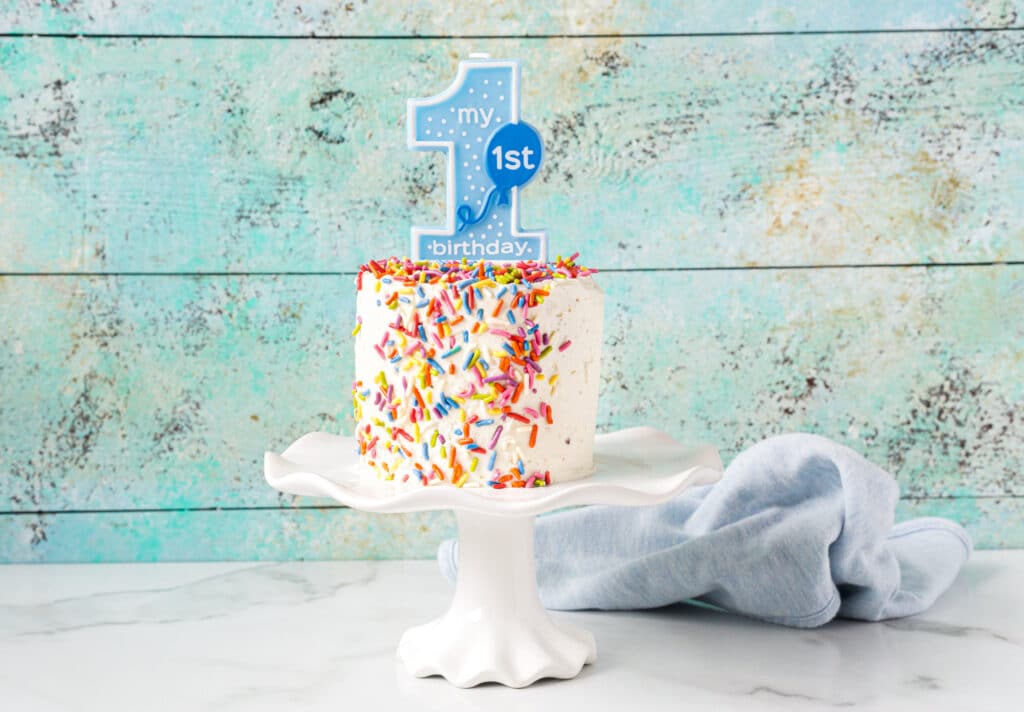 Some real thoughts from a first time mama..
My little guy is officially a year old. I can't believe how fast and slow time has passed this year. It's funny, when you become a first-time mom, time feels like it's going by so slow during the first few months. But then, out of nowhere, you blink and your child is already one. Then the water works come into play and you cry just thinking about how quickly the next year is going to fly by. It's emotional guys. I'll be honest, I totally cried watching my baby boy eat his first birthday cake. So, if you're a first-time parent, seriously soak in all the time you can with your little one. It's such a precious gift.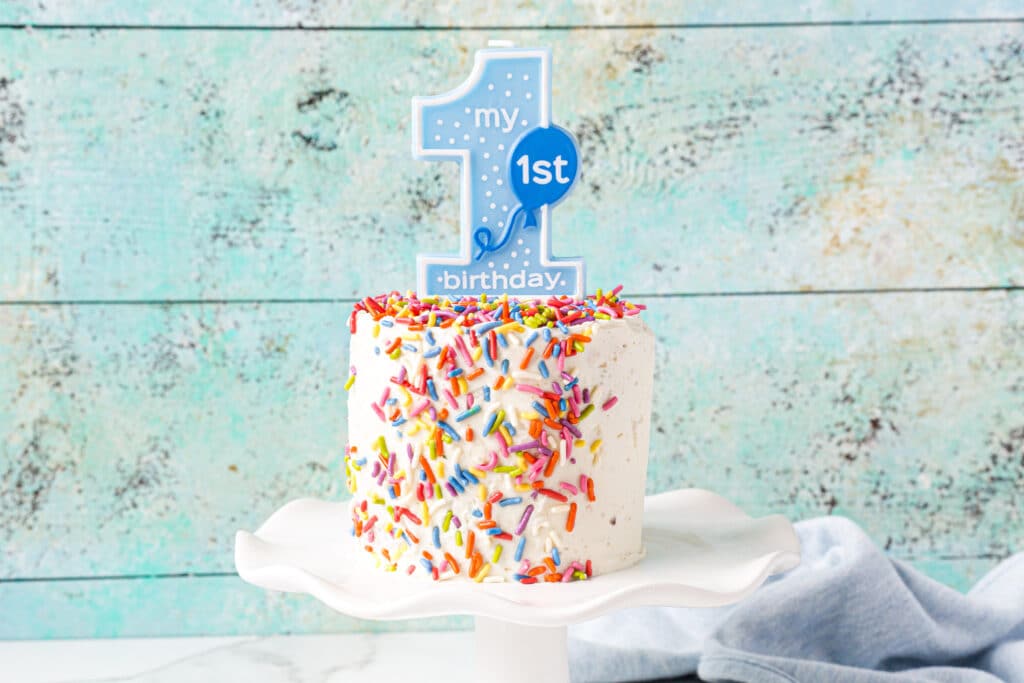 I am so grateful to be able to spend as much time with Keegan as I do. Getting to stay home and watch him grow has seriously been an adventure. He's grown so fast and to look back at how much he's changed in just ONE year is remarkable. It's like he's no longer a baby anymore, he's a toddler and his baby years are gone. The only parts of them that remain will be in the scrap books and bins of baby clothes down stairs and shit if that isn't emotional. I'm crying just typing this…
Anyways, watching my child grow has been humbling. It has been a learning experience and a newfound love. I am so grateful for him, the lessons he's taught me and the love he shares with me. Kids are truly the best. They see you for what you are, love you no matter what you do and open their minds to learning how to become the person they want to become. Ugh, seriously choked up.
Okay, so now that I'm done breaking my heart into a million pieces while writing about my baby, I want to share with you all, this amazing little smash cake!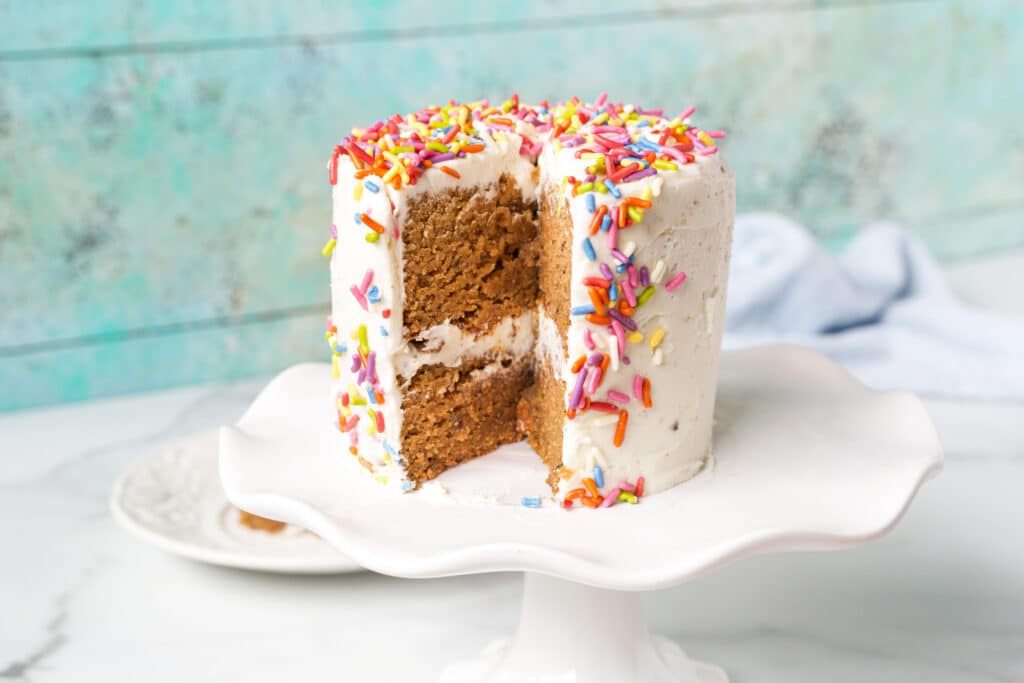 Why you'll love this cake?!
This smash cake is everything you need for your little ones first birthday +more.It's moist, decadent and has a rich, sweet vanilla flavor.
The cake itself is:
Ready in 35ish minutes
Easy to make
Refined sugar free
Gluten free
Paleo friendly
Versatile (you can add so many flavors!)
You can also make this cake ahead of time (which is what I did!). If made ahead of time just store in an airtight container in the refrigerator for up to two days. If enjoying later than two days, I recommend freezing it and then taking out of the freezer the night before to thaw, the night before enjoying. I've already whipped this cake up 4 times and it takes 35ish minutes to make, beginning to finish. I topped Keegans smash cake with Simple Mills vanilla icing and Natural Choco rainbow sprinkles for a fun, colorful presentation.
Keegan absolutely loved this cake and so did everyone else. My mom kept saying how impressed she was with the flavor and texture! "That cake is seriously amazing!" she must have said that 3 times. Luckily, Keegan didn't smash into his cake, so we were all able to enjoy a slice. I personally love a good vanilla cake because it's so versatile. You can add berries, chocolate, peanut butter etc. I just decided to keep it simple with vanilla cake and vanilla icing, but I encourage you to make this anyway you'd like!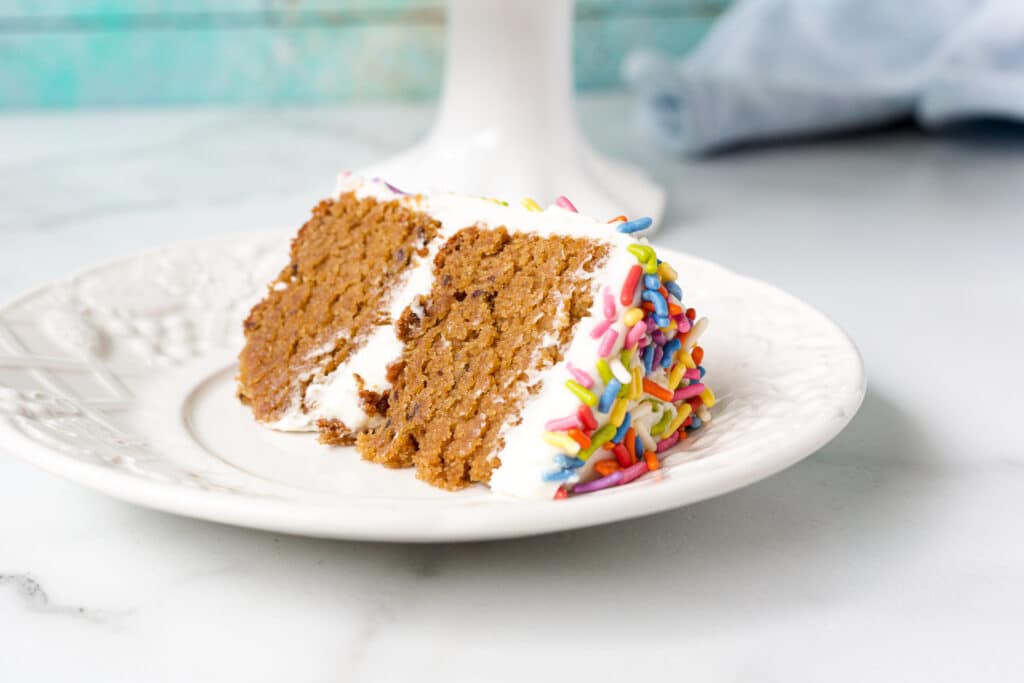 Ingredients you'll need:
Almond flour
Coconut flour
Ground flax seed
Salt
Baking soda
Baking powder
Arrowroot
Coconut Sugar
Pure Vanilla extract
No sugar added apple sauce
Pure Maple Syrup
Eggs
How to make?
Step one: Preheat your oven to 325 degrees Fahrenheit. Grease 3, 4" round cake pans and set aside. Combine all of your dry ingredients and whisk then set aside.
Step two: In a separate bowl, combine the coconut sugar, vanilla, apple sauce, maple syrup and eggs. Mix until you can no longer see the egg yolks and slowly pour into the mixing bowl with the dry ingredients. Stir until just combined and then transfer to your cake pans.
Step three: pick up each cake pan and drop down on your counter to avoid any bubbles in the cake batter. This also ensures that the top of your cake will come out of the oven nice and even and not super lumpy. Place in the oven to bake for 27-33 minutes. Each oven can differ in temperature so it's important to keep an eye out for your cake. I personally baked my cakes for about 30-31 minutes. The top of the cake will come out looking darkish brown. Once cakes are done baking, remove from oven and set on a cooling rack to cool for 10-15 minutes, before removing from pans. Once cooled, remove from pan by flipping over 180 degrees and emptying the pan. Leave the cakes to cool for another hour before icing.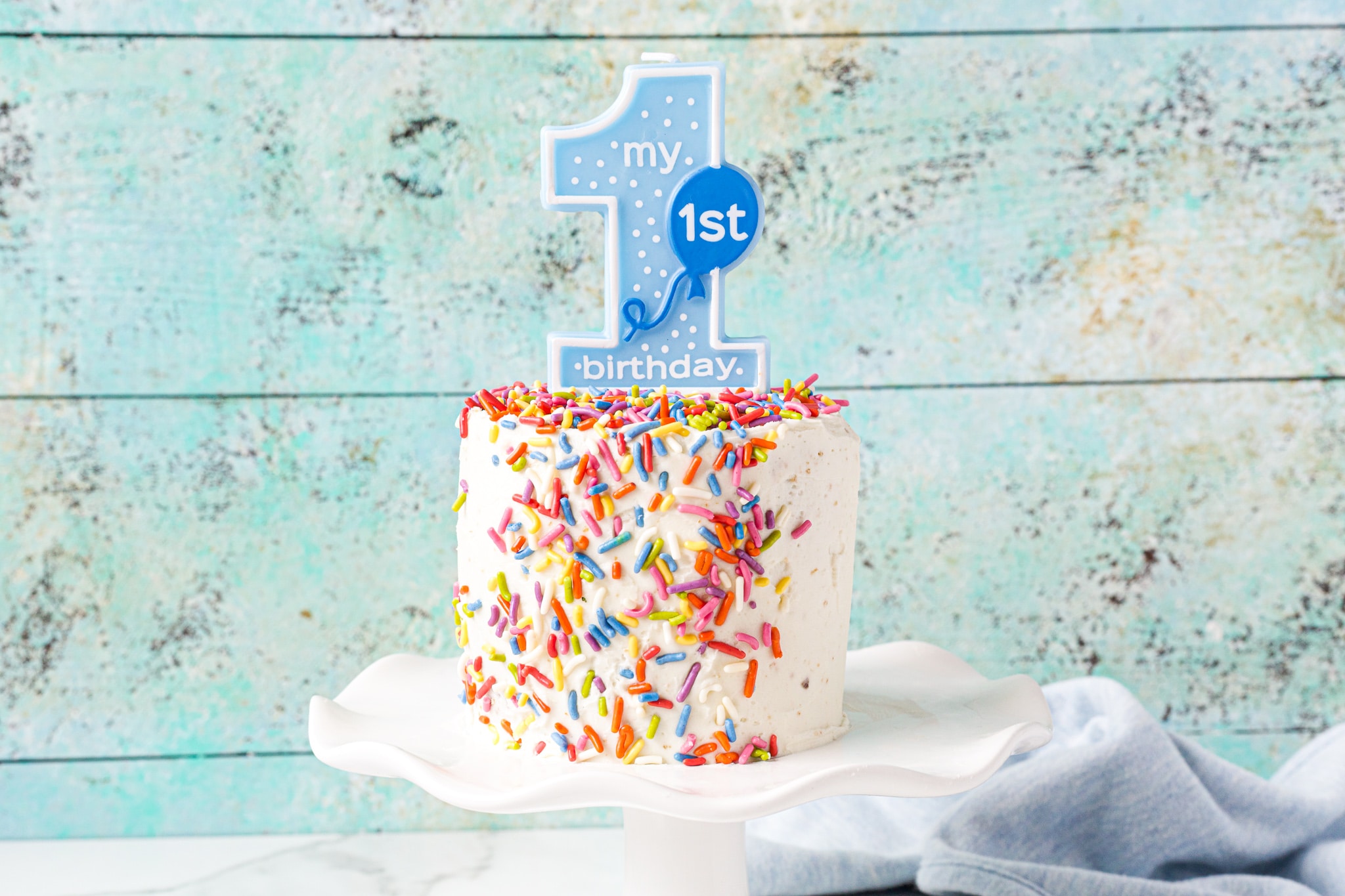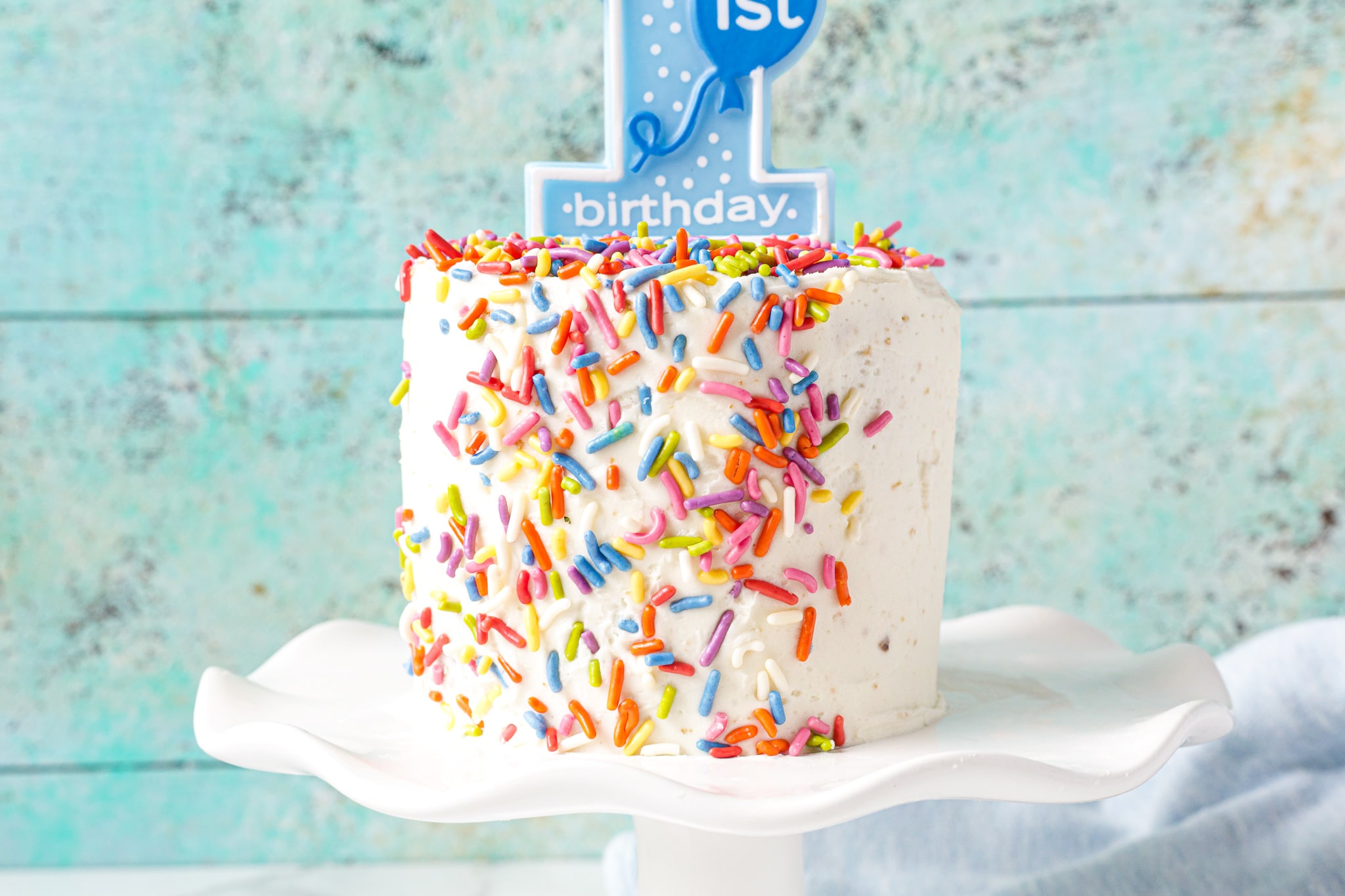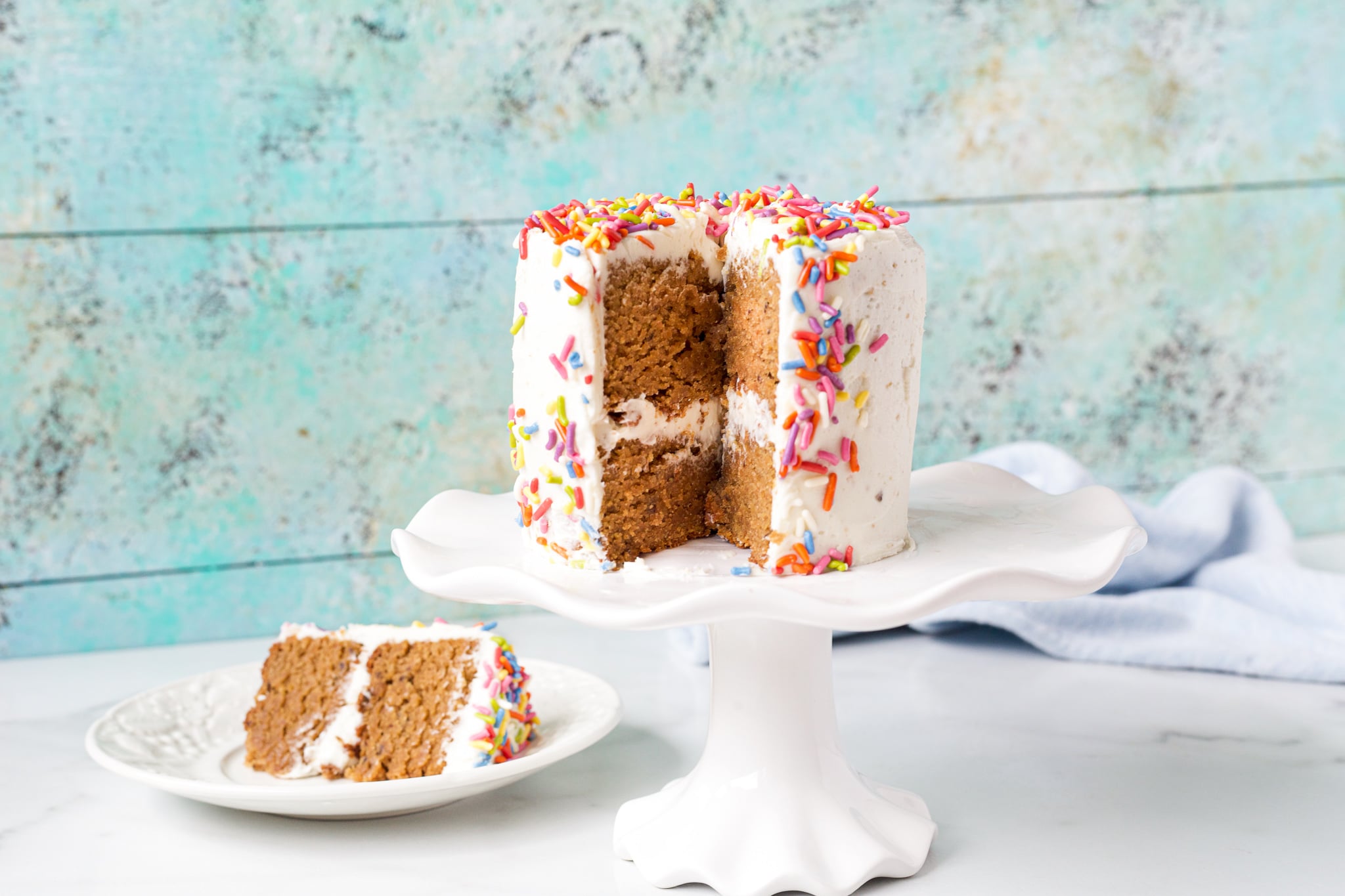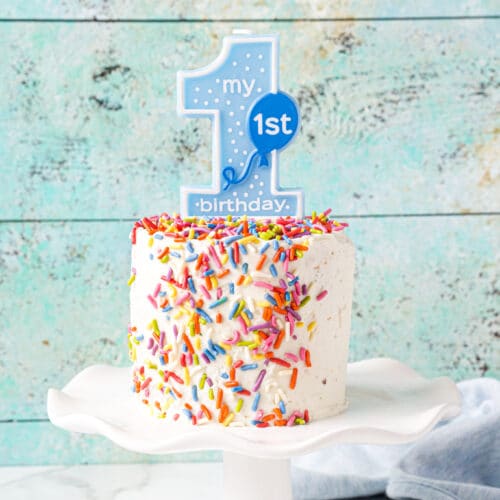 The BEST Healthy Smash Cake For Your Little One
This Smash cake is easy to whip up and the perfect cake for your little one! It's moist, decadent and tastes like a sweet vanilla birthday cake. Gluten free, refined sugar free and paleo friendly.
Equipment
oven

3, 4" cake pans

Mixing bowls

rubber spatula

whisk
Ingredients
1¼

cups

almond flour

packed

1/4

cup

coconut flour

1

tablespoon

ground flax seed

1/2

teaspoon

salt

1

teaspoon

baking soda

2

teaspoons

baking powder

1

teaspoon

arrowroot

1/2

cup

coconut sugar

1/3

cup

no sugar added, organic apple sauce

2

tablespoons

pure maple syrup

2

large eggs

at room temp

1

tablespoon

pure vanilla extract
Instructions
Preheat oven to 325 degrees Fahrenheit. Grease all 3 of your 4" cake pans and set aside. In a medium sized mixing bowl, combine all dry ingredients which include almond flour, coconut flour, flax seed, salt, baking soda, baking powder and arrowroot. Whisk until well combined and set aside.

In a separate small mixing bowl combine all wet ingredients which include the coconut sugar, apple sauce, maple syrup, eggs and vanilla extract. Whisk until well combined and you can no longer see the egg yolks. Slowly begin pouring the wet ingredient in with the dry ingredient mixture, stirring with a rubber spatula until just combined. DO NOT OVER MIX.

Begin transferring your cake batter into the 3, 4" cake pans. One at a time, scoop out one spoonful of cake batter into each cake pan until the batter is evenly distributed. Once all the batter has been evenly transferred to cake pans, lift each cake pan off the countertop about 4-5 inches and then drop the batter filled pan back onto the counter top. This step will help the cake bake evenly by spreading the batter out.

Place all three cake pans into the oven to bake at 325 F for 28-33 minutes. Once the top of the cakes are a deep brown color and a tooth pick inserted comes out clean, remove from oven to cool. Let cool for 15-20 minutes before transferring to a wire cooling rack. From that point you must let these cakes cool completely before icing. Let cool for at least 1 hour before cutting or icing. If saving for later, store in an airtight container in the refrigerator for up to 2 days or freeze for up to 3 months.
Notes
*I do not recommend making swaps for this recipe. I recipe tested this cake several times and it was very sensitive to ingredient swaps and measurements. 
*I used Simple Mills vanilla icing for the cake along with Choco Maker natural rainbow sprinkles.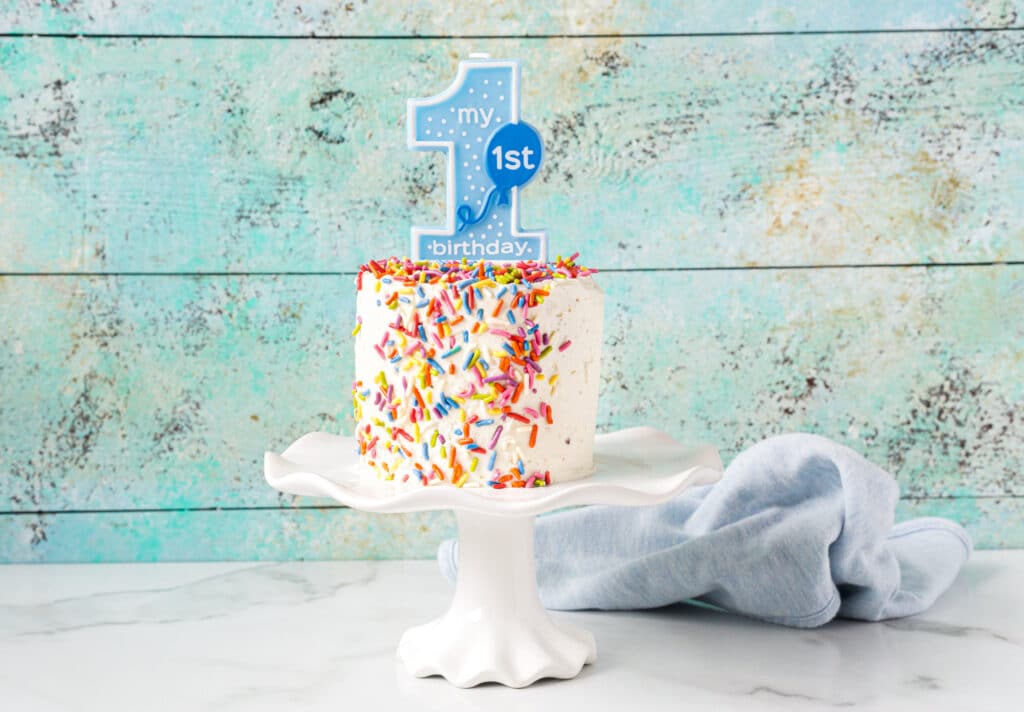 Did you make this recipe?
If so, please tag me @staysweetwellness, follow me on Instagram and #staysweetwellness.
I would love to share your recreation and feature you on my page!
Until next time,
stay sweet.
-Ashley