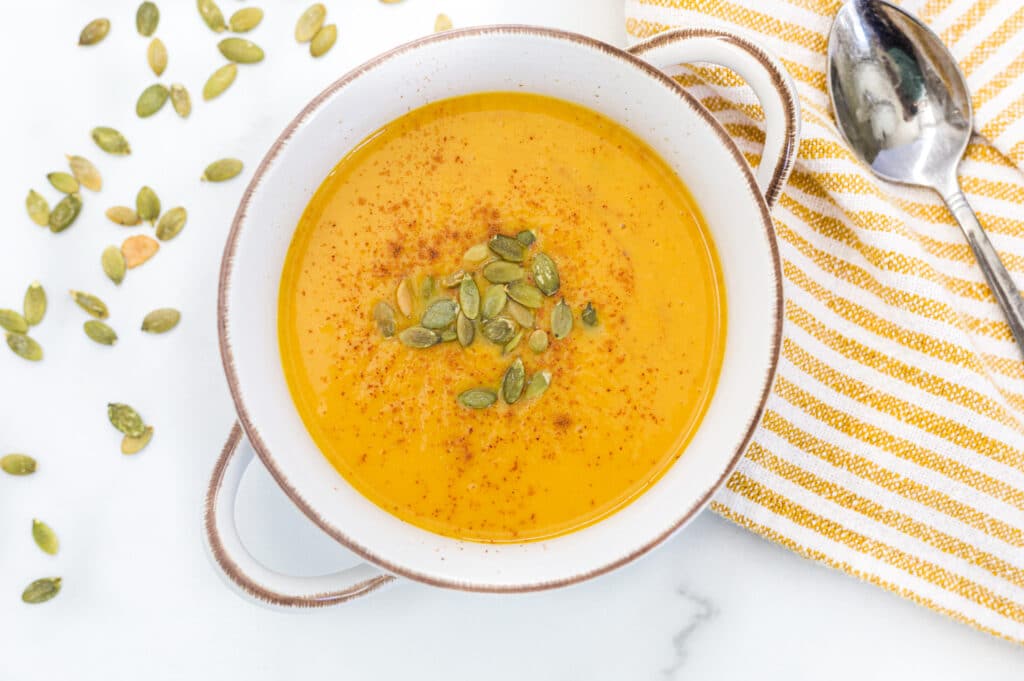 Vegan, Gluten Free and Full of Prebiotic Rich Foods
I'm over the moon about this recipe, mainly because I made it by accident. I just kind of followed my intuition and let me tell you something, she didn't do me wrong. I was pretty impressed with the flavors, the creaminess and the mere fact that this soup has no dairy at all. This butternut squash soup is plant based, full of fiber, prebiotics, protein, healthy fats, I mean I could go on and on… So, let me conclude with this, if you're going to make a butternut squash soup choose. this. recipe. It's everything you want in a creamy, rich, fall inspired meal. Top with some toasted pumpkin seeds for that added fall flavor and yummy protein it's * chefs kiss *.
Why you'll love this recipe
Amazing taste
WOW oh WOW for a plant based soup, its creamy, rich and has a buttery smooth texture. The flavors in this soup just embody the fall season not to mention its full of wholesome ingredients. This butternut squash soup is packed with veggies that include, butternut squash (obviously), onion, carrots and garlic. In addition to the veggies, I through in an apple, some cashew milk, cozy spices and a hint of sweetness from pure maple syrup. It tastes a tad sweet with a small hint of cozy cinnamon and spicy cayenne pepper. The perfect soup to pair with a piece of sour dough on a crisp fall day. So not only are the flavors and texture amazing, but this recipe will fill your body up with a ton of vitamins, minerals, fiber, healthy fats + more.
Health Benefits
All of the veggies in the recipe will leave you feeling full and energized. The onions, carrots, apple and garlic are all considered prebiotic rich foods. Fun fact: You need prebiotic rich food just as much as probiotic rich food. The prebiotic rich foods are what good bacteria from probiotics need to feed on. That's why it's so important to add both prebiotic and probiotic rich foods in your diet. I learned all about this topic from the Healthier Together Podcast with Liz Moody on her "Ask the doctor" Gut Health Episode. She interviewed Dr. Will Bulsiewicz, a world-renowned Gut Health MD who was an absolute delight to listen to. Click here to listen to the episode. I highly recommend it!
This soup also contains healthy fats thanks to creamy, silky cashew milk and can we talk about fiber for a second? The fiber in this soup will help with any constipation you may be experiencing so get to it! The variety of plants in this soup will keep you coming back for so much more than just amazing taste, but for the health benefits too.
Quick and Easy
EASY, yes EASY to make. You can actually call this a "one pot recipe" if you have an immersion blender. If not, no worries. A regular blender will work beautifully. When making this butternut squash soup you simply cook everything in a large pot then either use an immersion blender to blend the cooked veggies or add it to a high-speed blender and blend to create that smooth buttery texture we all know and love. Serve immediately or save for a later date. This recipe is also freezer friendly so you can save up to 3 months later.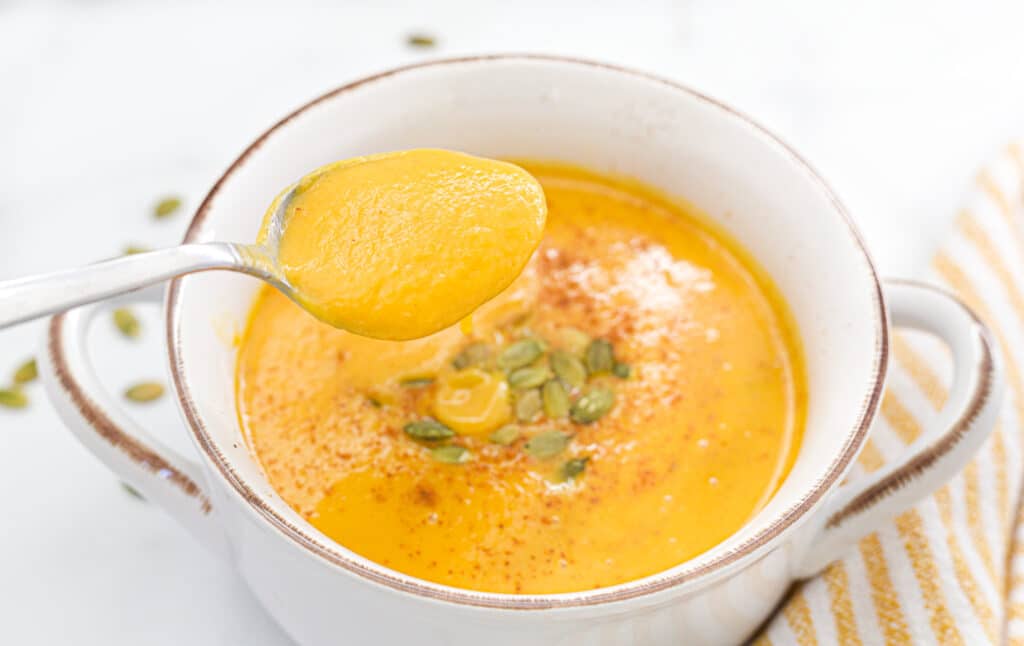 What you'll need:
olive oil
garlic
ginger
yellow onion
carrots
butternut squash
salt
apple
water
veggie broth
cashew milk
maple syrup
cinnamon
cayenne pepper (optional)
How do you make?
At this point in my life just about everything in my kitchen has to be easy to make. So yes, this one is very easy and rather quick too. You start by rinsing and cutting all of your veggies then adding them to a large pot with olive oil, garlic and ginger. Cook on medium low heat and cover pot with a lid. While veggies are cooking, blend your cut and cored (but not peeled) apple in a blender with ¼ cup water. If using an immersion blender transfer blended apple to pot with cooked veggies. Add in veggie broth and cashew milk and bring to a boil. Blend with immersion blender until smooth and creamy then add in your maple syrup, cinnamon and cayenne pepper. If using a classic high-speed blender, add your cooked veggies to the blended apple already inside your blender with veggie broth, cashew milk and maple syrup. Blend on high for about 1 minute or until a smooth and creamy texture appears. Transfer soup back into the large pot and cook on low for another 5-10 minutes adding in your cinnamon and cayenne pepper. Salt to taste. Serve with toasted pumpkin seeds on top for some added protein and fall inspired flavor.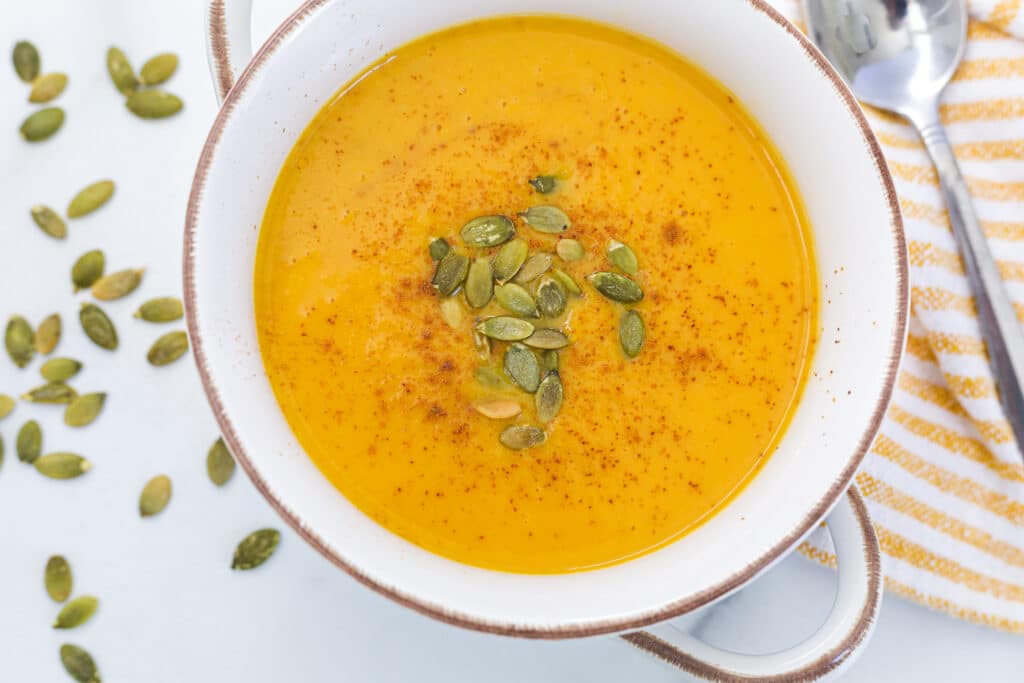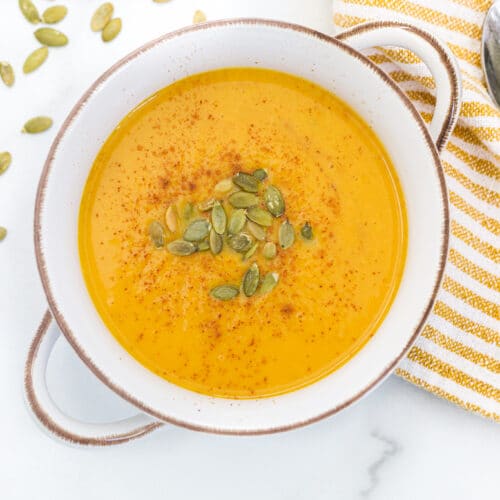 The BEST Butternut Squash Soup
Equipment
large pot

stove top burner

high speed blender or immersion blender

rubber spatula
Ingredients
2

tablespoons

olive oil

4

garlic cloves, minced

1

inch

ginger, minced

2

large carrots, peeled and chopped

1

large yellow onion, diced

6

cups

butternut squash, peeled and cubed

1

large honey crisp apple, cored and cut into 5 pieces (do not peel)

1/4

cup

filtered water

2

cups

vegetable stock

2

cups

cashew milk

1/4

cup

pure maple syrup

1/4

teaspoon

cinnamon

1/4

teaspoon

cayenne pepper

(optional)
Instructions
Heat a large pot on stove top on medium/low heat. Add olive oil, minced garlic, minced ginger, diced onion, chopped carrots and cubed butternut squash. Cook for 5-8 minutes or until tender.

While veggies cook, cut and core your apple, but do not peel. Add apple to a blender with 1/4 cup water and blend on high until a liquid appears. Add to your pot with veggies and let cook for another minute. *If you're planning on using an immersion blender, simply add your cut apple and 1/4 cup water to your pot with veggies. Don't worry about blending it beforehand.

Once all of your ingredients become tender add in veggie broth, cashew milk and maple syrup. Give it a good stir and bring to a boil. Reduce heat to low and blend with immersion blender until smooth and creamy OR transfer everything in your pot to a high speed blender and blend on high until smooth and creamy.

Once everything is blended, transfer soup back into your pot and add in remaining spices. Stir and cook for another minute or two on low heat. Serve immediately or store in an airtight container in the refrigerator for up to 7 days.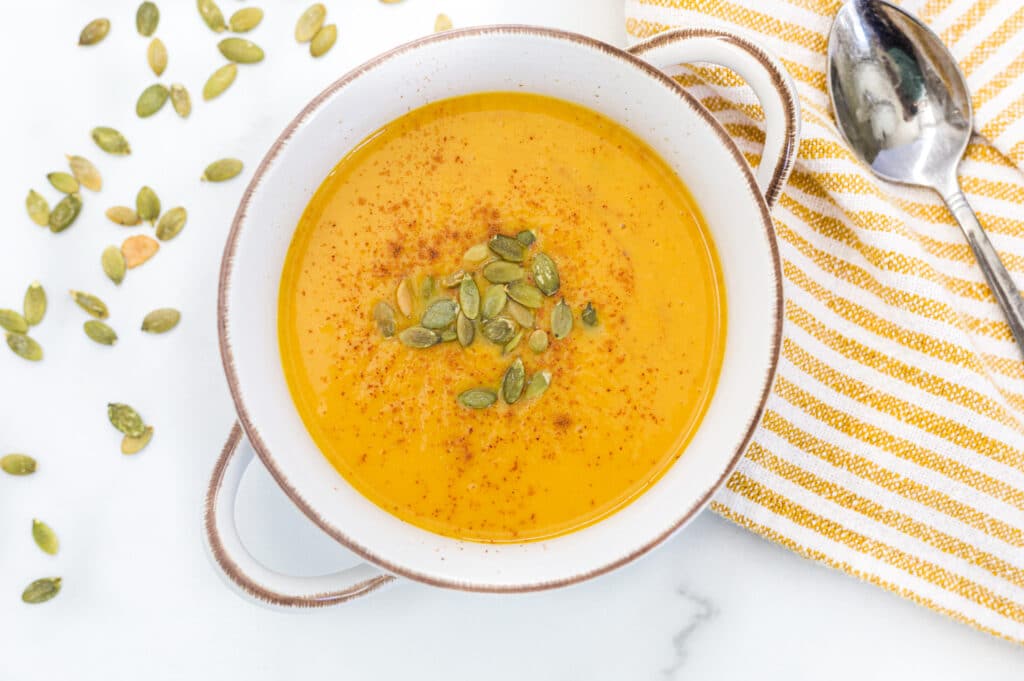 Did you make this recipe?
Please use the #staysweetwellness, tag me on Instagram and follow along for more healthy and wholesome recipes like this one.
Thanks for taking the time to stop by. I appreciate each and every one of you!
Until next time,
stay sweet.
-Ashley