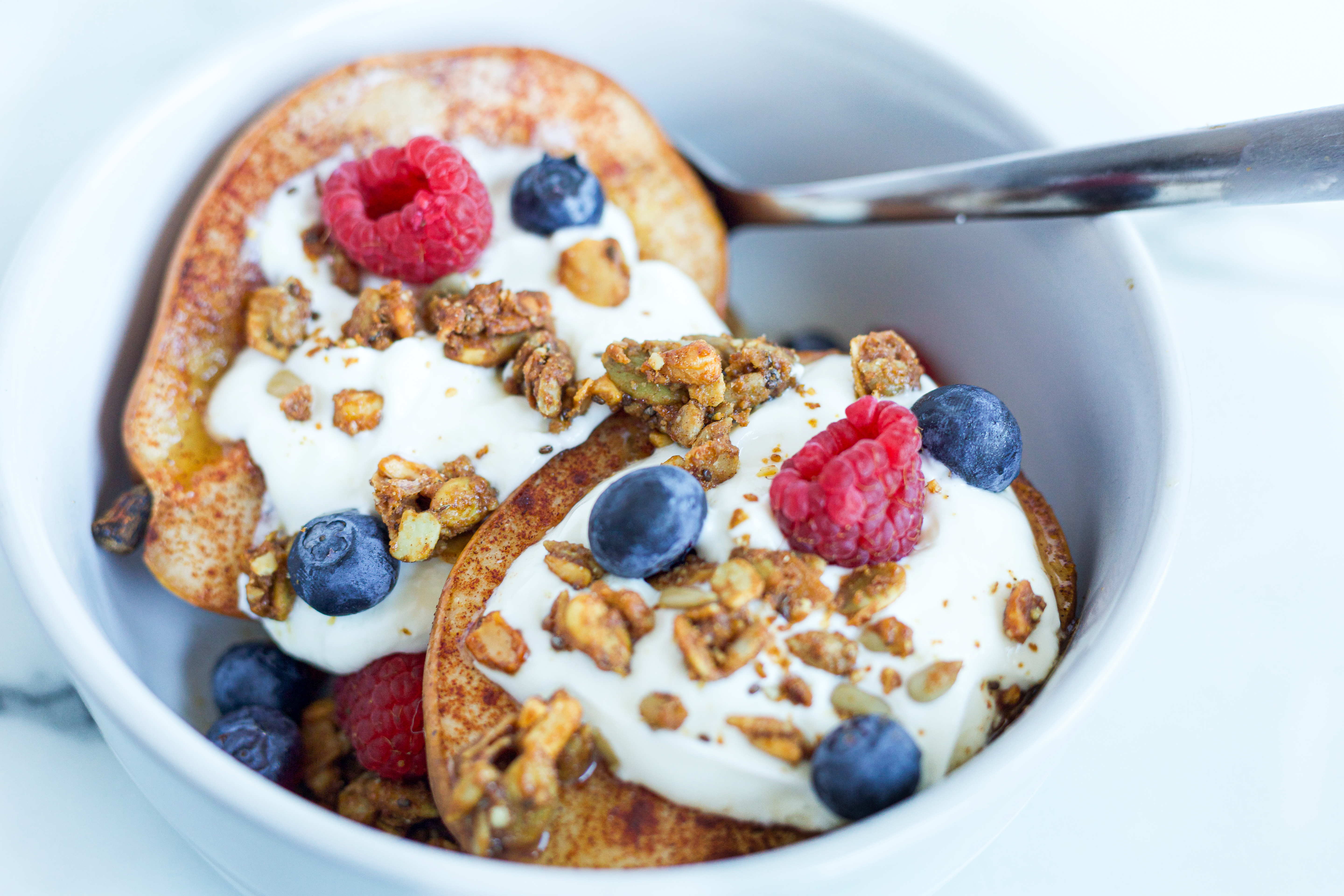 Sweet + Juicy Maple Baked Pears
Alright friends, I've found my new favorite breakfast. Sweet+juicy maple baked pears. These juicy baked pears are an amazing way to enjoy breakfast, especially loaded up with fresh toppings. They're my new favorite breakfast for two reasons. First, they taste SUPER sweet and juicy. Second, they're easy to make and prep for your entire week. WIN-WIN.
Why I LOVE this recipe?
This recipe contains 5 ingredients and takes only 30 minutes to make. Vegan, gluten free and paleo friendly. I made a huge batch to save and reheat every day of the week for breakfast or dessert. It takes me 1 minute to heat and load up with my favorite breakfast toppings like yogurt and grain free granola. Feel free to enjoy this as a dessert too! They're a little tart (thanks to the lemon juice), a little sweet (thanks to maple syrup) and full of cozy flavor (thanks to the cinnamon). A delicious, easy dish that will have you coming back for seconds. I hope you enjoy these as much as I have.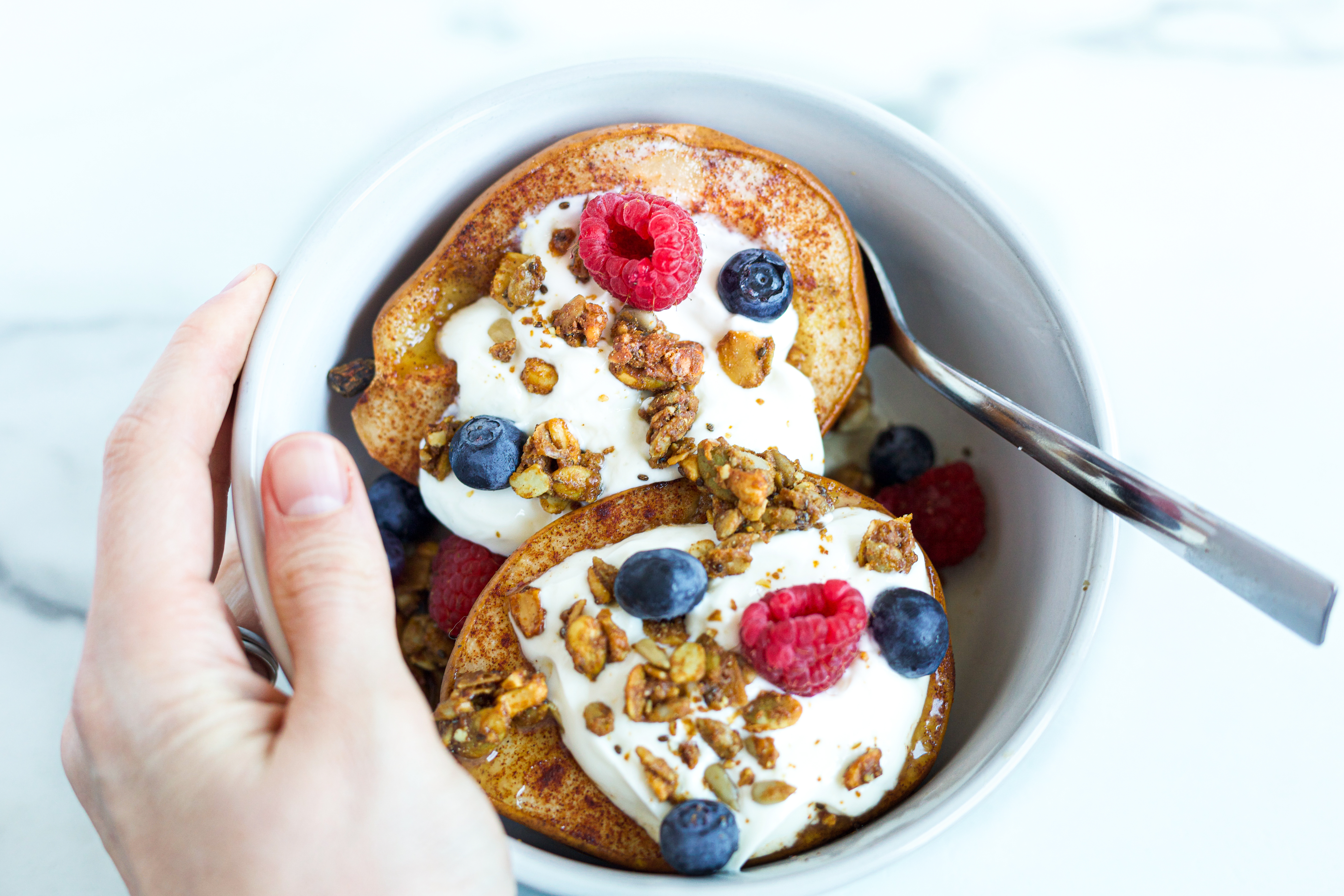 Ingredients you'll need:
pears
lemon juice
maple syrup
vanilla extract
cinnamon
Optional Toppings: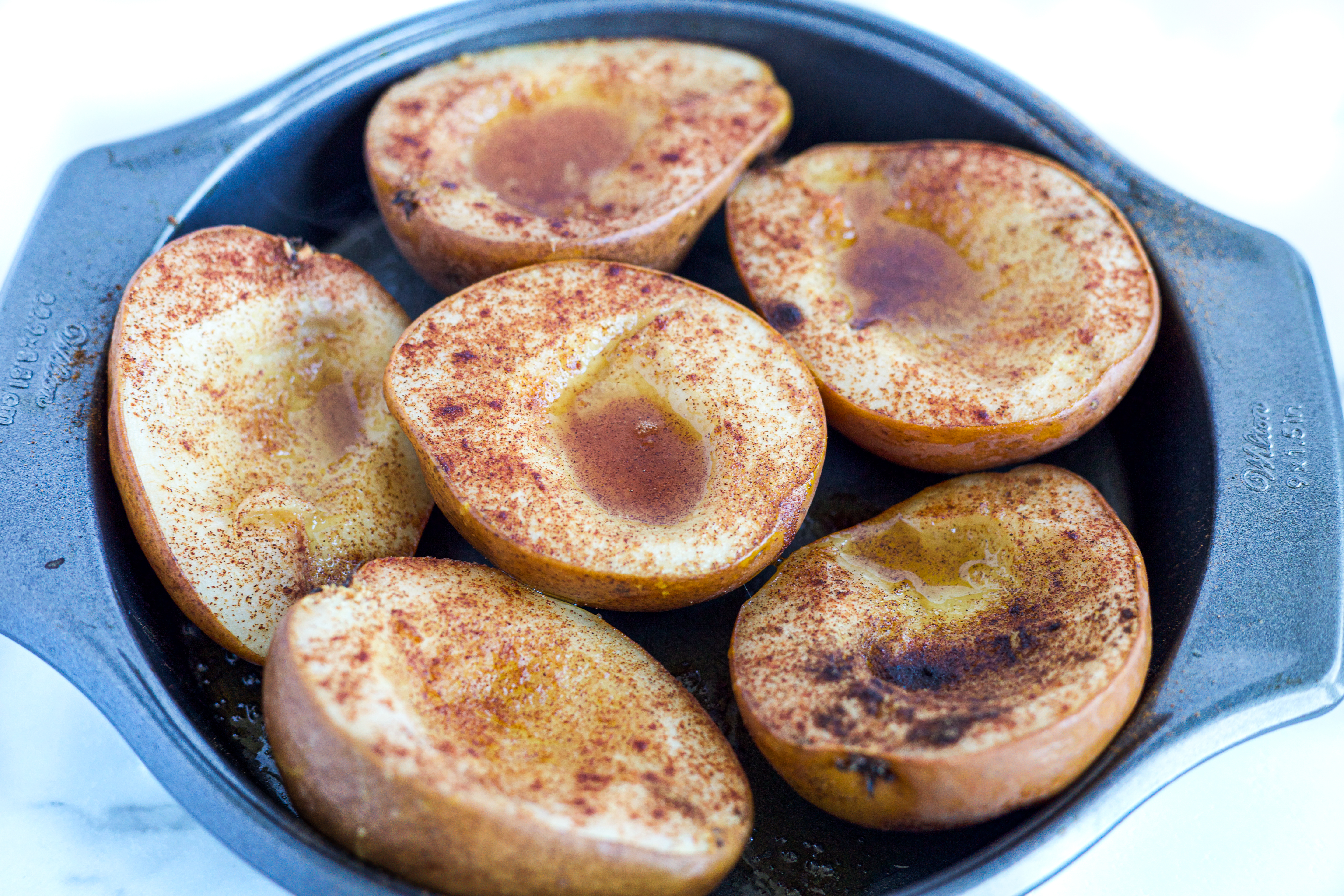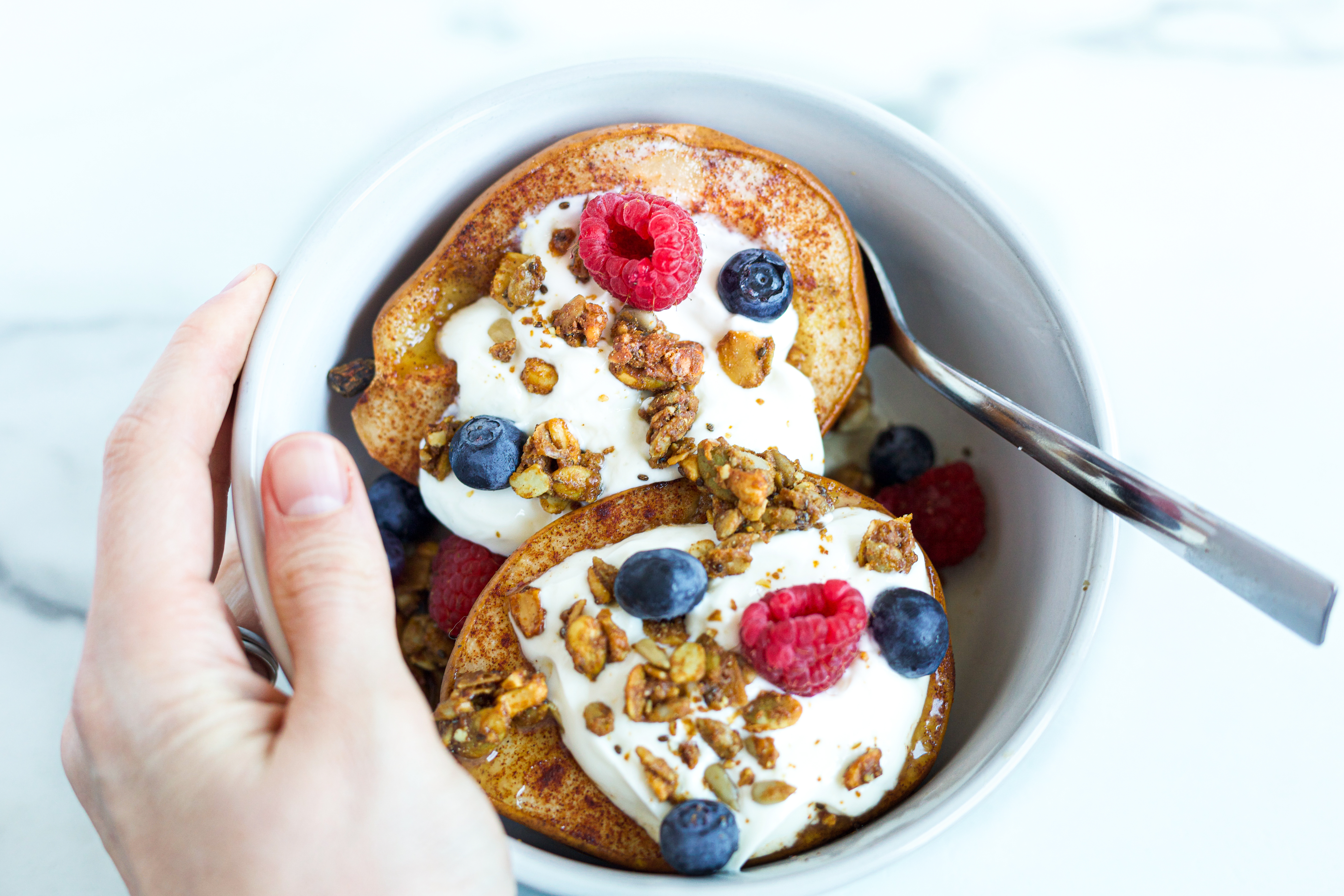 Sweet + Juicy Maple Baked Pears
These sweet + juicy baked pears are so comforting to enjoy. Super versatile and taste amazing topped with yogurt and granola. This recipe contains 5 ingredients and only takes 30 minutes to make. Vegan, gluten free and paleo friendly.
Equipment
oven

oven safe baking dish
Ingredients
3

pears, halved + seeded

1

teaspoon

fresh lemon juice

1/4

cup

pure maple syrup

1/2

teaspoon

pure vanilla extract

1/2

teaspoon

ground cinnamon
Optional ingredients
1

pinch

all spice

1/2

cup

fresh berries

1/2

cup

plain greek yogurt

1/2

cup

granola

1

tablespoon

almond butter
Instructions
Preheat oven to 375 degree Fahrenheit. Wash and cut each pear in halves. Using a small spoon, carve out the seeds from the pear and set aside.

Place pear halves in a round cake pan (or any casserole dish) facing up. One at a time, drizzle a little lemon juice on each half.

In a small separate bowl, whisk together the maple syrup and vanilla extract. One teaspoon at a time, spoon out the maple mixture onto each pear half, drizzling evenly until all gone.

Evenly sprinkle cinnamon over top each pear half and place in oven to bake for 23-25 minutes. Remove from oven and let cool for five minutes. Serve warm or refrigerate in an airtight container for up to one week.
Notes
I used Anjou pears for this recipe. Some things to keep in mind, quality ingredients are what make this recipe delicious. Make sure you're using fresh pears, pure maple syrup (the ingredients on a syrup bottle should only read "maple syrup") and fresh lemon juice. Using artificial lemon juice will change the original flavor of the recipe.
Did you make this recipe?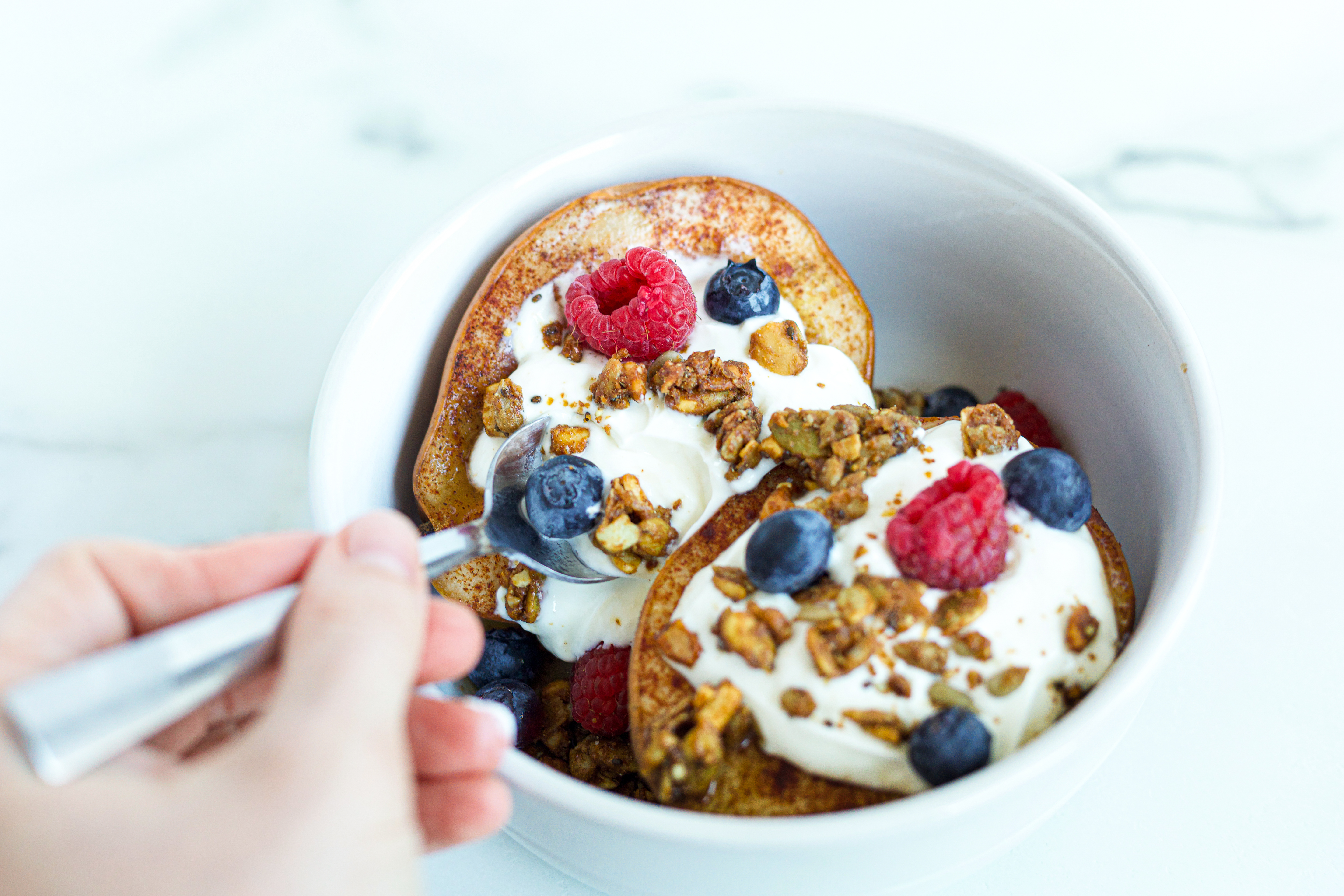 Please tag @staysweetwellness, follow me on instagram and #staysweetwellness
I love seeing your recreations of
my fun + wholesome recipes!
Until next time,
Stay Sweet.
-Ashley