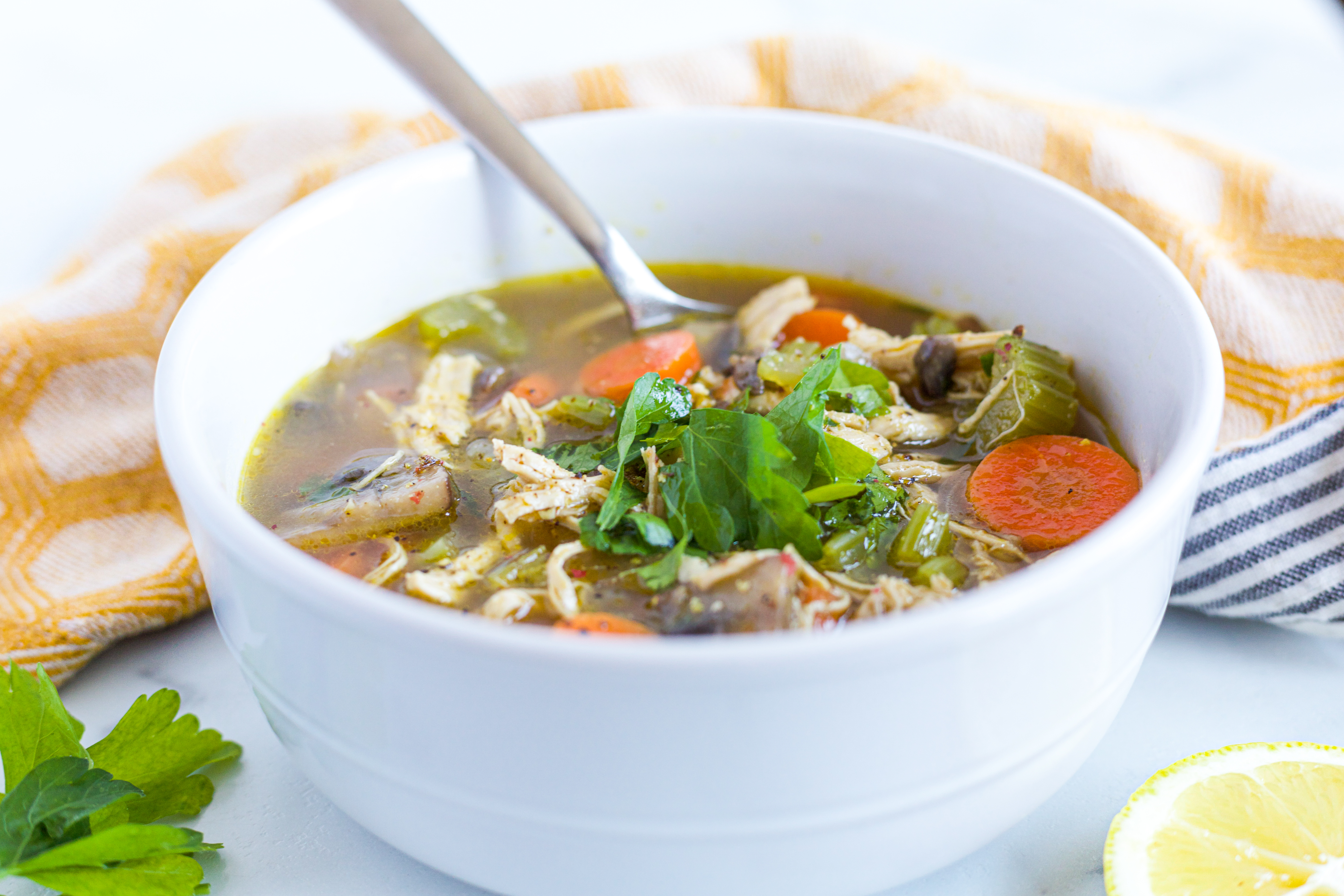 Quick + Cozy Chicken Soup
Jump to Recipe
Paleo+ Gluten Free
My quick and cozy chicken soup is not only nourishing but so cozy, especially on a rainy day like today. It's fresh, packed with all kinds of nutrients (thanks to every single ingredient) AND it tastes like home. Enjoy with a thick slice of sour dough and you have yourself the perfect, cozy meal. Gut friendly, immune boosting and SO TASTY.
Why is this recipe so good for you?
The nutritional benefits of this soup include protein, fiber, potassium, iron and a boat load of antioxidants. It's the perfect recipe to help kick the common cold and boost your immune system. Also, thanks to all the bone broth and veggies there's a bunch of prebiotic and probiotics making it a favorable recipe for you gut.
Ingredients you'll need:
olive oil
bone broth
chicken breast
garlic
sweet onion
carrots
celery
baby bella mushrooms
lemon juice
sea salt
pepper
bay leaf
fresh Italian parsley
Paleo and gluten free. Enjoy in less than 30 minutes along with some fresh sour dough bread (if you follow me on Instagram you know I've been experimenting with sour dough- which is both humbling and fun). The flavors from one bowl alone take me back to my childhood. Which makes me even more inclined to share it with you. My family and I use to always joke that whoever found the bay leaf in their bowl of chicken soup would have good luck. So, please let me know who the lucky winner is in your family. I love seeing recreations of recipes I hold dear to my heart.
How to make?
This recipe is simple and to the point. You can make and enjoy in 30 minutes or less. Simply start by cooking your chicken breast on stove top. While chicken is cooking, wash, rinse and cut up your vegetables. Once chicken is fully cooked, use two forks to shred and set aside. Add all your cut veggies to a large pot with some olive oil and cook until soft/ tender. Add your chicken, chicken broth, lemon juice, salt, pepper and bay leaf and cook for just a while longer. Enjoy with a large, thick slice of sour dough bread or whole wheat crackers.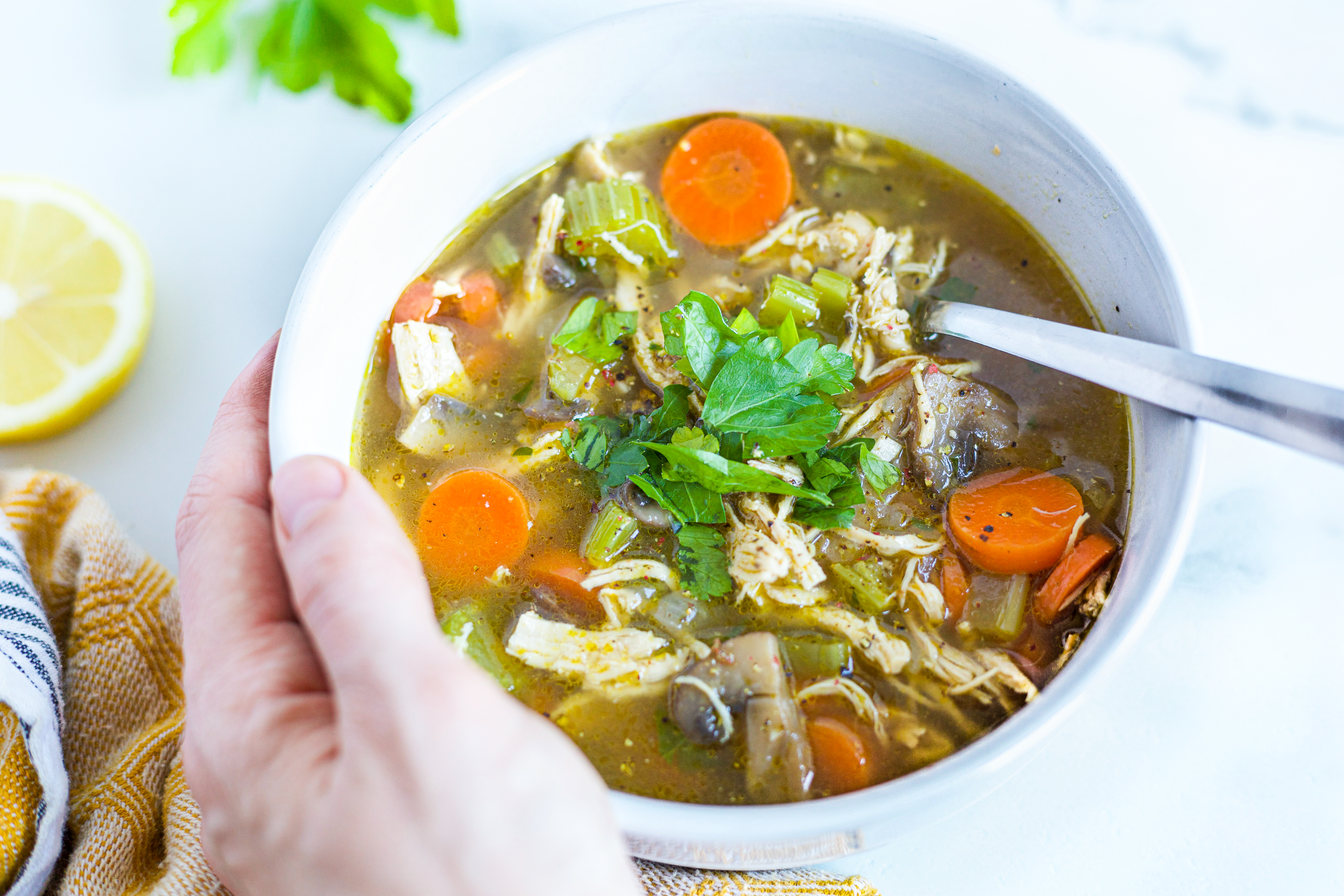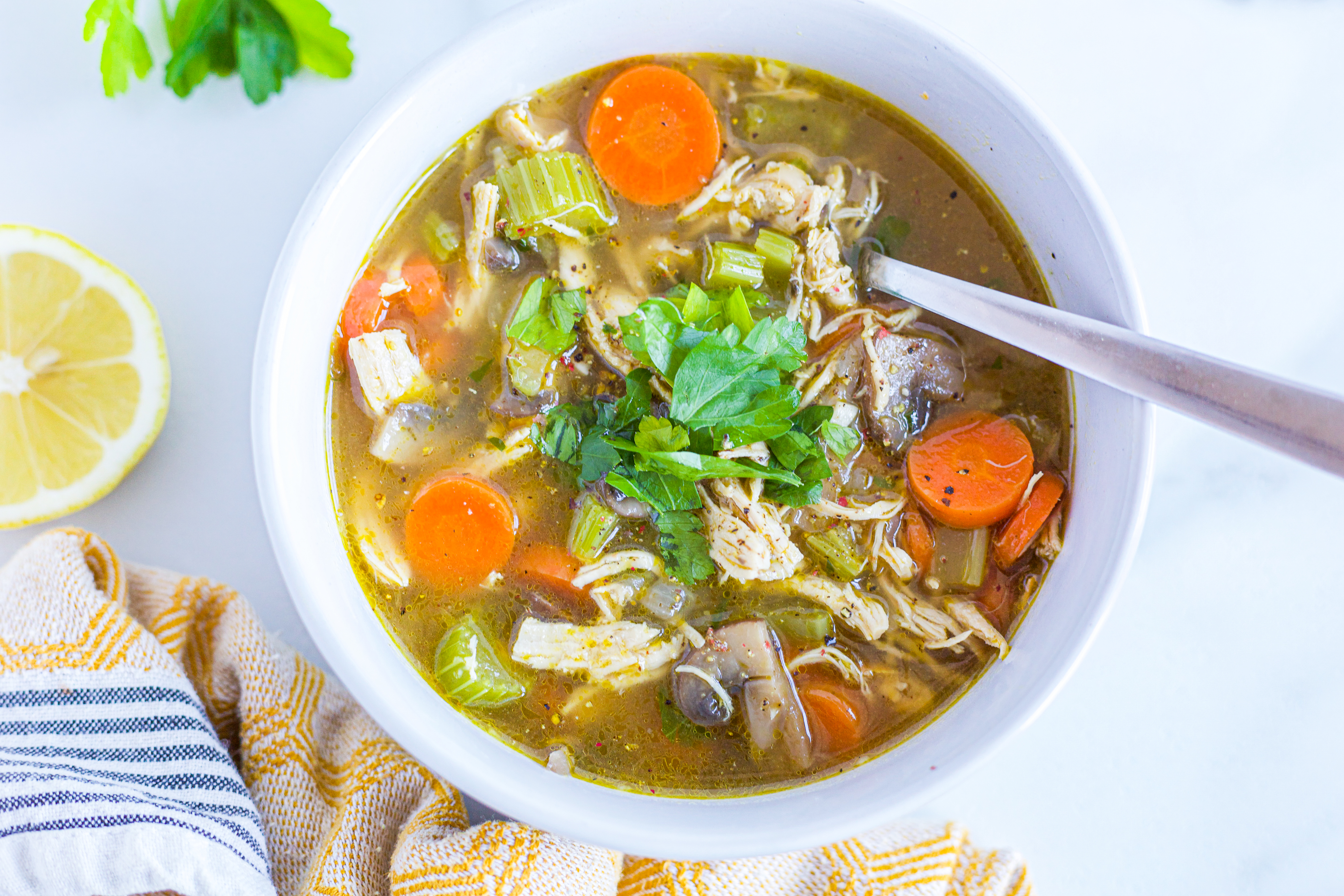 Quick + Cozy Chicken Soup
Ready in less than 30 minutes! Paleo + gluten free. This cozy, delicious soup will boost your immune system and fill your body with all sorts of nutritional benefits. Enjoy with a thick slice of sour dough. Your gut will thank you.
Equipment
pot

stove top burner

ladle

rubber spatula

cutting board
Ingredients
for the chicken
1/2

teaspoon

olive oil

1/4

cup

chicken bone broth

1

large organic chicken breast

cooked + shredded
for the soup
1

teaspoon

olive oil

2

cloves

garlic, minced

1/2

cup

sweet onion, diced

1

cup

sliced carrots

1

cup

sliced celery

1

cup

sliced baby bella mushrooms

2 ½

cups

chicken bone broth

1-2

teaspoon(s)

fresh lemon juice

1

teaspoon

sea salt

1/2

teaspoon

ground black pepper

1

bay leaf
optional:
1

bunch

fresh Italian parsley
Instructions
In a small skillet, add a half teaspoon of olive oil and chicken breast. Cover and cook on low for 5 minutes. Add in ¼ cup of broth (any kind will do), flip and let cook for another 5 minutes. Once white all the way through, remove from pan and shred with two forks. Set aside.

In a medium sized sauce pan add in 1 teaspoon of olive oil, garlic and onion. Cook on medium/low heat for 2 minutes. Add in carrots, celery and mushrooms. Cover and let cook for another 3-5 minutes, stirring occasionally.

Once all veggies are tender, add in broth, lemon juice, salt + pepper and bay leaf. Bring soup to a boil, cover and turn down to simmer for 2 minutes.

Dip soup out with a ladle and top with fresh parsley. Refrigerate and store in an airtight container for up to a week. This soup can also be frozen for up to 3 months.
Notes
Vegan swaps- to make this recipe vegan, simply replace bone broth with veggie broth and shredded chicken with white beans for a plant based protein.
I personally love adding some extra lemon juice, salt + pepper to my soup. Ben isn't a fan of strong citrus flavors so I kept the lemon very mild here. Feel free to add more lemon and garlic for a zestier flavor.
You can also freeze this soup and save for up to 3 months. If you decided to freeze, make sure to take it out the night before eating and let thaw in the refrigerator for at least 12-16 hours. Warm up in a large sauce pan on stove top on medium/low heat for about 5 minutes. Stir occasionally.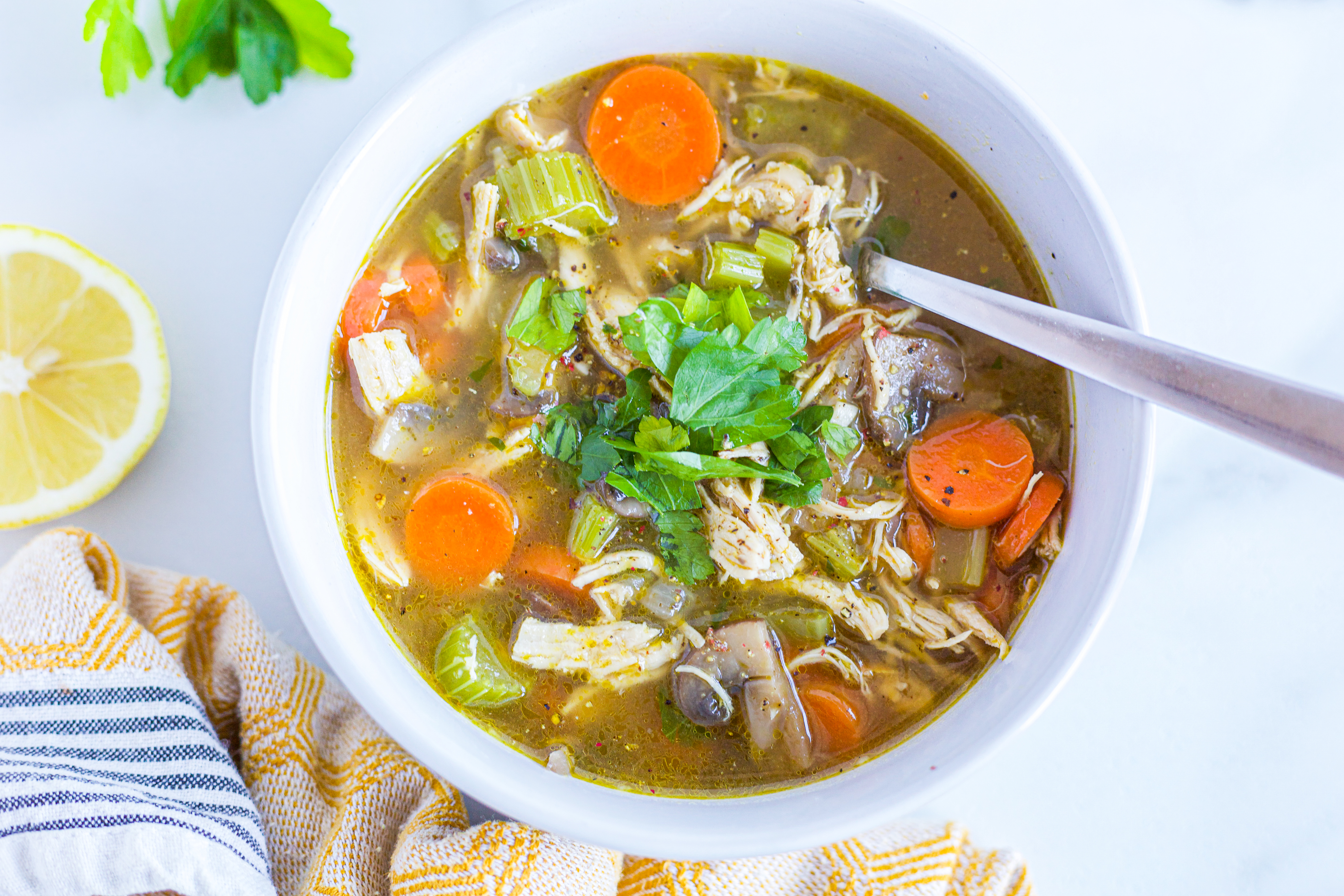 Did you make this quick + nourishing recipe?
Please tag @staysweetwellness , follow me on instagram and #staysweetwellness.
I love seeing your recreations of my fun + wholesome recipes!
Until next time,
Stay Sweet.
-Ashley