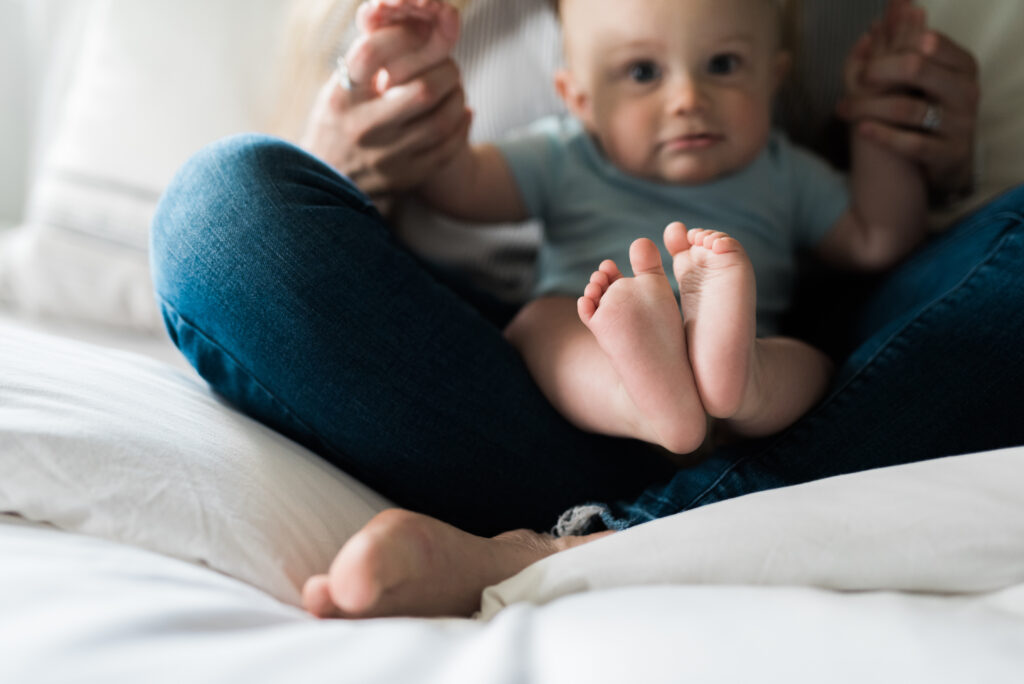 Introduction:
On September 8th 2019, I gave birth to my miracle, Keegan Joseph McGuirk. Let me first begin with how incredibly grateful I am for him. I am overwhelmed with love and joy as I look at his little button nose and deep blue eyes. He is perfection. He is a part of me, the most amazing part of me that I will never be able to fully explain. He is 50% me and 50% Ben- the man I adore and love more than anyone else on the entire planet. Together, we created this miracle. Our love created what was once a bundle of cells the size of a blueberry and is now a beautiful, amazing, healthy baby boy. My eyes still fill with tears as I gaze at him, his innocence, his pure soul untouched is the most beautiful sight I've ever seen. I am honored, humbled and still amazed by the entire process of pregnancy and labor. It is challenging but it is also magical. Love rushes through each and every one of my veins as I sit and ponder about the entire journey that led me to this moment. Every mother understands this feeling, this incredible experience. Some may call it Oxytocin- which it is, but it is also so much more. There is a spiritual awakening that comes with the journey of pregnancy and labor and let me tell you, it rocks your world in the most amazing way. There is so much overwhelm, but it's not the overwhelm you once felt before. This overwhelm is pure joy, pure love, a rush of anxiety and gratitude all at the same time. It's almost impossible trying to explain this experience and these emotions because I feel limited with the use of the English vocabulary. So, let me finish with this, birthing Keegan is the most incredible thing I have ever done in life. Nothing will ever compare to this miracle. It is the closest thing I have ever felt to God, to the universe and to something much deeper and much greater than any human experience. I am still amazed, and will forever cherish the best day of my entire life, birthing Keegan Joseph McGuirk.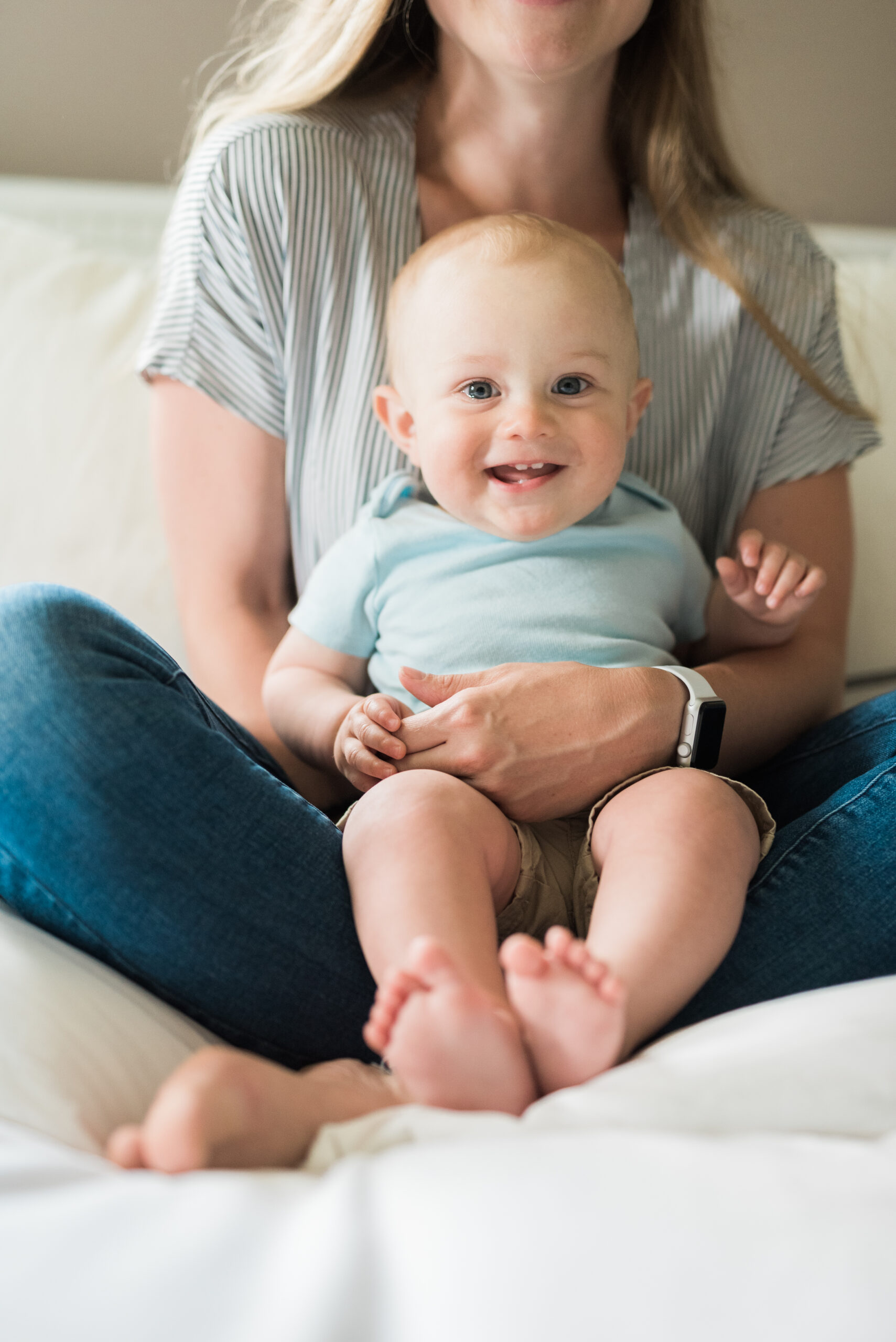 Part One: Saturday
On Saturday September 7, 2019, I had a hunch our baby was coming soon. The next day was our estimated due date so it made me feel like labor was approaching and it was slowly becoming my reality. That, in addition to my contractions growing closer together filled me with excitement and focus. Game day was arriving and I was determined to embrace it with strength, humility and grace. Little did I know that was just a fraction of what I needed to birth my baby.
My contractions were very mild on Saturday morning so Ben and I just took it easy. I went on a walk with my friend Sarah on our favorite trail. Throughout my entire pregnancy we would take walks almost every week on the Ma and Pa trail in Forest Hill. While on the walk I joked with Sarah that this may be the final walk of the season, because I had a gut feeling it may be the last thing I do to naturally induce myself. Well, it was feeling like I wasn't far off. Shortly after, I returned home, took a shower and sat on the couch. I started feeling sporadic contractions again, but at this point I didn't think much of them and so I carried on throughout my day. You see, I had already been experiencing Braxton hicks for about a month, so I never took contractions too seriously. After lounging around and relaxing Ben and I decided to give our best friends, Maggie and John a call and ask if they'd like to go out for lunch. They decided to pick up lunch for us and we met at their home just a few minutes down the road. During lunch contractions began growing more consistent so I felt I should probably start timing them, just in case. Obviously, this was my first time experiencing contractions so I just kept breathing slowly, relaxing the best I possibly could and watching the timer. Contractions lasted maybe 30 seconds and were about 10-15 minutes apart so I wasn't too worried, however I knew deep down labor wasn't too far off.
After lunch, we checked out a brewery in Pylesville where a local blue grass band was performing. It was a beautiful evening and we thought it would be a great idea to keep ourselves busy before our baby decided to start the process of making his grand entrance. As we drove to the brewery contractions began rolling in a little stronger than before so I told Ben let's hang out for a little, but not too long because they were starting to get a little uncomfortable. So, we enjoyed the bluegrass, sat and mingled for a little and then decided to head home about an hour later. I began accepting the fact that our baby was getting closer and closer. It felt foreign, but more exciting than anything.
After we got home Ben and I enjoyed some chick fila for a late dinner and I decided to contact my mother in law to pick up our dog, Honey. Since my contractions were growing closer together we knew it was about time to let Honey start her vacation at the farm. Even though Honey brings us much joy, we knew it was best for her not be present for our first homebirth. It was surprisingly emotional for me to say goodbye to Honey (for only a few days), but I accepted it was for the best. After my mother in law checked in and picked up Honey, we contacted my doula, Joyce. I texted let her to let her know that contractions were about 7 minutes apart and lasting between 45-60 seconds. She agreed with me that early labor had started and she wanted to make her way over so that I could feel more supported before contractions began to intensify. We texted back and forth for a bit and then around 10:30PM Joyce made her way over and we started setting up the house for early labor. All of my beautiful affirmation cards were set out and hung up along a string of fairy lights. Candles were lit and soft massage music played throughout the house. Ben opened all the windows as we listened to chirping crickets in the darkness of night. It was the most beautiful birth set up anyone could ever imagine. So peaceful, so natural and (yes, I'll use this word over and over) MAGIC.
As Joyce and Ben set up little details here and there, I tried relaxing and resting. However, my adrenaline had kicked in so it was almost impossible to sit still and relax. I was extremely excited, eager and focused all at the same time. I wanted to relax and try to get into a meditative space, but it just didn't feel right to me. I began vocalizing with each contraction because at that point they were becoming more and more intense. For me, vocalizing was an amazing tool during my contractions. It helped me mentally and physically with every single contraction. I laid on the couch for a while with a pillow between my legs, breathed, moaned and told myself over and over again, "this is all temporary". Joyce and Ben took turns pressing my hips together through each contraction, which took some pressure off my pelvis. It helped tremendously! I was still talking and having conversations with Joyce and Ben as we patiently waited for labor to advance. Joyce was taking photos of our home birth set up, décor and clock. At one point, I specifically remember Joyce saying, "It's 12:01AM. Looks like this baby will be arriving on his due date, Sunday September 8th."
Part two: 5 centimeters
It was probably around 12:30AM when I began pacing back and forth throughout our home. Ben and Joyce followed me as I would stop, lean over whatever was nearest to me and vocalize through that current contraction. I must have chanted a million OM's. Throughout the night I got into every birthing position imaginable to help during contractions. I got down onto all fours (hands and knees), I laid across a ball, sat on a chair, laid on the couch, sat on the toilet, sat on the toilet backwards etc. This went on for hours. Around 4am contractions had grown longer and closer together so we assumed I was getting closer to meeting Keegan. (Not to spoil the story, but we were wrong). Joyce and Ben filled up our pool and I stripped down to get in. As I submerged into the warm pool, I felt immediate relief. The warm water felt like this amazing blanket on my body. It made contractions less intense and made me feel like I could actually relax. I felt the most comfortable I had felt in hours and it was all due to this warm water surrounding my body. Since contractions had intensified my midwives, Bayla and Tova had informed Ben they would soon be over. The midwives arrived around 5AM on Sunday morning. I was still in the pool enjoying the warmth and relaxing, however, I grew a little concerned because contractions slowed down. Because I had already been in labor for 14 hours I didn't want to slow the process, so we made a decision for me to exit the tub and begin walking once more. Ben, Bayla and Tova helped me out of the tub, dried my legs and I began wrapping myself in my robe. Once more, I started walking my hallway back to Keegans room and then turning around to make my way to my beautiful birthing area in our dining room. I must have walked this route 1,000 times. At one point I thought, "He's going to be here soon, it has already been 14 hours and most of the women I know had their baby by now" so I got really excited and thought "You're almost there! It'll probably be another 2 hours before he's here!" Boy, was I wrong. In addition to these hopeful thoughts, (that made sense in my head at the time) morning has always been my favorite time of day. I thought surely this was the time of day Keegan would come screaming out onto this planet. However, labor taught me over and over again that I wasn't in control. What I thought was going to happen didn't. It was a struggle to surrender to my body and to God. But I knew deep down, in order to move forward and bring my baby into the world, I had to give in. I had to pray, let go and have strength.
About two hours past and unfortunately, my contractions were no longer progressing. They became stagnant and I was exhausted. Bayla and Tova asked me if I was okay with being checked and I agreed. Ben and Joyce helped me up on the bed in our guest bedroom. Bayla and Tova laid some chux pads underneath my bottom and spread my legs. Tova asked for my permission to measure and I started tearing up immediately. I was frustrated with myself, but was also afraid to hear how dilated I was. I wanted to know the exact measurement but at the same time didn't want to be disappointed if it wasn't what I thought. I thought to myself, " I have to be at least 8cm, I've been in labor for so long!" WelI, I was wrong (again). Tova and Bayla both checked my cervix to make sure they got an accurate measurement. They informed me I was only around 5cm, at the most and Bayla suggested she sweep my membranes. I agreed with the sweeping of my membranes and immediately started crying. As Bayla swept my membranes I remember feeling stinging and pressure. It wasn't pleasant, but I wanted my labor to progress and this was one way of helping that happen. Right after she finished sweeping my membranes I felt defeated. Not only was this process painful, but it was the most discouraged I had ever felt. I was physically and mentally exhausted and this meant I was nowhere near meeting my baby. I was so frustrated with my body and with Keegan. I asked my entire birth team, "Why is this taking so long? What do I do from here?" They couldn't give me an exact answer because there wasn't one. Everyone is different and labor can take so many different paths. Hearing answers similar to this were extremely hard to swallow. It was a moment of exhaustion and uncertainty. You see, letting go of control is the hardest part of labor. Not only do you have to let go of physical control, but also control of everything around you. Labor challenged me mentally in this way. I wanted so badly to be able to plan the time Keegan would be born. I wanted to think I had some sort of control over the situation, but reality was, I didn't and that's one of the hardest lessons to learn. The uncertainty of time.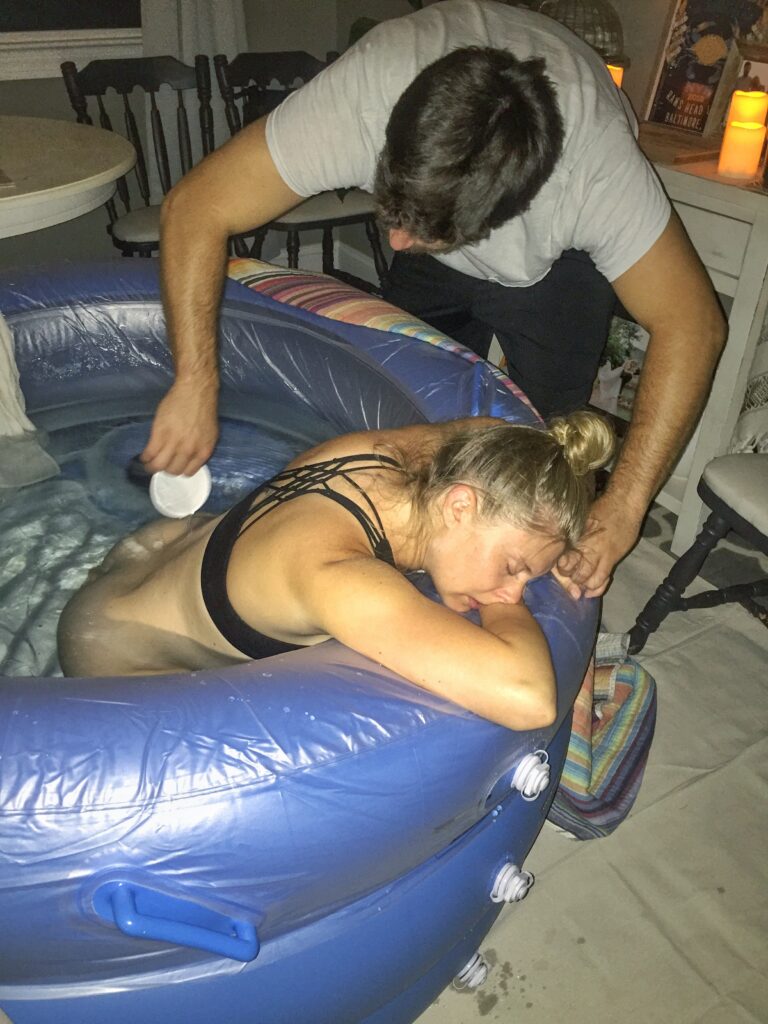 Part three: "The 24-hour mark"
Another 30 minutes past and still no progression. At the rate I was going, my midwives suggested I take some time to rest. It was recommended I take a Benadryl or drink a glass of wine because from the looks of it, I wasn't going to deliver any time soon. Since I had been up for over 24 hours, it was best for me to try and rest. They told me to eat something with protein and then try to take a nap. (Honestly, both of those suggestions sounded impossible). My midwives also decided it would be best for them to leave for a couple hours because subconsciously, their presence was putting pressure on me mentally. They asked if I was comfortable with their suggestions and I agreed. I trusted their judgement, took a Benadryl and laid on my couch moaning through each contraction as they prepared to depart. They left, along with Joyce and told Ben to call if we needed anything. They all went home to take showers, rest up and eat something before returning for round two. I tried to nibble on a piece of whole grain, peanut butter toast but eating anything was a challenge. Ben and I just laid in the living room in agony. Ben, was exhausted and nervous as hell, laying on the hard wood floor. I was exhausted and frustrated laying on our couch. I prayed to God asking him to please deliver Keegan because I felt like I was starting to lose faith in my body.
Joyce returned around 12:30PM. Nothing much had happened, but contractions were pretty consistent and intense. I rolled through each one like a champ. I clung to my birthing affirmation cards and tears rolled down my face as I repeated each one over and over and over again. I felt the words of those affirmation cards. I cried as I repeated:
"You are strong and capable."
"Your body was designed and meant to do this"
"I CAN & I WILL."
I felt the blood of a thousand mothers run through my body. I thought to myself, "Millions of women have done this for years, you are one of those women." I repeated this thought in my head over and over. I gritted my teeth, I yelled, I drooled, I whaled. It was THE MOST CHALLENGING experience of my life but somehow it was so sacred. Joyce would rub my head, my shoulders and my back while Ben would hold my hand and passionately hug me. At one point, I sat upright on the couch with pillows surrounding me. I would lay back and rest (the best I possibly could) with each contraction. They were so intense I can't possibly compare them to anything else. I kept loudly repeating, "RELAX" with each contraction and breathing for counts of five. I felt like I was finally getting somewhere, but then once again I plateaued. My contractions were staying the same and I reached my 24-hour mark. At that point, I felt myself giving up. I felt like there was no end in sight and at that 24-hour mark I feared nothing. I was just exhausted and needed this to end. I begged God to help me bring this baby earth side. I didn't care how, I just needed relief. I looked at Joyce with eyes glazed over and said, "I don't know how much longer I can do this. I think we may have to transfer." She kindly rubbed my back and said, "Let's call your midwives. I'm sure they have some tools to help." So, Joyce called my midwives, explained to them what I had just said and quickly they replied, "We'll be right there." At that moment, they knew I needed something to help me progress and I needed it soon.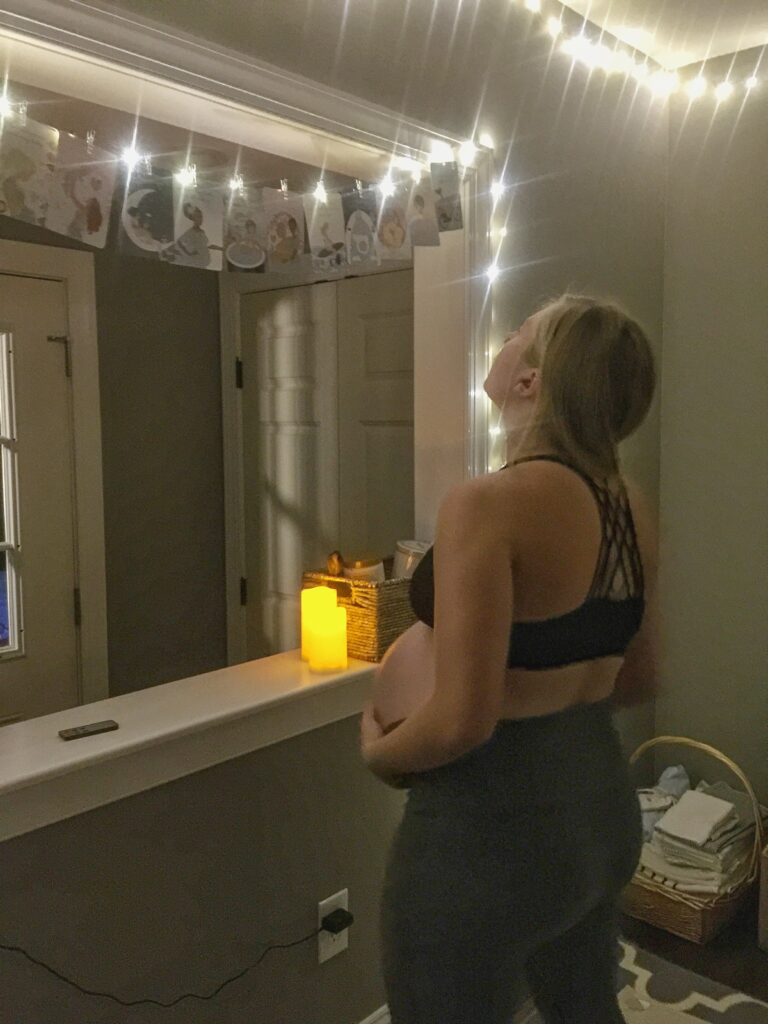 Part four: Finally, Progress
Shortly after that phone call my midwives arrived and I swear to you, it felt like two superwomen walked through my front door. I felt a small sense of relief because I knew no matter what happened, my baby was going to arrive soon. They confidently set up, told Ben to go lay down for a little nap (because bless his soul, he was exhausted) and asked me, "how are you feeling, what do you need from us?" Ben went into our bedroom, closed the door and crashed on our bed. As soon as he closed that door I looked at Tova and Bayla and said, "I am not fucking around. I am at my wits end. I cannot go through another night of this. Please just tell me what I have to do to get this baby out of me." Tova nodded her head and said, "Okay, we're going to have you get into three difference poses. Each one is going to bring you closer to your baby, however, they will also be very intense." I looked at her with confidence and replied, "Okay, I'll do anything if this means I get to meet my baby today." She smiled and said, "Okay, let's start by getting you into child pose and using our Rebozo." I agreed. I got onto my hands and knees on our couch and slowly positioned myself into child's pose. Tova wrapped the rebozo around my belly and hips. She instructed me to breathe through each contraction as she maneuvered the rebozo left to right. This tool was amazing! It took so much pressure off of my pelvis and made me feel swaddled and supported. We did this for about five contractions and then she suggested we move onto the next pose. The second pose consisted of me laying on my left side with pillows between my legs to open my pelvis. I hated this pose. I hated it because the intensity magnified by ten. It was by far the most intense pose I had experienced in the past 24 hours. Tova coached me through it while pressing on my hips and caressing my head. She was so positive and told me things like how amazing I was and that my baby was coming at the perfect time. Her words of encouragement rang true in my head. I focused on each affirmation she said aloud and knew I could do this. Through each contraction I knew my baby was descending. I just needed to keep going and trust the process. In my head I kept saying, "only a few more contractions in this pose, you can do it for just a few more." It was like I was doing just a few more burpees or a few more reps of exercise. I focused and let my body do the rest. Getting through the fifth contraction while in that pose felt awful, but I was beyond focused. I was in a zone of acceptance and surrender. It was time for the third pose and I was fucking ready. It was game time.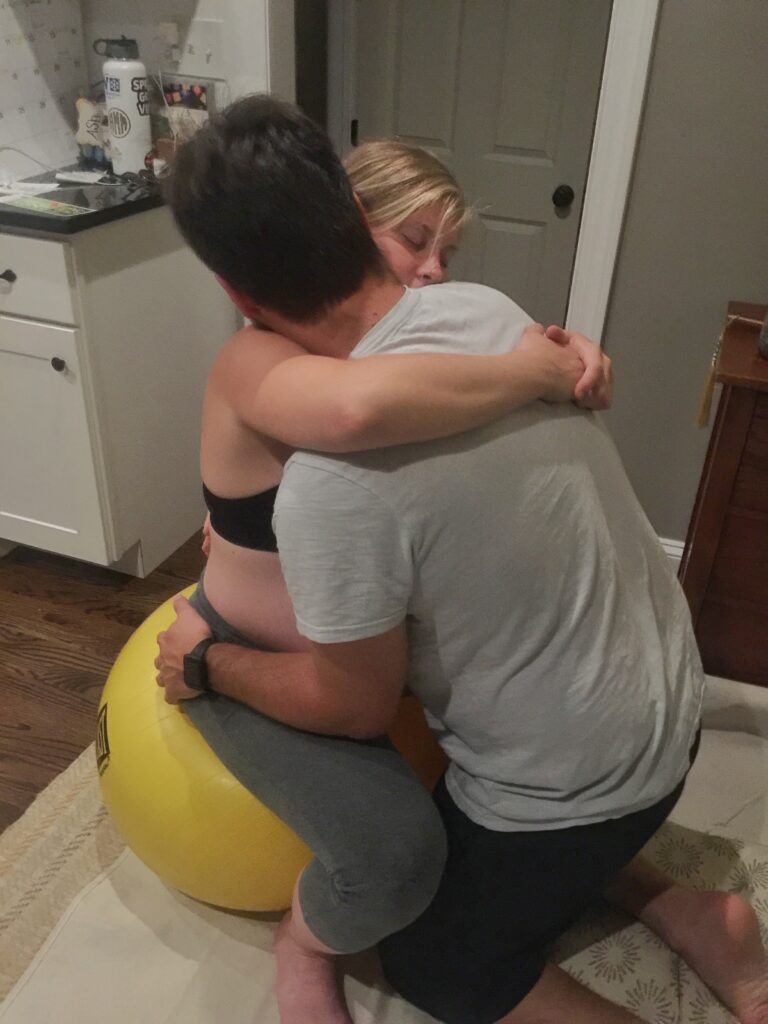 Part five: I feel his head!
To prepare for my third pose, Tova and Bayla walked me to my bathroom and had me sit onto the toilet, backwards. I could feel my perineum descend into the toilet bowl and knew there was no turning back now. Within minutes I was experiencing another intense contraction and it felt longer than the last. I was officially in active labor and ready to prepare for my baby's entrance. After about five contractions my fetal ejection reflex came into play and boy, it wasn't playing around. In my own words, it felt like I was dry heaving out of my vagina. I had zero control over this reflex and my body was doing everything it could to get this baby out! It was incredible in so many ways. Joyce woke up Ben and told him it was time to prepare for Keegan. Ben jumped up and came into the bathroom with me to rub my back and press on my hips. Even though a burst of excitement came over me I was still focused and experiencing a lot of intensity. Once again, another fetal ejection reflex occurred and I felt a head descend! "Oh my GOD! I feel his head!" I yelled. We were so close. Because I was progressing so quickly, Bayla and Tova set up an IV drip. I decided to receive one bag of fluids with antibiotics because a month prior to labor I tested positive for GBS. I didn't feel 100% comfortable with not receiving the medicine so I agreed to the IV. While still backwards on the toilet Tova inserted the needle into the top of my hand as I rolled through another intense contraction. Keegans head descended a little more and quickly I turned and asked to switch positions. Instinctually, I asked to move to the couch because that's where I wanted to deliver. Time was growing shorter between each contraction, so, while I powered through another, Joyce and my midwives set up the couch. There were sheets and chux pads covering the entire couch ready for me to give birth.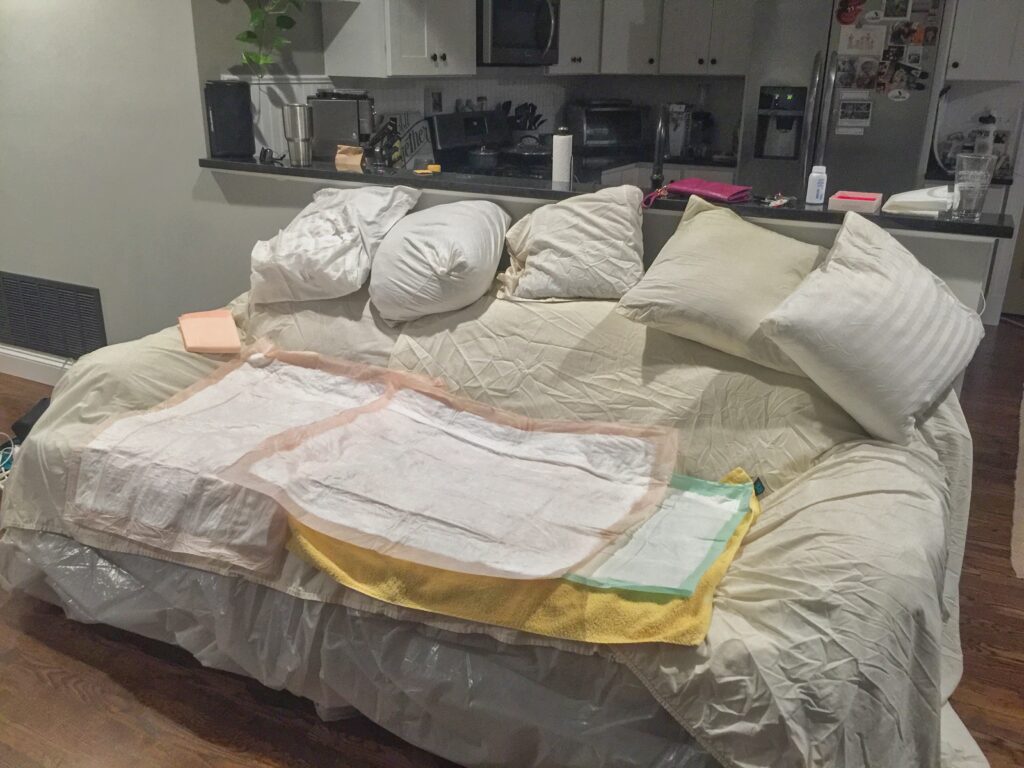 After one more contraction on the toilet, Ben walked me to our couch and I instinctively stepped onto it with my hands and knees, facing backwards. I positioned myself in a way where my knees faced the rear of the couch, my arms draped over the back and my bottom faced the midwives. Gravity was on my side in the position and I had a hunch beforehand I would give birth on my hands and knees. I wasn't far off. Another contraction surged through me and again, I felt Keegan descend a little more into the vaginal canal and was beyond ready to meet him. At that point, Bayla and Tova began coaching me through each contraction. After just a few minutes I felt what most describe as "the ring of fire." Keegans head had completely descended and it was so close to popping out. This time I was ready to give it my all. Tova instructed me to gradually breathe in and out, steadily. It was important for me to take my time before pushing too hard. She said something like, "We want you to take your time and stretch gradually." So, I focused on her direction while surrendering to my bodies capabilities. It was only a couple more minutes before I felt the "ring of fire" once more and it stung, however it was nothing compared to the intensity of contractions. So, I pushed a little more and Keegans head was almost out. Tova told me to lift up my leg and kneel in the position I was in on the couch and with my voice shaking I replied, "I can't." She replied, "Yes you can, I'll help you." Together we brought my right foot up so that I was on my left knee to open my pelvis a bit more. This was just the position I needed to bring Keegan into the world. "Do you want to catch him, Ashley?" Tova asked, immediately, I replied, "No, I can't. Do you want to Ben?" Ben shook his head and looked into my eyes deeply. He was 100% focused on me. I could just tell by his facial expression he was worried about me. He just wanted me to experience relief and deliver our baby. We both agreed that Tova would catch Keegan and I pushed once more. From there, Tova said, "Now hold it here and perform fast little breaths." I did exactly as she instructed and within minutes Keegan had made his way into the world! My last 3 pushes took all of my physical strength, but long and behold he slid out frantically looking around the room. I sighed, "OH MY GOD" my body shaking along with my voice. He was finally here! Bayla gently assisted me with bringing my leg back down and turning my body to lay on the couch. Tova handed Keegan to me and I couldn't believe my eyes. I couldn't believe this miracle was here, in my arms. All of my life I had waited for this moment. I couldn't believe the rush of love that ran through my veins. My body no longer ached. I was in a state of shock and then said, "He's huge!" Keegan cried immediately and I looked at him in awe. My voice shook as I talked to Keegan for the first time. My midwives gave me a couple minutes to soak it all in. I had did it. He was in my arms, full of life, full of innocence.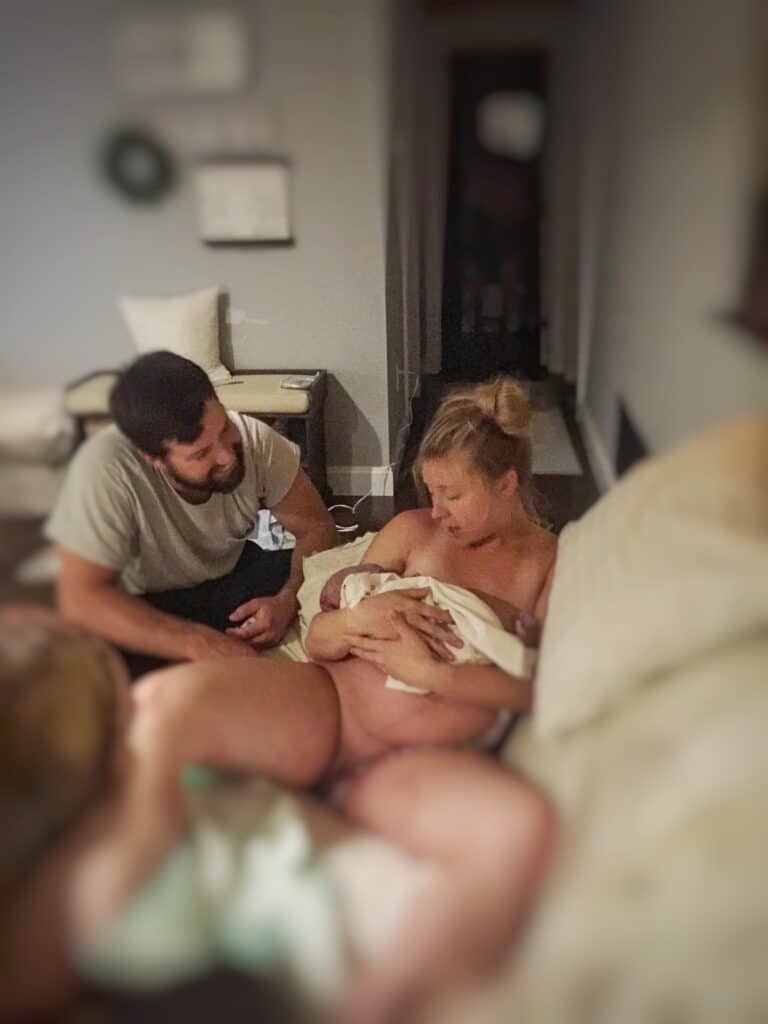 "Birth time, 8:17PM" announced Joyce. It was finally over, my hard work finally paid off. Ben and I couldn't believe everything we had just experienced. We were loopy from exhaustion, but also felt a high of excitement and love.  I started crying tears of joy and held my little bundle of a baby. He was perfect. His head was a little cone shaped, his skin was bright red and his eyes were bright and open. After a minute or two, Tova asked me to lay back and deliver the placenta. She told me, "it'll feel like a jelly fish coming out, it will be much easier than delivering a baby." So, I fake coughed and to my surprise the placenta came out rather easily. Tova placed it in a large bowl to save for encapsulation and I handed Keegan to Ben. Ben took his shirt off for skin to skin bonding and took Keegan into his nursery to snuggle. I was so happy for him. So, happy for us. It was a form of excitement and accomplishment like no other. Tova began examining me to see how much I may have torn. She warned me, that it would be uncomfortable and she was right. It hurt, but nothing really compared to labor. So, I tried to relax and focus on the love and excitement of my new baby boy. She examined me, and then asked Bayla to take over. As Bayla felt around and examined inside, she looked up at me with concern and said, "I think you have a third-degree tear. "Okay, what does that mean?" I asked. "We're going to have to go to a hospital to get you stitched up" Bayla replied. I replied back with, "You mean like tomorrow morning, right?" Bayla shook her head no. I was disappointed, but knew I didn't have a choice.  Accepting the circumstance, we all began preparing for my trip to the hospital. Luckily Bayla had called ahead and warned the labor and delivery unit that I would be arriving and I needed to be stitched. My mom had arrived shortly after Keegan was born so she was able to help with transferring to the hospital. From there on, my mom helped me off the couch along with my midwives. We slowly walked into our bathroom and they assisted me as I showered off all of the blood, meconium and "after birth fluids". I remember feeling relieved that my mom was there. She gently washed me down as I could barely stand in the shower. I felt so much love radiating from her. She kept saying "I am so proud of you, honey." My mom was exactly who I needed in that moment. During the shower, I felt very light headed and I knew I needed to put some food in my stomach. My mom told me I looked a bit pale so I knew eating something with protein was important. Unfortunately, we didn't have much, but I managed to eat a quick cup of plain Greek yogurt with honey and began packing up the car to transfer to the hospital. Tova offered to drive with us and she made the amazing suggestion to bring my donut (hemorrhoid) cushion. I sat in the back with my special cushion, next to my fresh little baby boy and Ben drove the slowest he's ever driven in his life.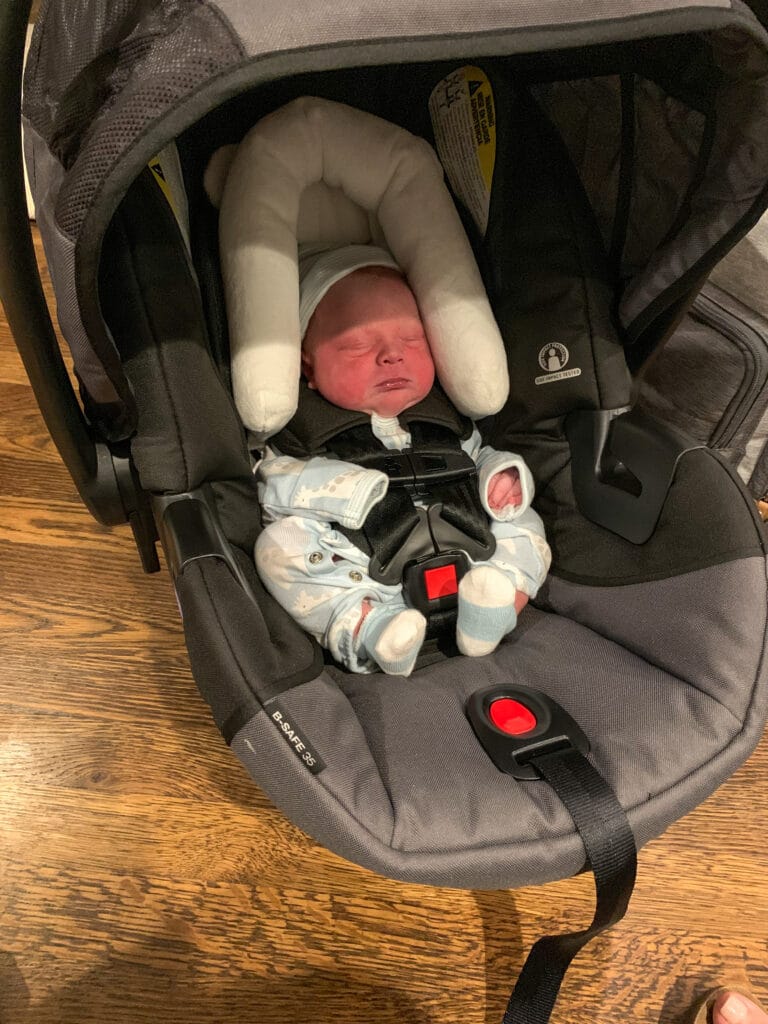 We arrived at the hospital around 11:30 PM and I was immediately admitted to the labor and deliver unit. As I sat in the wheel chair, being rolled into an exam room, I felt extremely weak. I kept thinking to myself "I may faint, but just try to stay strong for just a little longer. This is all temporary." The sweetest nurse came in to examine me and prep for the doctor. She was one of the kindest people I had ever met. I wish I could remember her name because if I did, I would send her flowers. She told me to lay back on the exam table and try to relax. I immediately broke down. All I could think of was a needle being stuck into my poor, beat up vagina. Ben held my hand and comforted me as I quietly cried for a minute. "We're almost there." He said. The nurse left the room to grab the doctor and they returned in minutes. Dr. Luna was the OBGYN who sewed me up and I am so thankful for her. She had the softest, most peaceful voice and made me feel safe. She was kind and told me how great I had done delivering my baby at home. It made me feel so, seen. She didn't make me feel judged for my decision to have a home birth. In fact, she congratulated me. I was so relieved and grateful to have met a doctor who honored my decision to have a home birth.
After our introduction, Dr. Luna explained to us that it would take a few minutes to sew up my partial third-degree tear. At that point she numbed my perineum, which was what I had been dreading. It stung for just a moment, but I knew it would all be over soon. From there on, she sewed me up and I remember saying something along the lines of "it feels like you're flossing my vagina." She laughed and told me she had never heard someone explain it that way before, but she thought it was pretty accurate. Not long after, she cleaned me up and gave me care instructions along with padsicle supplies, a popsicle and an extra peri bottle for rinsing. Dr. Luna and her staff were absolutely amazing and to this day I am so grateful to have had such a wonderful experience at St. Joes hospital. Ben wheeled me out of the hospital, we packed everyone up and headed home. Ben and arrived home the morning of September 9th at 2:00AM and prepared for bed. We were both still running off of adrenaline from all the excitement. I tried to breast feed Keegan one last time before bed and then we slept like it was Christmas eve. All giddy and excited that the hardest parts were now behind us and we could now enjoy this new life, with our baby boy.
Some important acknowledgments…
My husband, the most incredible and supportive man I know
I have to note how incredible of a partner Ben was during the entire home birth. I felt it needed its own little section in this birth story, so here it is.
Ben, by my side held my hands, my hips, rubbed my back, whispered my affirmations to me, told me how amazing I was and more. I never felt so incredibly supported in my entire life. He was an incredible partner, so nurturing, so supportive, so loving! I was humiliated by my noises, by my bodily functions. I farted, burped, peed, pooped little bits at a time, and leaked cervical fluid. Ben was there for it all and he never blanked an eye. He didn't judge a single portion of my labor. It was so beautiful to feel him support me and this challenging process. He had fully accepted the way Keegan was going to enter our world and it was one of the reasons I was able to get through that challenging labor. He told me over and over again he didn't care about me pooping or peeing, he was only focused on my comfort, on my strength, on our baby. It was a strong form of love, it was a supportive blend of emotions that I wish I could explain. In simplest forms, it was our grounded togetherness. It was me over anything, anyone or any preconceived notions. His love supported my soul and my tenacity supported his spirit. It was us in the rawest form imaginable. We continued on through the process as a team and we were unstoppable. Welcoming our baby into that space of love and teamwork was overwhelming to say the least, but it was damn beautiful. I will never forget the love I felt on that day. It was bigger than all of us.
My Midwifery Team, Charm City Midwives
I will say it a million times, the amount of love and support I felt during and after my labor was immense. I am beyond grateful to have found a midwifery that I connect with on such a profound level. If you're considering home birth or are in search of a midwife in the Baltimore region, I highly recommend, Charm City Midwives. I have included their website HERE. Bayla and Tova are who attended my first home birth with Keegan and they made me feel so heard + seen. If you have any questions about my experience with the practice feel free to send me a direct message on Instagram. I am more than happy to share what my experience was like working with them.
My Dear Friend and Doula, Joyce
I am a big believer in hiring a doula. Ben and I still talk about how grateful we are that Joyce agreed to be our doula. Joyce was there for us in the beginning of labor when we felt like deer in headlights. Don't get me wrong, we read the books, took the classes and educated ourselves the best we could but even then it can't really 100% prepare you for labor. Labor is something you have to experience yourself to really understand. It's extremely intense but having a doula by your side can make all the difference. Joyce not only assisted with me, but she also assisted Ben. She taught us both how to apply acupressure, she would rub my back when Ben needed a minute to use the bathroom, she brought me jello to snack on when we barely had any food in the house… the list goes on. Her support during my labor was such a blessing and to this day I will forever be grateful for her service and friendship.
To Our Family
It's true when they say it takes a village to raise a child. It does. We were so fortunate enough to have a family that honored our choice to have a home birth. I want to first start by saying how incredibly grateful I am for my mom. She was there minutes after Keegan was born. I was so thankful she was there to meet him within minutes of being delivered. She came at the perfect time and it felt so comforting to have her by my side. I felt I needed her most during those moments after labor and she was so caring during that time. She showered me, helped feed me + more. Not to mention the day after she came to our home, cleaned the house and brought us home cooked meals. I don't know what I'd do without her and look forward to her being present at my next home birth.
I also want to mention how grateful I am for my mother in law and her support during and after Keegans birth. She came to pick up our sweet dog, Honey and checked in throughout my labor. She also brought us dinner and helped with Keegan throughout the week. The amount of support given to a new mother, by mothers was so comforting and sacred. I am forever grateful for both my mom and and my mother in law.
Some other family members who brought goodies, helped with Keegan, brought meals + more include my dad + step mom, my sister April, my step sister Stephanie, my sister in law Lia, my grandparents and more. We never felt so loved and taken care of.