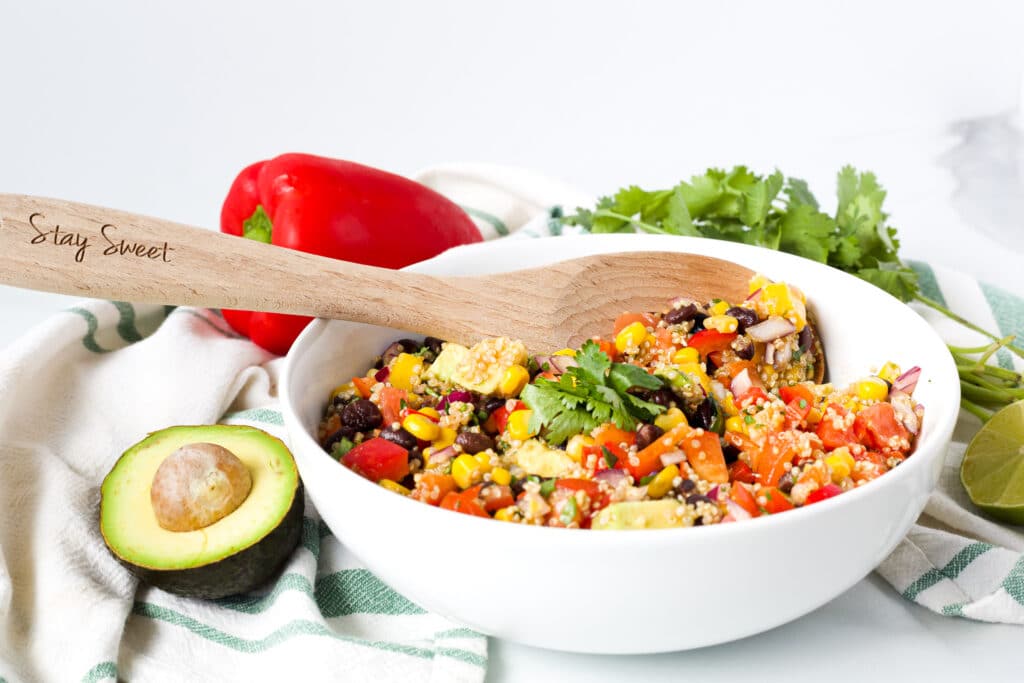 Jump to Recipe
Mexican Mango Quinoa Salad (Vegan + Gluten Free)
I am OBSESSED with this Mexican Mango Quinoa Salad recipe! It's easy, full of wholesome ingredients and makes great leftovers. I've had it for lunch the past couple days and I'm all for it. It tastes fresh, has a zing and fills me. The added mango is really what makes this recipe pop. It has a citrusy sweet flavor, but it isn't too sweet or over powering. If you're a fan of Mexican flavored dishes full of lime and cilantro then keep reading because YOU NEED THIS RECIPE in your life. I've made this recipe in less than 20 minutes and it can last in the refrigerator for up to five days. It's a great dish to bring to parties and barbecues and taste amazing with a side of tortilla chips.
How to make?
This recipe takes less than 20 minutes to make. First, you'll start by cooking your quinoa on stove top. As your quinoa cooks you'll prepare your filling. Pour half a can of black beans into a small skillet and cook on low heat for 5 minutes. While beans cook, begin dicing your onion, pepper, tomato, mango and avocado. Add all of your diced ingredients to a medium sized mixing bowl along with corn. Next, chop your cilantro, and cut a lime in half (but don't add it yet). Once quinoa is cooked, give it a couple minutes to cool. Transfer quinoa to the mixing bowl with diced ingredients and black beans. Add your spices, cilantro and lime juiced. Stir until well combined and enjoy immediately or store in an airtight container in the refrigerator for up to five days.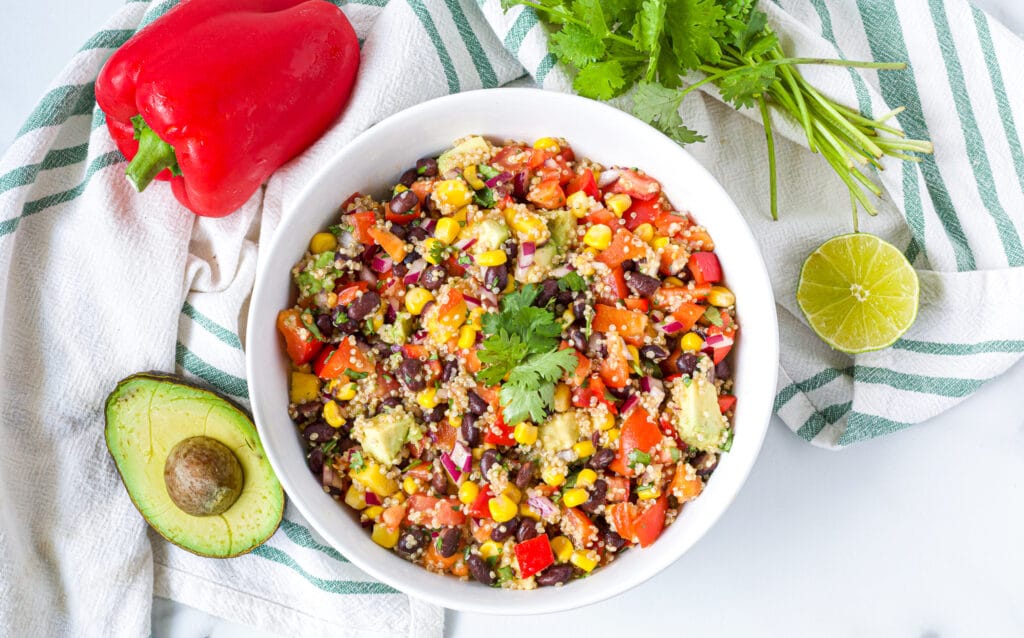 Ingredients you'll need:
Quinoa
Black beans
Red onion
Red pepper
Tomato
Mango
Avocado
Sweet corn
Lime
Cilantro
Paprika
Garlic salt
Cumin
Why you'll love this recipe?
This Mexican Mango Quinoa Salad is BURSTING with flavor. You'll be obsessed with how fresh and filling it is. It's also easy to make (ready in 20 minutes) AND it makes the BEST leftovers. I've been eating this dish for a quick lunch the past couple days and it still taste so fresh and satisfying. When I eat this meal, I feel SO GOOD afterwards. That's because it full of protein, fiber and a variety of vitamins + nutrients.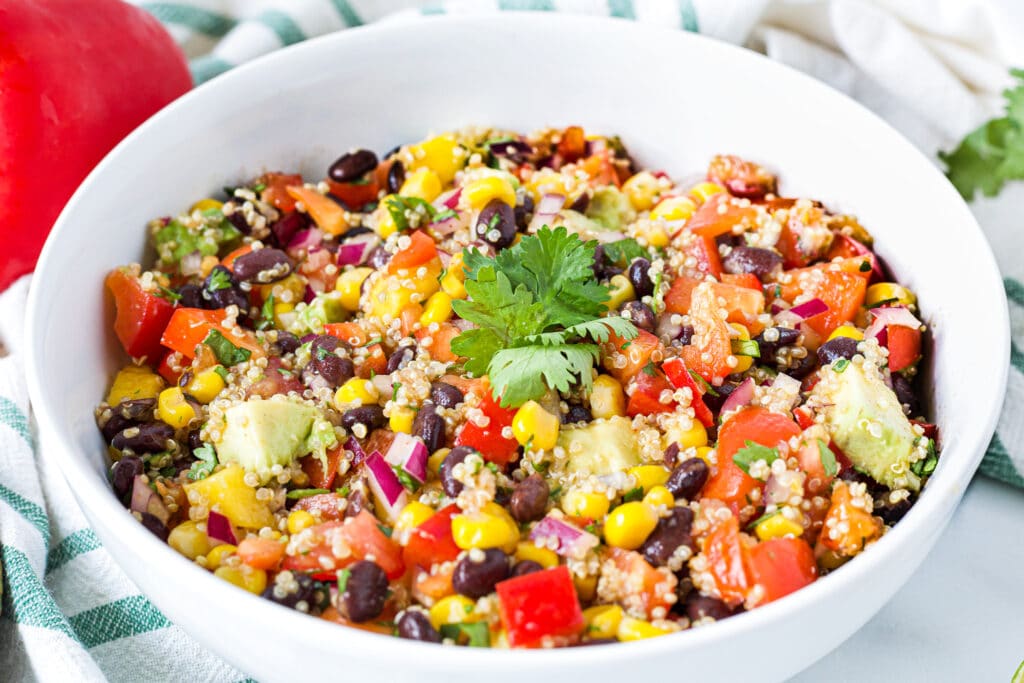 The Facts (and benefits) Behind the Food
Quinoa is a gluten free, "ancient grain" that acts like a whole grain, but is actually considered a seed. It's packed full of protein and contains all nine amino acids which is extremely rare in most plants. Quinoa also contains magnesium and calcium both in which are great for muscles. Quinoa has become increasingly popular over the past 10 years because it's affordable, easy to prepare, packed full of amazing nutrients and taste great paired with a variety of foods.
This meal is packed with veggies but it doesn't taste boring and "earthy" as my mom would say (insert laughing emoji here). The fresh chopped peppers and onion really make this dish taste fresh and vibrant. Not to mention they add all sorts of vitamins and minerals. Raw veggies can be a great form of fiber which help aid in digestion while also adding loads of vitamin C which help boost your immune system.
The black beans in this dish add some healthy plant based protein while also adding fiber. The traditional "beans, beans the magical fruit" song really has some truth to that, because beans will indeed make you toot thanks to all that fiber. Just make sure to cook them beforehand to help break down the leptins. This way you should experience less bloat.
The tomato, lime, mango and avocado really bring this meal home. They add some citrus/acidity which make completes the overall flavor. Tomatoes, lime and mango are also high in vitamin C which, like stated before is great for your immune system, but I also want to mention that Mangos are high in Vitamin A. Vitamin A helps with healthy skin and hair growth. Last but not least, avocados are amazing in alllllll sorts of ways. Avocados are mostly known for their healthy fats (aka Omega 3 fatty acids) but what most people don't mention is they also contain folate (great for pregnant mama's), magnesium, potassium (both magnesium and potassium help with muscle cramps/fatigue) and beta-carotene (hello healthy eyes).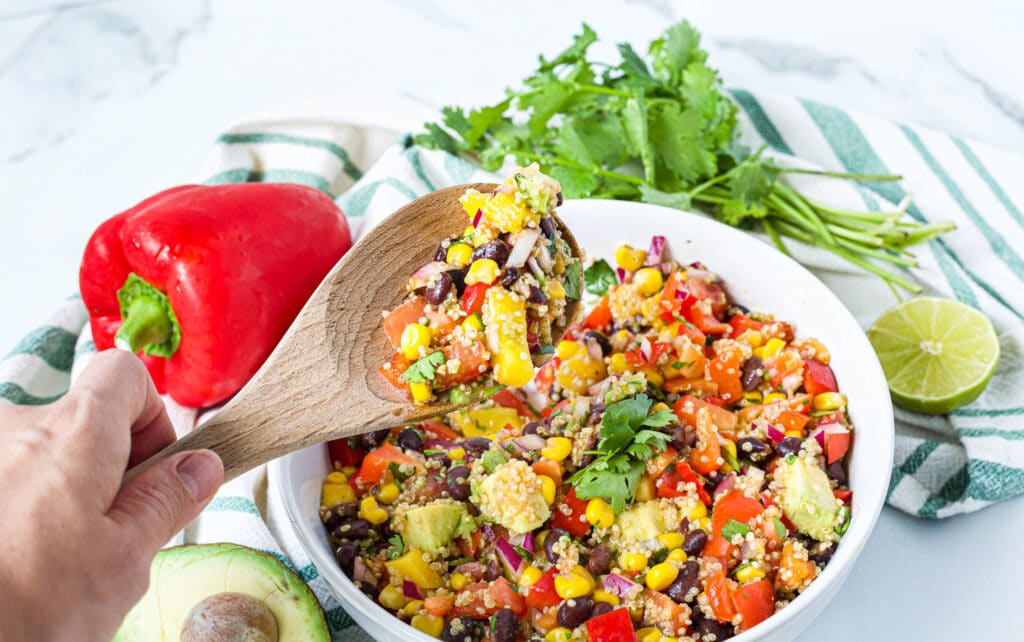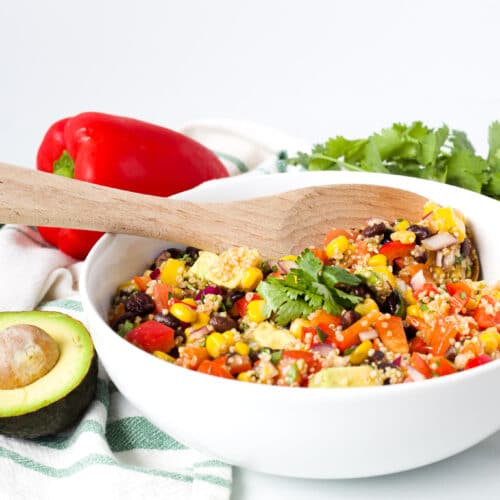 Mexican Mango Quinoa Salad (Vegan + Gluten Free)
This Mexican Mango Quinoa Salad is easy to make, ready in 20 minutes and full of nourishing ingredients. Eat for lunch, dinner or store and save for later. It's Vegan, gluten free and bursting with flavor!!
Equipment
cutting board

small sauce pan

stove top burner

spoon or rubber spatula

Mixing Bowl
Ingredients
1/4

cup

uncooked quinoa

1/2

can

black beans

1/2

cup

sweet corn

1

red bell pepper, diced

1

large

tomato, diced

1/3

cup

fresh red onion, diced

1/2

cup

fresh mango, diced

1/2

avocado, diced

1/8

teaspoon

paprika

1/8

teaspoon

garlic salt

1/4

teaspoon

cumin

3

tablespoons

fresh cilantro, chopped

1/2

lime, juiced
Instructions
Cook quinoa per instructions on packaging. While quinoa is cooking, dump half can of black beans into a small skillet. Cook beans on low heat for 5 minutes and set aside to cool.

Rinse and prep vegetables. Start by dicing red bell pepper into 1 inch pieces and transferring to a large mixing bowl. Repeat this step with the tomato, onion, mango and avocado. Once all of your veggies, mango and avocado are chopped gently stir in your large mixing bowl and set aside.

Once quinoa is done cooking, let cool for a few minutes and transfer to the large mixing bowl with cut veggies, mango and avocado. Add spices, beans and corn to your mixture and stir until until combined. Next, add your freshly chopped cilantro and lime juice to your quinoa mixture. Stir until evenly distributed. Serve immediately or store in an airtight container in the refrigerator for up to one week.
Did you make this recipe?
If so, don't forget to follow me on Instagram @staysweetwellness and #staysweetwellness.
I would love to share your recreation on my page!
Thank you so much for taking the time to cook along and I hope you enjoy this recipe as much as I do.
Until next time,
stay sweet.
-Ashley