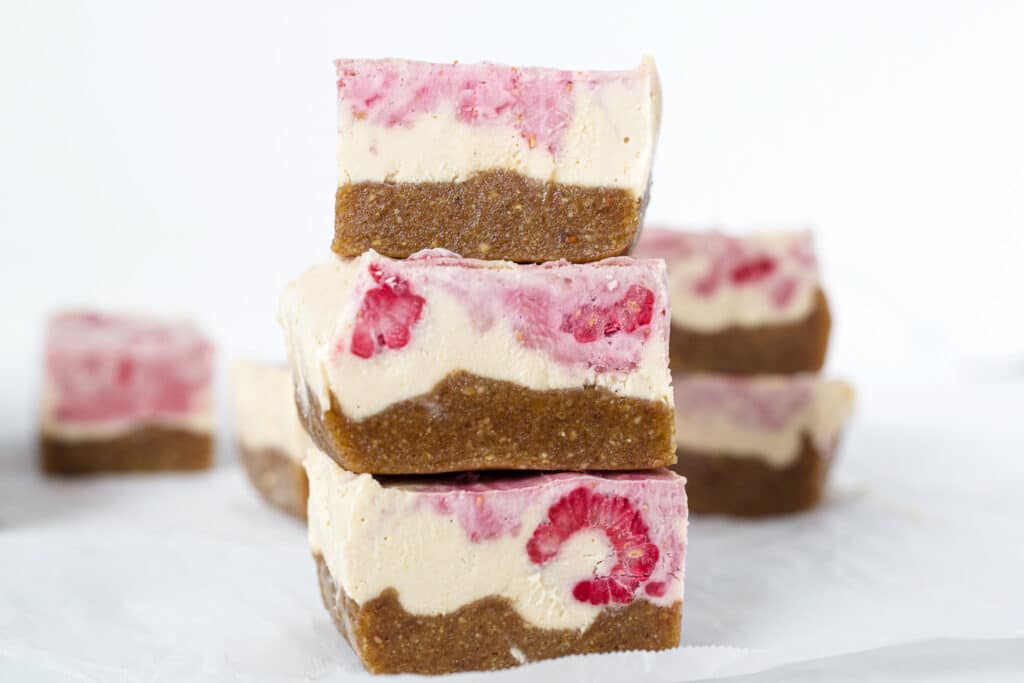 Lemon Raspberry Cheesecake Bars
Jump to Recipe
Vegan, Paleo, Gluten free + Refined Sugar Free
These Lemon Raspberry Cheesecake bars are everything you've been dreaming of this summer. Not only are they a NO BAKE dessert, but they're also frozen. So, you can enjoy them nice and cold. Which, I don't know about you but any hot meal during the summer time almost makes me sick. "It's going to be a no for me dawg" (channeling my inner Randy Jackson- also what ever happened to him? *Googles Randy Jackson*). Okay, but seriously these bars are so easy to make and they're the most amazing after dinner dessert or sweet snack during the day.
These lemon raspberry cheesecake bars taste the perfect amount of sweet + tart thanks to the fresh raspberries. It pairs perfectly with the sweet lemony cheesecake filling too. I have to admit this may actually be one of (if not) my favorite dessert this summer. It reminds me of my favorite flavor from the Cheesecake factory. I use to request Cheesecake factory for my birthday dinner every year. The lemon raspberry cheesecake was (and still is) my favorite flavor. It was full of fruity, sour flavor and basically made my taste buds dance. However, shortly after eating a piece I would always experience a stomach ache because of the richness… and also because of the gluten, dairy and crazy amounts of refined sugar. Dreaming about the days I enjoyed lemon raspberry cheesecake from Cheesecake factory peaked my interest and that's when I came up with this recipe! It's funny how many childhood favorites inspire me to make healthier versions. If there's a childhood snack you'd like me to make a healthier version of please let me know by commenting below or messaging on Instagram!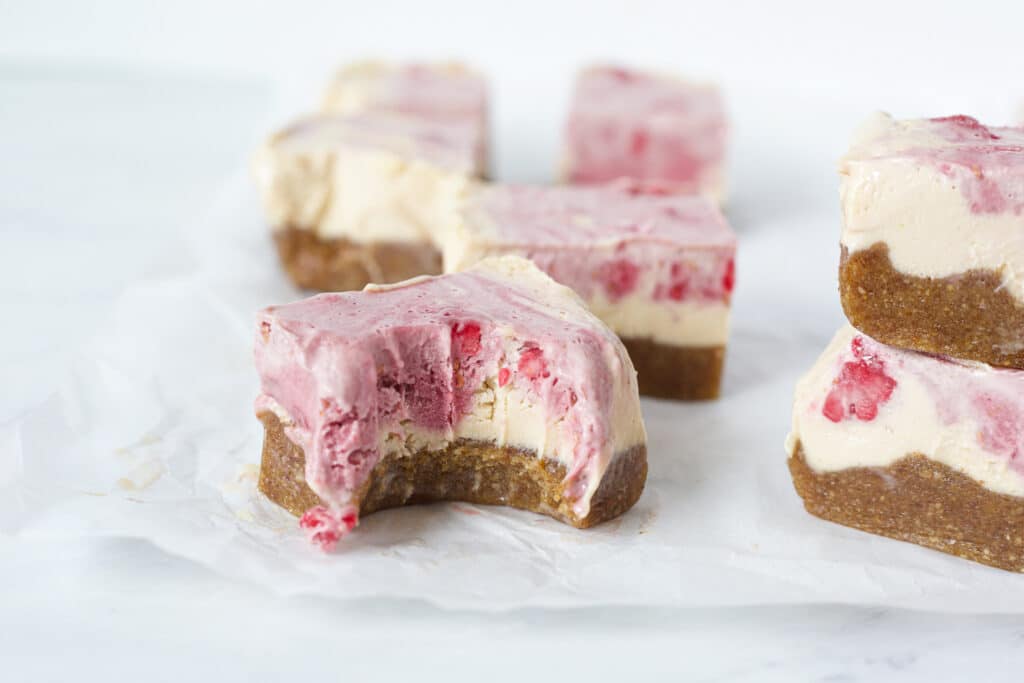 What's great about these bars is that they contain no refined sugars, gluten or dairy. However, they do contain healthy fats, calcium, vitamin C, fiber, potassium, protein + more.
Thanks to the cashews, almonds, pecans, coconut milk and oil there's loads of calcium, healthy fats, and protein.
As for the vitamin C we can thank the raspberries and lemon for that. Vitamin C helps boost your immune system so these bars are a great excuse to eat more than one. The dates provide loads of potassium and fiber and trust me, your muscles will thank you for that.
I also know for a fact its 10x easier to make these bars instead of an actual cheesecake. So, let's get started, shall we?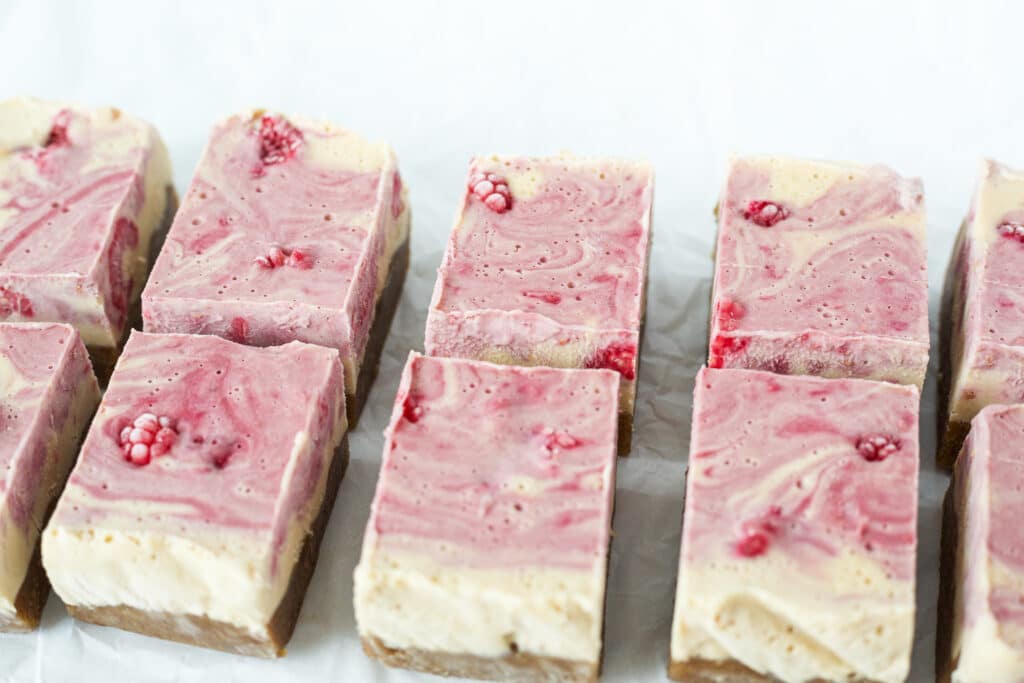 How to make?
This recipe is pretty simple. You'll need a food processor or high-speed blender. First, you'll make your cheesecake crust which contains, a variety of nuts, 12 dates, and a little bit of maple syrup. You blend that up, transfer it to parchment paper lined loaf pan and spread it out evenly with your hands and/or a rubber spatula. Now it's time to make your cheesecake filling. Blend your cashews, coconut milk + oil, lemon juice + zest, vanilla + almond extract and maple syrup. Blend on high for 1-2 minutes or until smooth and creamy. Pour over top your cheesecake crust and set aside. Last step, add your raspberries, maple syrup and water to a blender. Blend on high speed or until raspberries blend down to a liquid. Pour your raspberry liquid on top of your cheesecake filling and carefully mix using a fork or tooth pick. If you want it to look swirly and fancy, make figure 8 shapes while mixing the raspberry and cheesecake filling. I cut up some extra raspberries and through them in the cheesecake filling, but that step is optional. Place your loaf pan in the freezer for at least 2-3 hours or overnight until bars have become firm. Transfer parchment paper lined bars to a large cutting board and cut into squares using a large knife. Serve immediately or save for later. I recommend storing in an airtight container, in the freezer for up to 3 months.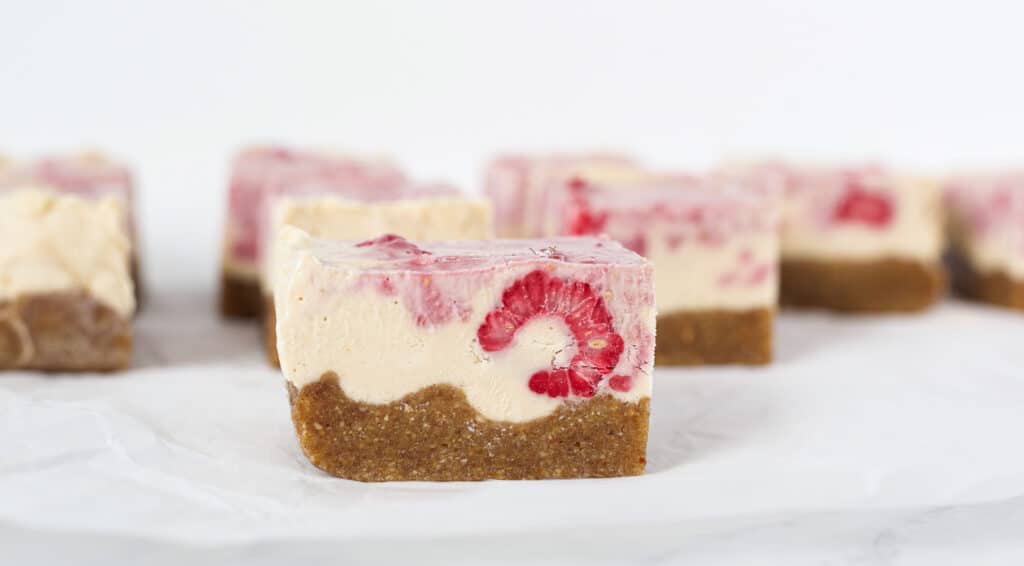 Ingredients you'll need:
Medjool Dates
Salted, roasted almonds
Almond flour
Pecans
Cinnamon
Salt
Maple syrup
Unsalted, roasted cashews
Lemon
Vanilla extract
Almond extract
Fresh raspberries
Why you'll be obsessed with these?
These bars are no bake, so it only requires blending a bunch of ingredients in your food processor or high-speed blender. They're also freezer friendly, so you can store in your freezer and enjoy at a later date for up to 3months!
These bars are also gluten, dairy and refined sugar free so just about anyone can enjoy them. Unless you eat a bunch of these bars in one sitting, you shouldn't experience a stomach ache afterwards. That's all thanks to the simple, wholesome ingredients used in the recipe.
The cheesecake filling is made out of blended cashews, lemon juice, maple syrup, vanilla extract and almond extract. You'd never know it because of the thick, creamy texture. Trust me, you're going to LOVE it.
The FLAVOR is absolutely amazing. 100% my favorite combo during the summer time. Lemon raspberry is full of tart, sweet juiciness! You just can't beat this flavorful fruit pairing. Prepare your taste buds because they're about to get their flavor on!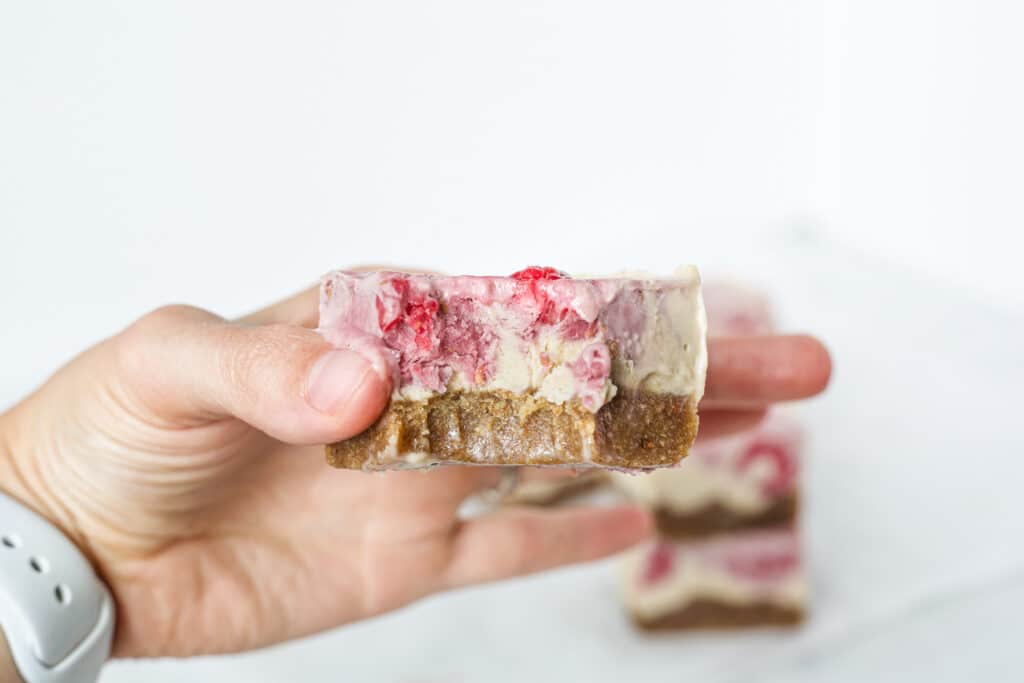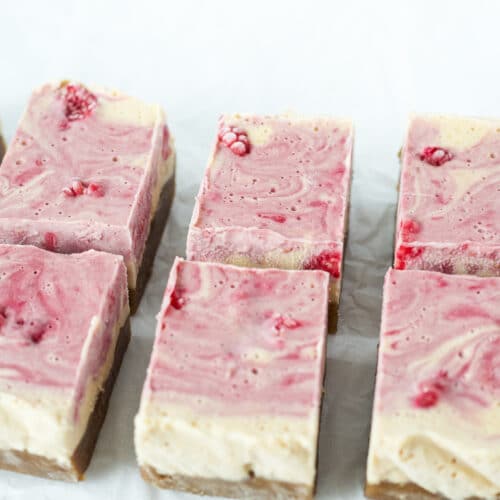 Lemon Raspberry Cheesecake Bars
These NO BAKE, Lemon Raspberry Cheesecake Bars are bursting with flavor. The perfect summer treat full of fruity goodness. These bars are easy to make, freezer friendly, Vegan, Gluten free, Paleo and Refined sugar free.
Equipment
loaf pan (9×5)

parchment paper

high speed blender

food processor
Ingredients
for the crust
10-12

pitted medjool dates

1/4

cup

salted, roasted almonds

3/4

cup

almond flour

1/2

cup

pecans

1/4

teaspoon

ground cinnamon

3

tablespoons

pure maple syrup

1/2

teaspoon

ground sea salt
lemon cheesecake filling
1

cup

unsalted, roasted cashews

soaked in boiling water for 10 minutes

1/3

cup

canned coconut milk

(the thick, creamy, top part)

2

tablespoons

coconut oil

unrefined

1

lemon, juiced

1

tablespoon

fresh lemon zest

1/2

cup

pure maple syrup

1

teaspoon

pure vanilla extract

1/8

teaspoon

almond extract

(optional)
raspberry swirl sauce
1/2

cup

fresh raspberries

1

tablespoon

pure maple syrup

1

tablespoon

cold water
Instructions
Boil 1 cup of water and pour over your cashews in a glass jar. Set aside and let soak for at least 10 minutes. Meanwhile, line a 9×5 loaf pan with parchment paper and set aside.

In a large food processor (high-speed blender can work too) add your dates, roasted almonds, almond flour, pecans, cinnamon and maple syrup. Pulse and blend until a sticky ball/ texture forms. Remove dough-like crust from food processor and transfer to your parchment paper lined loaf pan. Press down with your fingers and/or a rubber spatula until evenly distributed throughout the pan. Set aside.

Drain water from cashews and transfer into your high speed blender along with coconut milk, coconut oil, fresh lemon juice from one whole lemon, lemon zest, maple syrup, vanilla and (optional) almond extract. Blend on high speed for 1-2 minutes or until creamy.

Pour your lemon cheesecake filling into your loaf pan, on top of the crust. Make sure it's evenly distributed. Pick up your pan a few inches from the counter top and drop it. This ensures there are no air bubbles during the freeze time.

Add your raspberries, maple syrup and water to the blender and blend on high speed until a raspberry sauce forms. Slowly and evenly pour your raspberry swirl sauce overtop of your cheesecake filling within the loaf pan. Now, to make that pretty swirl, use a fork or tooth pick and make figure 8 shapes. This will make the pink swirl look fancy and oh so pretty! This is optional, but after I finished making the swirl, I sliced a few raspberries in half and dropped into the bars just for some added color. Place in freezer for at least 3 hours or overnight. When ready to eat, remove from freezer and let thaw for 3-5 minutes before cutting into squares. Use a large knife to cut into 10 squares. Serve and enjoy!
Notes
Roasted Almonds- you can evenly sub out roasted almonds for any other nut you have on hand. Walnuts, pecans and cashews will all work nicely with this recipe.
Almond flour- I haven't tried swapping out almond flour with the crust of this recipe. However, I would assume coconut flour or hazelnut flour would work. If you try it, please let me know!
Pecans- similar to the roasted almonds, you can evenly swap out pecans with another nut, like almonds, walnuts or cashews.
Maple syrup- you can sub maple syrup for honey, just keep in mind the flavor will come out a bit different. Still sweet though.
Canned Coconut milk- you cannot replace coconut milk with another milk, it will not turn out as creamy in texture. However, you can use unsweetened canned coconut cream instead if you happen to have that on hand and not canned coconut milk. I used Wegman's organic, unsweetened canned coconut cream and it turned out great! 
Lemon- Fresh lemon is super important in this recipe, so DO NOT swap it out with lemon concentrate. You can however, swap lemon out with lime if you don't have any lemons on hand. Raspberry and lime also make a wonderful combo.
Almond extract- I debated making this optional because it doesn't make or break the recipe. If you don't have any on hand that's okay.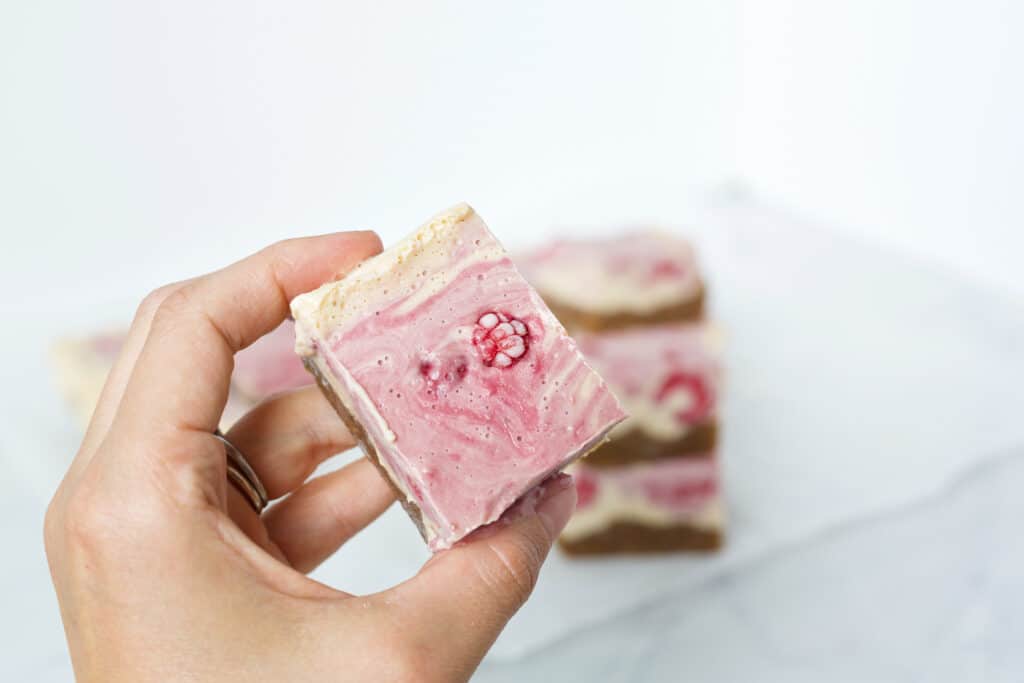 Did you make this recipe?
Use the #staysweetwellness and follow me on instagram @staysweetwellness. I would love to see and compliment your creations!
Thanks for taking the time to stop by.
Until next time,
stay sweet.
-Ashley