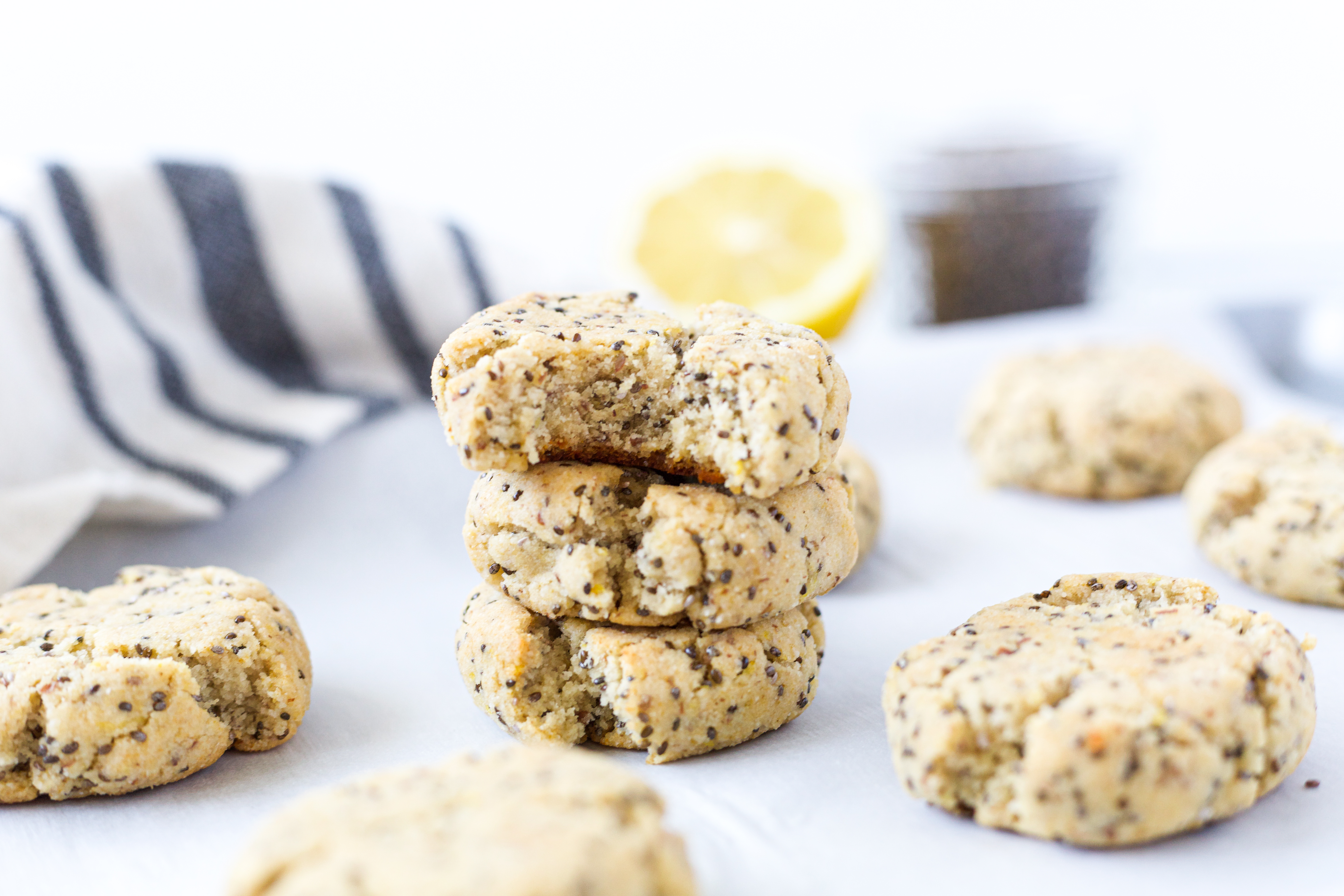 Lemon Chia Seed Cookies
The perfect little recipe to lighten up your day! A spring favorite with a healthy twist. These little lemon chia seed cookies taste exactly like your classic lemon poppy seed cookie. I honestly didn't notice much of a difference between a poppy seed and chia seed. However, I do know that chia seeds have more nutritional value. Chia seeds are considered a super food! They're a great source of Omega-3 fatty acids and are high in antioxidants. So, I thought it'd be a great swap. In addition to the chia seeds, I personally LOVE anything with lemon incorporated. Lemon is such a bright + citrus flavor that just screams warmer weather is near. I hope you enjoy this recipe with a side of sunshine. It's the perfect time of year to dive into the lemon flavor.
These cookies are paleo, gluten free and can easily be made vegan!Refer to notes for ingredient swaps and tips.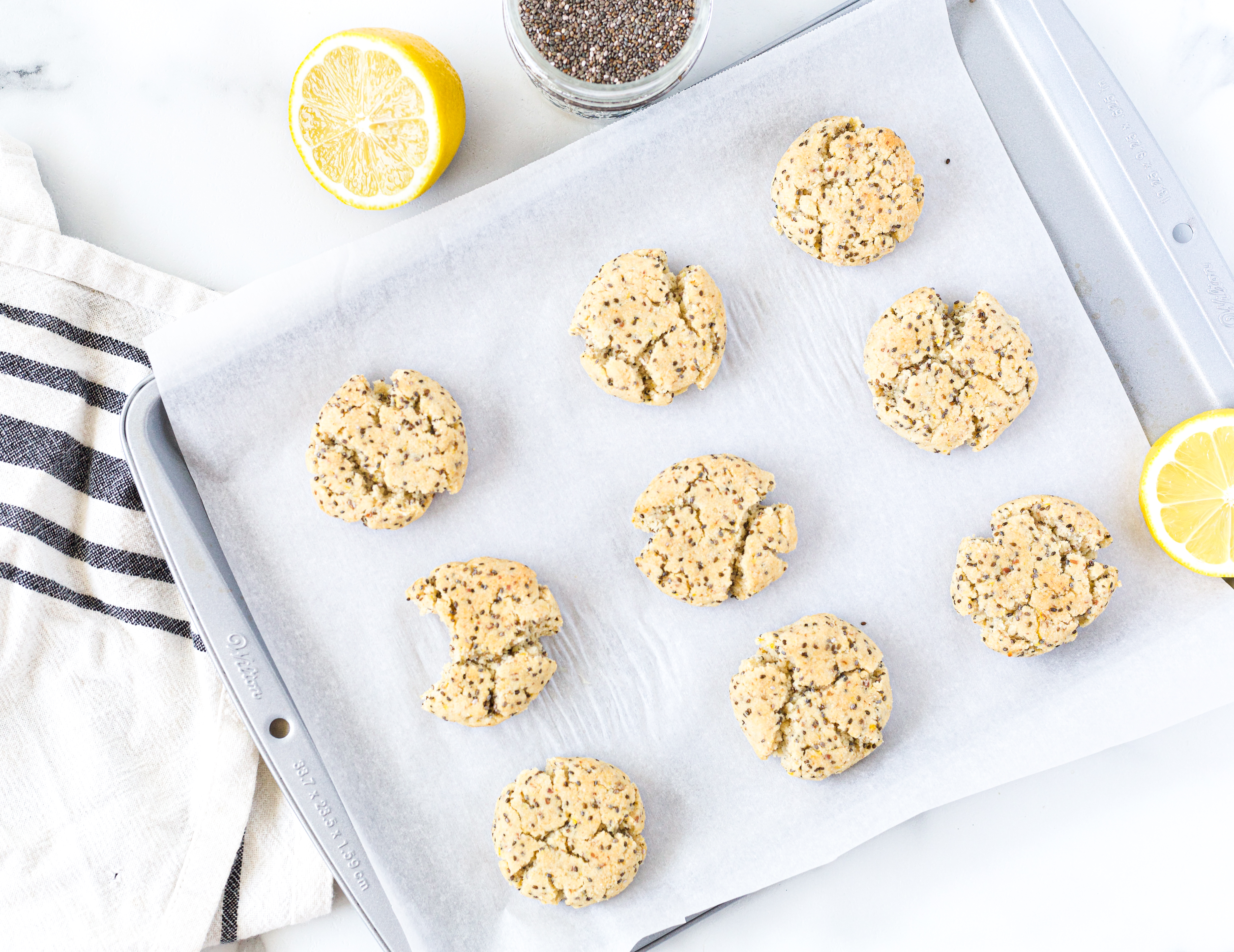 How to make?
Whats great about these nutritious little lemon cookies is that they're super easy to whip up. You can literally make these in 30 minutes. All you do is add all your dry ingredients together in a large mixing bowl. Then, whisk together you wet ingredients in a separate mixing bowl. Combine both wet and dry ingredients, stirring until well combined and there you go. Dough is made! Place in the refrigerator to chill for 10 minutes (this step is SUPER important so DON'T SKIP THE CHILLING). Preheat your oven, take out your dough once it's chilled and roll into little bite sized balls. Bake in oven for 10 minutes, let cool for 5-10 minutes and enjoy!
Ingredients you'll need:
almond flour
coconut flour
baking soda
chia seeds
salt
coconut oil
vanilla extract
lemon
honey
flax seed
Make sure not to swap out any of the above ingredients until reading through the note section of this post. Each ingredient is crucial to this recipes, flavor, shape and texture. Thanks to the FRESH lemon juice + zest (do not use lemon concentrate), vanilla and honey the flavor of these cookies comes out sweet, summery and light. The almond flour, coconut flour, baking soda and flax eggs really help with the structure/texture of this cookie so make sure to use the exact measurements.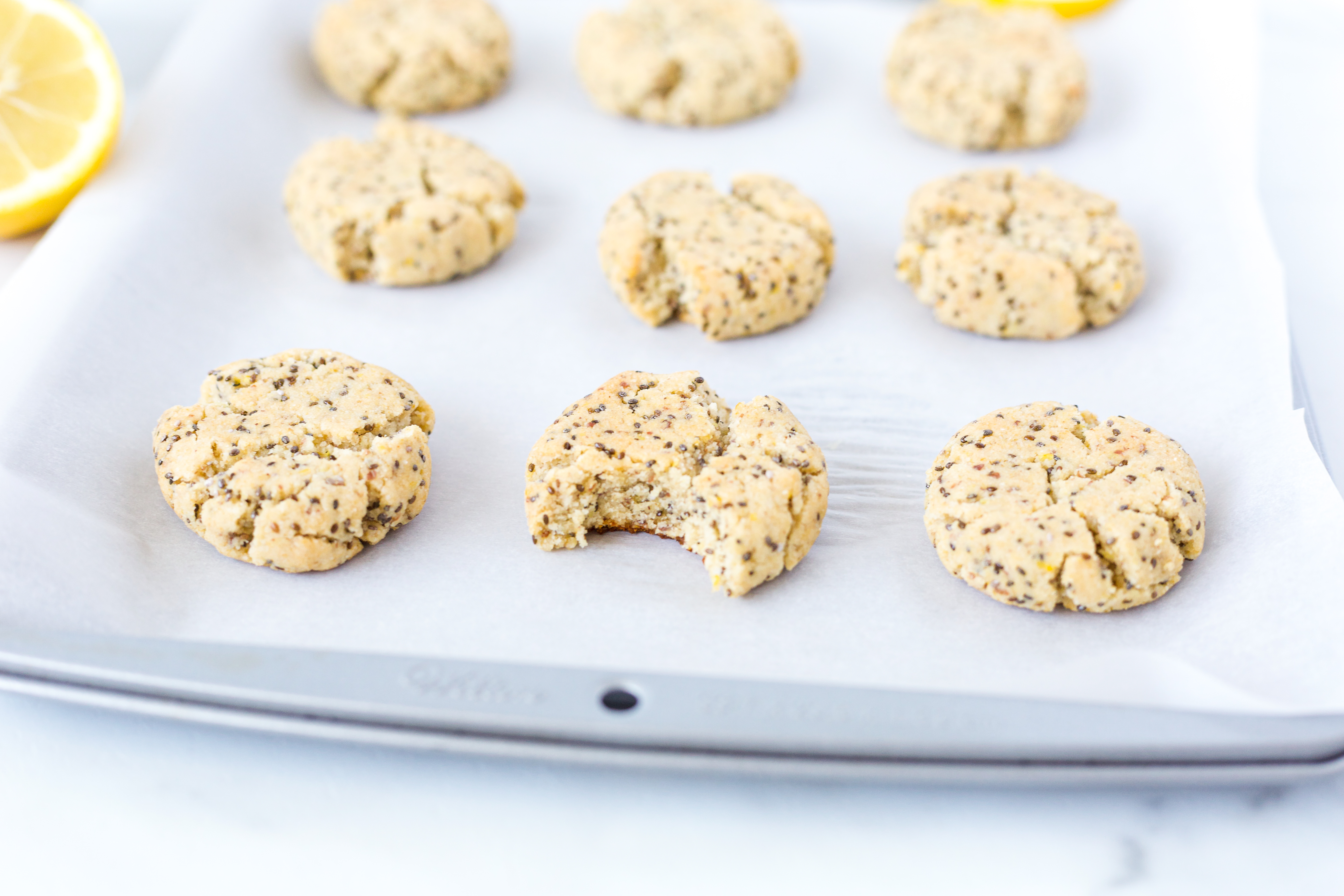 Lemon Chia Seed Cookies
These little lemon chia seed cookies taste exactly like your classic lemon poppy seed cookie. Paleo, gluten free and can easily be made vegan! 
Equipment
oven

parchment paper

baking sheet

Mixing bowls

rubber spatula

whisk
Ingredients
1

flax egg (1 tbsp. flax seed mixed with 2.5 tablespoons water)

3/4

cup

almond flour

1/4

cup

coconut flour

1/2

teaspoon

baking soda

2

tablespoons

chia seeds

pinch

ground sea salt

1/4

cup

melted coconut oil

1/4

teaspoon

vanilla extract

1

tablespoon

fresh lemon juice

1/2

tablespoon

fresh lemon zest

1/3

cup

raw honey
Instructions
Preheat oven to 350 degrees Fahrenheit. Line a large baking sheet with parchment paper and set aside. Make your flax egg by combining 1 tablespoon of ground flax seed with 2.5 tablespoons of water. Whisk for a few seconds until combined and let sit for 5 minutes.

In a medium sized bowl combine all your dry ingredients. Whisk together the almond flour, coconut flour, baking soda, chia seeds and salt. Set aside.

In a small separate bowl, combine all of your wet ingredients. Mix together the melted coconut oil, vanilla, lemon juice, lemon zest, honey and flax egg. Mix until well combined.

With a rubber spatula begin adding the wet ingredients to your dry ingredients, mixing until a sticky, dough like substance forms. Cover and place in refrigerator for 10-15 minutes.

After dough has been slightly chilled, remove from refrigerator. Using a tablespoon, scoop out cookie dough one at a time and begin rolling into 3 inch (ish) balls. Place each ball on prepared baking sheet and lightly press down creating little cookie dough patties. Place in oven to bake for 10-12 minutes. Let cool for at least 10 minutes before transferring. Transfer to cooling rack and let set for another 5 minutes. Store in an airtight container for up to 5 days.
Notes
Cooling Process- Because these cookies are made with fine flour they will fall apart easily when warm. So please make sure to let them cool completely before transferring/ eating.
Chia seeds- you can sub chia seeds out for poppy seeds. I honestly felt there wasn't much of a difference in texture or taste. Chia seeds have more of a nutritional value, but the choice is totally up to you.
Fresh Lemon Juice- DO NOT use artificial lemon juice or lemon concentrate for this recipe. Only fresh lemon juice will work.
Honey- You can swap out honey for maple syrup or coconut sugar. However, the cookies will come out looking more of light brown color.
Flax egg- you can easily sub flax egg for a real egg. Both work great with this recipe.
Did you make this recipe?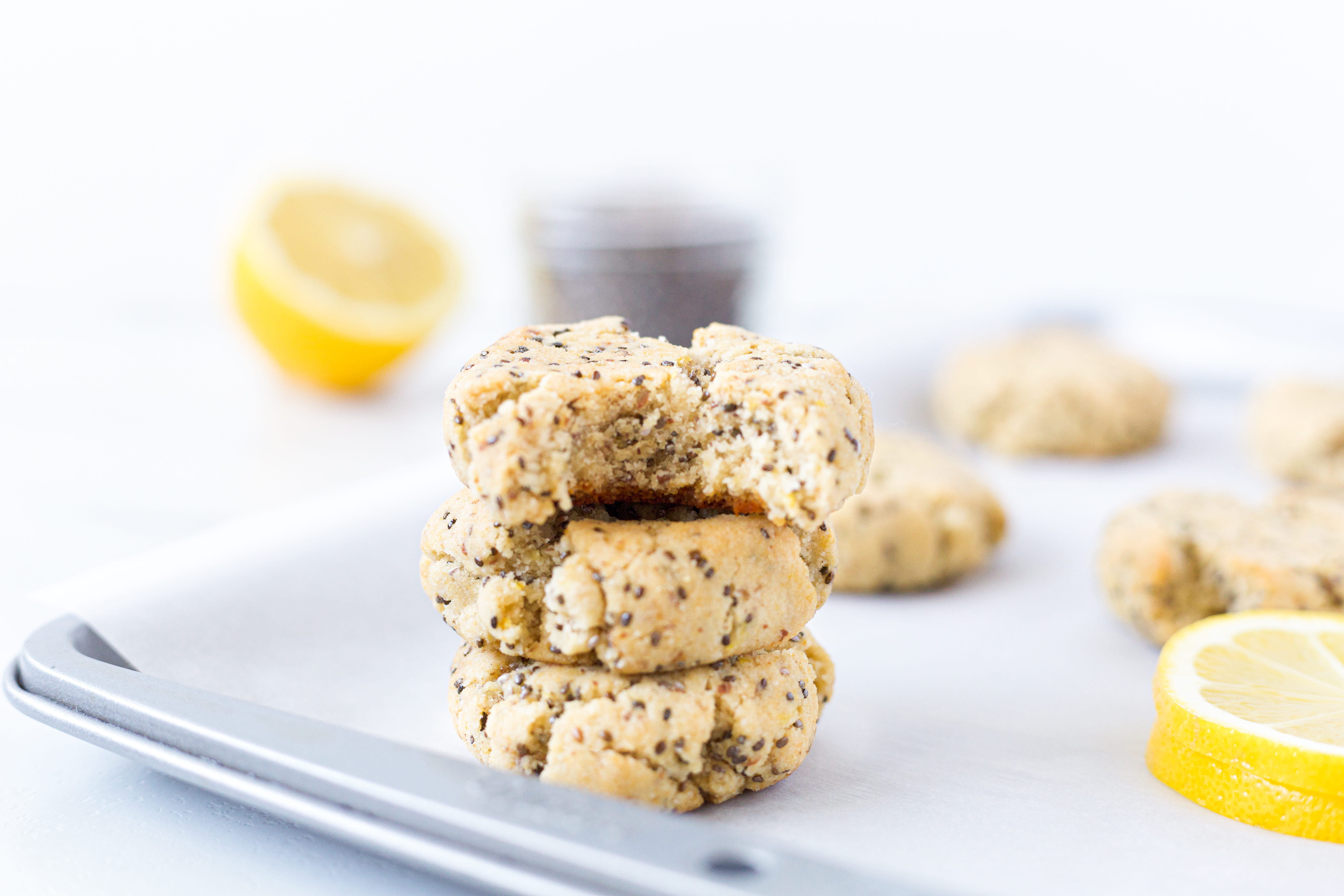 Tag @staysweetwellness, follow me on instagram and #staysweetwellness
I love seeing your recreations of my fun + wholesome recipes!
Until next time,
Stay Sweet.
-Ashley