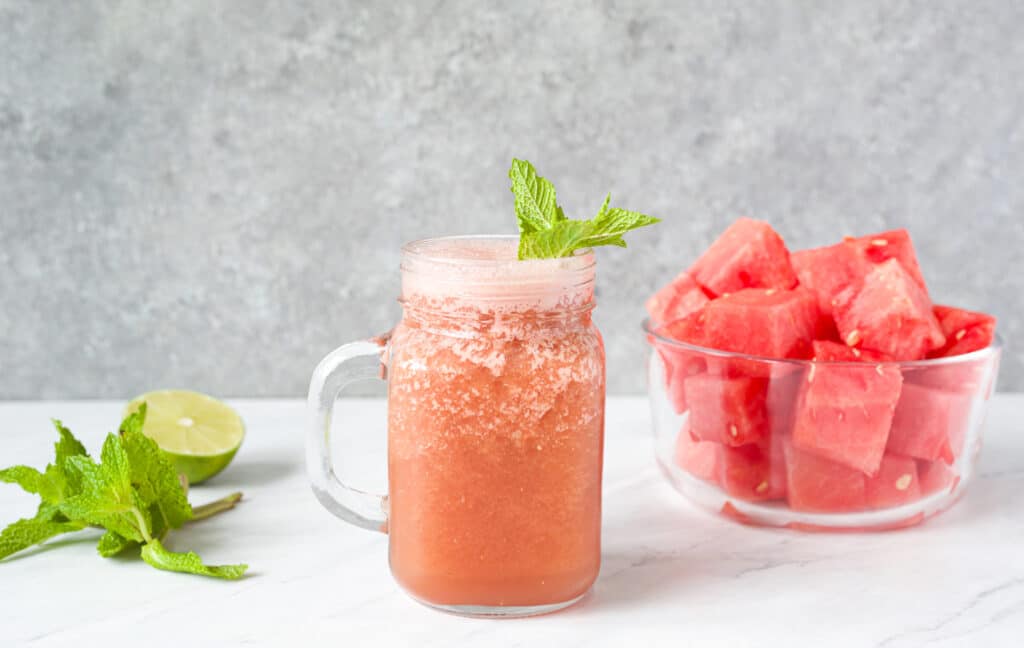 Hydrating Watermelon Cucumber Slushie
It's officially Summer! I don't know about you, but my gemini self, is all about the warm weather and sunshine. Days when the sun shines for 15+ hours I'm happier than ever. It brings me so much joy and energy. It get's my creative juices flowing and I get all excited at 5 in the morning because the sun is already up. Man, do i love this season.
With summer comes all of the amazing fresh produce like watermelon, berries, peaches and corn. No doubt, it's the best time of year to embrace your local farmers market. (Shout out to my local farmers market in Bel Air every Saturday morning) Actually, while you're at the market, make sure to stop by and pick up a watermelon because you'll want to make this drink once it gets hot. I present to you, the most refreshing of all slushies, this Hydrating Watermelon Cucumber Slushie! My "must have" beverage for the summer season. Perfect for anyone to enjoy on a hot day. Not only is this recipe delicious but it's also packed full of hydrating ingredients and contains fat burning components that make it that much more enticing. You only need 6 ingredients to create this masterpiece and its ready in less than 5 minutes. Oh, and this is also kid approved so drink up fam!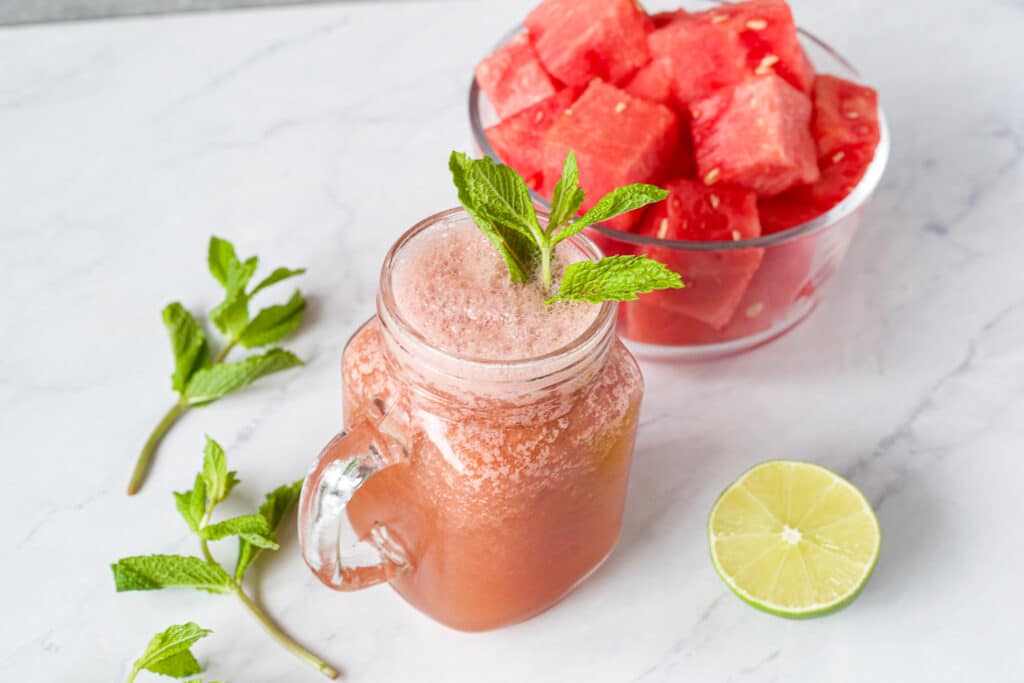 How to make Hydrating Watermelon Cucumber Slushie:
First, cut watermelon into bite sized cubes. This will ensure you can fit all the ingredients into a blender. Then simply add in your remaining ingredients into the blender and blend for no more than 1 minute. If you blend for too long then you won't get that icy consistency a classic slushy has.
Ingredients you'll need:
ice
fresh watermelon
cucumber
fresh mint leaves
lime
maple syrup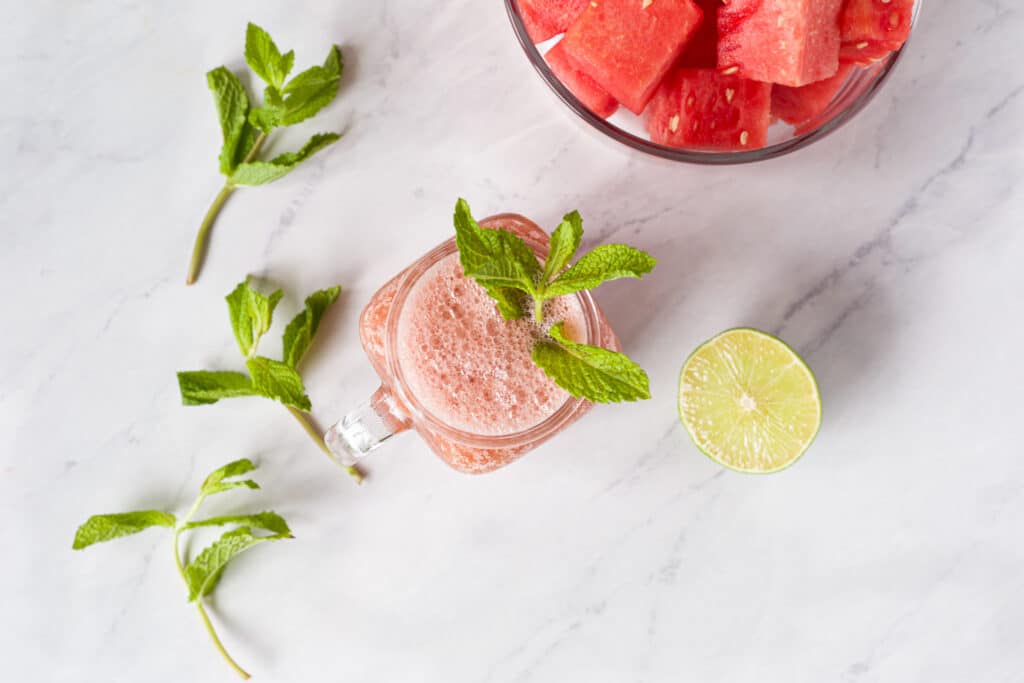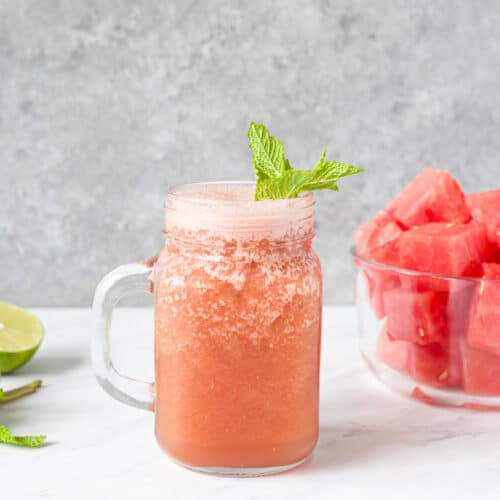 Hydrating Watermelon Cucumber Slushie
Equipment
Blender

measuring cups

Measuring spoons

cutting board

sharp knife
Ingredients
3

cups

ice

3

cups

fresh watermelon

1/2

cucumber

peeled and sliced

4

leaves

fresh mint

1/2

lime

juiced

2

tablespoons

pure maple syrup
Instructions
 Add all ingredients into a blender and blend for no more than 1 minute. Serve immediately. Pour into your favorite glass and enjoy! Top with additional fresh mint or lime juice. I personally love some extra lime juice for that extra punch of tartness.
Notes
I recommend serving this recipe immediately. If you wait for too long the watermelon and ice will separate creating a residue at the top of the drink. You can simply stir with a straw, but I find enjoying it right away is best. 
You can also save and store this drink in a sealed mason jar and refrigerate for up to 5 days. When ready to enjoy, just pour into a blender with a couple pieces of fresh watermelon and 1/2 cup of ice to freshin' it up.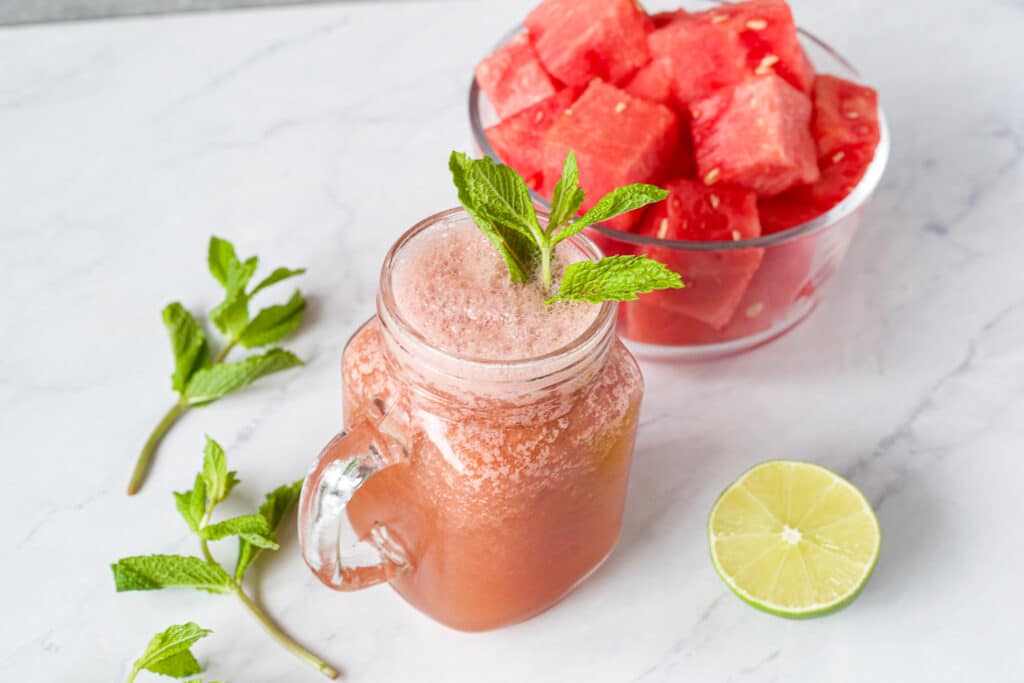 Did you make this recipe?
Please don't forget to follow me on instagram and tag @staysweetwellness and #staysweetwellness.
I love sharing your recreations on my page!
until next time,
stay sweet.
-Ashley