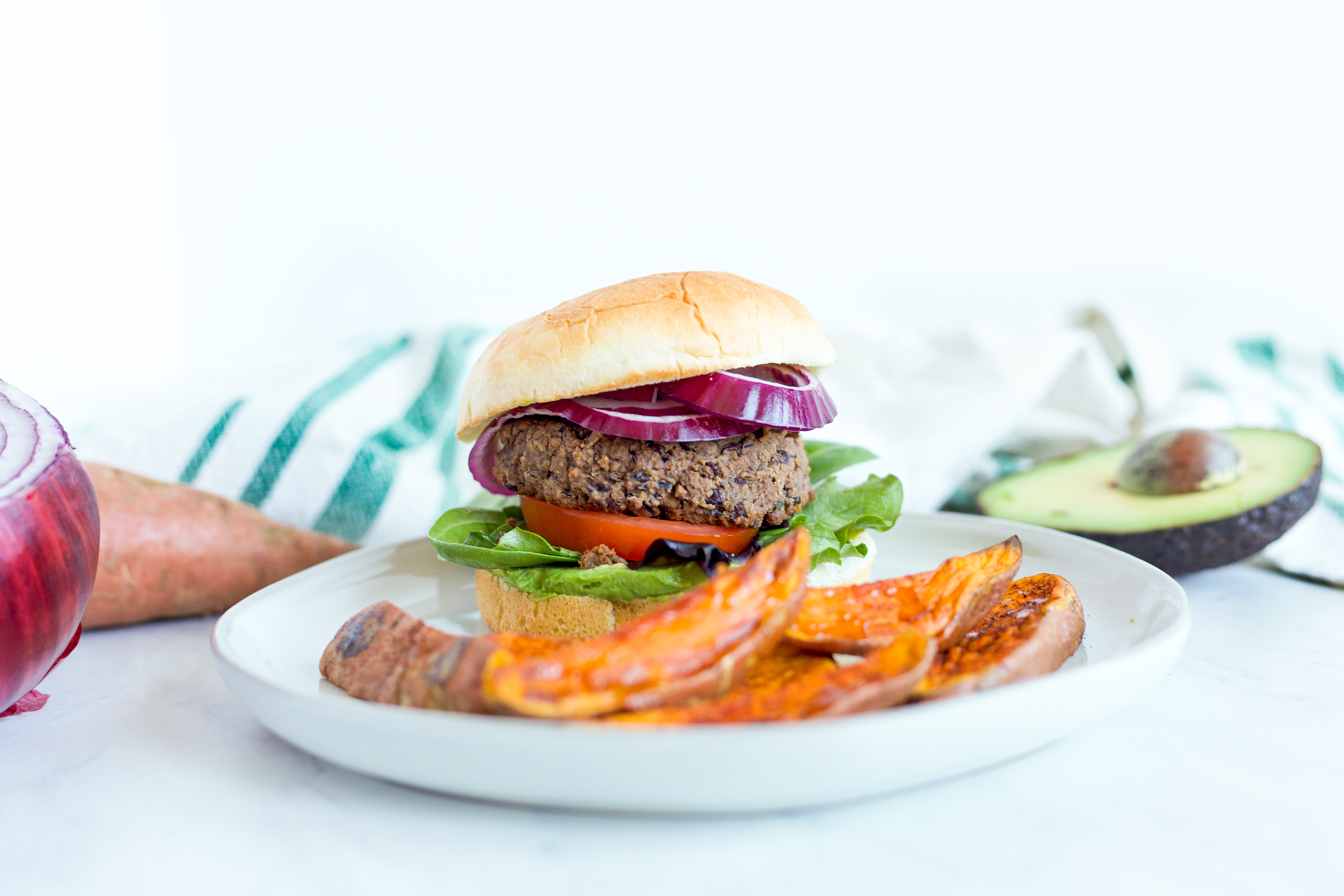 One of my favorite ways to celebrate meatless Mondays!
Don't get me wrong, I love eating a variety of protein. But for various reasons (like health, helping the planet, YUMMY, nutritional recipes) I like to make one to two meals a week that only involve plant based ingredients. Realistically, our household would have a very hard time going 100% plant based. So, I like to think of this as a compromise. But enough about my families eating habits + preferences. You came here for the recipe!
These black bean burgers are freaking DAAAANNNKKKKK (this one's for you Dunn). Thick, dense, flavorful. All the "must haves" in a black bean burger. Top with your favorites and enjoy! I love pairing this meal with sweet potato wedges. Super simple and this entire meal, (including sweet potato wedges) is ready in 30 minutes. Enjoy friends!
TIP:
*If pairing with sweet potato wedges make sure to prep the wedges first so they can bake in the oven while you make your burgers.
Homemade Black Bean Burgers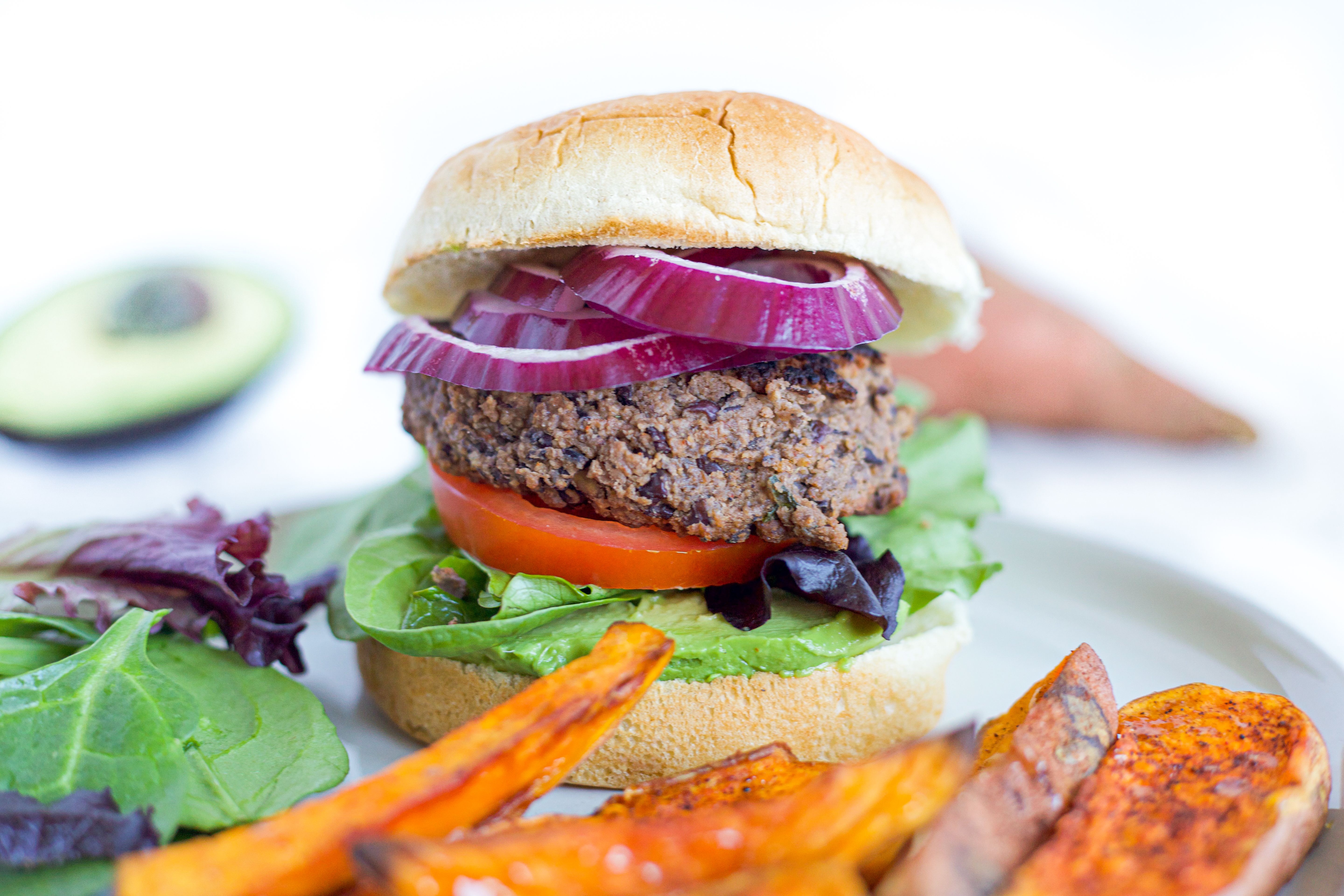 Serving Size: about 5 burgers
Prep time: 15 minutes
Cook Time: 10 minutes
Total Cook Time: 25 minutes
Ingredients:
1 can organic black beans
3-4 baby bella mushrooms finely chopped (you can also throw in a food processor)
3 tablespoons green onion chopped
¾ cup your favorite bread crumbs (gluten free works, so does almond flour)
1 teaspoon cumin
1 teaspoon garlic salt
½ teaspoon paprika (smoked paprika works too!)
½ teaspoon chili powder
1 large egg
salt and pepper to taste
2-3 tablespoons olive oil (to cook burgers)
Optional toppings:
Mixed greens
Romaine lettuce
Red onion
Tomato
Avocado
Chipotle mayo (1 teaspoon sriracha mixed with 1 tablespoon of mayo)
Cheese
Directions:
Step 1
In a small skillet drizzle a teaspoon of olive oil and turn up the heat to medium/low. Add in black beans, chopped mushrooms and green onions. Continue to cook on medium/low heat for 2-3 minutes. Turn off stove and transfer beans, mushrooms and onions to a large bowl. Using a held hand masher or fork begin mashing beans. Make sure to mash beans so they create a thick paste like texture.
Step 2
Begin adding dry ingredients to your beans/mushrooms/onion, one at a time. Begin with breadcrumbs, then add cumin, garlic salt, paprika and chili powder. Stir thoroughly then add in egg, salt and pepper. Mix until thick and dense.
Step 3
On low heat, heat a large skillet on stove top. Add in 2-3 tablespoons of olive oil. Using a 1/3 measuring cup, scoop out your black bean mixture, pack it within the 1/3 cup and add to the hot skillet to cook. Repeat this step until all of your black bean mixture is used up. (I usually have around 5 black beans burgers total).
Step 4
Cook on each side until dark brown and then flip (about 2 minutes). Serve on a your favorite bun with optional toppings I've listed above.
Sweet potato Wedges
Serving Size: 12 potato wedges
Prep time: 3 minutes
Cook Time: 25-28 minutes
Total Cook Time: 30 minutes
Ingredients:
1-2 large sweet potatoes, washed and cut into wedges (about 1 inch thick)
1 teaspoon melted coconut oil (olive oil and avocado oil works too)
salt and pepper to taste
optional:
chili powder
paprika
Step 1
Preheat oven to 400 degrees Fahrenheit
Wash, rinse and scrub sweet potato. Cut into 1 inch wedges.
Step 2
Add sweet potato wedges to a large bowl and drizzle coconut oil over top. Toss the wedges around to make sure each one is evenly coated. Sprinkle with salt and pepper.
Step 3
Place each sweet potato wedge on a roasting pan face up. Optional: lightly sprinkle chili powder and paprika over each wedge. Place in oven to roast for 25-28 minutes tops. Remove from oven, let cool for 3 minutes and enjoy.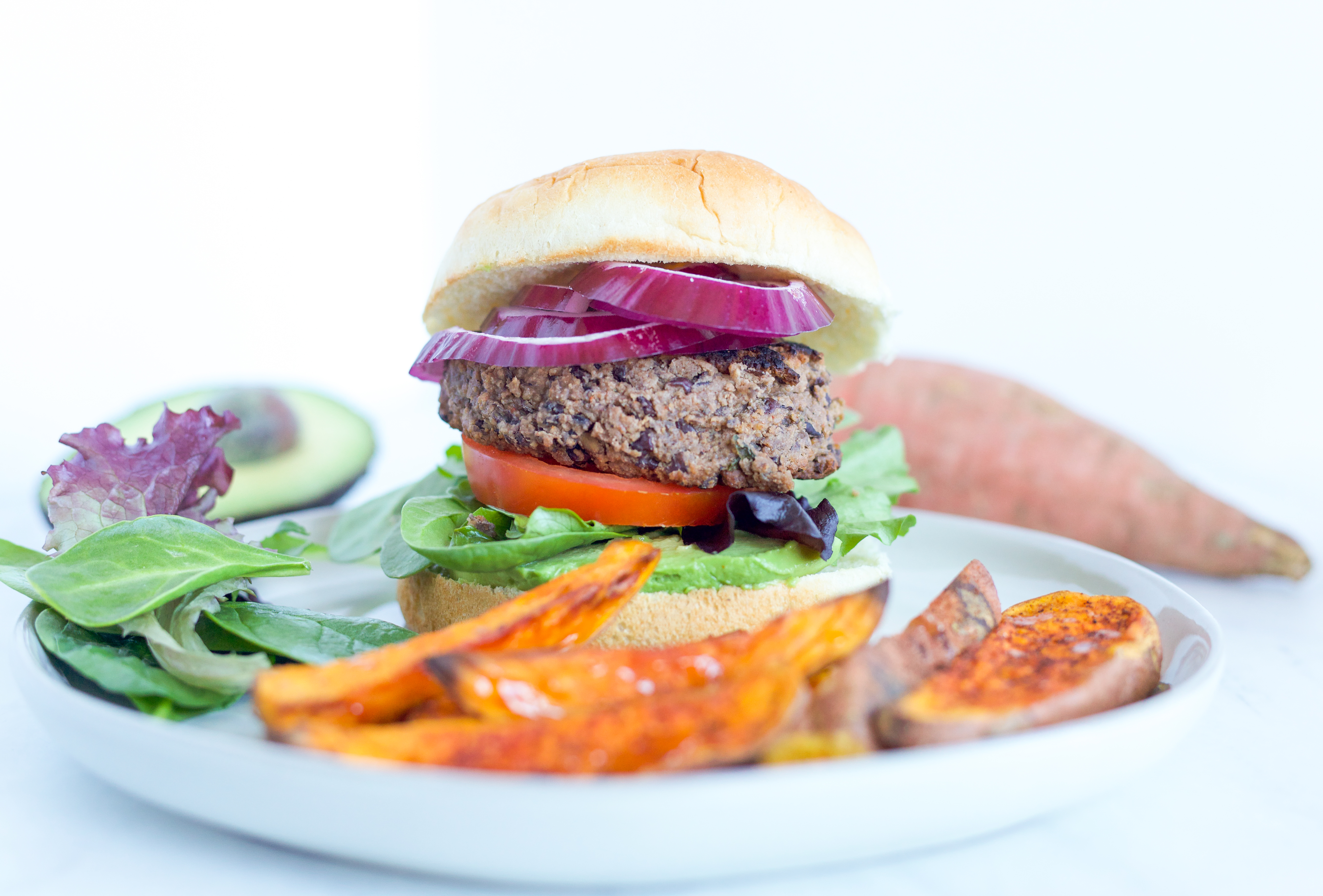 Did you make this recipe?
Tag @staysweetwellness on instagram and #staysweetwellness
I love seeing your favorite toppings on one of my favorite dinner recipes.
I can't wait to see your creativity!
Until next time,
Stay Sweet.
-Ashley