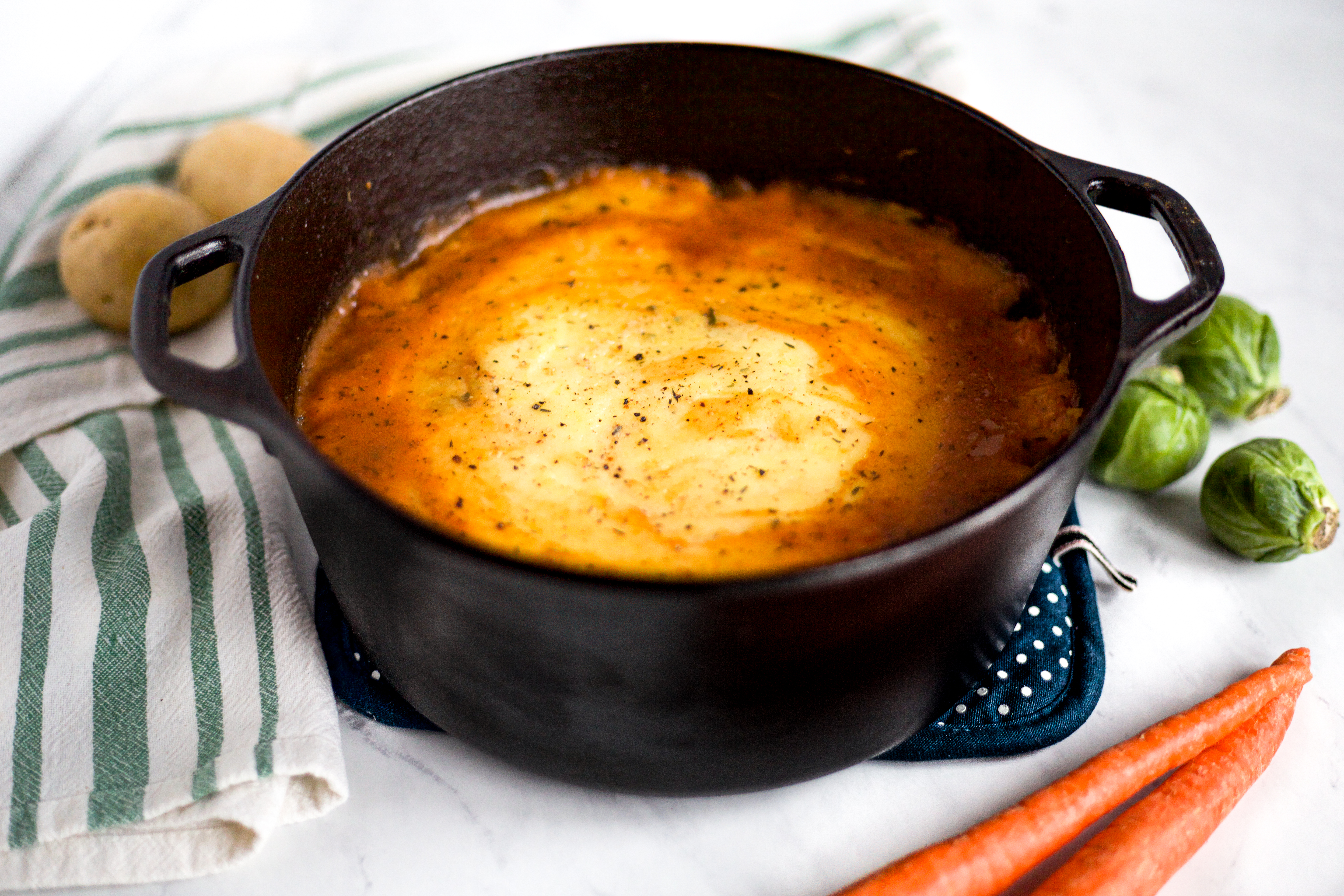 Healthy Shepherd's Pie
I was inspired to make this dish because of my dear friend, Sarah. I was about 3 weeks postpartum and extremely busy caring for our newborn when Sarah offered to bring over dinner. Now, if you're a mama and have had a baby, you know that when someone offers to bring you dinner you ALWAYS accept. After having your first child, the first two months are very challenging. So, if anyone ever offers to bring you a meal or clean your house SAY YES! Okay, back to this AMAZING recipe. Sarah brought over her version of shepherd's pie and I was extremely impressed! I had never had shepherd's pie before then, but it honestly didn't sound like something I'd prefer… boy was I wrong! It was comforting, warm, hearty and full of nutritional GOOOOOODNESSSSSS. Ben and I ate half of the entire dish!! From that point on I was determined to re-create my own healthy version of shepherd's pie. I omitted some of the traditional ingredients like peas and ground beef and added brussel sprouts and ground turkey. It turned out so good Ben and I both went back for seconds. It's the perfect dish to make during the winter season. I hope you enjoy this delicious, flavorful, filling meal! It's a comforting classic!
Ingredients you'll need:
organic gold potatoes 
grass fed butter, ghee or olive oil
Plain Greek yogurt 
garlic salt 
olive oil 
garlic, minced 
white onion chopped and diced 
baby bella mushrooms sliced
carrots peeled and chopped 
brussel sprouts, halved
ground turkey 
tomato paste 
whole wheat, all purpose or almond flour 
chicken or veggie broth 
thyme (fresh or dried works) 
bay leaves 
How to make:
Shepherds pie is a relatively easy recipe to whip up on any given night. We prefer it during the colder months, from October to March. You start by making your mashed potatoes. Once they're done you set them to the side, and cook your turkey and veggies on stove top along with the remainder of your ingredients. Once your turkey and veggie filling is complete, top with mashed potatoes, smearing them until evenly coated and covered. Place your dish in the oven at 350 F to bake for 20ish minutes. Remove from oven, let cool for 10-15 minutes and serve warm with some sour dough bread. YUM!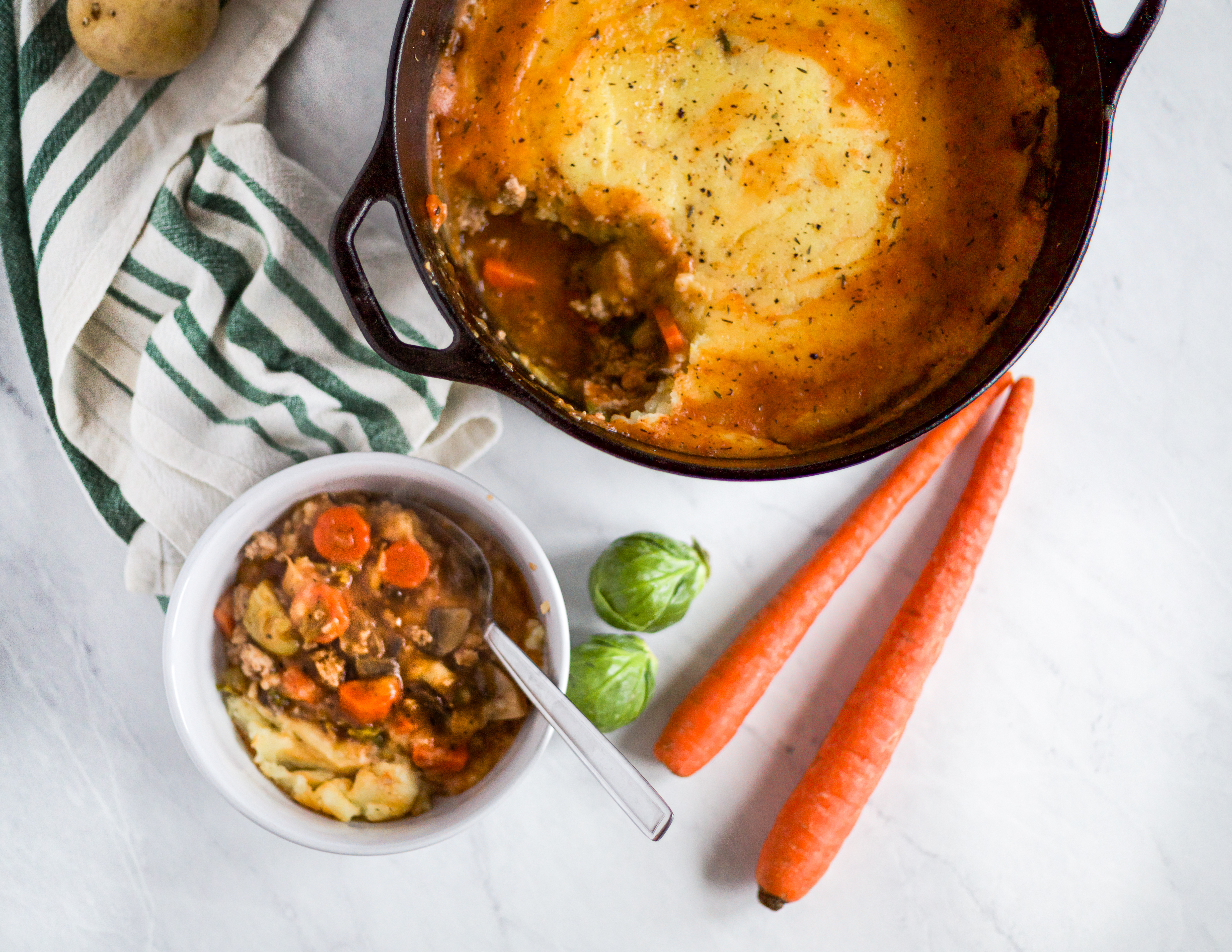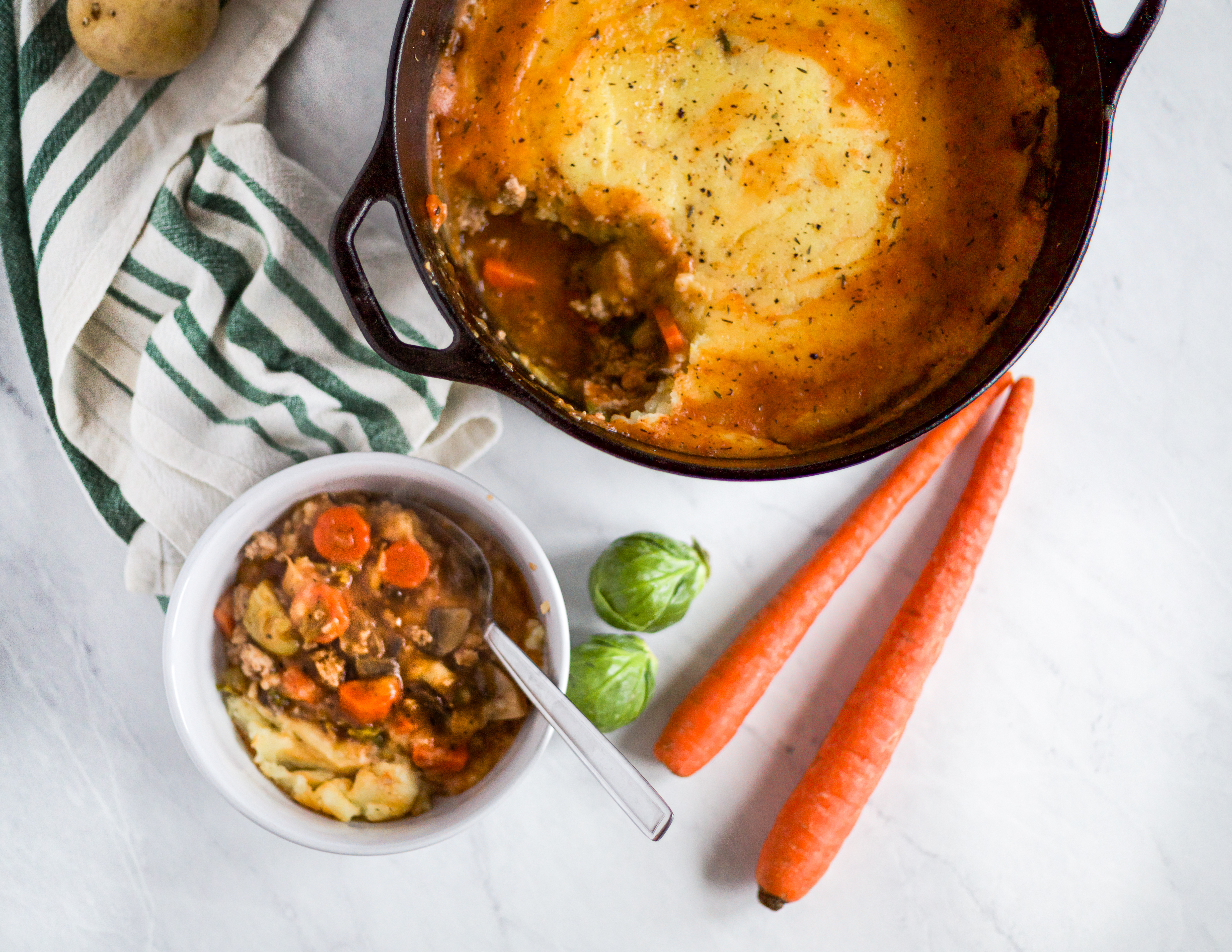 Healthy Shepherd's Pie
This warm, hearty and flavorful meal is the definition of comfort food. It's full of amazing flavor, textures and colors. It's one of our favorite meals during the colder months. This meal is easily gluten free and paleo friendly. Ready in less than an hour and makes the most amazing leftovers.
Equipment
large oven safe dish

Skillet

rubber spatula

masher
Ingredients
for the potato topping
6-8

gold or russet potatoes

2

tablespoons

grass fed butter, ghee or oilve oil

1/2

cup

plain Greek yogurt

2% or whole milk

1/4-1/2

teaspoon

garlic salt
for the turkey and veggie filling
2

tablespoons

olive oil

2

cloves

garlic, minced

1/2

white onion, diced

8-10

baby bella mushrooms, sliced

2

cups

carrots, peeled and sliced

2

cups

Brussels sprouts, halved

1

lb.

organic ground turkey

3

tablespoons

tomato paste

2

tablespoons

whole wheat flour

2 ½

cups

chicken or veggie broth

1

teaspoon

thyme (fresh or dried)

3

bay leaves

salt and pepper to taste
Instructions
Preheat oven to 350 degrees. Rinse, peel and cut potatoes into 2 inch cubes. Fill a large pot with 6-8 cups of cold water and place on stove top. Add a pinch of salt and potatoes to your pot of water and turn that heat up! Boil potatoes for about 8 minutes or until tender enough to pierce with a fork. Drain water and transfer potatoes to a large mixing bowl. Add butter (or ghee or olive oil) to potatoes and begin mashing potatoes with a handheld masher until well mashed. Add Greek yogurt, garlic salt, salt and pepper to taste and mix with a rubber spatula until thick and creamy. Feel free to add a little milk of choice if needed. The greek yogurt usually does the trick though. Cover and set potatoes to the side.

Heat a large skillet (or a large oven safe pot) on stove top on medium/low heat. Add olive oil, minced garlic and onion. Cook for 1-2 minutes and then add in the ground turkey. As turkey cooks, break up into small pieces with a rubber spatula so it can absorb more of that garlic and onion flavor. Cook for about 3-4 minutes or until pink has disappeared. Add sliced mushrooms, carrots and Brussels sprouts cooking for another 3-4 minutes or until veggies are tender. 

Slowly add broth to the veggie and turkey mixture. Stir for a moment and then add flour, tomato paste, thyme and bay leaves. Stir thoroughly until a red liquid appears and if using a skillet, transfer mixture to a large, oven friendly dish. (I used my large cast iron pot to cook everything in so i could avoid transferring the mixture). 

Once your veggie and turkey gravy is added to your oven safe dish, smear mashed potatoes on top. Evenly spread and sprinkle a pinch of thyme, salt and pepper. Optional: if you're feeling spontaneous, then go ahead and drizzle/spread 1 tablespoon of melted butter on top so the potatoes can get a little brown and crisp. 

Place in oven to bake for 15-20 minutes. Then, switch oven over to broil and let brown on top- about 3-5 minutes. Remove from oven after top has turned light brown and let sit for 5-10 minutes. Serve warm. Refrigerate and store leftovers (if there are any) in an airtight container for up to a week.
Notes
Brussels Sprouts- feel free to swap out Brussels sprouts for 2 cups of fresh or frozen peas. I know a traditional Shepherd's pie calls for peas, but my husband isn't a fan so i swapped them out for Brussels sprouts. 
Ground Turkey- You can easily swap out ground turkey for ground beef- no problem. 
Whole wheat flour- You can evenly swap out whole wheat flour with all purpose flour or almond flour for this recipe. 
Did you make this recipe?
Tag @staysweetwellness on instagram and #staysweetwellness
I love seeing your recreations!
Until next time,
Stay Sweet.
-Ashley