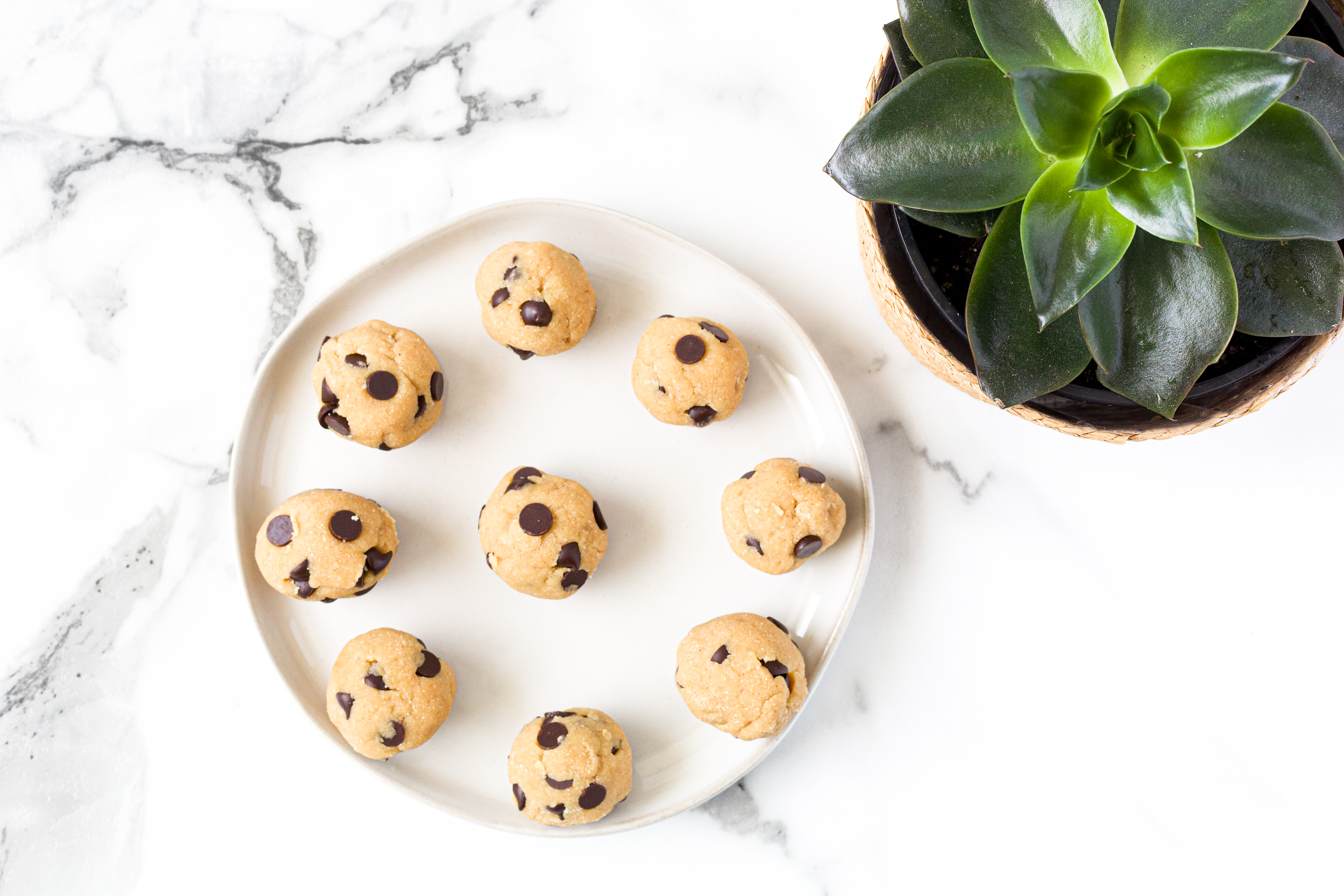 Healthy Chocolate Chip Cookie Dough Bites
Jump to Recipe
Vegan, Gluten Free + Refined sugar free
This recipe is an oldie but a goodie. I've been trying to perfect this recipe for years and i finally discovered the perfect formula a few months ago. That's because homemade chocolate chip cookie dough is one of my favorite desserts. I know for many that may seem gross but it's the truth. Technically, homemade cookie dough isn't a dessert until baked (I beg to differ). However, there's just nothing else like it. I love every component of homemade cookie dough from the sweet flavor to the texture- it's all good! That's why it was my mission to create a healthier version of chocolate chip cookie dough.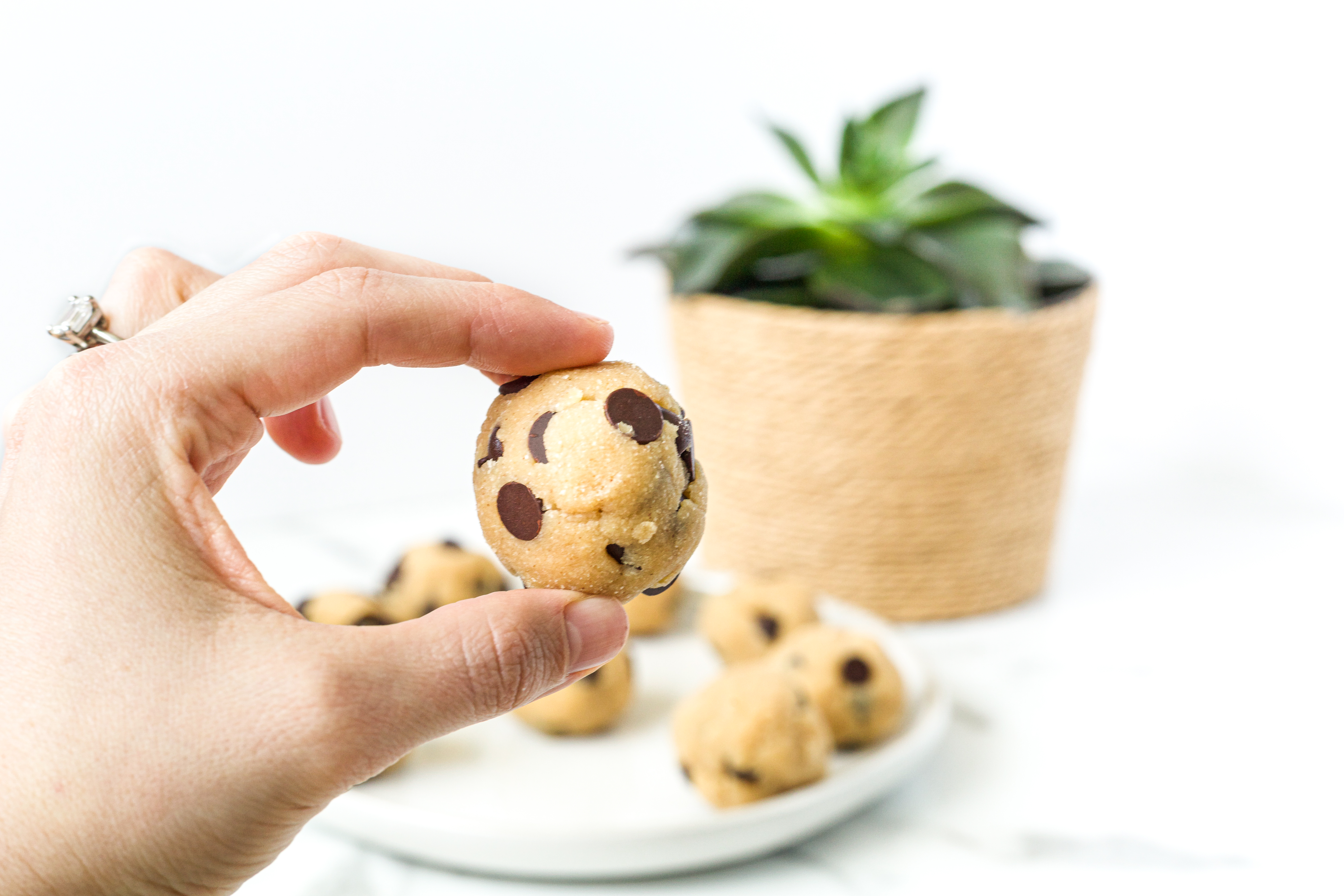 If I'm being honest, eating homemade chocolate chip cookie dough always made me sick, because let's be real, you can never have just one bite. In addition to eating it by the spoonful's, it's literally full of butter, sugar and flour. Which, don't get me wrong, all of those ingredients taste wonderful but when you consume enough of them you physically and mentally feel crappy. So, my solution was to create a healthier version that I could still enjoy without feeling like crap afterwards. After years of experimenting I finally came up with the perfect, healthy recipe. Nowadays, I make this recipe on the reg. My husband and I love it! We just pop a couple bites in our mouth and enjoy for a mid-morning snack or an after-dinner dessert fix. This recipe is gluten free, vegan and refined sugar free. It will satisfy all your cookie dough cravings. I hope you enjoy it as much as we do! For ingredient swaps refer to notes below.
Why this recipe tastes so good?
This recipe took a while to perfect, but I finally discovered how to form the perfect texture and sweet flavor of traditional cookie dough. Thanks to the flours, coconut oil and almond butter the dough comes out moist, soft and a bit chewy- just like traditional chocolate chip cookie dough. The vanilla extract also helps bring the sweet flavors out along with the maple syrup and chocolate chips. I personally love adding a little additional sea salt for more of a sweet and salty flavor, but that's totally optional.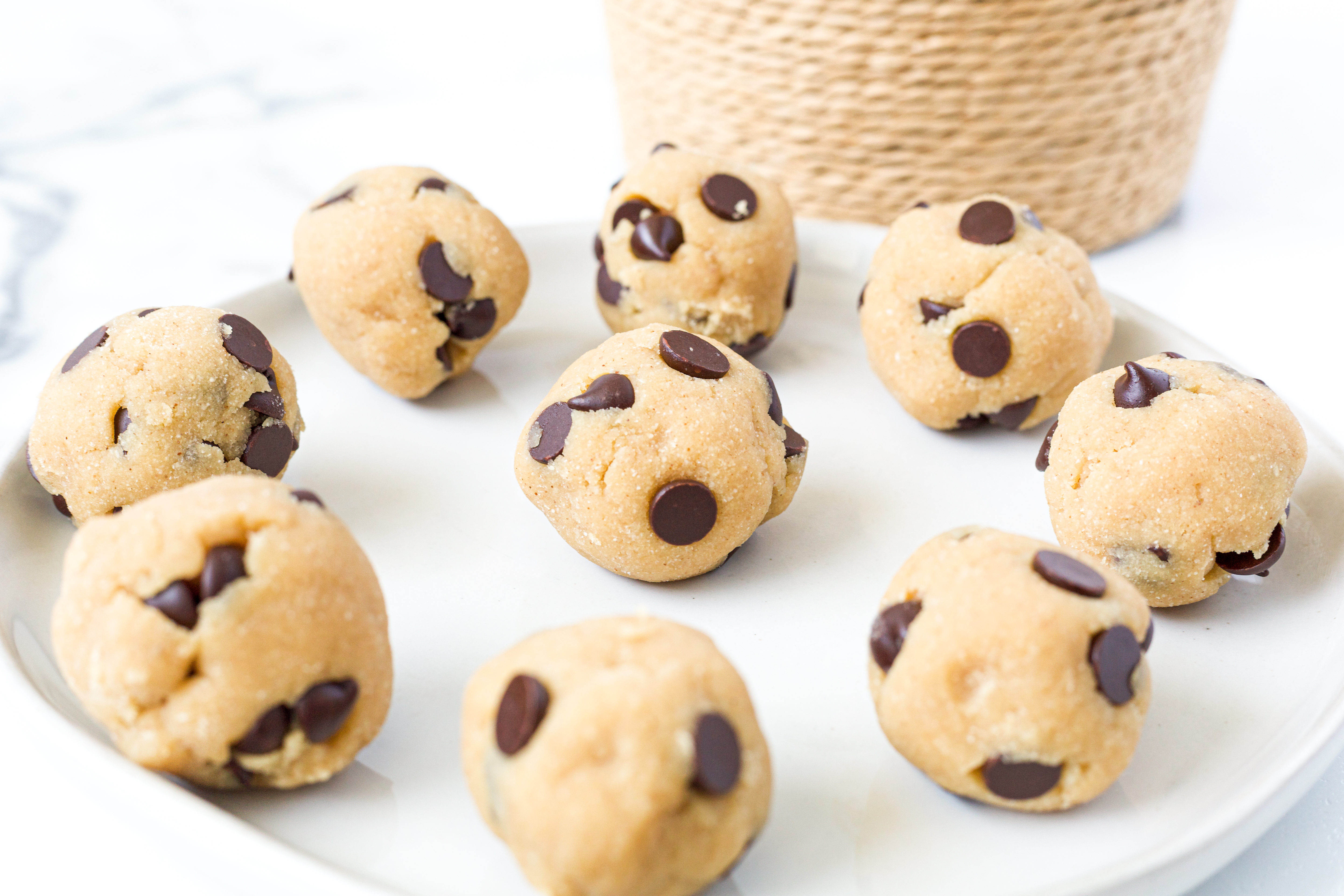 Ingredients you'll need:
almond flour
coconut flour
sea salt
coconut oil
almond butter
maple syrup
vanilla extract
dark chocolate chips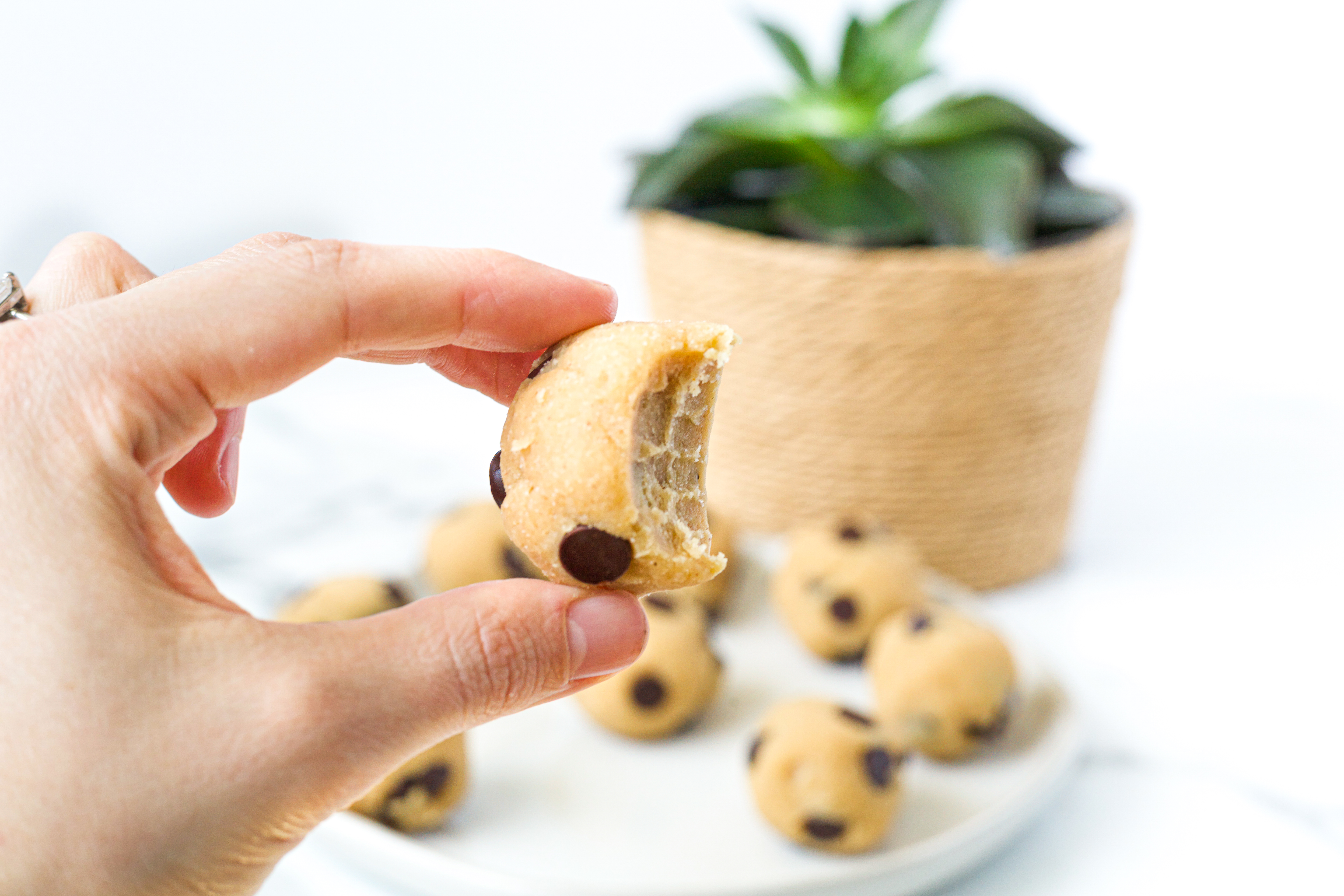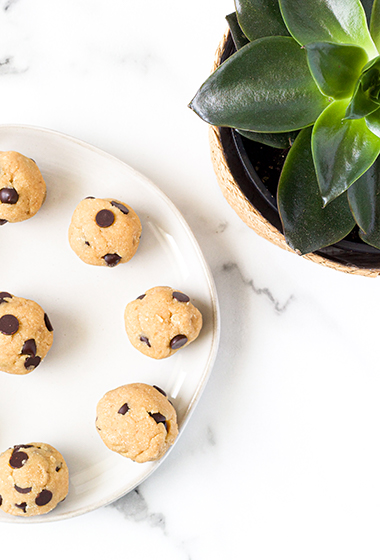 Healthy Chocolate Chip Cookie Dough Bites
This recipe is gluten free, vegan and refined sugar free. It will satisfy all your cookie dough cravings without the sugar crash or stomach ache afterwards.
Equipment
Mixing Bowl

refrigerator

rubber spatula
Ingredients
1/2

cup

almond flour

1/2

cup

coconut flour

pinch

sea salt

1 1/2

tablespoons

melted coconut oil

1

tablespoon

creamy almond butter

1/3

cup

maple syrup

1

teaspoon

pure vanilla extract

1/3

cup

dark chocolate chips
Instructions
Combine all dry ingredients in medium sized bowl. Whisk together the almond flour, coconut flour and sea salt and set aside.

In a small microwavable bowl, add coconut oil and almond butter. Microwave for 20-30 seconds or until completely melted into a liquid. Add in your maple syrup and vanilla extract. Stir until completely combined and add to your dry ingredients.

After you add your wet ingredients to your dry ingredients begin mixing until a thick, dough like consistency forms. Fold in your chocolate chips. Using a tablespoon, scoop out cookie dough one spoonful at a time and roll into 3inch (ish) balls. Cover and refrigerate for 10 minutes.

Remove from refrigerator and enjoy! Store in an airtight container in the refrigerator for up to 10 days.
Notes
You can swap out coconut flour for oat flour. However, the consistency will come out a little different. Start by using 1/3 cup and then add 1 tablespoon at a time if consistency isn't thick enough.
Maple syrup- you can evenly swap out maple syrup for honey if you're not vegan. Honey works well with this recipe.
Coconut oil- do not swap out coconut oil for any other oil. If you don't happen to have any coconut oil on hand you can evenly swap with almond butter.
Almond butter- You can swap out almond butter for cashew butter or peanut butter. However, if you swap out with peanut butter it will taste like peanut butter. Almond butter has more of a neutral flavor so keep in mind when you use peanut butter the cookie dough bites will have a peanut butter flavor.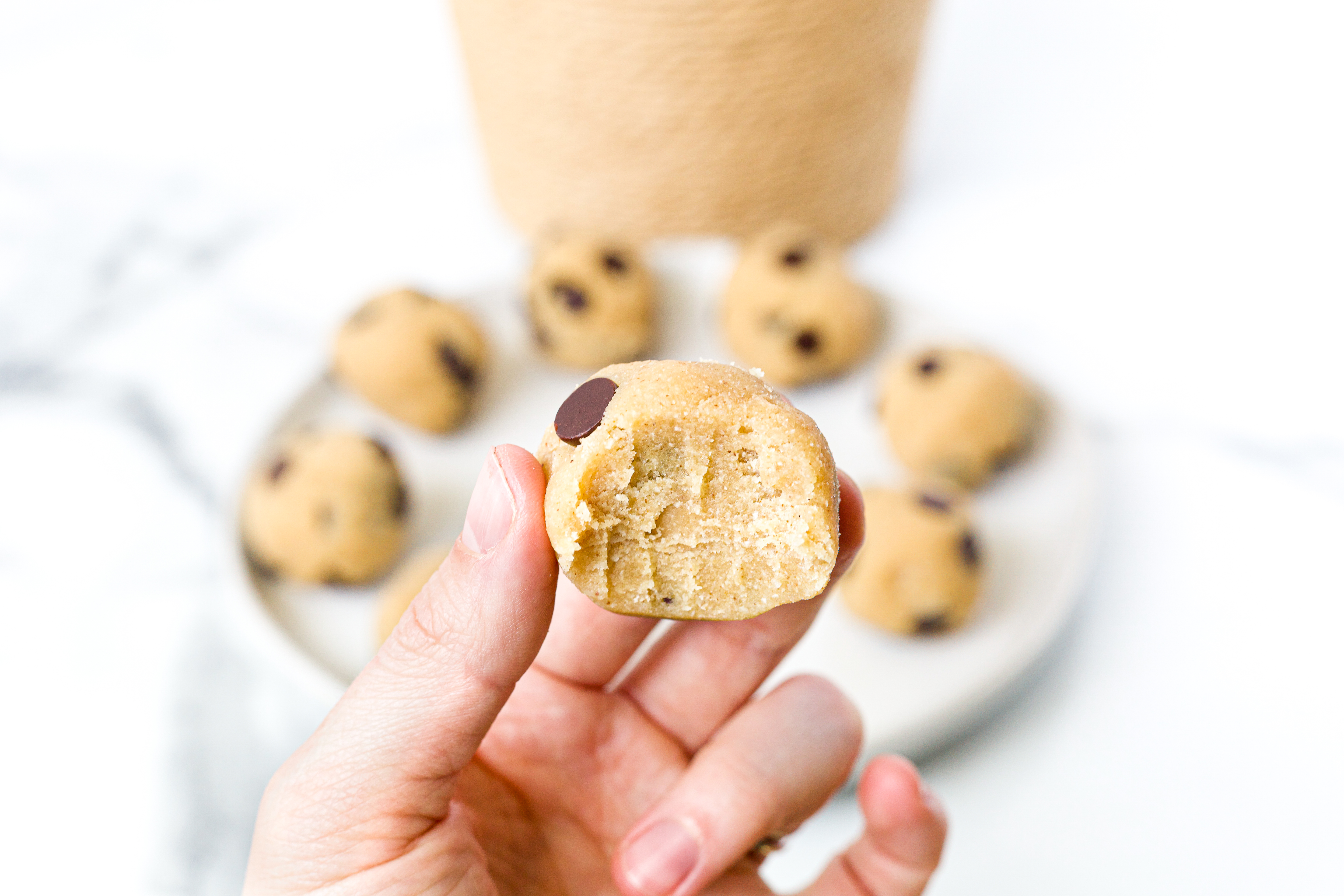 Did you make this recipe?
Please tag @staysweetwellness, follow me on Instagram and #staysweetwellness.
I love seeing your recreations of my wholesome sweet treats!
Until next time,
stay sweet.
-Ashley