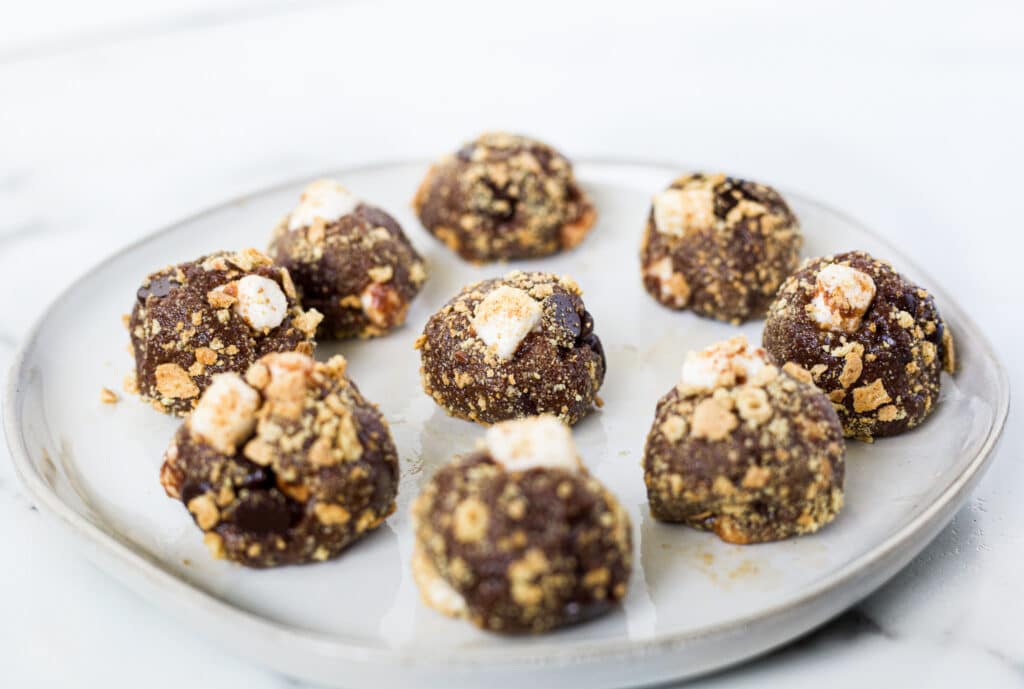 Healthy Brownie Batter S'mores Bites
Jump to Recipe
Ben and I have been planning a camping trip for the past couple weeks now and I'm so incredibly excited! Mainly because I want my son, Keegan to be able to experience the magic of tent camping in the middle of nature. I LOVE camping. I mean who doesn't love a good old-fashioned camping trip during the summer? It brings back so many childhood memories of when I went camping in West Virginia. We'd camp right next to a creek with a camp fire and s'mores. We'd swim in the shallow water, skip rocks, fish, pick raspberries and hike all day long. We had the BEST time. While reminiscing on these heartfelt memories, I felt inspired to create a recipe that reminded me of those childhood memories. Long and behold I came up with these delicious Healthy Brownie Batter S'mores Bites!!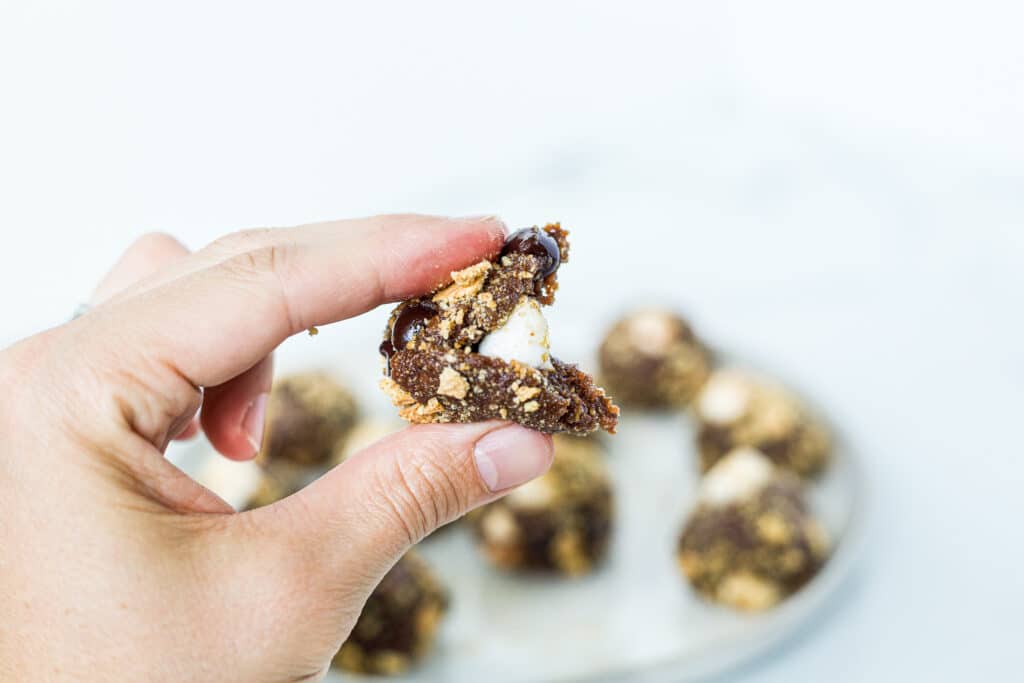 These healthy brownie batter s'mores bites are absolutely delicious! One of the best healthy desserts I've ever made on the fly. They contain 8 ingredients and only take 5 minutes to make. They taste just like a s'mores but with some added healthy fats and fiber. Honestly, I would almost describe these healthy s'mores bites like a brownie batter cake pop with marshmallows and graham cracker. Are you drooling yet?! You can make ahead and enjoy these little bites later or devour them all on the spot because seriously, they're that delicious. I'm officially obsessed!
Why you'll love these?!
These healthy brownie batter s'mores bites are easy to make and are ready to enjoy in 5 minutes. They contain healthy ingredients like raw cacao which is a superfood (high in antioxidants), maple syrup which means no refined sugars, almond butter + almond flour which contain healthy fats and protein (great for brain health and will keep you feeling full) and flax seed which is full of fiber and Omega 3's. Combine all of these ingredients for THE MOST delicious s'mores flavored snack of all time!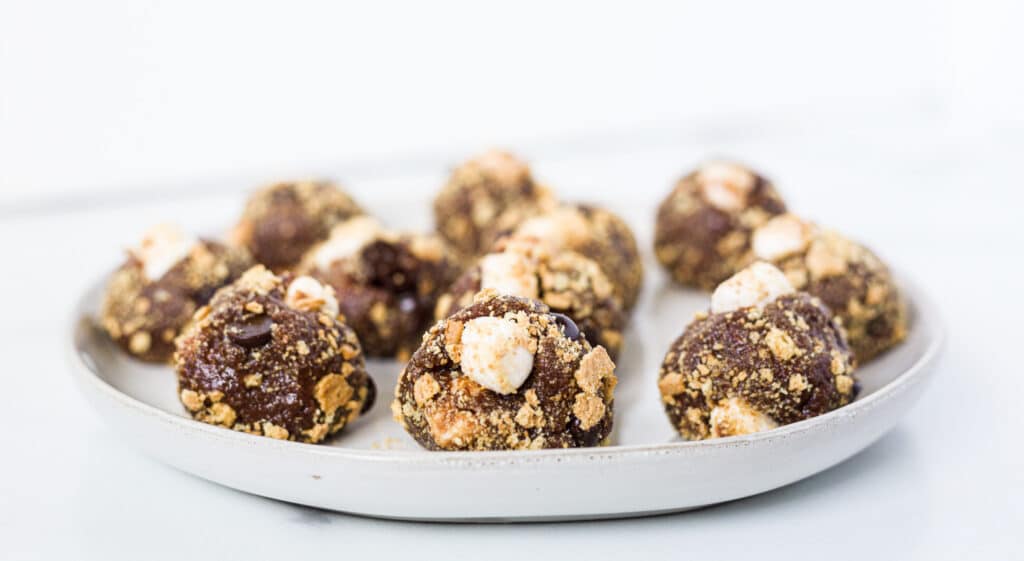 Ingredients you'll need:
Almond butter
Cacao powder
Maple syrup
Almond flour
Ground flax seed
Pinch of ground sea salt
Pure vanilla extract
Dark chocolate chips
Mini marshmallows (or 3 large marshmallows, chopped into chunks)
Gluten Free Graham cracker
How to make?
This recipe is SO SIMPLE. All you do is add the almond butter, cacao powder, maple syrup, almond flour, flax seed, sea salt and vanilla in a medium sized bowl. Mix until a thick brownie like consistency forms. Fold in your chocolate chips and mini marshmallows and set aside. Grab a small plate and crumble up one graham cracker until fine little graham cracker crumbs form. Grab an additional small plate and line it with parchment paper. Begin scooping out your batter with a tablespoon and rolling between your hands to form little balls. Once you've formed 2" (ish) balls, roll around in graham cracker crumbs and set on your parchment paper lined plate. Store in the refrigerator for later or enjoy immediately!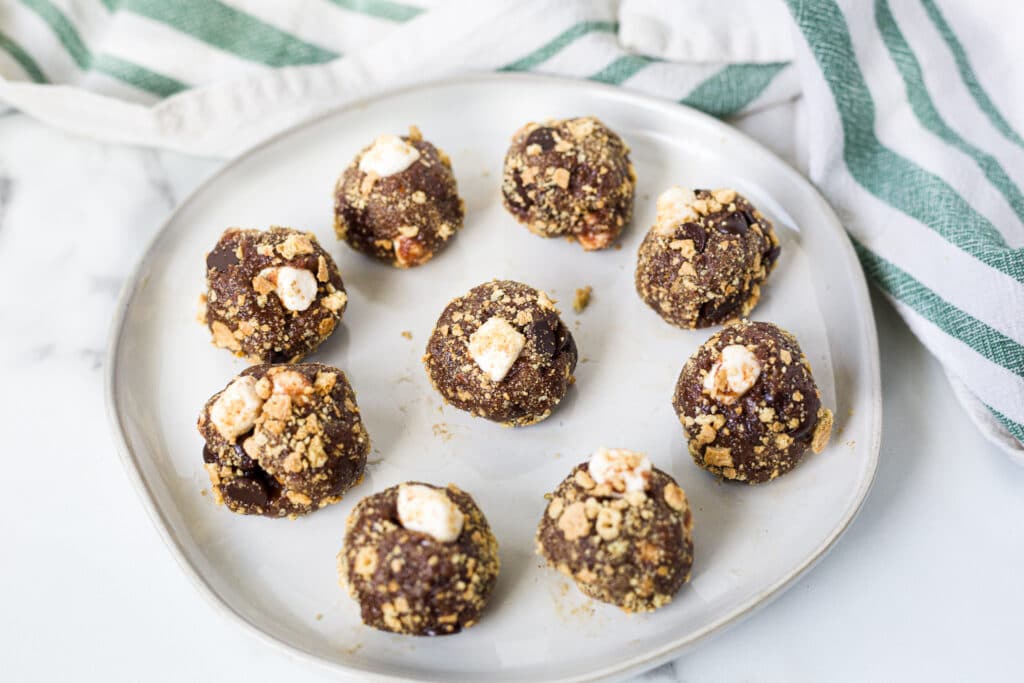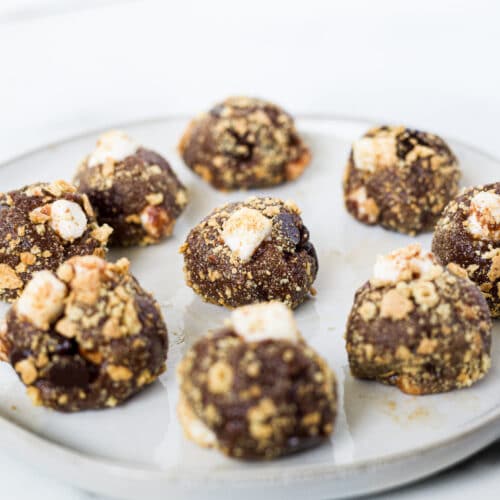 Healthy Brownie Batter S'mores Bites
These healthy brownie batter s'mores bites are vegan friendly and gluten free. They taste like a chewy brownie batter cake pop with graham cracker and mini marshmallows, but without all of the artificial ingredients and refined sugars. Make in 5 minutes and enjoy the s'mores flavor without the hassle of sticky hands.
Equipment
medium sized mixing bowl

2 small plates
Ingredients
1/2

cup

plain, creamy almond butter

1

tablespoon

raw cacao powder

1/4

cup

pure maple syrup

1/4

cup

almond flour

2

tablespoons

ground flax seed

1

teaspoon

pure vanilla extract

1

pinch

ground sea salt

1/4

cup

dark chocolate chips

1/4

cup

mini marshmallows or 3-4 large marshmallows cut into cubes

1

gluten free graham cracker, crushed into crumbs
Instructions
In a medium mixing bowl, combine almond butter, cacao powder, maple syrup, almond flour, flax seed, vanilla and pinch of salt. Mix until a thick, brownie batter consistency forms.

Fold in your chocolate chips and mini marshmallows until evenly spread throughout the mixture. Take out two small plates. On one plate, use your hands to crush your graham cracker. Break and crush up until small graham cracker crumbs are evenly spread out over the plate. Line the second plate with parchment paper and begin making your balls.

Using a tablespoon, scoop out mixture and roll into 2"ish balls with your hands. Next, coat each ball by rolling it on the plate with graham cracker crumbs until evenly coated. Transfer to your parchment paper lined plate and (optional) add one or two more mini marshmallows. Repeat this step until all of your mixture is used up. Makes around 10-12 balls/bites. Enjoy immediately or cover and store in refrigerator for up to 10 days.
Notes
marshmallows- there are vegan marshmallows available at your local health food stores. A popular brand is dandies. Just chop one large marshmallow into bite sized chunks and add to your bites.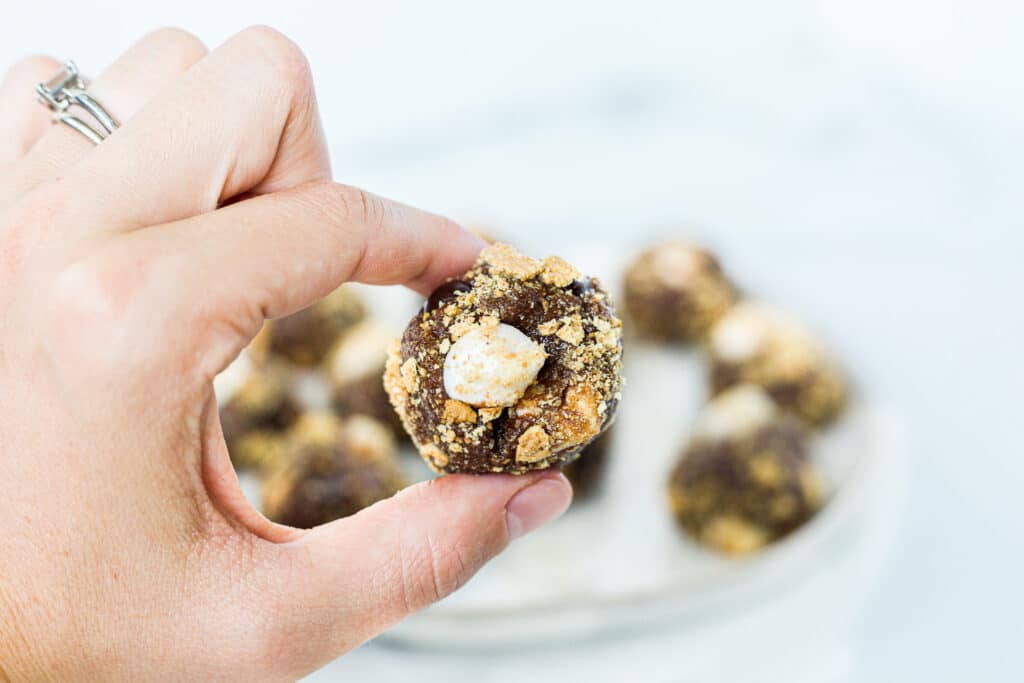 Did you make this recipe?
Please tag me @staysweetwellness, follow me on Instagram and #staysweetwellness.
I would LOVE to feature you on my page!
I love connecting over fun, healthy and delicious recipes.
Until next time,
stay sweet.
-Ashley