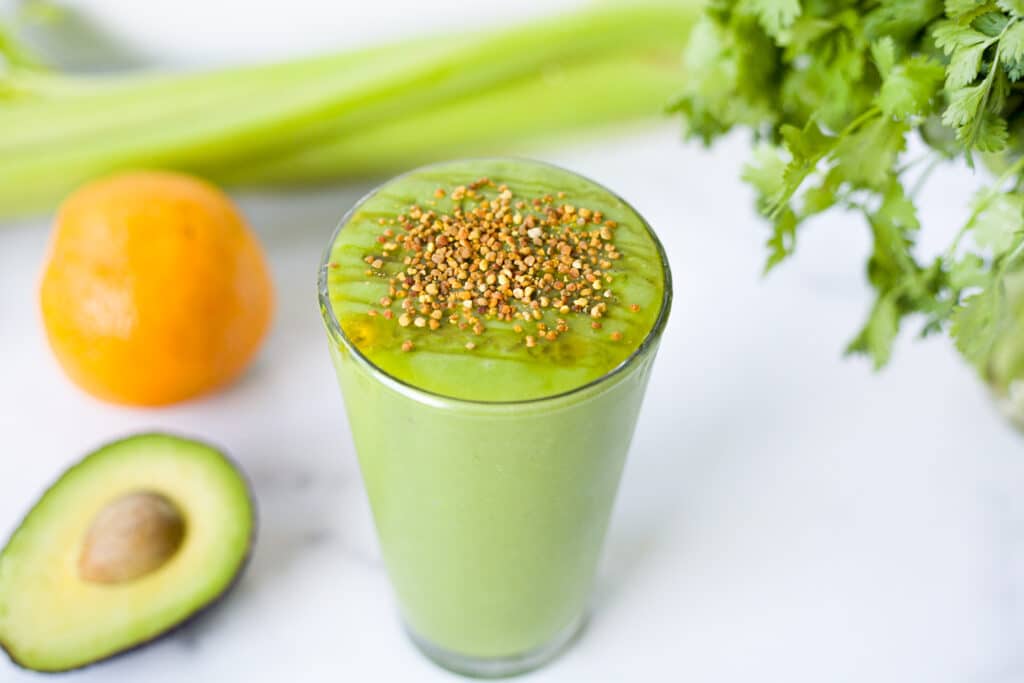 Jump to Recipe
Green Goddess Smoothie
My Green Goddess Smoothie taste like a sweet, citrusy miracle beverage. Its silky smooth, full of flavor and absolutely AMAZING for you! The bright green color says it all, and it has nothing to do with tasting like grass.
I love enjoying this smoothie as a breakfast or post lunch/afternoon pick me up. It's packed with a lot of fruit and veggies so I can assure you, you'll get your days' worth. I personally love green smoothies and I make one every single day. I have three green smoothies I rotate throughout the week to give my body a variety of plant based nutrients and it always makes me feel healthy and refreshed! It's one of the ways I feel balanced within my diet.
This smoothie is bright, fun, tastes refreshing and leaves you feeling physically and mentally AMAZING. I topped mine with a drizzle of raw honey and bee pollen.
Why is this smoothie so awesome?
 Just so you understand how wonderful this smoothie truly is. I'll break down the awesome nutritional benefits for you!
The handful of greens (your choice of spinach, arugula, kale, chard etc.) contain A LOT of vitamin C, iron and fiber. Both are great ways to boost your immune system and keep a healthy gut. If there is one slice of nutritional advice I stand by, it's try to eat two meals a day that contain leafy greens.
The cilantro (coriander) adds antioxidants and anti-inflammatory properties to this smoothie which is amazing for your body! It's a great way to get rid of toxins and aid your bodies microbiome. There was also a study that concluded cilantro was just as effective on lowering anxiety as prescription meds. *Immediately devours cilantro by the bunch*
ALLL the fruit! – The mango, orange, apple and lime in this smoothie are amazing for your skin, immune system, and gut. High in fiber and Vitamin C, your body will feel energized once consuming.
MORE VEGGIES YAY! Celery + Cucumber – both celery and cucumber are AMAZING for many reasons. Both vegetables contain a lot of water which is great for digestion and skin, they're full of antioxidants which help prevent heart disease and cancer and they contain anti-inflammatory components.
Avocado- the avocado is great for added healthy fats and a smooth, creamy texture.
Collagen Peptides- collagen peptides are the MVP in this smoothie. They help with hair, skin and nail growth while also adding some added proteins.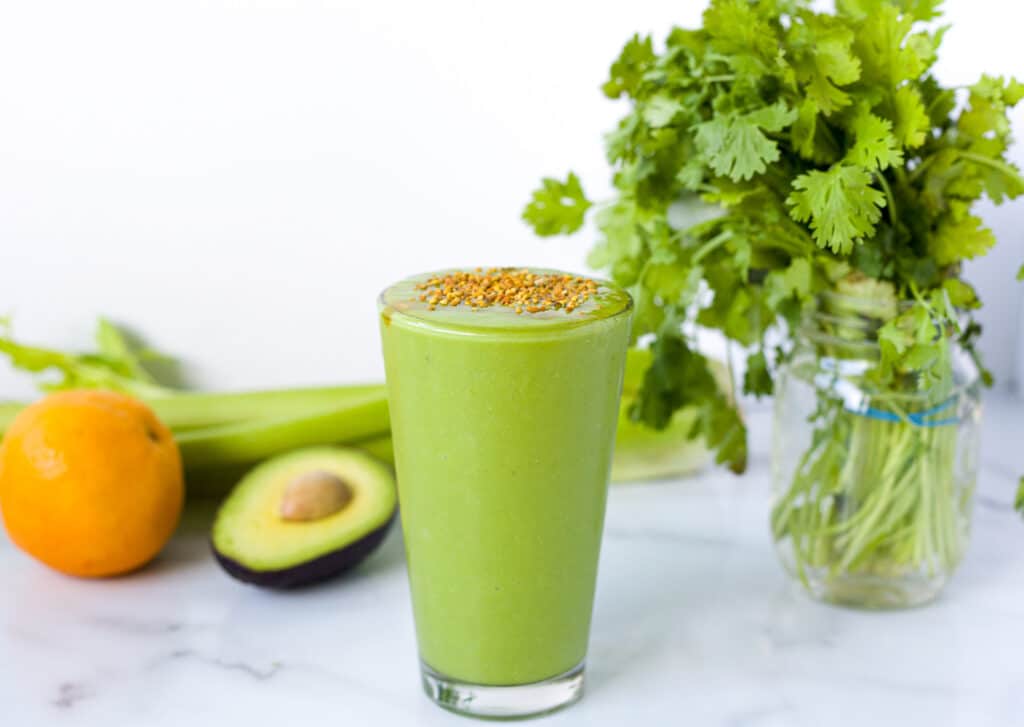 Ingredients you'll need:
Handful of greens (spinach, kale, chard, arugula, mixed greens)
Fresh cilantro (coriander)
Celery
Apple
Cucumber
Avocado
Collagen peptides
Mango
Coconut water
Orange
Lime
Ice
Optional: honey + bee pollen
How to make?
It will take 5 minutes to prep this smoothie. Just rinse and chop your ingredients, add to a high-speed blender and blend on high for 1-2 minutes or until smooth and creamy in texture.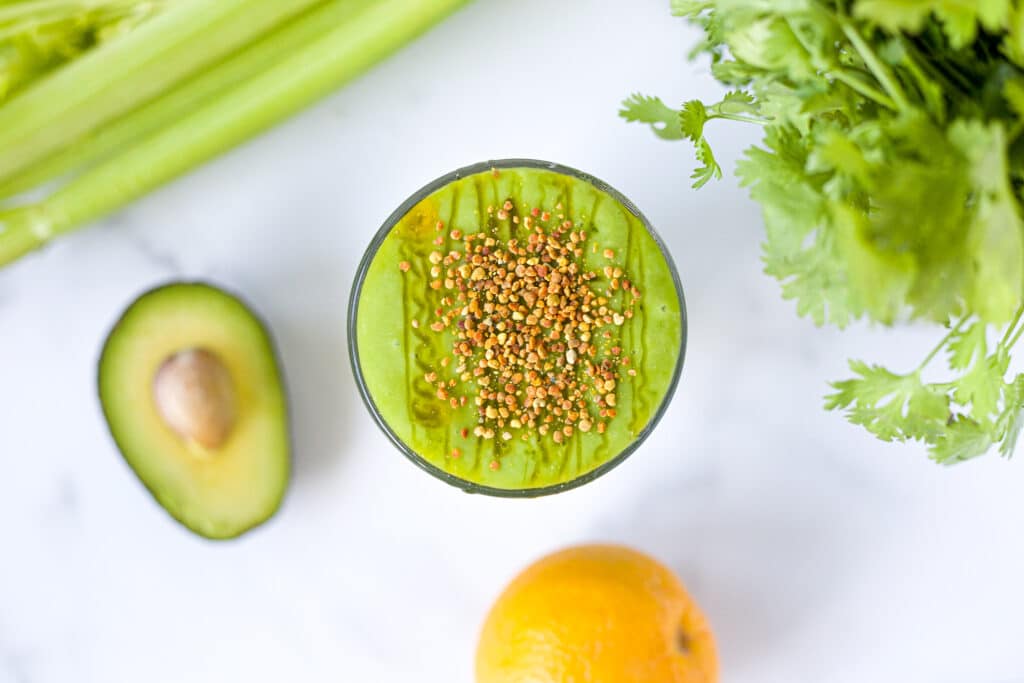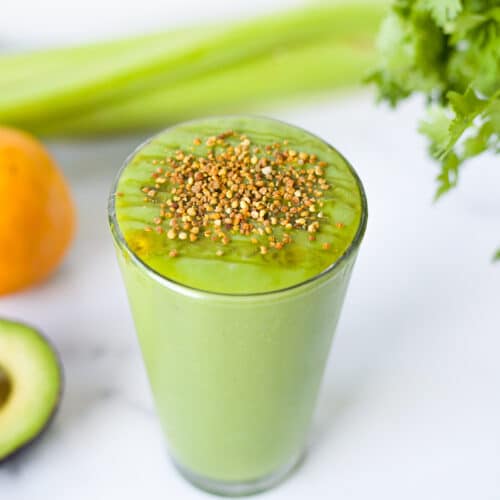 Green Goddess Smoothie
This green smoothie taste sweet, nutritious and vibrant. Packed full of your days worth of fruit and veggies, this refreshing smoothie will leave you feeling energized and full. Paleo and gluten free.
Ingredients
1

handful

your choice of greens

1

tablespoon

freshly chopped cilantro

(coriander)

1

stalk

celery

1/2

apple

1

mini cucumber

1/2

avocado

1

scoop

collagen peptides

1/2

cup

mango

fresh or frozen

1

orange

1/2

lime, juiced

(add extra for more of a citrus flavor)

1

cup

ice

1/2

cup

coconut water
Instructions
Throw all of your ingredients ( in order from your ingredient list) into a high speed blender. Blend on high for 1-2 minutes or until a creamy texture appears. Feel free to add 1/4 cup of water or coconut water if it appears too thick. Blend again for 30 seconds and enjoy immediately.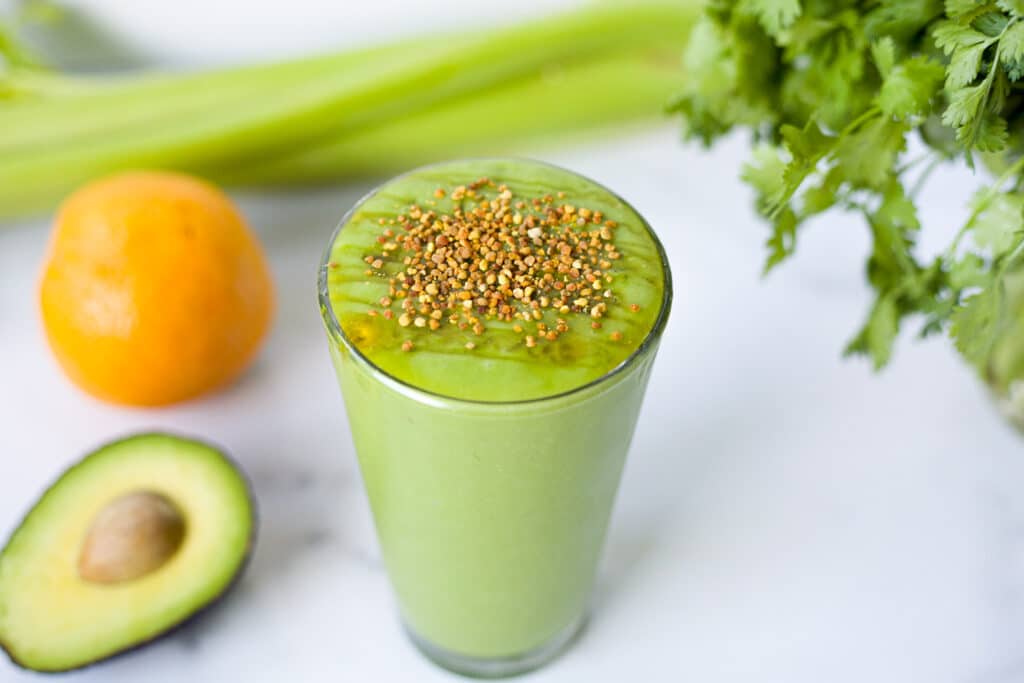 Did you make this recipe?
Please follow @staysweetwellness and tag me on Instagram. Use the #staysweetwellness so I can feature you on my page!
I'd love to hear your thoughts on one of my fav green smoothies!
Until next time,
stay sweet.
-Ashley