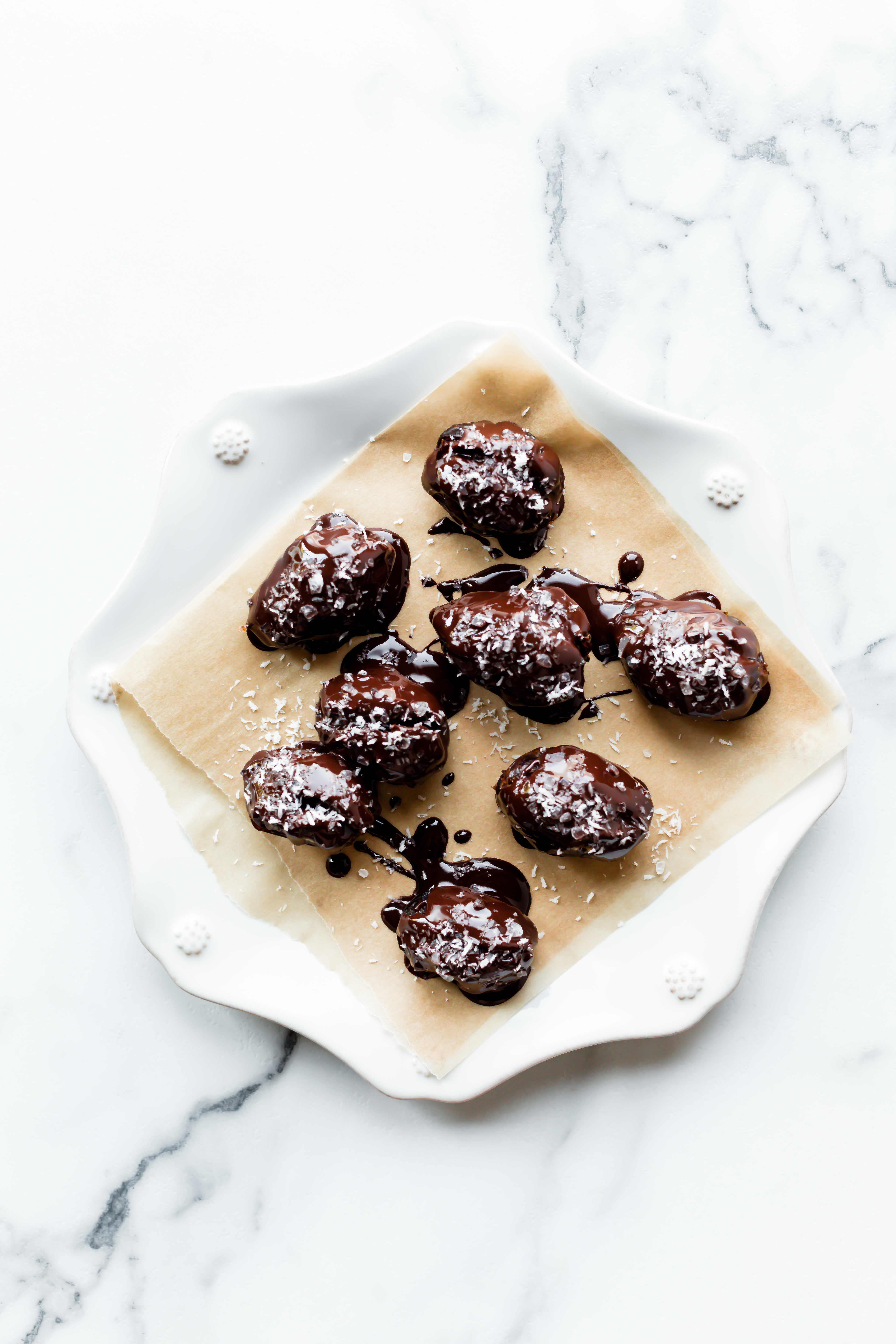 Jump to Recipe
Dark Chocolate Sea Salt Turtle Dates
Alright guys, this recipe seriously brings me back. Back to my childhood memories of visiting a candy story. As a child (heck, even as an adult) do you remember the rush of excitement you felt when entering a candy store? The rows of colorful candies, the rich smell of fresh chocolates, the variety of sweet treats at your fingertips? It was an experience in itself and this recipe is bringing back all those excited feelings. These Dark Chocolate Sea Salt Turtles Dates taste so similar to the ones I use to beg my parents for at Bomboy's Chocolates in Havre de Grace, MD. The soft chewy date tastes exactly like a sweet caramel center. Pair that with the rich bitter flavor of dark chocolate + sea salt and it brings it all the way home.
Why this recipe is good for you..
Let's not forget the health benefits from these little turtles. It may not taste like it, but these babies are packed with superfood goodness. Naturally sweetened by the date itself, you're feeding your body all sorts of antioxidants and fiber. Dates also have a low glycemic impact which are great for those who need to balance their blood sugar. Dark chocolate is also a super food which means its high in antioxidants.
You can also add different nut butters to this recipe which will give it some added healthy fats and protein. I love how versatile these little chocolate desserts are. Not only that, but these are super easy to make and can be ready in less than 10 minutes! I make them as my quick fix dessert if I'm craving chocolate after dinner.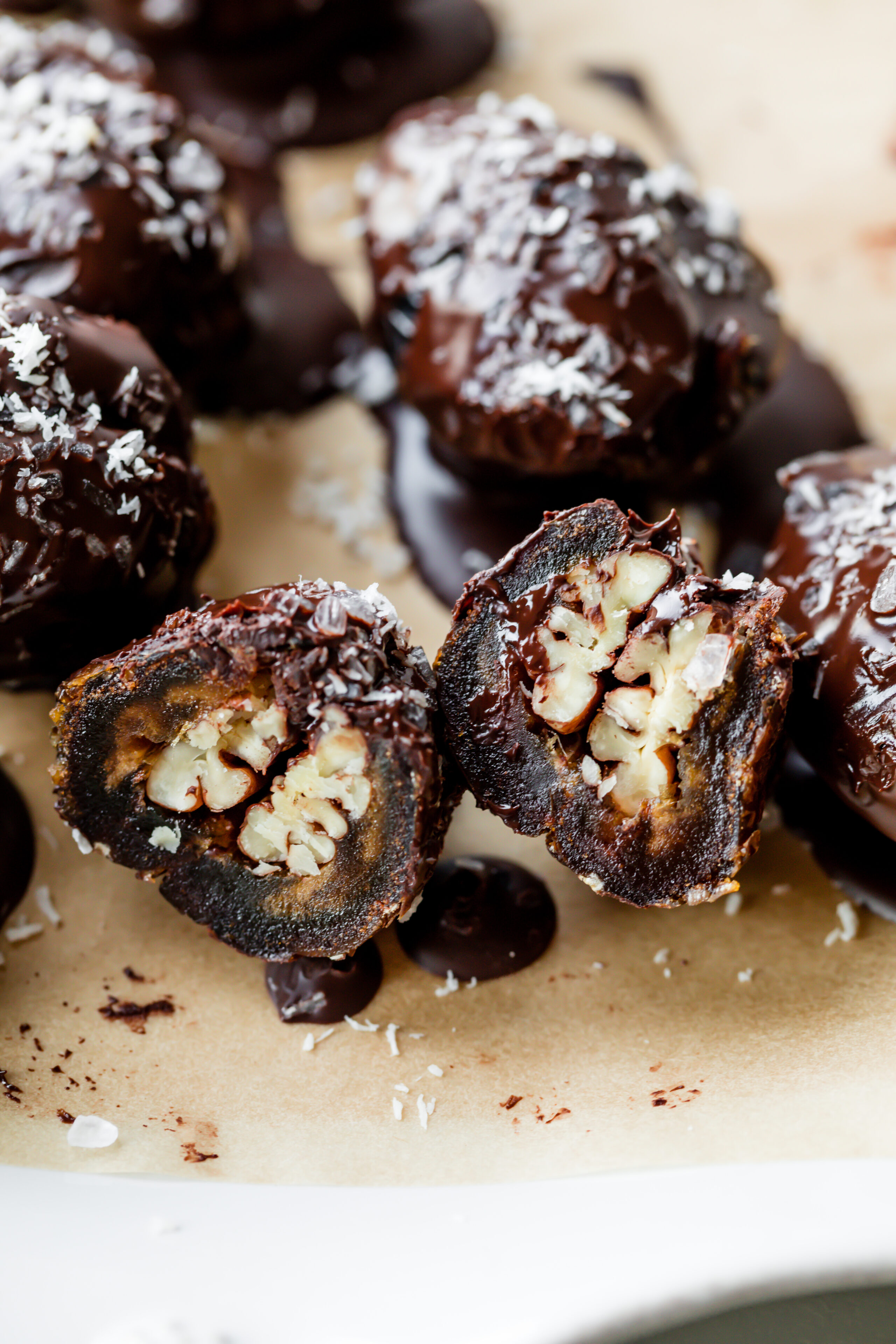 Ingredients you'll need:
medjool dates
pecans
72% or more dark chocolate bar or chips
coconut oil
sea salt
optional coconut flakes
optional peanut, almond or cashew butter
How to make?
There are SO many reasons I love this recipe, one of those being how EASY they are! First start by pitting the dates if they aren't already pitted. Line a small plate with parchment paper so the chocolate doesn't stick to the plate. Now, take 1-2 pecan halves and insert them within the date, smushing and molding the date around the pecans. If you'd like some extra nutty flavor and a smooth texture, feel free to add a teaspoon of nut butter to your date before inserting your pecan halves. Set each pecan stuffed date onto the parchment paper lines plate and begin melting your chocolate. Once chocolate is melted, drizzle overtop each date and sprinkle with sea salt and optional coconut. Place in refrigerator to harden for 3-5 minutes and enjoy!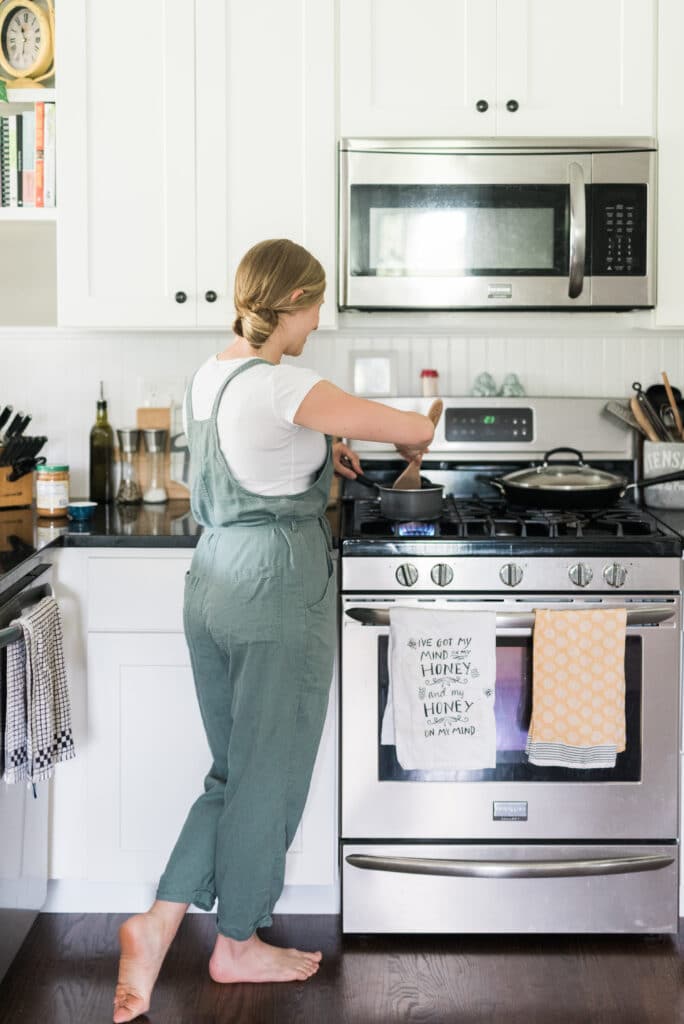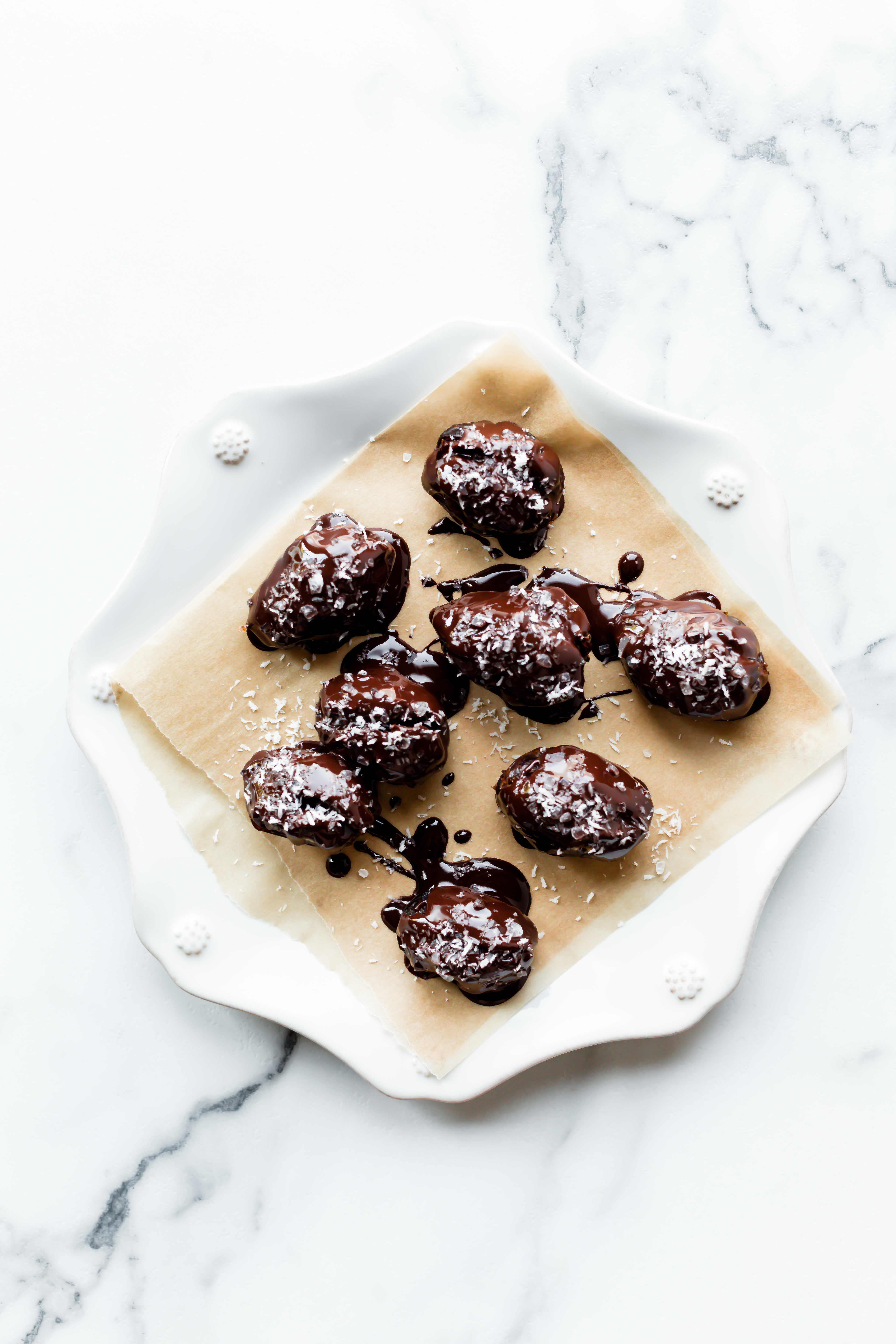 Dark Chocolate Sea Salt Turtle Dates
Healthy Dark Chocolate Sea Salt Turtle Dates are ready in minutes and taste just like candy! Rich chocolaty flavor, chewy, sweet and salty. These little candies are healthy, refined sugar free, vegan and gluten free.
Equipment
parchment paper

Plate

small sauce pan

stove top burner

spoon

microwave
Ingredients
10

medjool dates

pitted

20

pecan halves

1

bar

72% of more dark chocolate

1

teaspoon

coconut oil

1

teaspoon

sea salt
optional ingredients
2

tablespoons

shredded coconut

10

teaspoons

peanut butter, almond butter or cashew butter
Instructions
Line a small plate with parchment paper and set aside. Take each date and make sure to remove the pit (if not already pitted).

Take 2 pecan halves and stuff them in the middle of one date. Smoosh each side of the date closing up the gap and molding around both pecan halves until the pecans are nice and secure within the date. Repeat until each date is stuffed with at least 2 pecan halves. Set pecan stuffed dates aside on the plate with parchment paper.

To make chocolate coating, begin breaking up the bar of dark chocolate into small pieces and place into a small sauce pan with coconut oil. Place sauce pan onto stove top and melt on low heat. Consistently stir until chocolate is melted down into a liquid, then remove from heat. (You can also melt chocolate in microwave- refer to notes for instructions).

Using a small spoon, immediately begin to drizzle melted chocolate over each date until fully coated. After all the chocolate is used, sprinkle with sea salt and (optional) coconut. Chill in refrigerator for 5 minutes and enjoy!
Notes
To make chocolate coating in microwave, begin breaking up the bar of dark chocolate into small pieces and place into a small glass jar/ bowl. Add coconut oil to the broken-up chocolate bar and melt in microwave for 30 second intervals. Stir each time 30 seconds ends until chocolate is all the way melted. Immediately drizzle over pecan stuff dates. Sprinkle with sea salt and optional coconut and set in refrigerator to harden for 5 minutes. 
Optional Nut Butter- I LOVE adding a dollop of nut butter to the inside of my dates. Feel free to add 1 teaspoon of nut butter to the inside of each date before adding the pecan halves. I personally love adding almond butter, but feel free to add peanut butter for a great "snickers" like flavor. 
Pecans- if you don't happen to have pecans on hand feel free to swap out with any other nut. You can easily use almond, cashews, walnuts, brazil nuts or peanuts (even though peanuts are considered legumes).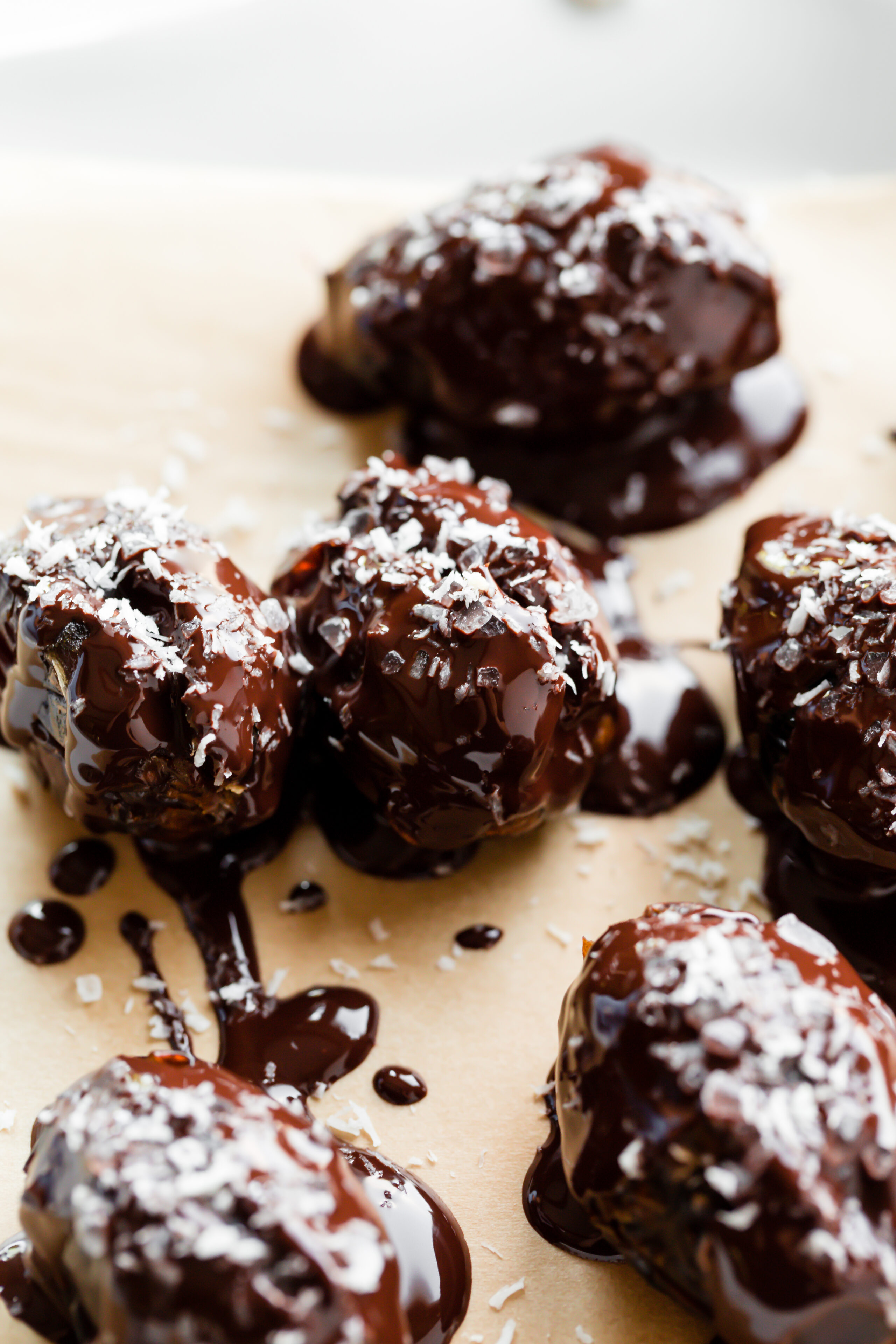 A big thank you to @sallysbakeblog for coaching me on how to take beautiful photos like the ones on this post! Thank you Sally!
Did you make this recipe?
Tag @staysweetwellness, follow me on instagram and #staysweetwellness
I love seeing your creations!
until next time,
Stay Sweet.
-Ashley