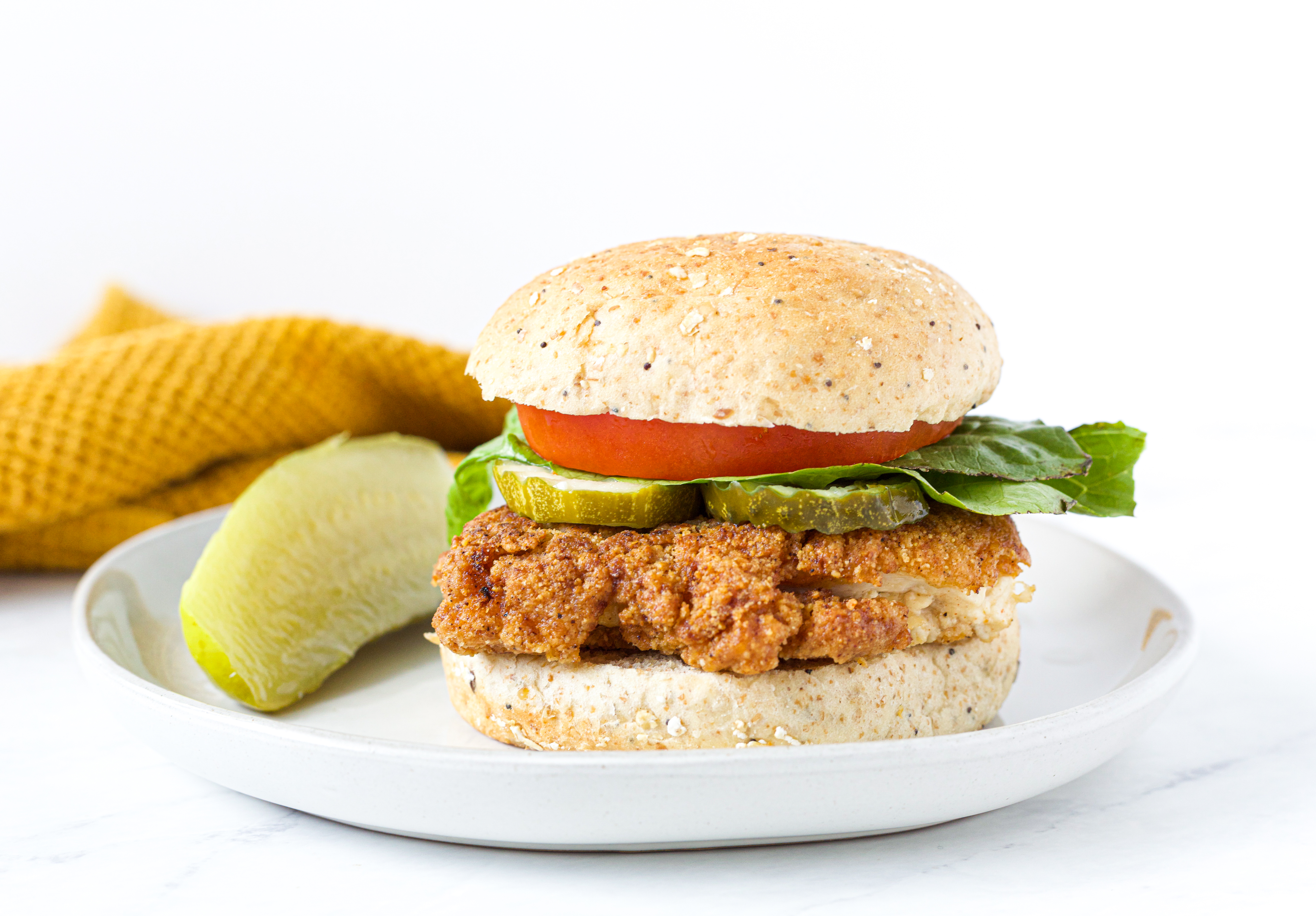 Copy Cat Chick Fila Sandwich Paleo + Gluten Free
Jump to Recipe
Recently Ben and I have been on a chicken sandwich kick. I mean who doesn't love a good fried chicken sandwich?
Anyways, I felt the need to try and make my own fried chicken sandwich while quarantined at home. However, I challenged myself to make a healthier version of chick fila's originals chicken sandwich. I wanted to recreate a fried chicken sandwich recipe that gives paleo, gluten free and dairy free folks an option. So here you all are! I recipe tested it a few times and finally came up with the perfect recipe. This sandwich is thick, juicy and fried to a crisp- but not too crispy. When you take a bite you can taste the blend of spices throughout the crisp breading and……jeez I'm drooling just typing this. It's almost hard to believe a sandwich this good can also be good for you, but its true friends! If you're a "see it to believe it" type, then my proof is below. Just look at how golden brown and crispy this sandwich is!
The second time I made this recipe, my husband excitedly approved and ate FOUR SANDWICHES. Yes, you read that correctly. He ate four of the chicken sandwiches I made and then immediately laid on the couch and napped (talk about food coma). All I did was prepare the chicken according to my directions below and ate them on multigrain buns with lettuce, tomato and some Frank's Red-Hot cayenne sauce. I will admit, we did have an extra packet of chick fila sauce in our fridge so Ben used that on two of his sandwiches. He asked me to recreate the chick fila sauce and I replied, "maybe one day." For now, enjoy this easy, homemade recipe full of wholesome ingredients. Let me know what you think and I look forward to seeing your recreations!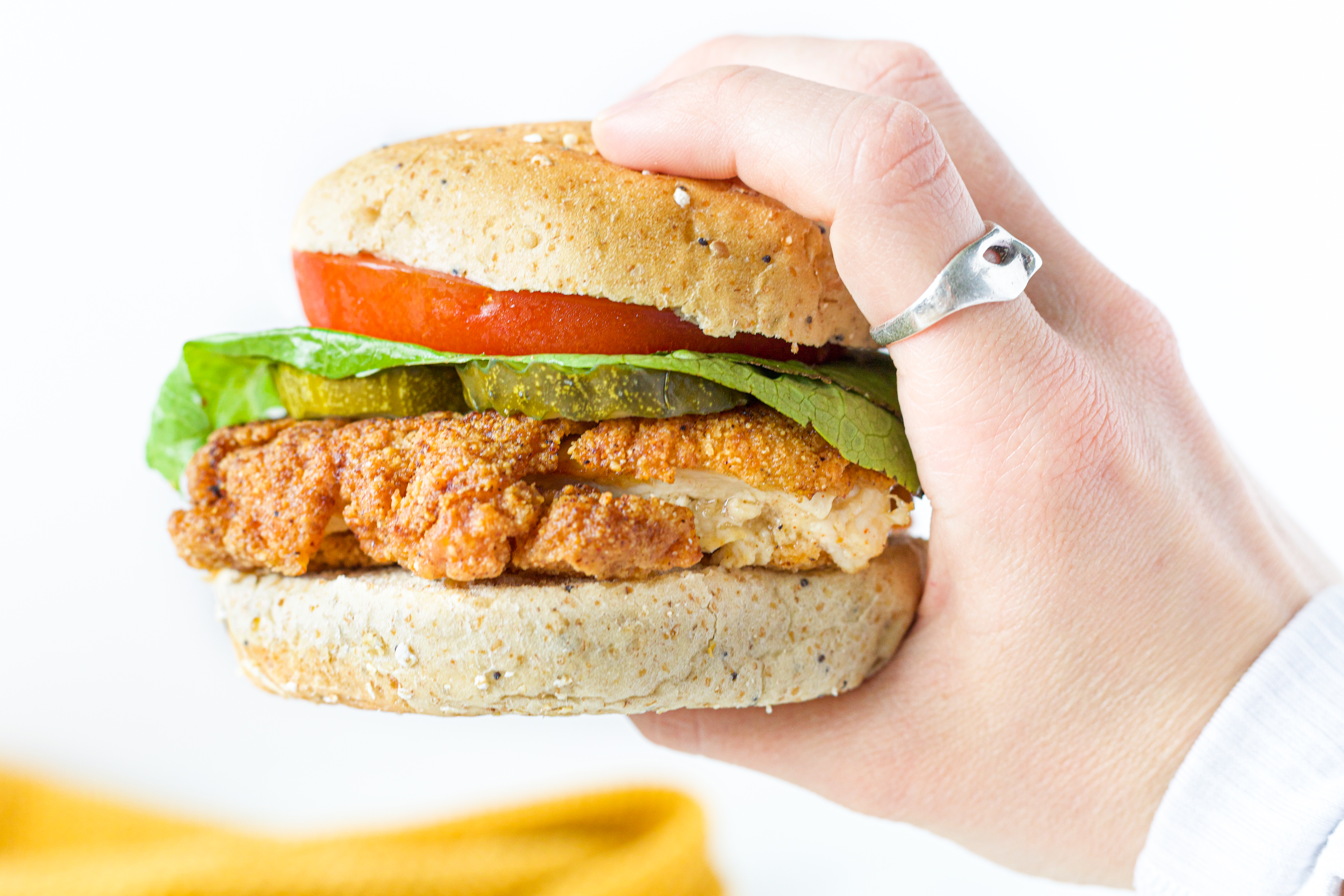 How to make?
Believe it or not this sandwich is relatively easy to make. You can prep, cook and eat it all within 45-50 minutes. Begin slicing two thick organic chicken breasts in halve and then marinating them in pickle juice and water for at least half an hour. This step is crucial to recreating the classic chick fila flavor. Next you'll prepare your breading mixture by combining all dry ingredients, whisking together and setting next to your stove top. On the stove top should be your frying pan/skillet warming up with avocado oil to fry your chicken. As your oil warms up on medium(ish) heat, dip your chicken in egg and then in breading mixture, and then once again back into the egg and one last (second) coating of breading before laying in the skillet to fry. Let fry on each side for about 3-4 minutes or until golden brown. Remove from the frying pan to dry on a paper towel lined plate and enjoy on your choice of bun.
Ingredients you'll need:
for the chicken:
dill pickle juice
organic chicken breasts
eggs
unsweetened almond milk
avocado oil
for the breading:
almond flour
arrowroot
baking powder
coconut sugar
sea salt
ground black pepper
chili powder
paprika
garlic salt
cayenne pepper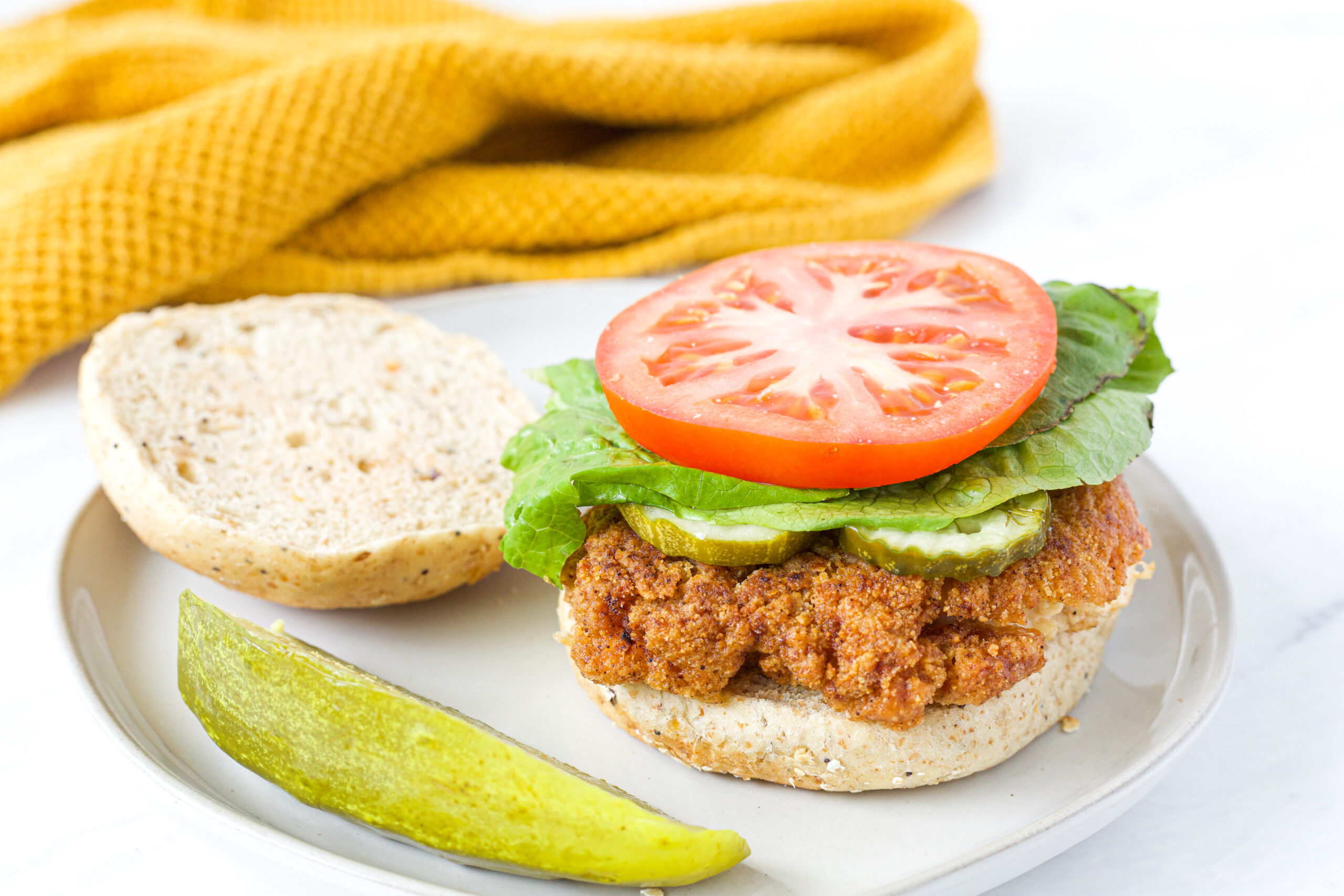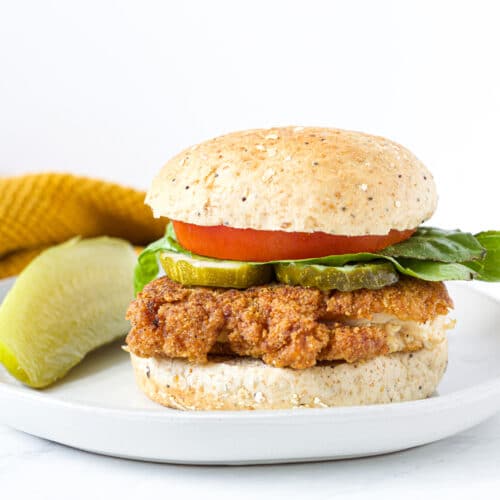 Copy Cat Chick fila Sandwich Paleo + GF
Enjoy one of your favorite fast food joints without the gluten and grease! This copy cat chick fila sandwich is full of nourishing ingredients and can be enjoyed by those who eat a gluten free or paleo diet. Pair with your favorite toppings, bun and enjoy!
Equipment
Stove top

Skillet

Spatula

Mixing Bowl

Plate
Ingredients
for the chicken
3/4

cup

Dill pickle juice

2

tablespoon

water

2

large

organic chicken breasts

halved and tenderized

2

large

eggs

1/4

cup

unsweetened almond milk

1/2

cup

avocado oil
for the breading
1/2

cup

almond flour

1/2

cup

arrowroot

1/2

teaspoon

baking powder

1

tablespoon

coconut sugar

1

teaspoon

sea salt

1

teaspoon

ground black pepper

1/2

teaspoon

chili powder

1/2

teaspoon

paprika

1/2

teaspoon

garlic salt

1/2

teaspoon

cayenne pepper
optional toppings
4

multigrain buns

4

leaves

organic romain lettuce

1

large

beef steak tomato

sliced

1/4

cup

dill pickle chips

4

slices

your favorite cheese

hot sauce

bbq sauce

chick fila sauce
Instructions
Combine pickle juice, water and chicken in a large bowl. Cover and place in refrigerator to marinate for a minimum of 30 minutes or up to 12 hours. While chicken in marinating, prepare your egg mixture and breading.

In a shallow bowl, add your eggs and almond milk. Whisk until well combined. In a small, separate mixing bowl add all dry ingredients. Whisk together almond flour, arrowroot, baking powder, coconut sugar, salt, pepper, chili powder, paprika, garlic salt and cayenne pepper. Transfer dry mixture to a large plate and set next to your egg mixture close to your stove top.

On stove top, heat a large frying pan on medium low heat and add your avocado oil. Let the oil warm up for 3-4 minutes or until shimmery. While oil is heating up, take out your chicken and drain pickle juice marinade. Pat chicken dry with paper towels and immediately dunk into egg mixture. Lay chicken onto the plate with breading mixture and heavily coat. Flip over to each side to fully coat. Repeat this step once more by dunking your chicken back into the egg mixture a second time and then coating again with breading. Quickly and carefully place double coated chicken into your hot frying pan with avocado oil and repeat this process with remaining pieces of chicken breast.

Once you've double coated each chicken breast and added it to the hot frying pan to cook, cover and fry on each side for 3-4 minutes or until dark/golden brown. Use a pair of tongs to carefully flip each piece of chicken. I set a timer on the microwave to make sure I didn't overcook them. 4 minutes cooked each piece perfectly.

Once chicken is fully cooked and dark/golden brown, transfer to a clean plate lined with paper towels. Pat dry and let cool for 5-7 minutes.

Once chicken has cooled down, enjoy on your favorite bun and top with your desired toppings. I loved adding extra pickles, lettuce and tomato. You can also add your favorite sauce.
Notes
Pickle Juice- make sure to marinate chicken in pickle juice for at least 30 minutes. This is crucial to recreating the chicken sandwich flavor. It also has to be dill pickle juice.
Almond milk- you can evenly swap out almond milk with traditional milk or oat milk. Both worth well with this recipe.
Avocado oil- you can use coconut oil in place of avocado oil. I feel when I use coconut oil I can still taste a bit of coconut flavor so just keep that in mind.
Arrowroot- arrowroot is a starch like substance, so if you don't have any arrowroot on hand you can swap out for corn starch as long as you don't have a corn sensitivity.
Bun- you have the option to eat whatever bun suits your dietary needs. I personally love a multigrain bun, but if you're gluten free then the multigrain isn't the best option. I recommend trying a gluten free bun from your local bakery. The fresher the better!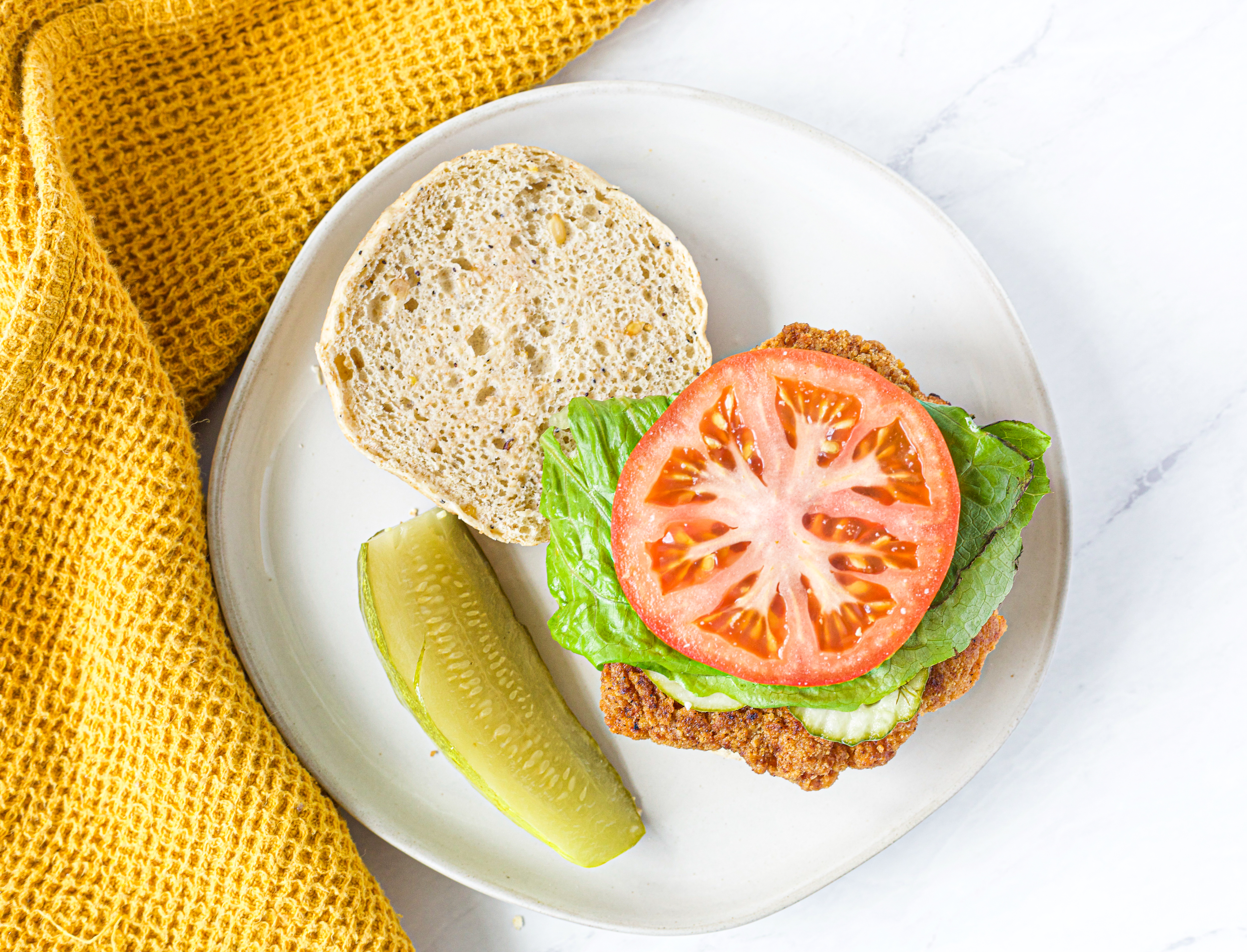 Did you make this recipe?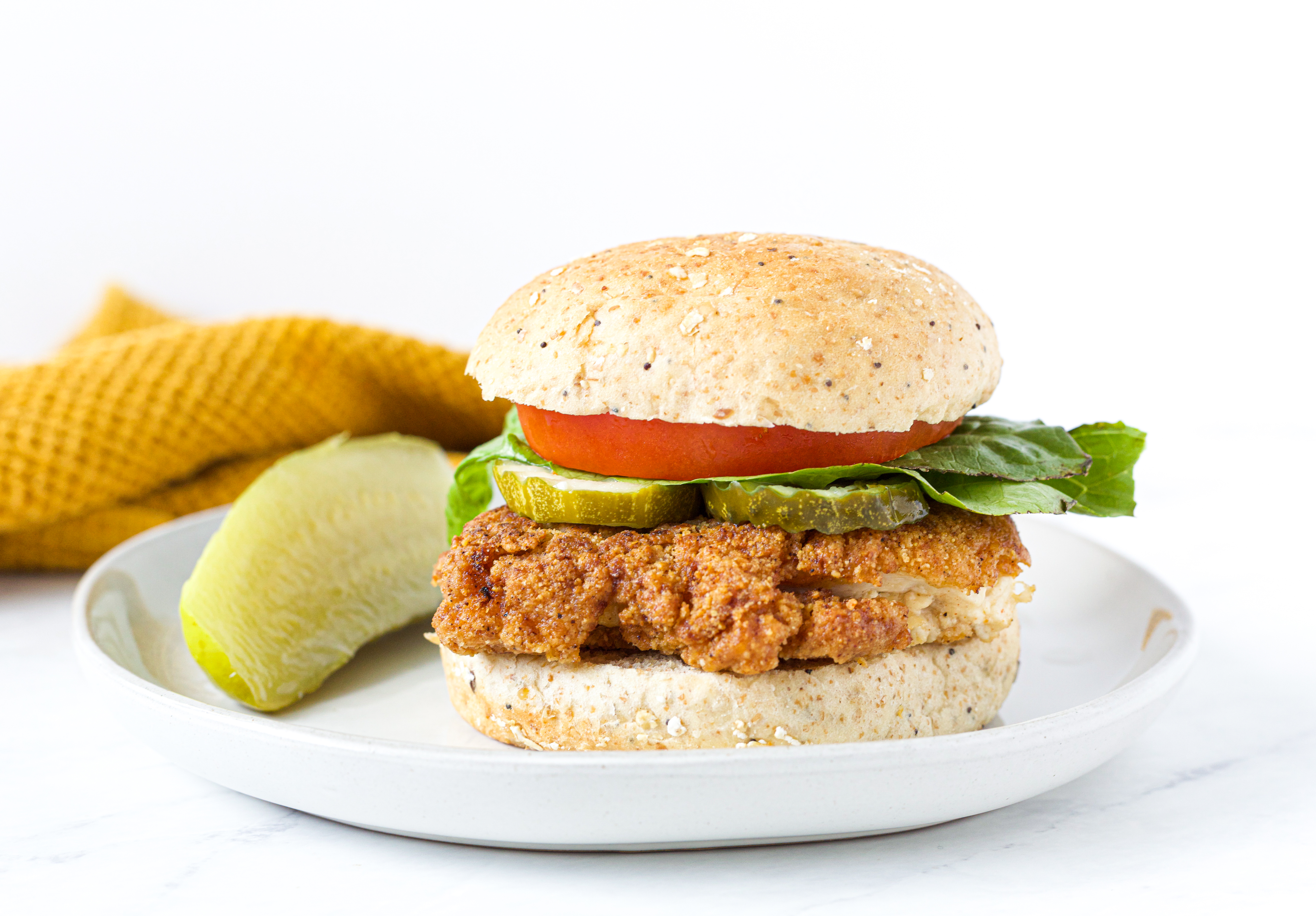 Please tag @staysweetwellness, follow me on instagram and #staysweetwellness
I love sharing your recreations on my page!
Please tag me and share your favorite toppings.
Until next time,
stay sweet.
-Ashley