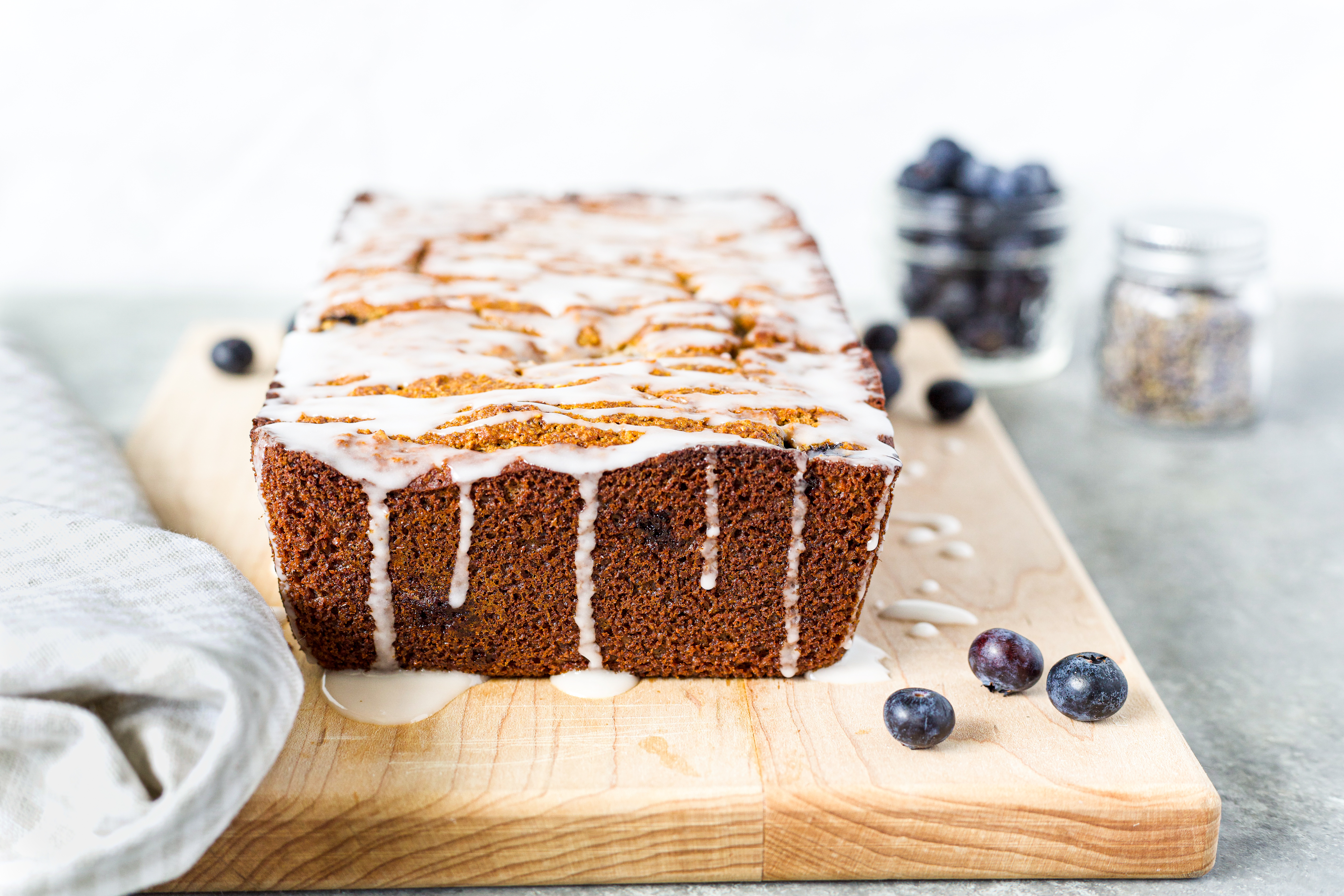 Happy Mother's Day weekend!
Jump to Recipe
What are you guys baking up this weekend? If you need some inspiration, here you go! My Blueberry Lavender bread with Sweet Lemon Glaze is the perfect gift for your mama. It's full of nutritional ingredients, gluten free and tastes out of this world!! I recipe tested this bread twice and the second time I couldn't get over how amazing it was. The glaze really brings it home. It adds a vibrant fruity flavor that pairs perfectly with the moist blueberry lavender bread.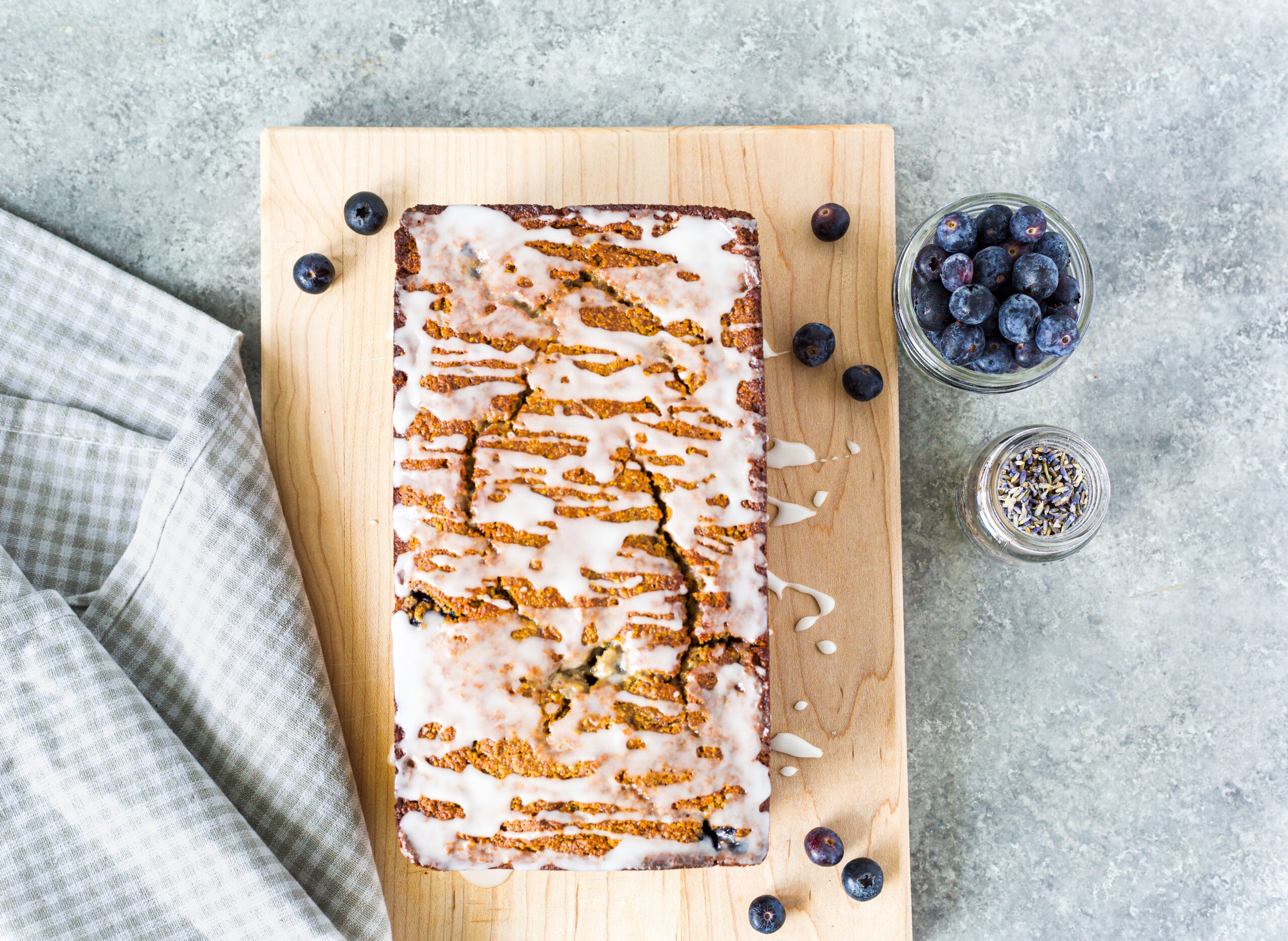 My dear friend Sally taught me a trick when it came to creating a beautiful lavender flavor without over powering the rest of the bread. The key is to infuse the milk with lavender flavor instead of just throwing straight up dried lavender in batter. This way it creates a balanced flavor instead of overpowering the rest of the bread. Make sure to read the directions and follow each step carefully. Every step is crucial to baking this unique flavor. I'm telling you, it's a unique recipe that your mom will absolutely love!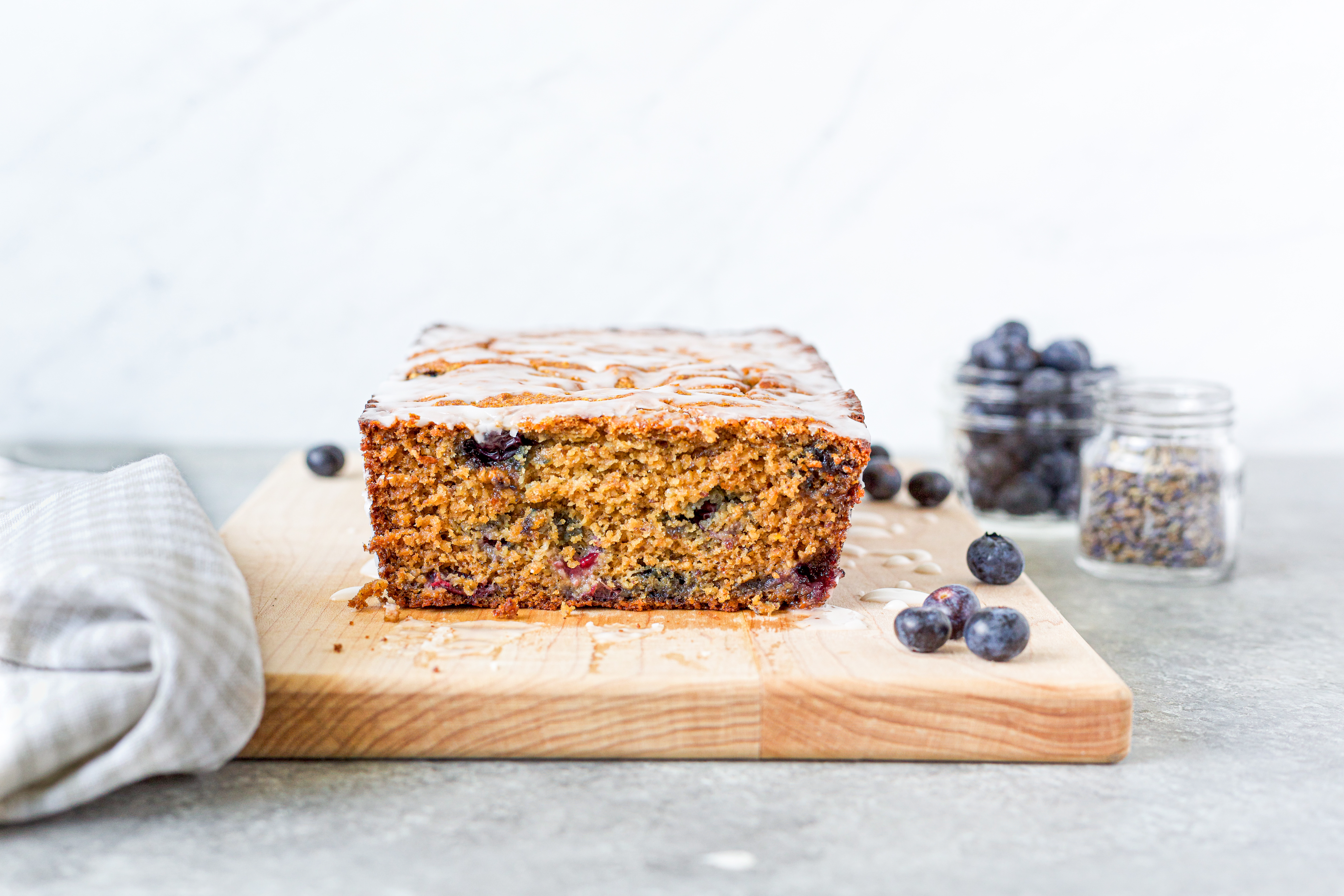 Why Blueberry Lavender?
I love every single berry flavor out there. Blueberry, strawberry, raspberry, blackberry- you name it I love it. However, I wanted to create something a little more unique. You see, I feel the addition of lavender just makes this recipe that more special. Lavender brings a floral flavor to this bread which I felt was the perfect combination for mothers day. Growing up my mothers favorite scent was lavender. We would always find homemade soaps at local shops and farmers markets with lavender to give her for special occasions, but obviously that got old over the years. To keep this lavender tradition going I wanted to get creative and give her something a bit more special. So, that's where this unique recipe came about.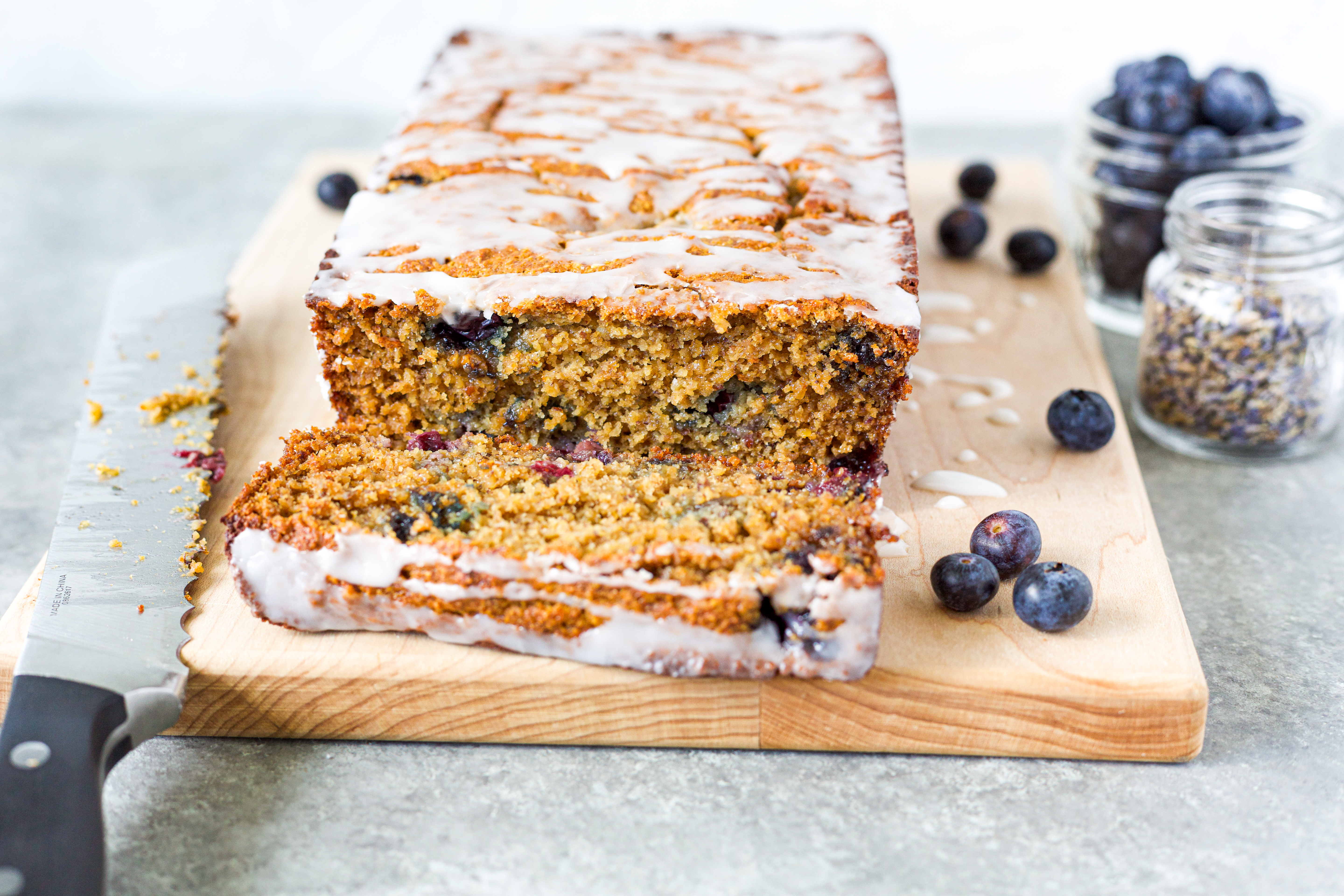 What you'll need:
This recipe calls for a long list of ingredients, but honestly, every single one is crucial to the moisture and structure of this bread. At the end of the recipe are my notes to help guide you with substitutions and suggestions. Feel free to look it over before making your batter. There is a lot of valuable info in the recipe note section. To make this lovely recipe you'll need the following ingredients..
For the bread
1/2 cup unsweetened almond milk
1/2 teaspoon dried culinary lavender
1 1/2 cups oat flour
1/2 cup almond flour
1/4 cup ground flax seed
2 teaspoons baking powder
1 teaspoon baking soda
1/2 teaspoon ground sea salt
3/4 cup organic apple sauce no sugar added
1/4 cup softened coconut oil (not melted)
1/3 cup raw honey
1/4 cup coconut sugar
2 large eggs at room temperature
1 large egg yolk
1 teaspoon fresh lemon zest
1 cup fresh or frozen blueberries
For the glaze ( I highly recommend you do NOT skimp out on. It makes this recipe POP)
1/3 cup powdered sugar
1 tablespoon fresh lemon juice
1/4 teaspoon almond extract
It only take about 15 minutes to whip up the batter (if that) and then about 55-60 minutes to bake.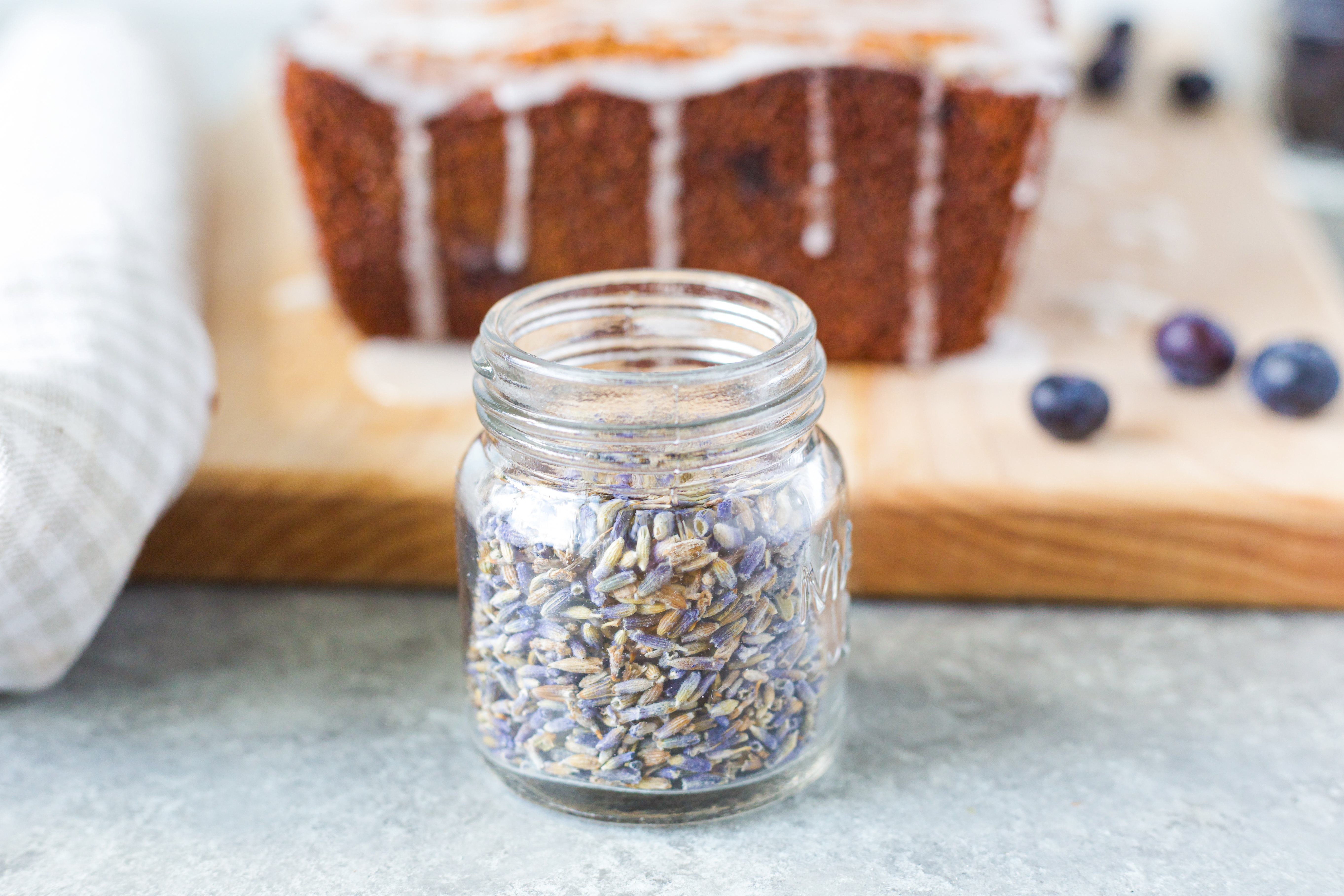 Blueberry Lavender Bread with Sweet Lemon Glaze
Gluten Free + Dairy Free, this wholesome bread will give your taste buds an exciting ride. Packed full of wholesome ingredients this unique bread is the perfect recipe to enjoy as a breakfast or snack.
Equipment
Mixing Bowl

rubber spatula

whisk

bread pan

small sauce pan

handheld strainer
Ingredients
1/2

cup

unsweetened almond milk

1/2

teaspoon

dried culinary lavender

1 1/2

cups

oat flour

1/2

cup

almond flour

1/4

cup

ground flax seed

2

teaspoons

baking powder

1

teaspoon

baking soda

1/2

teaspoon

ground sea salt

3/4

cup

organic apple sauce

no sugar added

1/4

cup

softened coconut oil

(not melted)

1/3

cup

raw honey

1/4

cup

coconut sugar

2

large

eggs

at room temperature

1

large

egg yolk

1

teaspoon

fresh lemon zest

1

cup

fresh or frozen blueberries
Sweet Lemon Glaze
1/3

cup

powdered sugar

1

tablespoon

fresh lemon juice

1/4

teaspoon

almond extract
Instructions
Preheat oven to 350 degrees Fahrenheit. Grease a loaf pan with coconut oil or olive oil and set aside. In a small sauce pan, combine almond milk and dried lavender. Cook on low heat for 3 minutes, stirring occasionally. Using a handheld strainer, strain almond milk into a small bowl catching the leftover lavender buds. Toss buds and set milk aside. This will create a lavender infused milk- this way the lavender flavor doesn't overpower the rest of the bread.

In a large mixing bowl, combine dry ingredients. Whisk together the oat flour, almond flour, flax seed, baking powder, baking soda and sea salt. Set aside.

In a medium sized mixing bowl, combine the wet ingredients. Add together the apple sauce, softened coconut oil, honey, coconut sugar, two eggs, one egg yolk, lemon zest and lemon juice. Mix with a rubber spatula for 30 seconds and then slowly add in lavender infused almond milk. Give it a few stirs and add to dry ingredients.

Slowly pour wet ingredients in with the dry ingredients. Stir with rubber spatula a few times until just combined. It's okay if you see a few small flour streaks. Fold in your blueberries and DO NOT OVER STIR. 2-3 strokes are enough.

Transfer batter into your greased loaf pan and place on middle rack in oven to bake for 55-60 minutes or until tooth pick inserted comes out clean. Remove bread from oven and let cool for 10 minutes before removing from pan.

To remove from pan, lay a clean dish towel onto counter top. Quickly + carefully slip bread pan upside down onto dish towel. The bread should easily fall out. From this point use both hands to carefully pick up naked bread and set on a cooling rack to cool down for 30 minutes before glazing.

While bread is cooling, begin making your lemon glaze. Combine 1/3 cup powdered sugar with 1 tablespoon of fresh lemon juice and ¼ teaspoon almond extract. Stir until a thin icing/glaze appears. Once bread has cooled down, slowly begin to drizzle glaze over top of your naked loaf. I like to use a small spoon to evenly drizzle up and down the top of the loaf. Let settle for five minutes and slice to enjoy. Slice and store in an airtight container for up to one week or freeze for up to three months.
Notes
Almond milk- you can evenly swap out almond milk with traditional milk, oat milk or cashew milk.
Dried lavender- make sure to use culinary dried lavender. There are no other substitutions for this. I found dried lavender at my local health food store "David's Natural Market" and it worked perfectly.
Oat flour- I haven't tried any other gluten free flours for this recipe. I do not recommend coconut flour because it's too fine and the bread will most likely come out crumby. If you try something to replace oat flour please let me know how it turns out.
Coconut oil- You can swap out coconut oil for the same amount (1/4 cup) of softened grass-fed butter.
Honey- honey can be evenly swapped out with pure maple syrup.
Coconut sugar- though coconut sugar is a healthier option it can be evenly swapped out with light or dark brown sugar.
Eggs- I haven't tried swapping out eggs for flax eggs. There is already flax seed in this recipe so I'm not sure how flax eggs will affect the consistency. If you try this recipe with flax eggs, please let me know how it turns out!
Blueberries- You can use fresh or frozen blue berries for this recipe. If using frozen, DO NOT thaw before adding to batter. Use straight from the freezer. If you wish to swap out blue berries for blackberries you can do so. Black berries and lavender will create a wonderful combination.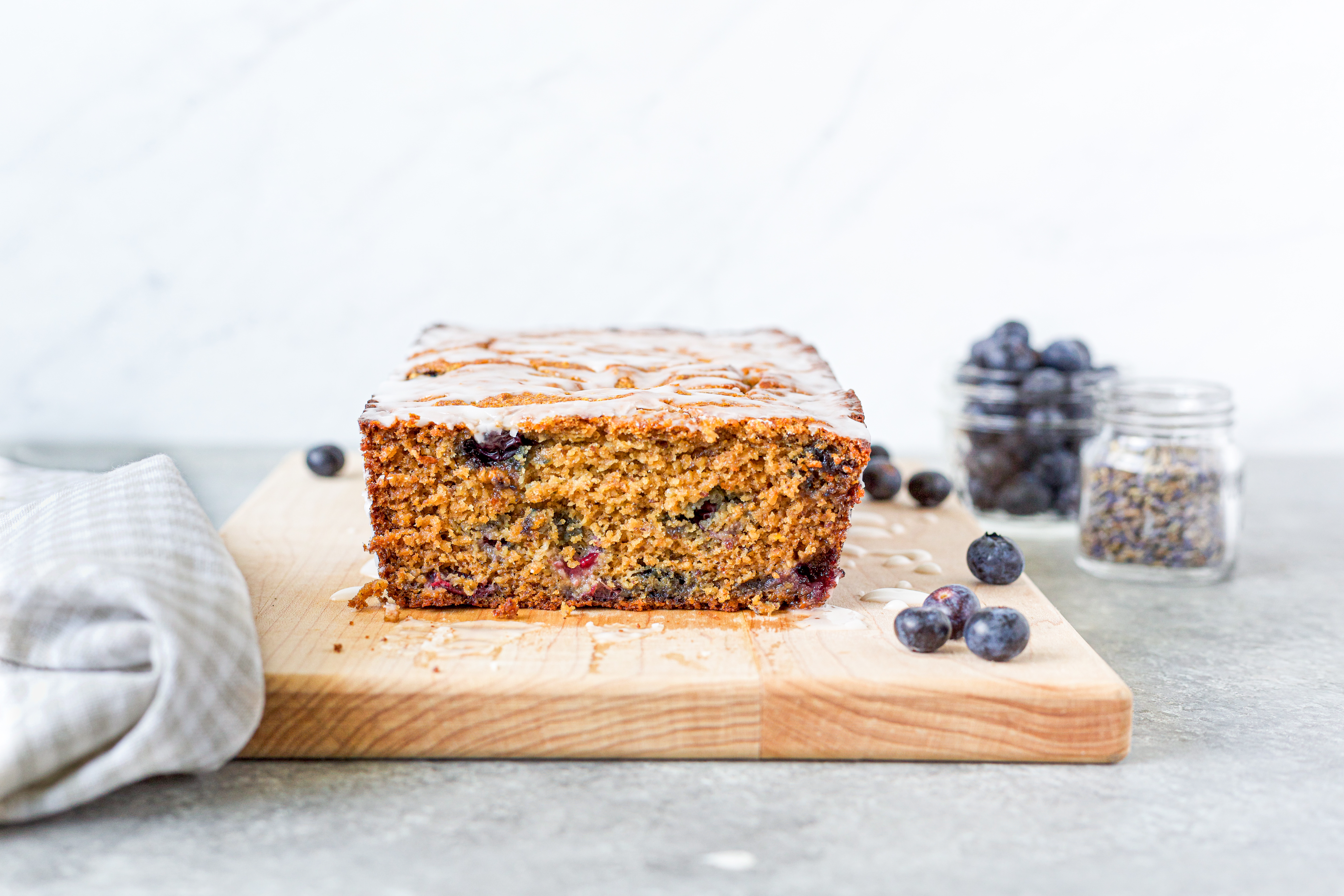 Did you make this recipe?
Please tag @staysweetwellness, follow me on instagram and #staysweetwellness
I love connecting with you guys and sharing your baking adventures on my page!
Until next time,
stay sweet.
-Ashley