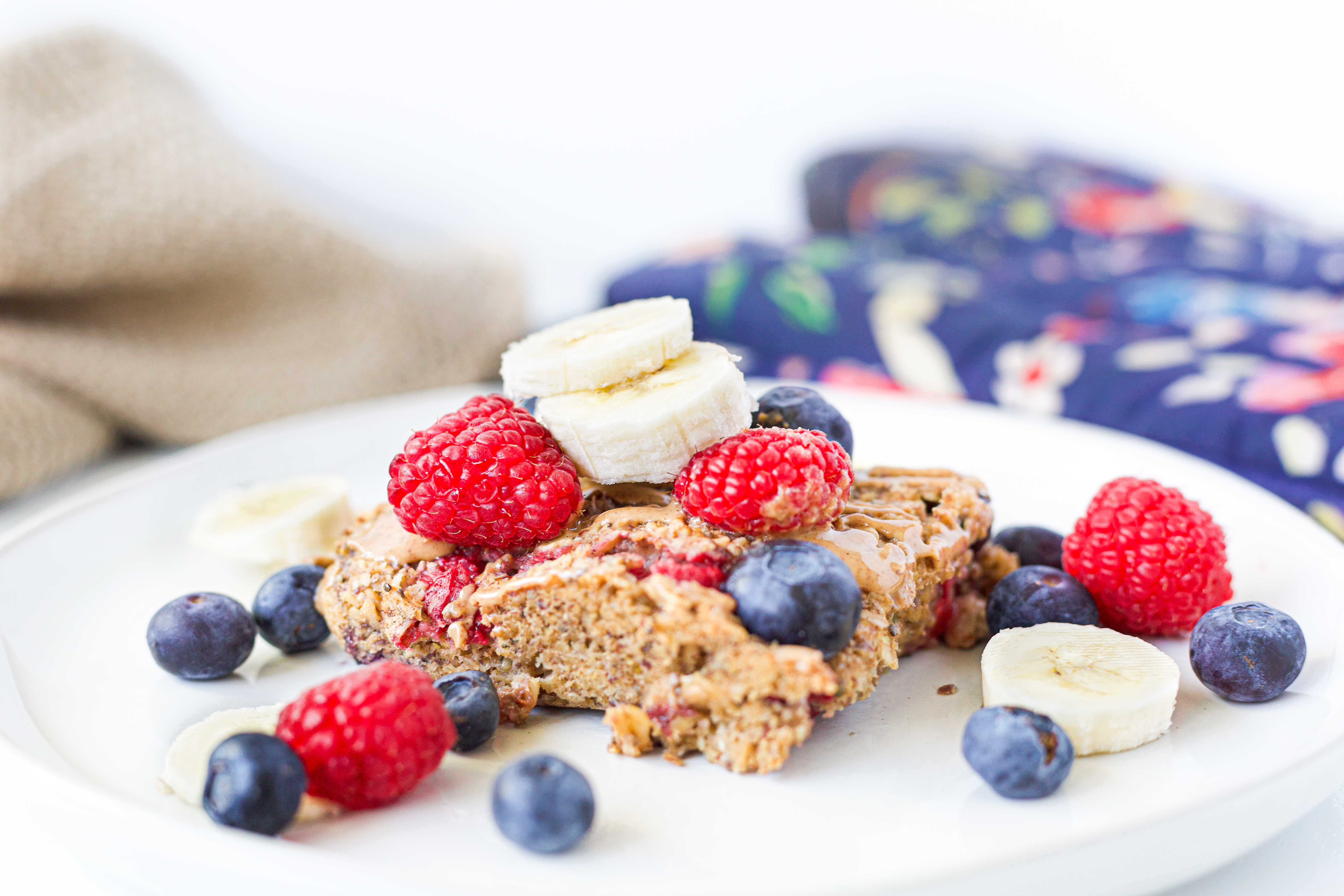 Berry Oatmeal Bake
Jump to Recipe
Vegan, Gluten Free and Dairy Free
This recipe is ridiculously easy and perfect for many reasons. First and foremost, it tastes so yummy and the thick baked texture makes it taste like a dessert. Secondly, it's full of amazing, nourishing ingredients that will fuel your body and mind. It contains protein, healthy fats, fiber and all sorts of vitamins. Third, baked oatmeal makes great leftovers! I love making this oatmeal for breakfast on Sundays because I get to enjoy it for breakfast on Monday and Tuesday. (Let's be real, there's no way it'll last until Wednesday). Top with additional berries, bananas, almond butter, some maple syrup + more. Easy, delicious and 100% nutritious.
Health Benefits:
Fiber-Rolled oats, flax seed and apple sauce are all filled with fiber which can help with digestion and going to the bathroom.
Antioxidants- Rolled oats and berries are also full of antioxidants which are a great way to boost your immune system.
Healthy fats- thanks to flax seed, chia seeds, coconut oil and almond milk this recipe is full of Omega 3's and healthy fats which help with brain health.
Balanced blood sugar- I through some cinnamon into this recipe to help with balancing blood sugar and also give it some flavor.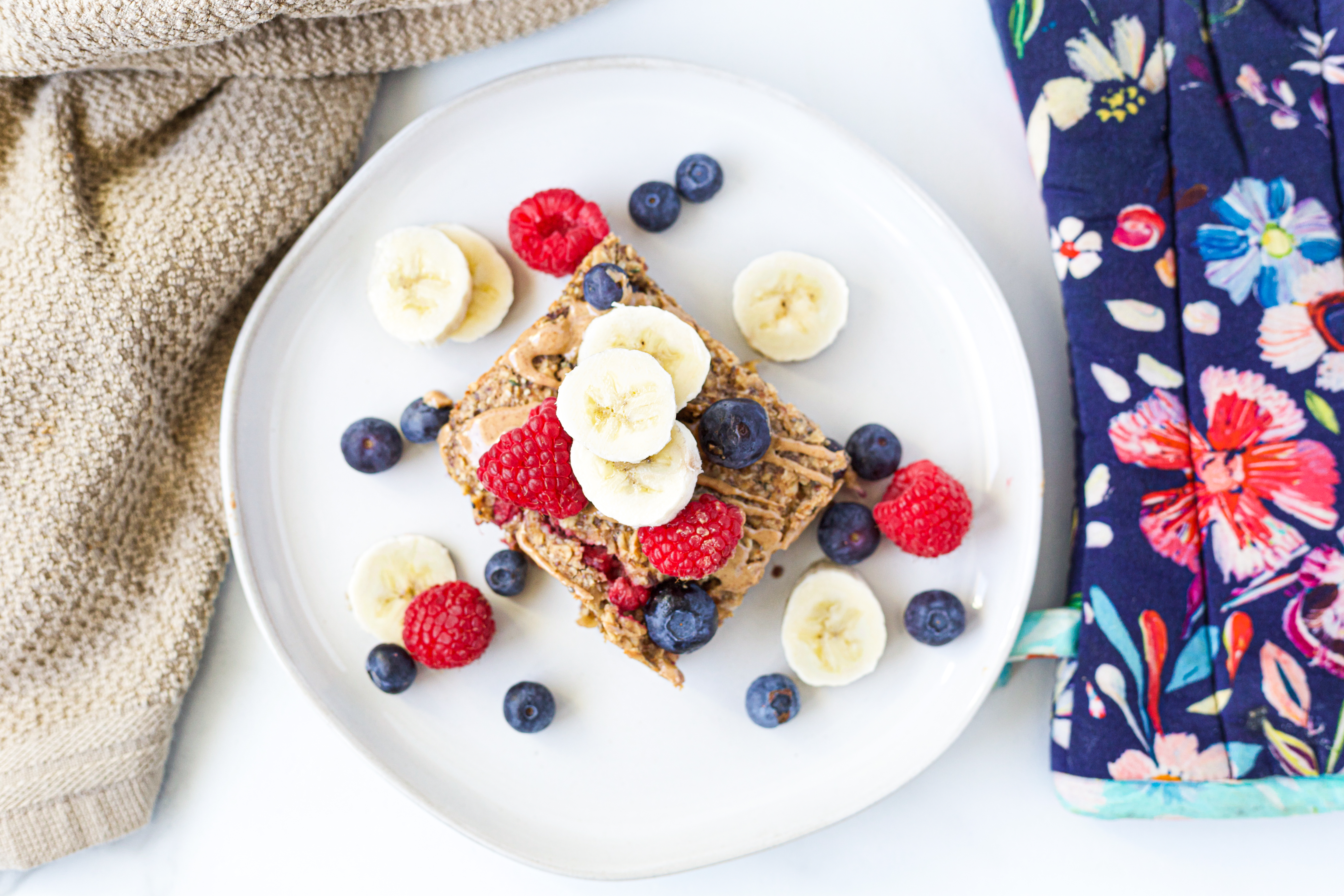 How to make?
This recipe is SO easy to make eat immediately or save for later. It's as simple as you can get when it comes to a prepped breakfast or snack. You start by adding all of you dry ingredients to a large bowl, mixing those together and then setting aside. Next you add all your wet ingredients to a bowl, mix until well combined. Add your wet ingredients in with your dry ingredients, mix well and then fold in your mixed berries. Transfer to your baking dish and bake for 25-30 minutes. Let cool and store in an airtight container in the refrigerator for up to one week.
Ingredients you'll need:
ground flax seed
gluten free rolled oats
baking powder
sea salt
ground cinnamon
coconut sugar
chia seeds
no sugar added apple sauce
coconut oil
vanilla extract
almond milk
mixed berries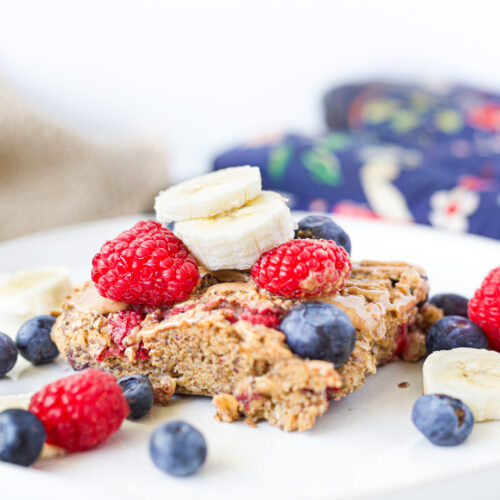 Berry Oatmeal Bake
Easy to make and enjoy all week long! This vegan and gluten free recipe is full of baked oats, berries and protein. The perfect breakfast to save, reheat and top with a variety of ingredients like additional berries, maple syrups, almond butter, sliced banana and more.
Equipment
8×8" square pan

Mixing Bowl

rubber spatula
Ingredients
2

flax eggs (2 tablespoons flax seed mixed with 5 tablespoons of water- sit for 5 minutes to congeal)

2

cups

gluten free rolled oats

1

teaspoon

baking powder

1/2

teaspoon

sea salt

1/2

teaspoon

ground cinnamon

1/3

cup

coconut sugar

2

tablespoons

chia seeds

1/4

cup

no sugar added apple sauce

organic

2

tablespoons

melted then cooled coconut oil

1/2

teaspoon

pure vanilla extract

3/4

cup

unsweetened almond milk

1

cup

mixed berries

fresh or frozen
Instructions
Preheat oven to 350 degrees Fahrenheit. Spray a 9×9 baking pan with coconut oil and set aside. Make flax eggs by combining 2 tablespoons of flax seed with 5 tablespoons room temperature water. Whisk and set aside to congeal.

Add all dry ingredients in a large bowl. Combine oats, baking powder, sea salt, cinnamon, coconut sugar and chia seeds. Mix well and set aside.

Add all wet ingredients to a small bowl. Combine apple sauce, coconut oil, vanilla, almond milk and flax eggs. Mix well and add to your dry ingredients.

Once you've added your wet ingredients to your dry ingredients, mix until just combined and then fold in your berries. Pour your mixture into your 9×9 baking pan and evenly spread until mixture reaches each corner. Level out with a rubber spatula and place in oven to bake for 25-30 minutes.

Remove from oven and let cool for 10 minutes. Serve warm with your favorite toppings. Refer to notes below for some ideas. Store in an airtight container and refrigerate for up to one week.
Notes
Flax eggs- you can swap out flax eggs for 2 regular eggs. Both work great in this recipe.
Coconut Sugar- If you don't happen to have coconut sugar on hand, you can swap it out for 1/3 cup pure maple syrup. If you're not vegan you can also use 1/3 cup of raw honey.
Almond milk- any type of milk will work great with this recipe. You can also use coconut milk, cashew milk and oat milk. If you're not vegan you can do an even swap with regular milk as well.
Berries- You can use fresh or frozen berries for this recipe. Fresh is always best (in my opinion) but frozen will definitely work too. 
Optional toppings: Drizzle the top with almond butter like I did. It gives the oatmeal bake some extra creaminess. We also love topping this recipe with yogurt, additional fruit and maple syrup.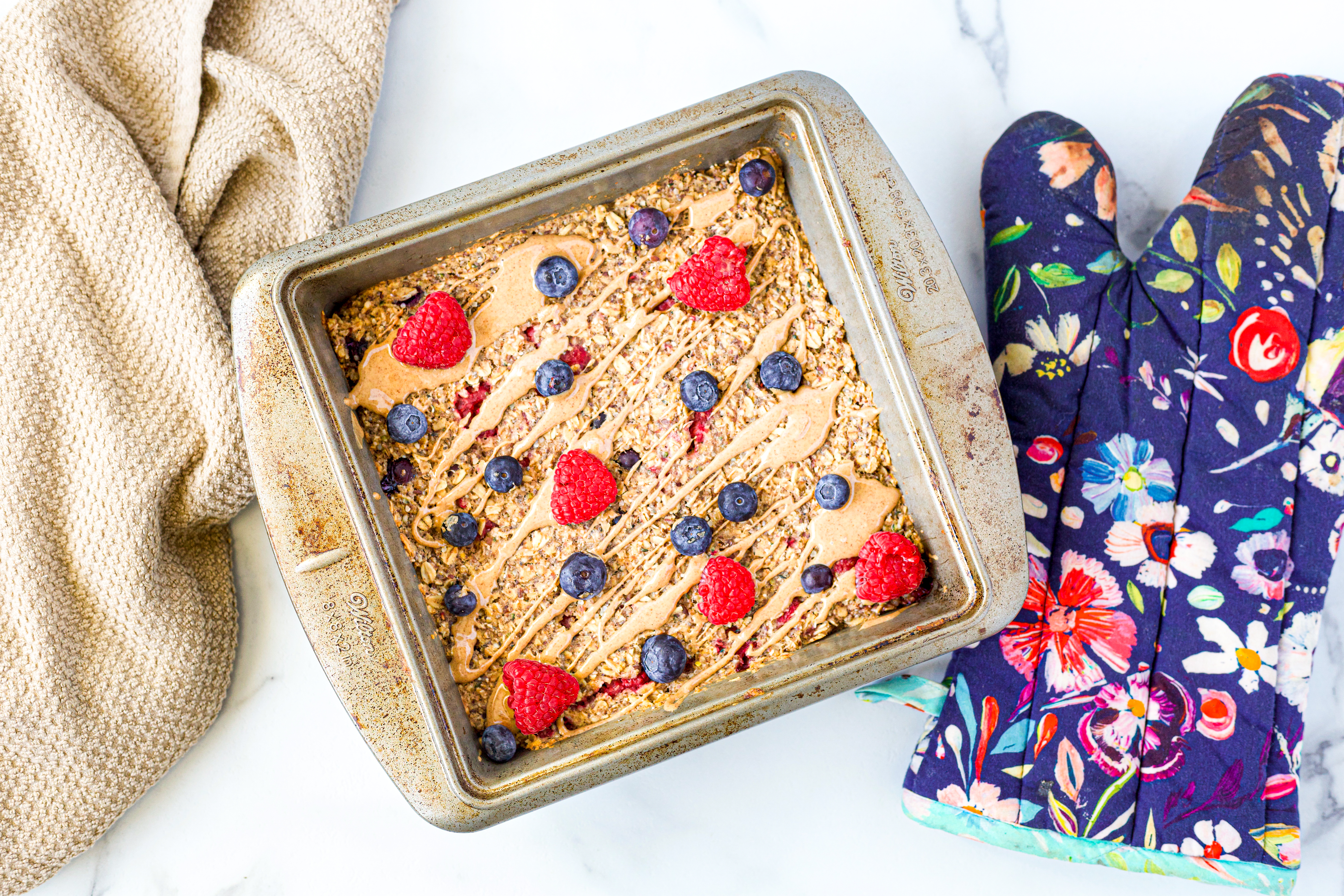 Did you make this recipe?
Tag @staysweetwellness, follow me on Instagram and #staysweetwellness
I love seeing your recreations of my fun + wholesome recipes!
Until next time,
stay sweet.
-Ashley