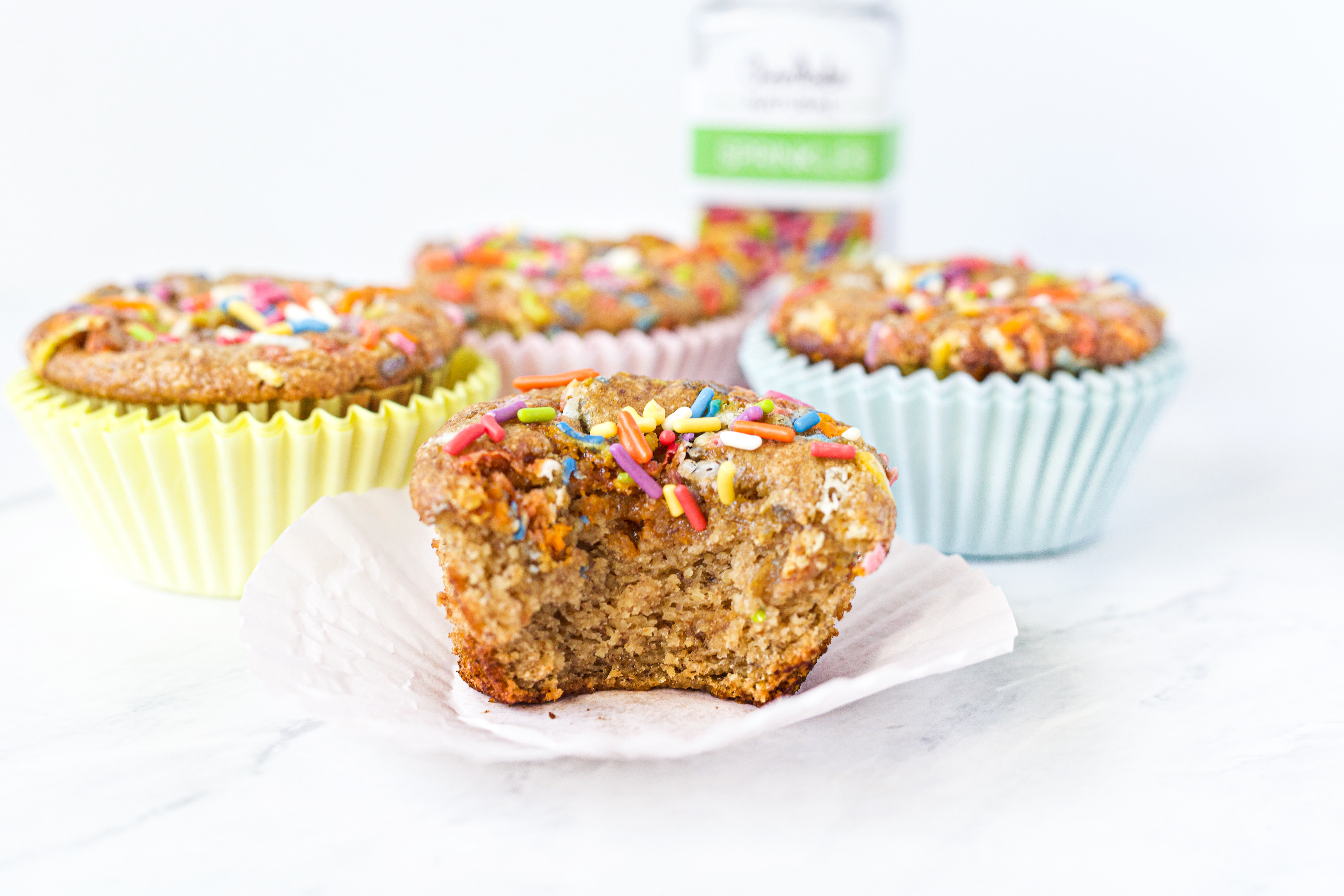 Vegan + Gluten free Easy to make, ready in 25 minutes.
I have to admit, I did not come up with the idea of blender muffins. Though I wish I had, I actually adapted this recipe from Erin Lives Whole. She shared a blender muffin recipe that was quite versatile. You could basically add anything to her original banana blender muffins, which I thought was genius considering not everyone likes the same flavor. I made her recipe a few times and something struck my interest. I wanted to make a birthday cake version of these muffins. So, I got to experimenting and eventually found the perfect concoction.
Banana Birthday Cake Blender Muffins!!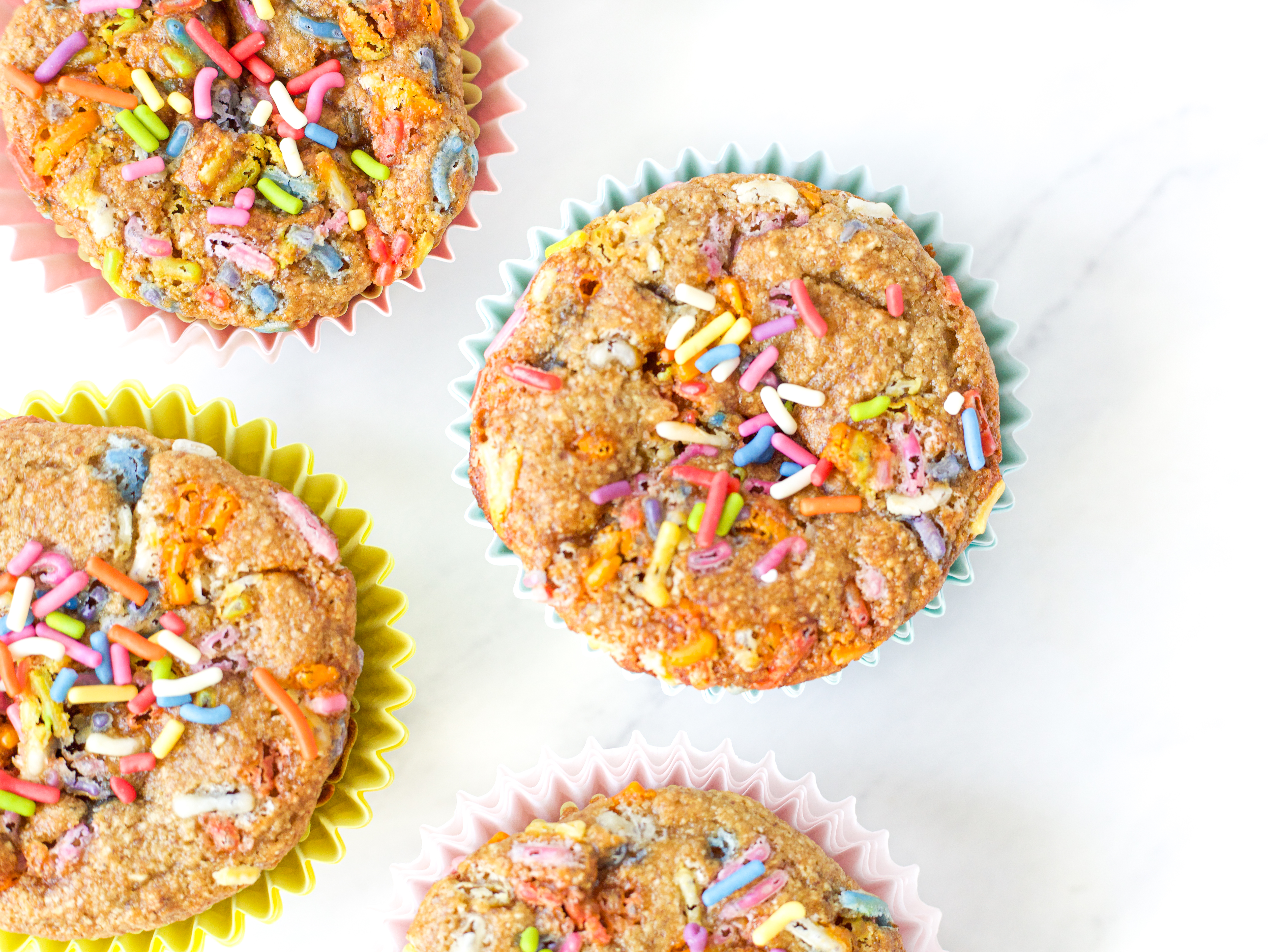 They're unbelievable moist, sweetened to perfection and SO EASY to make. There's the slightest flavor of banana, but thanks to the vanilla and sprinkles it makes it taste more like a vanilla-y muffin than banana bread. Your kids will absolutely love these (don't worry you don't have to tell them they're healthy). They're full of fun color thanks to the sprinkles (because who doesn't love rainbow sprinkles?!) and ready in less than 30 minutes. Whip these up in a high-speed blender, poor into each muffin tin, add sprinkles and bake. They're that easy! Oh, and it's easy clean up. That's the main reason my husband loved this idea. If you know me, I LOVE to cook, but I also can't do it without making one hell of a mess. So, Ben was happy to see I didn't have ingredients all over the kitchen. WIN-WIN.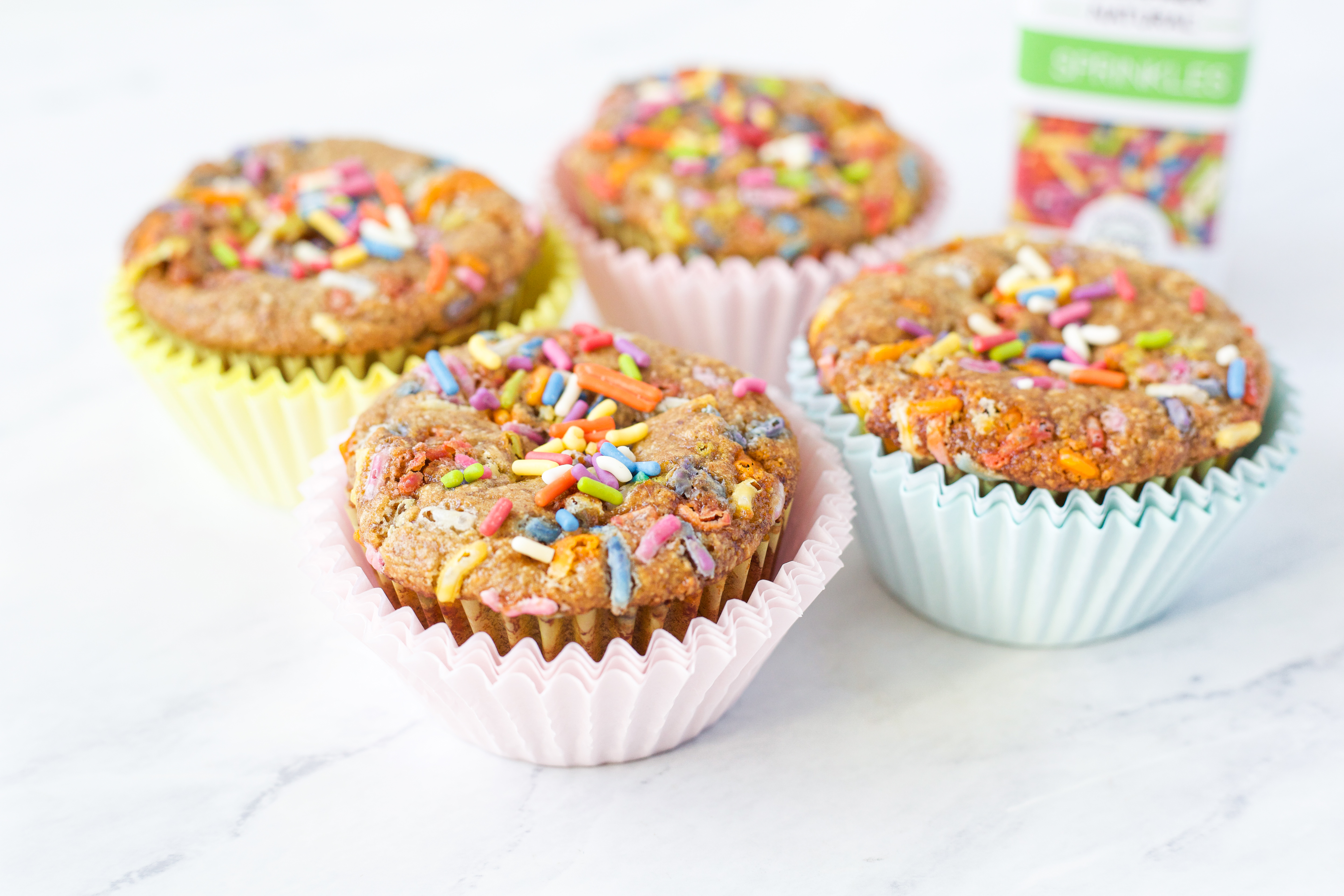 How to make?
UHHHHH yeah you guessed it. It's as simple as throwing all of your ingredients (in order) into a high speed blender. Blend on high for no more than 1 minute, or until a smooth creamy batter appears. Line a muffin tin with muffin liners and pour batter into each lined muffin cup until 3/4 full. Place in oven to bake at 350 degrees Fahrenheit for 20-22 minutes. That's it!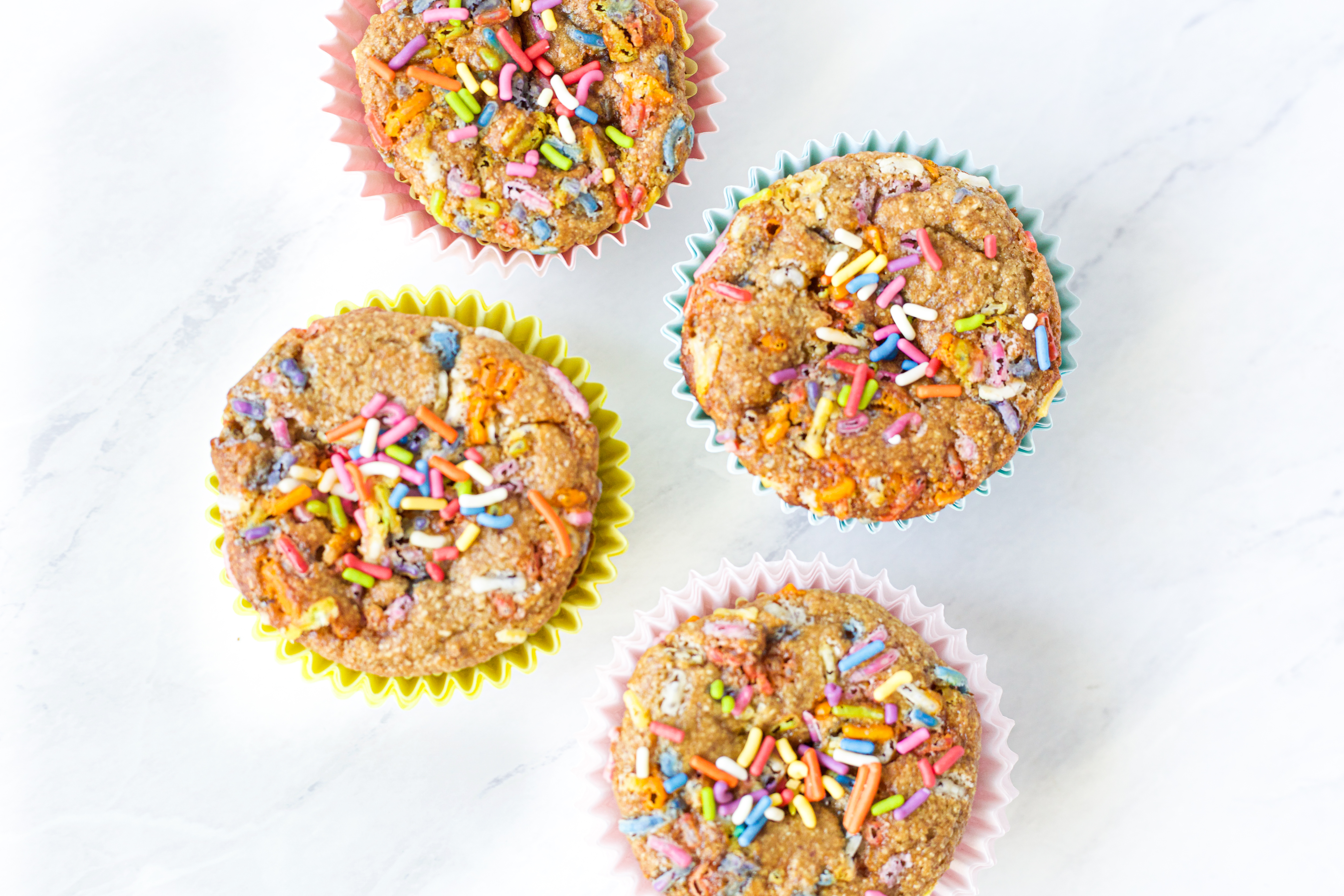 Ingredients you'll need:
flax seed
gluten free oats
collagen peptides
baking soda
baking powder
sea salt
banana
maple syrup
no sugar added apple sauce
vanilla extract
rainbow sprinkles
See notes below for substitutions. Each ingredient is crucial to creating a sweet, moist flavorful muffin like this one. I personally think the collagen peptides give this muffin the special texture it needs, however if you don't have any on hand it will not ruin the recipe. Thanks to the banana, apple sauce and maple syrup the muffin will be sweet enough to be mistaken for a dessert, but do not fear because theres no added refined sugars. These muffins are full of protein, fiber, and healthy fats. Great to enjoy as a snack or breakfast treat.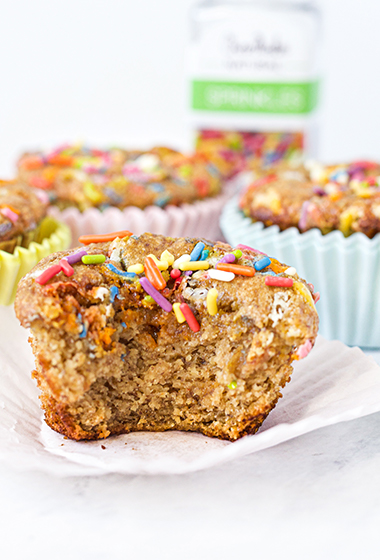 Banana Birthday Cake Blender Muffins
These banana birthday cake blender muffins are unbelievably moist, sweetened to perfection and SO EASY to make. There's the slightest flavor of banana, but thanks to the vanilla and sprinkles it makes it taste more like a vanilla-y muffin than banana bread. Vegan + Gluten Free.
Equipment
oven

muffin liners

muffin tin

high speed blender
Ingredients
1

flax egg (1 tbsp. flax seed mixed with 2.5 tbsp. water)

1

cup

gluten free rolled oats

2

scoops

collagen peptides

1/2

teaspoon

baking soda

1/2

teaspoon

baking powder

pinch

ground sea salt

1

medium ripe banana

3

tablespoons

pure maple syrup

1/4

cup

no sugar added apple sauce

1

teaspoon

pure vanilla extract

rainbow sprinkles
Instructions
Preheat oven to 350 degrees Fahrenheit. Line a muffin pan with 6 paper muffin liners and spray with coconut or olive oil.In a small separate dish, mix your flax egg by adding 1 tablespoon of ground flax seed with 2.5 tablespoons of water. Whisk and set aside.

In a high-speed blender add the following ingredients in this order. Oats, baking soda, baking powder, salt, banana, maple syrup, apple sauce, and vanilla. Blend on high for 30 seconds. (Make sure to not over mix).

Pour batter into each muffin cup until about ¾ full. Sprinkle about 1 teaspoon (or more) of rainbow sprinkles on top of each muffin cup and fold in with a teaspoon or butter knife. Place muffin pan in oven and bake for 20-22 minutes or until a toothpick inserted comes out clean. Cool for 5-10 minutes, top with additional sprinkles.
Notes
Collagen Peptides- If you're vegan or you don't happen to have collagen peptides on hand, do not worry. You can simply swap out 2 scoops of collagen peptides with 2 scoops of protein powder OR ¼ cup of additional oats. If you swap the collagen peptides out for additional ¼ cup oats, make sure to bake for only 16-18 minutes tops.
Sprinkles- I have to note, there was one brand of rainbow sprinkles I felt tasted best. You can use any brand of rainbow sprinkles, but my personal favorite were Choco Maker Natural rainbow sprinkles. I snagged these from Wegmans a couple weeks ago and I'm so glad I did because I taste a major difference. Do not fret if you have a different brand. No matter what kind you have, they all still tastes amazing.
Oats- I have used both gluten free oats and old fashioned rolled oats. Whichever you use they both work great in this recipe.
Flax egg- If you don't have flax seed, simple swap with one egg at room temperature. Both work just fine for this recipe.
Did you make this recipe?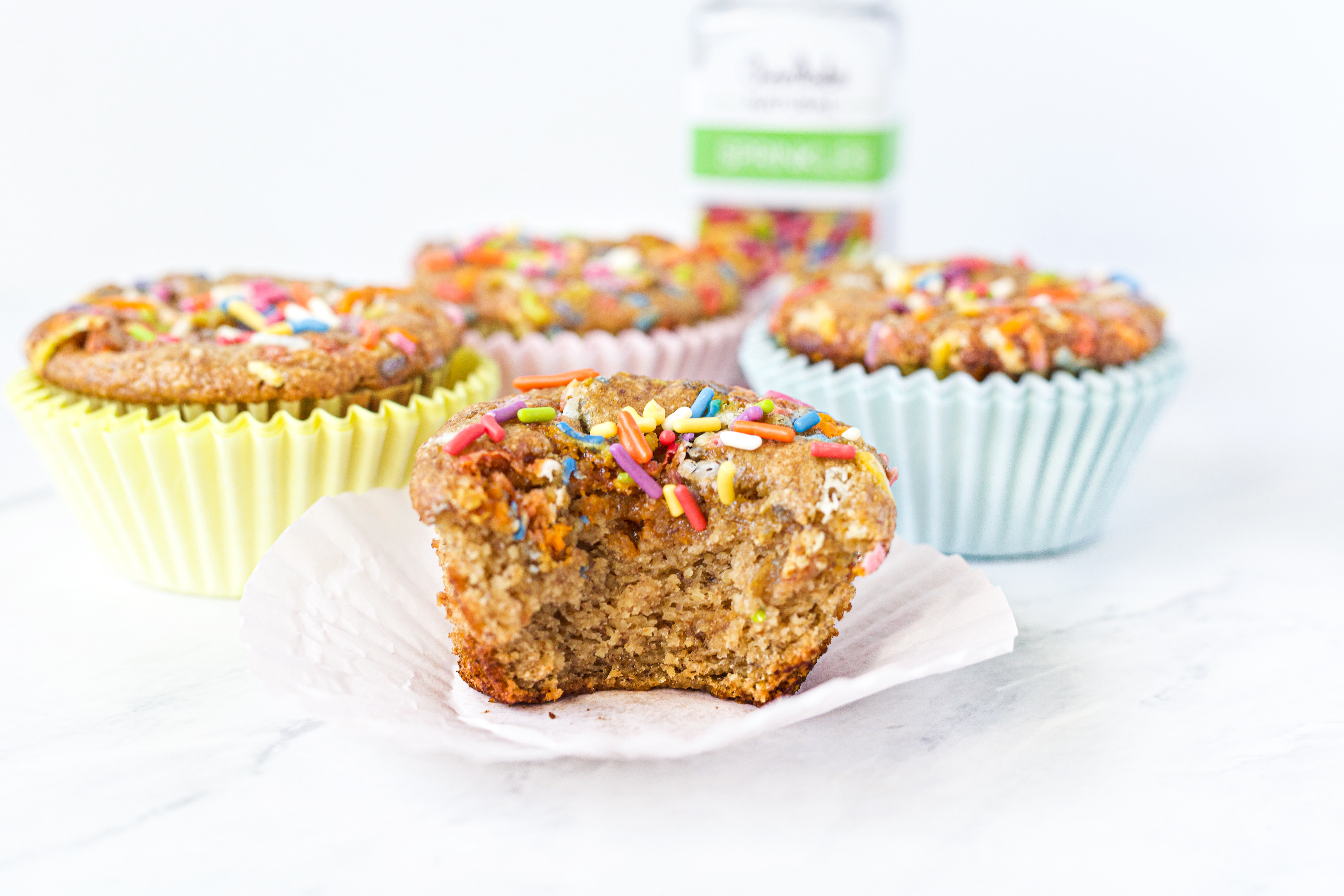 Please tag @staysweetwellness, follow me on instagram and #staysweetwellness
I love seeing your wholesome creations!
Until next time,
Stay Sweet.
-Ashley