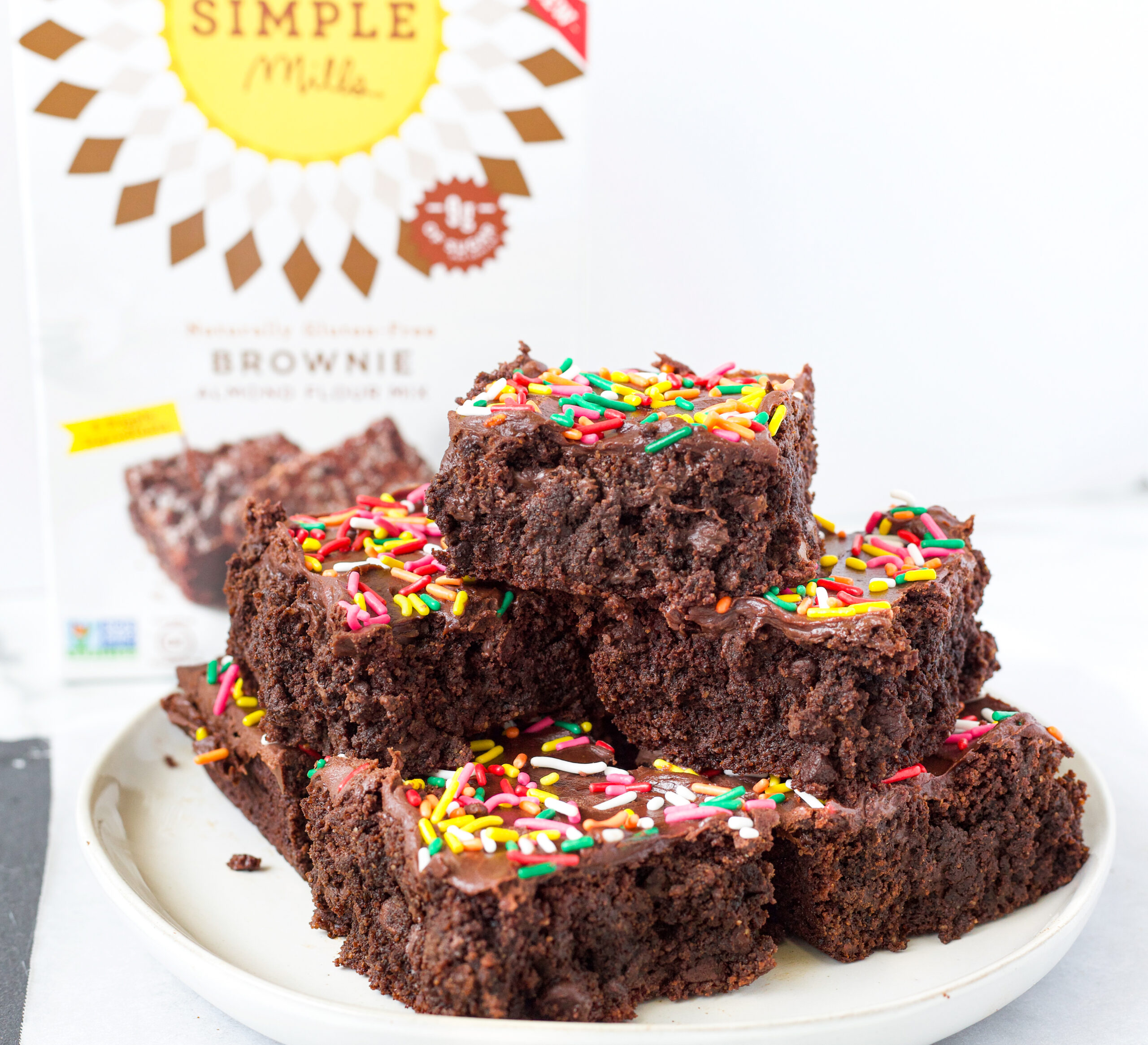 Almond Flour Brownies with Homemade Chocolate Icing
Jump to Recipe
Paleo + Gluten free
If you haven't already checked out the brand, "Simple Mills" I highly suggest you do. They're an awesome company who create delicious products only using wholesome ingredients. I recently bought a box of Simple Mills almond flour brownie mix and I was very impressed with how easy they were to make. Not to mention, the ingredient list had less than 10 ingredients! All of which were easy to pronounce and are way better for you than a traditional box of brownie mix. It only took three minutes to whip up the brownie mix and pop it in the oven- it was seriously that easy. Oh, and the outcome? These brownies came out of the oven, flawless. They were the perfect balance of fudgy + cakey. With each bite, you get little bits of chocolate and the edges came out perfectly crisp. I can't make this up guys… these brownies are the bomb. I was so excited to taste them, but I had to be patient and let them cool to get the full effect.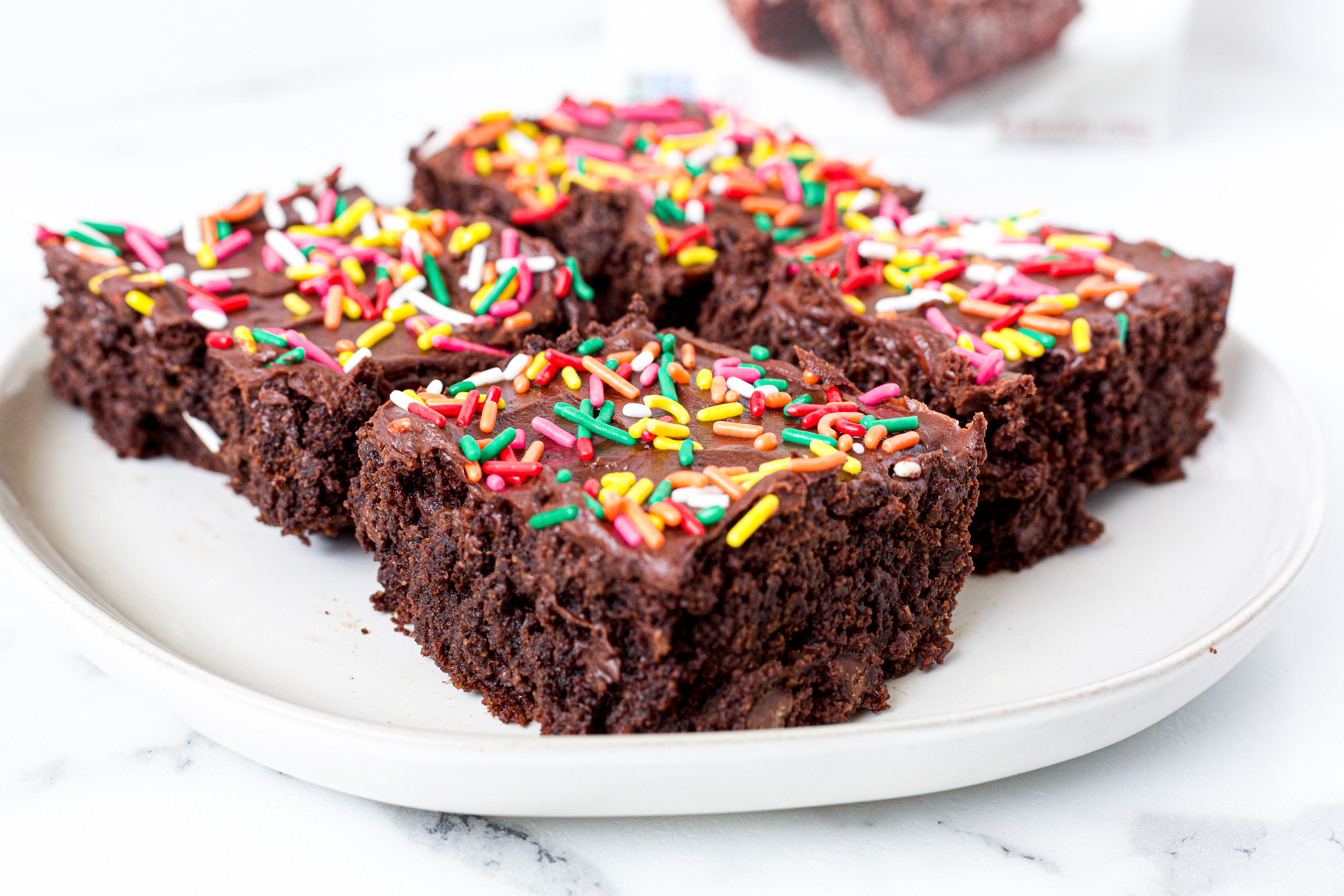 So, while they were cooling I felt like getting a bit creative and making some homemade chocolate icing. I went ahead adding a little bit of this, a little bit of that and came up with a delicious chocolate icing that's paleo, vegan, gluten free and refined sugar free. The icing contains five ingredients and taste SO good on top of these brownies (and honestly would taste good on just about anything). Once the brownies fully cooled, I spread the chocolate icing on top and then added some rainbow sprinkles because, why not? Rainbow sprinkles are so much fun! If sprinkles aren't your thing, no problem. They're totally optional. To my surprise, these brownies reminded me of the little Debbie brownies with the rainbow candies on top. I use to love treating myself to one in elementary school and once I took a bite it had me reminiscing on lunch in the cafeteria with all my best buds. Man, being a kid was the life…back to reality though. Enjoy these brownies with a glass of cold milk (almond, cashew, coconut, oat or traditional will do). They've become my go to dessert these past few weeks and I don't see an end in sight. I hope you enjoy them as much as we have! For ingredient substitutes refer to recipe notes below.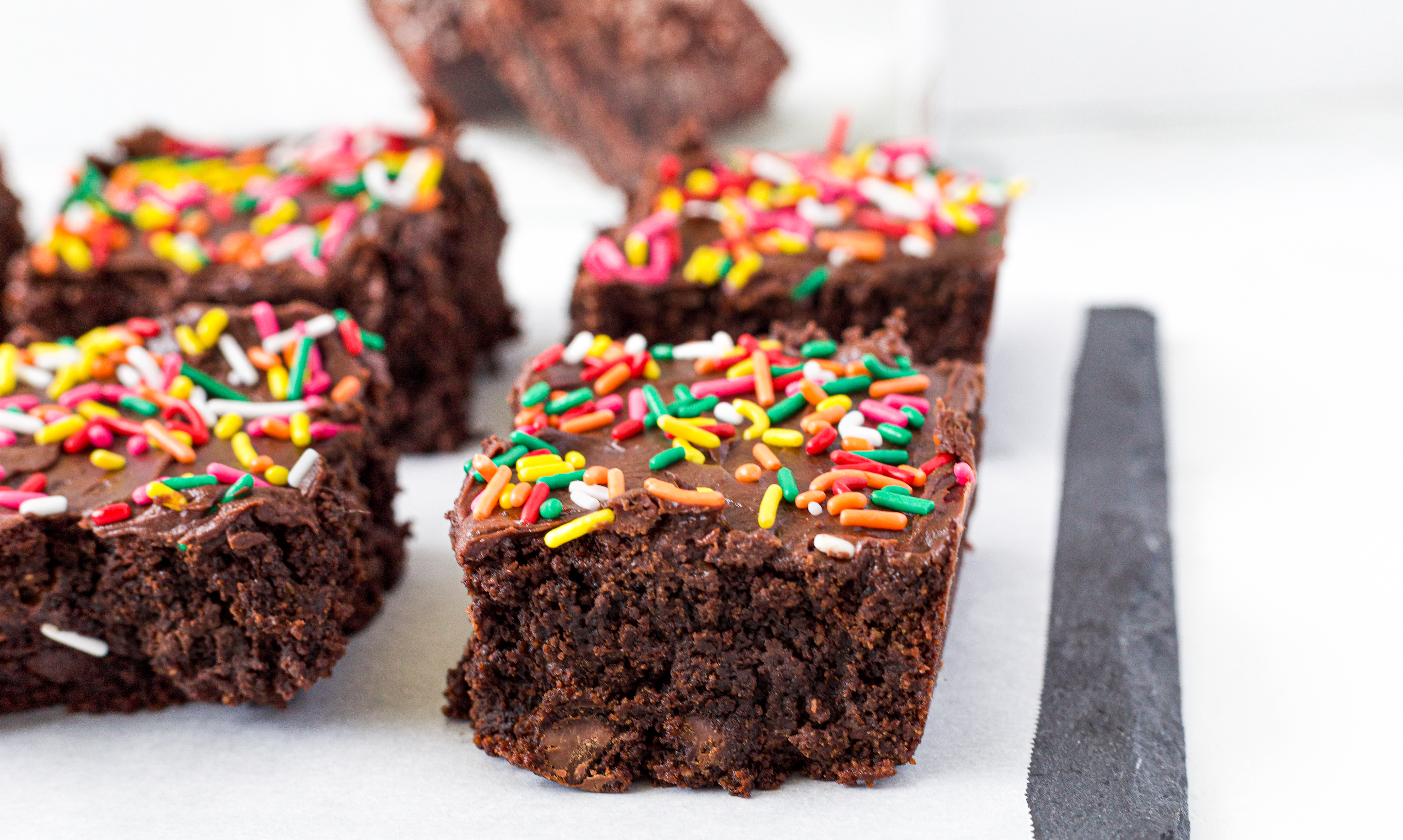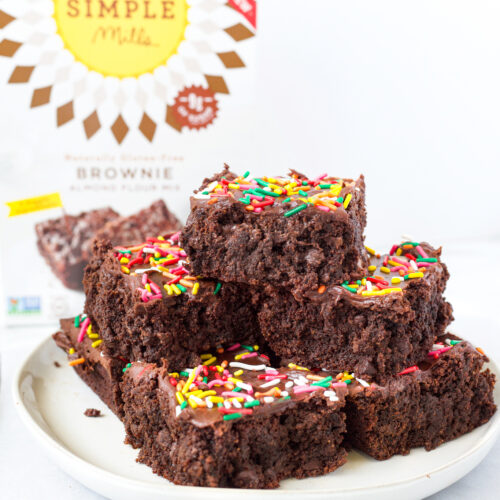 Almond Flour Brownies with Homemade Chocolate Icing
These almond flour brownies are the perfect balance of fudgy + cakey. With each bite, you get little bits of chocolate and the edges came out perfectly crisp. Top with my homemade vegan icing and it'll take you back to the days when you enjoyed the little debbie cosmo brownies in elementary school (but without all the artificial ingredients). Paleo and gluten free.
Equipment
8×8" baking pan

rubber spatula

Mixing Bowl

oven
Ingredients
brownies
1

box

Simple Mills Almond Flour Brownie Mix

1/2

cup

coconut oil or butter

2

large eggs

3

tablespoons

water
homemade chocolate icing
1

tablespoon

creamy almond butter

3

tablespoons

melted coconut oil

1/4

cup

cacao powder

1/4

cup

pure maple syrup

1

teaspoon

arrowroot
Instructions
Preheat oven to 375 or 400 Fahrenheit. Refer to box to determine the degree. Grease an 8×8 or 9×9 pan and set aside. Prepare brownies according to box and place in oven to bake per box suggestions.

For the icing, slightly melt almond butter and coconut oil together. Warm up just enough, mix until well combined. Add in cacao powder, maple syrup and arrow root. Stir all the ingredients together until a thick icing like substance appears. Set aside and let thicken.

Once the brownies have cooled for at least 30 minutes. Spread icing evenly over brownies and top with optional sprinkles. Cut into bit size squares and store in an airtight container for up to one week. You can also freeze for up to three months.
Notes
Brownies:
Coconut oil- I used coconut oil in my brownie mix, however I must warn you they did have a bit of a coconut flavor. If you don't like coconut I suggest using butter instead.
Eggs- If you're vegan you can try swapping out eggs for flax eggs. I haven't tried flax eggs in the recipe. But if you try it, please let me know how it turns out.
Icing:
Almond Butter- feel free to swap out almond butter for any other nut butter you have on hand. Peanut butter would make an awesome addition to the brownies. (YUM!)
Maple syrup- you can evenly swap out maple syrup for honey.
Total time: 25-30 minutes
Did you make this recipe?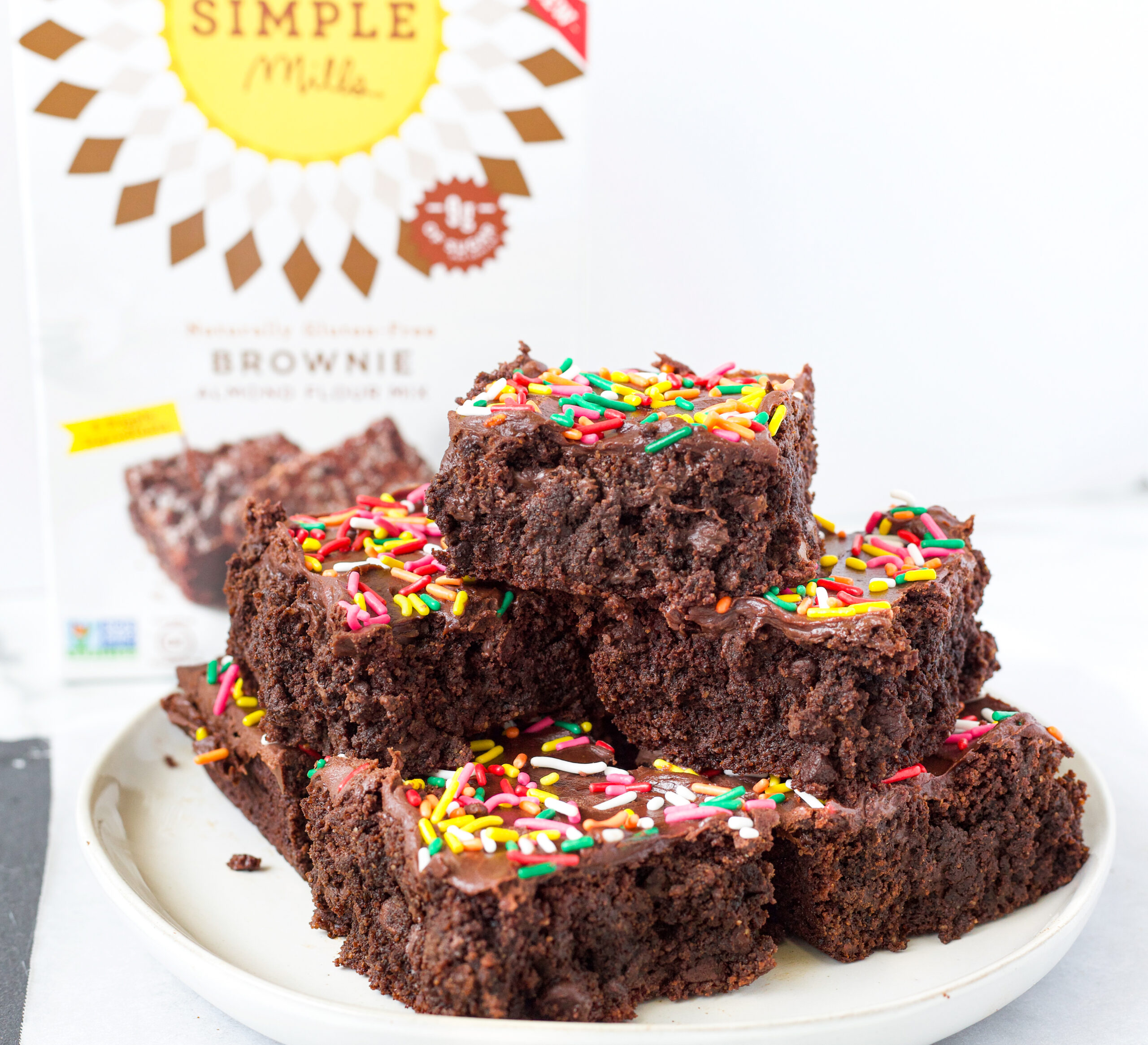 Please tag @staysweetwellness, follow me on instagram and #staysweetwellness
I'll share your recreation on my page!
I love seeing your recreations of healthy, wholesome recipes!
Until next time,
stay sweet.
-Ashley